Tucked between Atlanta and Savannah, shades of autumn are descending on Milledgeville. Our bountiful history, breathtaking natural scenery, and small-town charm will have you clearing your calendar for a long weekend getaway.
As a college town and former 19th century capital of Georgia, Milledgeville is brimming with historic character cloaked in a kaleidoscope of colors, a vibrant downtown district offering seasonal menu options and cozy accessories, and outdoor adventure options from hiking amongst the crunching leaves to kayaking through the reflections. Enjoy fall at its finest - linger, relax and explore the beauty of Milledgeville.
Here are our top fall picks for a perfect weekend getaway: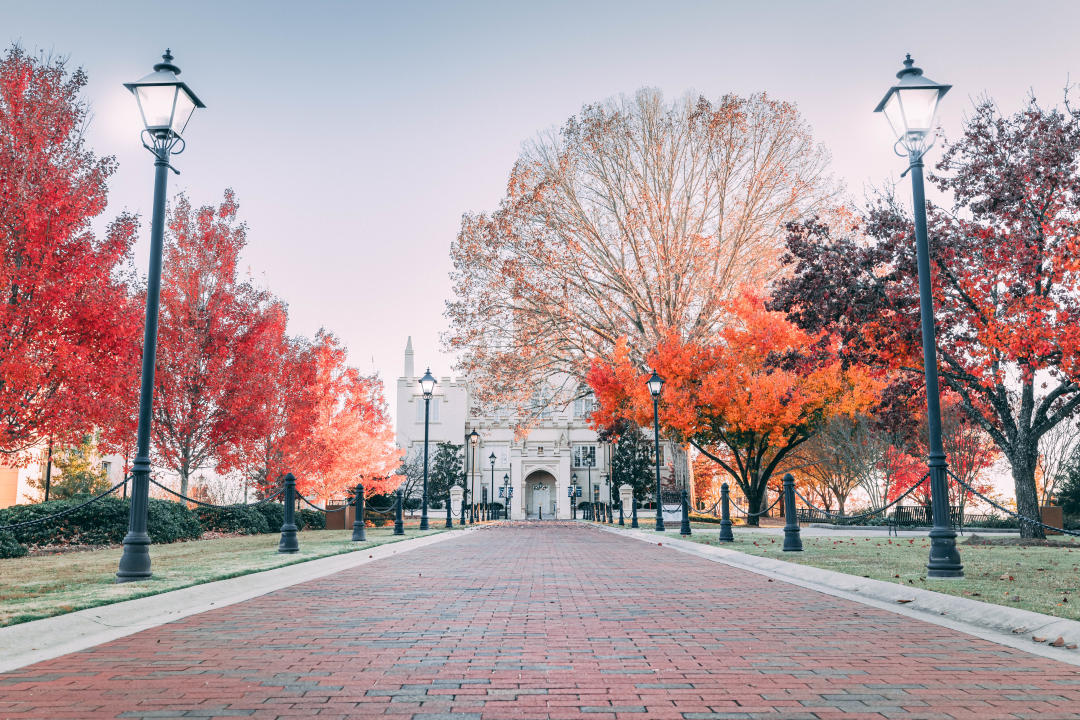 1. WALK THROUGH THE HISTORY OF THE DOWNTOWN DISTRICT
Founded in 1803, Milledgeville was built as the capital of Georgia and remained the capital for more than 60 years. Go on a self-guided historic walking tour and stroll past homes, churches, and public buildings that celebrate various architectural styles refined over the last 200 years. Discover why Southern Living has listed Milledgeville as one of the prettiest small towns in Georgia as you walk the towering tree-lined streets of Milledgeville and learn about the well preserved Federal-style architecture, enhanced by noteworthy Greek Revival, Victorian and Classic revival houses. Keep your eyes peeled for changing leaves as well as architecture galore, including fan favorites like Georgia's Old Capitol Building and the campus of Georgia College & State University. Plus, the added bonus of the season's cooler temperatures means that walking the district won't have you breaking a sweat!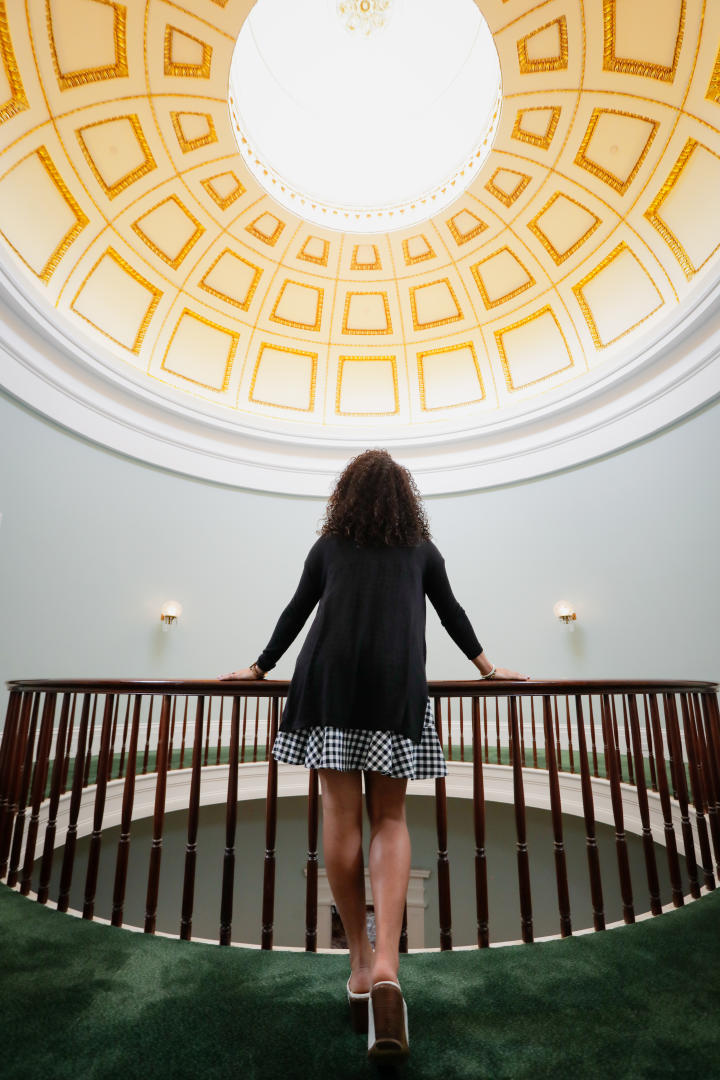 2. TOUR GEORGIA'S OLD GOVERNOR'S MANSION
An iconic favorite, Georgia's Old Governor's Mansion is a visit that must be added to your fall bucket list. Learn from history enthusiasts about Milledgeville's season as the capital city of Georgia during the complex social issues leading to the American Civil War. The one-hour guided tour will cover the history of the governors and indentured and enslaved peoples who called the Mansion home while forging the future of Georgia during the 1850s. Tours are at the top of the hour from Tuesday through Sunday.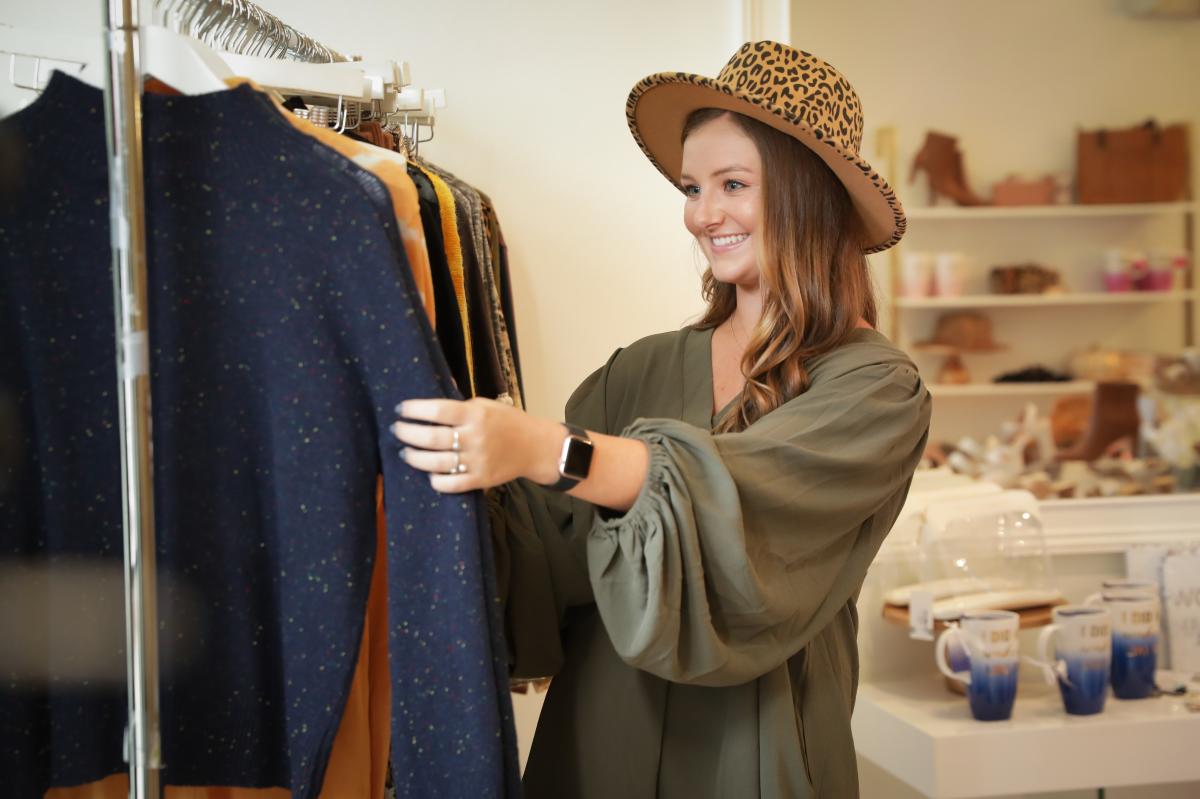 3. SHOP LOCAL
Milledgeville has incredible local businesses that pride themselves on quality products and services. Shop at our charming boutiques for the latest fashion trends and southern decorations. Local business owners are usually on hand to offer shopping advice and recommendations all with a side of genuine southern hospitality. Georgia Made and Georgia Grown products can be found at Market Collective as well as incredible decorations, accessories, and gourmet food items. If you are looking to go bargain hunting, there are plenty of antique shops with great finds.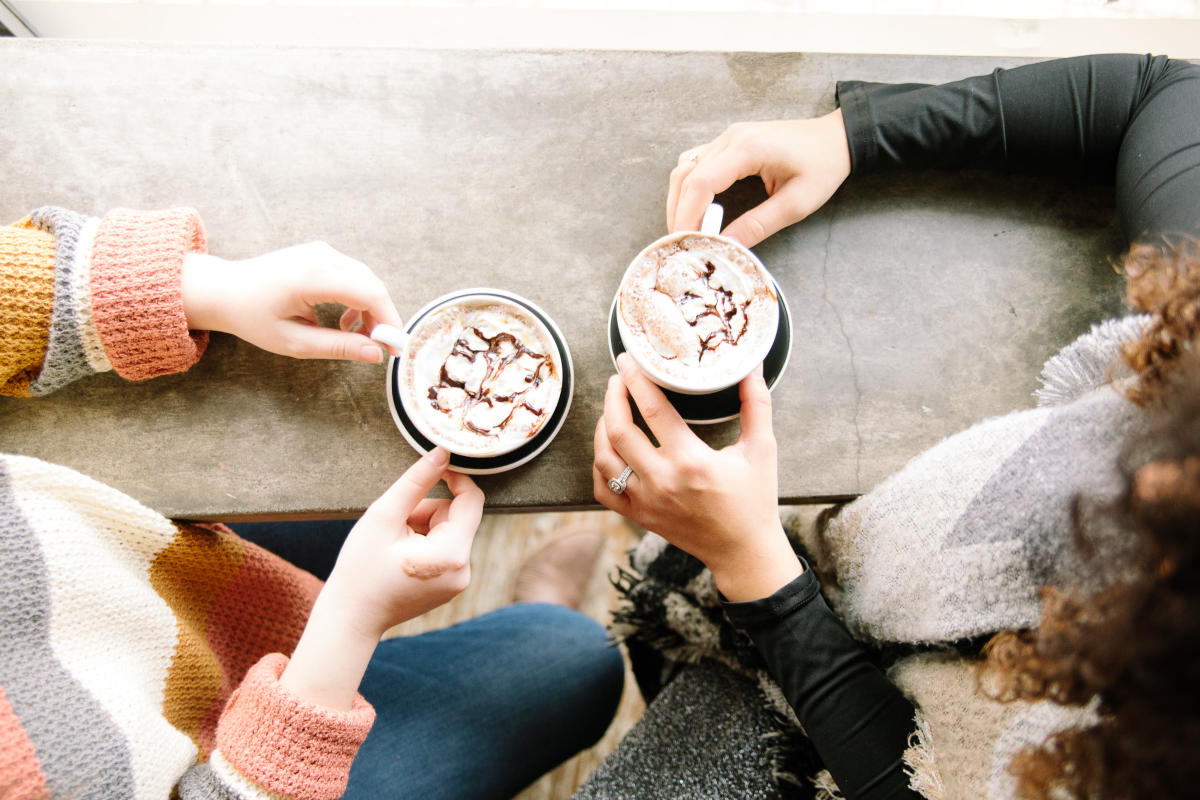 4. EAT YOUR WAY THROUGH MILLEDGEVILLE
Milledgeville has plenty of mouth-watering local restaurants that you can dine at during your stay. Open air dining lines the tree-covered streets and provides the perfect balance between people watching and relaxation among the crisp fall breeze. Indulge on award-winning dishes from Georgia's 100 Plates Locals Love including Aubri Lane's delicious Crispy Calamari and Sesame Seared Ahi Tuna, The Brick's Creamy Tomato Soup, and Local Yolkal's Eggs Benedict. There are also plenty of other restaurants with incredible flavors that locals rave about including Metropolis Cafe, Cravings, and Kai Thai. 
Vacation is the perfect time to relax and decompress. Milledgeville offers a variety of bars and restaurants with locally sourced craft beers and other beverages. Whether you're looking to enjoy your day with a coffee or a cocktail, seasonal sips like pumpkin ales, apple cider mimosas, and pumpkin pie lattes will keep you in the fall spirit. Some of our local favorites include Amici, Buffingtons, and Blackbird Coffee.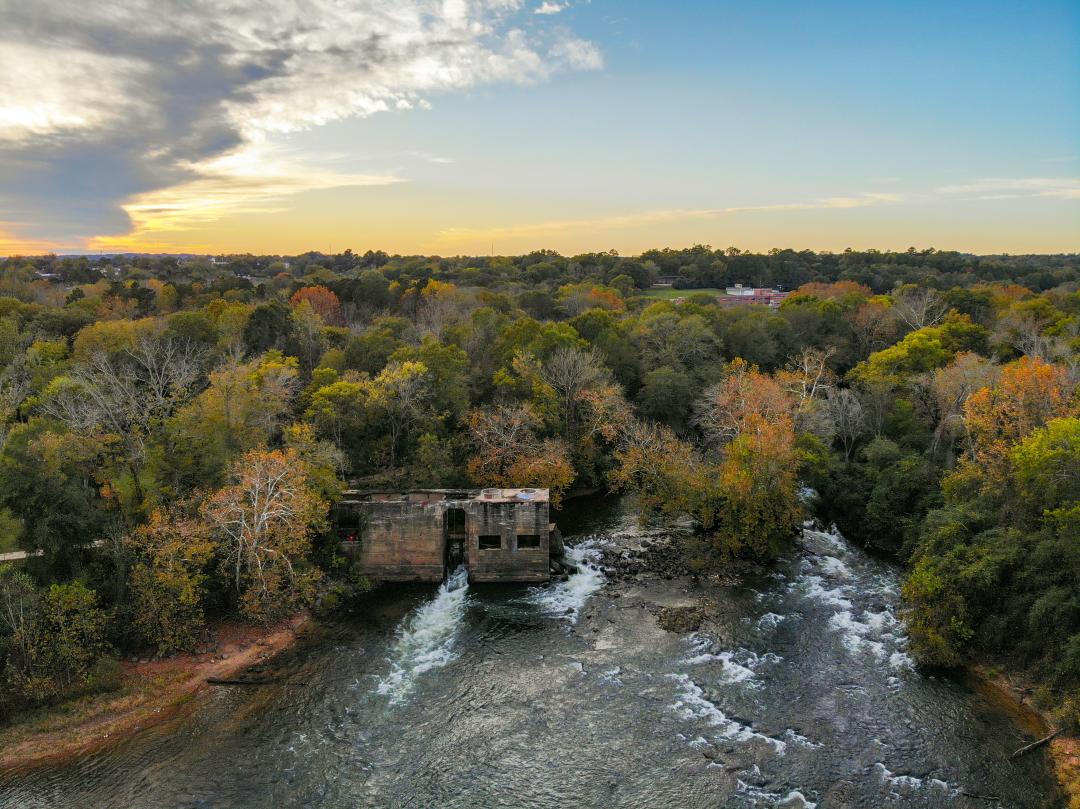 5. PADDLE ALONG THE WINDING RIVER
If recreation fans want to take a break from the historic district and museums, kayak down the quiet Oconee River and observe the beautiful fall colors and undisturbed wildlife. Layback and watch the clouds go by as you make your way along the river. The Oconee River Greenway provides a boat ramp with easy access to the river. If you do not have a kayak, check out Oconee Outfitters or Mac's Yak Kayak Rental to see their options. Don't want your peaceful journey to end there? The Greenway offers plenty of autumn fun whether you like to bike, hike, or stroll the shaded trails to enjoy the stillness of nature.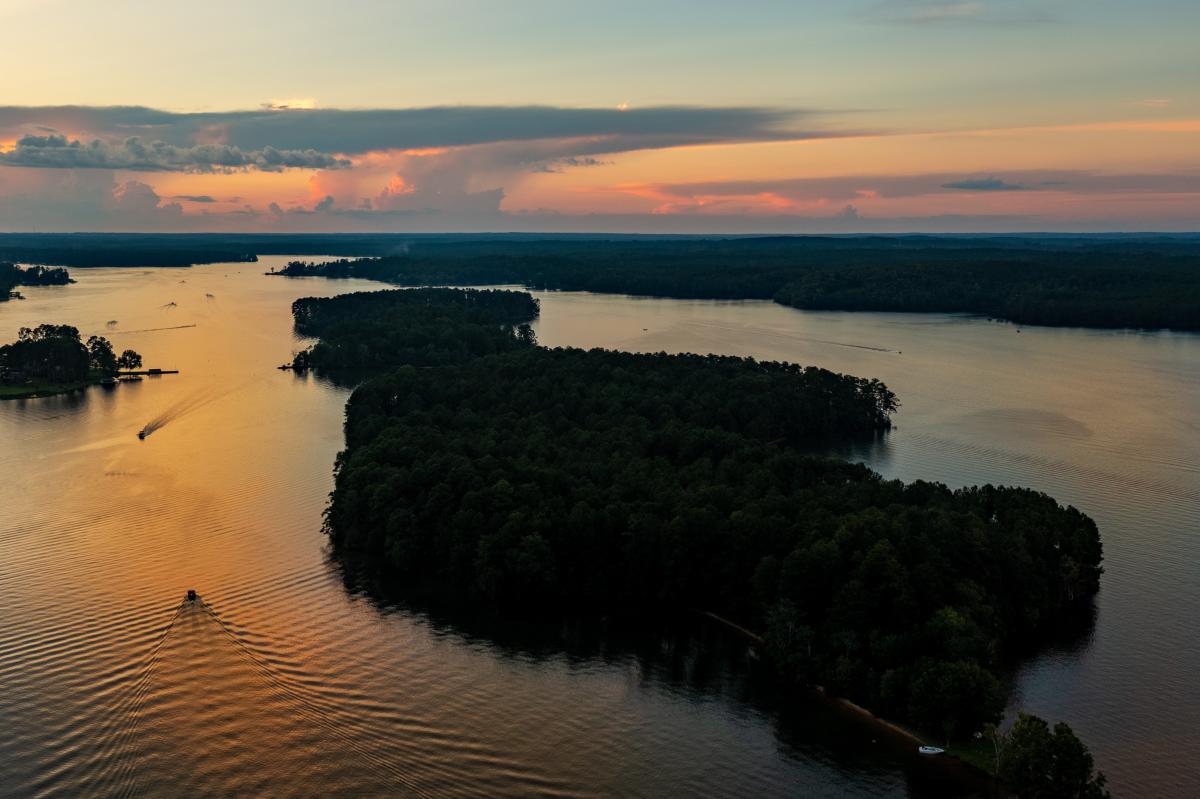 6. SAIL THE GLISTENING WATERS
Fall ushers in a season of quiet reflection along the shores of Milledgeville's Lake Sinclair. Pack a light jacket and cruise along the waters via boat for a day spent soaking up nature's fall glory or bring along your bait and tackle for some time fishing our waters. Sinclair Marina, Twin Lakes Jet Ski and JereShai Lakeside have boat and jet ski rentals suited for all your fun adventures for half or full days. With the crowds of summer dying down, it's also a serene time to paddle along in a kayak or on a paddleboard from Sinclair Wild Watersports. 
Lake Sinclair is home to some of the best fishing in the state for largemouth bass, bluegill, crappie, and catfish.  The lake also boasts the added convenience of several fishing piers and local marinas for area visitors looking for easy access to the water.  If you plan to fish while visiting Milledgeville, check out our top picks to help you find the perfect place for you to cast your line.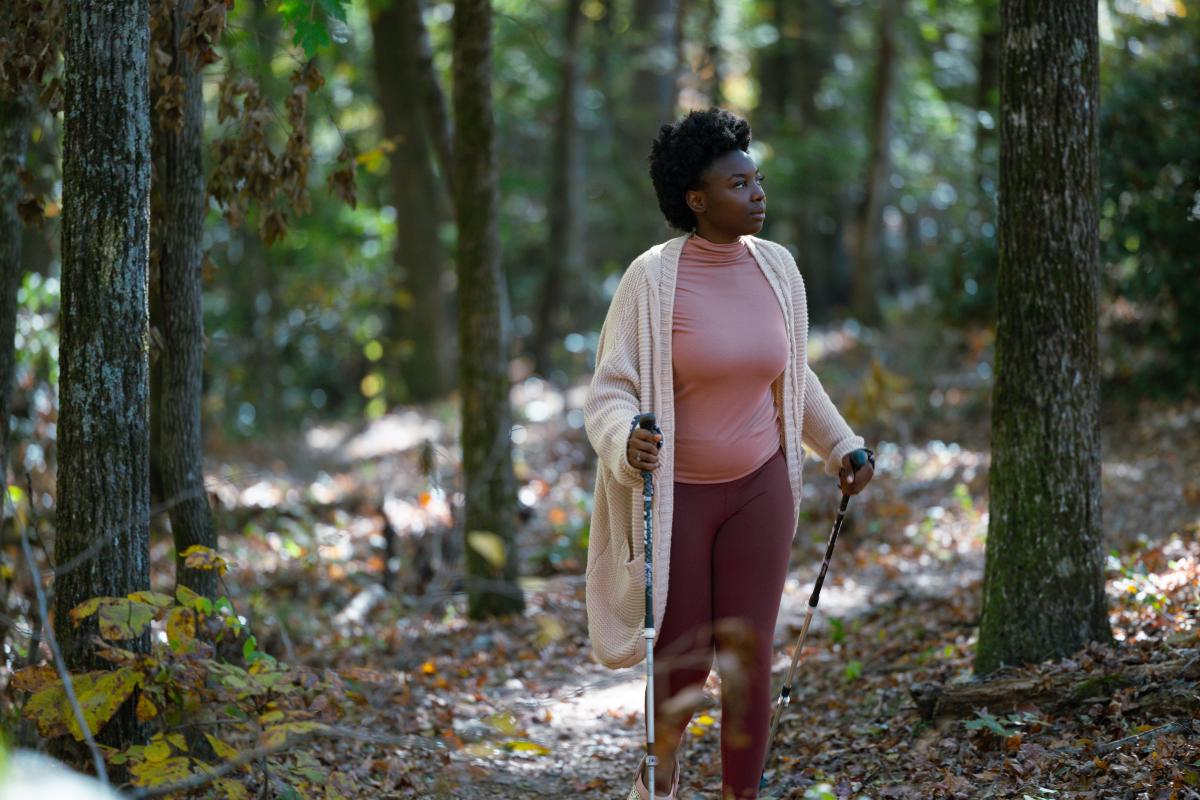 7. EXPLORE BARTRAM FOREST
Hiking and biking enthusiasts will love the fall foliage and crispy fresh air at Bartram Forest. Venture along small ponds, over bridges and through the pines for an elevated terrain that will reconnect you with the quiet joy of mother nature's most colorful season. For cyclists, just note that the trails are natural terrain and are best suited to mountain biking. Looking for more? Experience the harmonious fall atmosphere at seven of our favorite locations around Milledgeville--it will leaf you wanting to see more!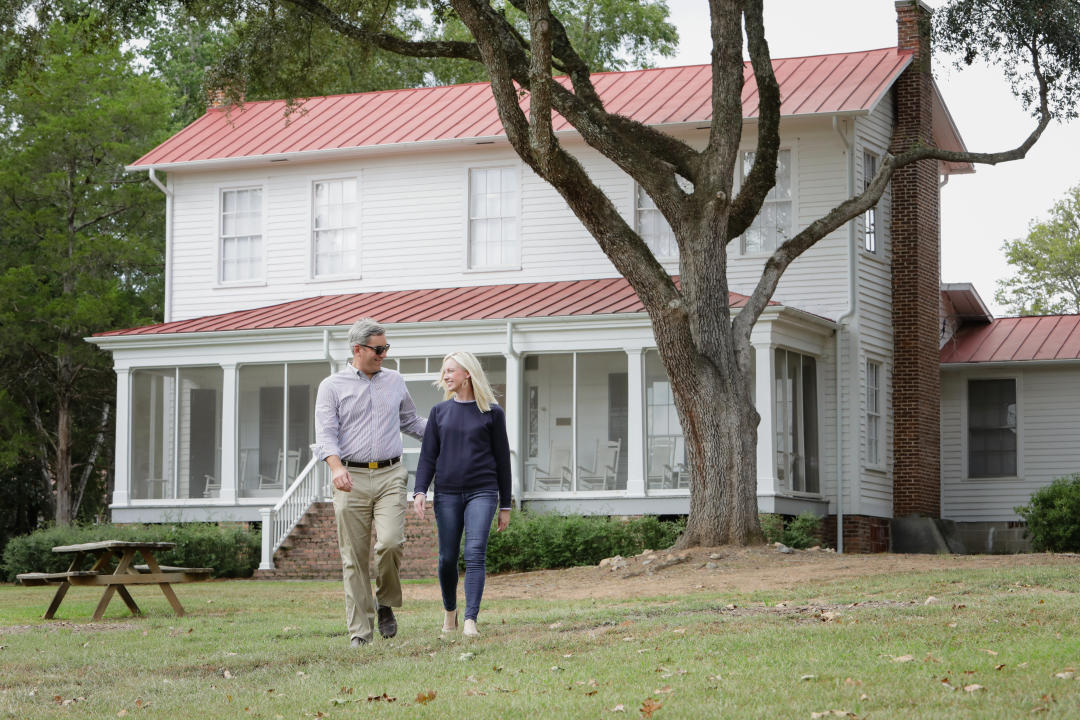 8. IMMERSE YOURSELF IN THE LIFE OF FLANNERY O'CONNOR
Nestled on 500 acres of stunning forest and pasture lands, Andalusia is the celebrated home of one of America's greatest short-story authors, Flannery O'Connor. Today, you can take a guided tour of the farmhouse where Flannery and her family lived, see treasured artifacts from the property's past at the newly opened Interpretive Center, stroll walking trails while admiring the fall foliage or peruse the farm's outbuildings while visiting the site's well-known peacocks! As an added bonus, the front porch boasts rocking chairs designed for a quiet moment of reflection and relaxation among the land that inspired O'Connor. Wanting to learn more? There are five sites in Milledgeville that will take you through her life.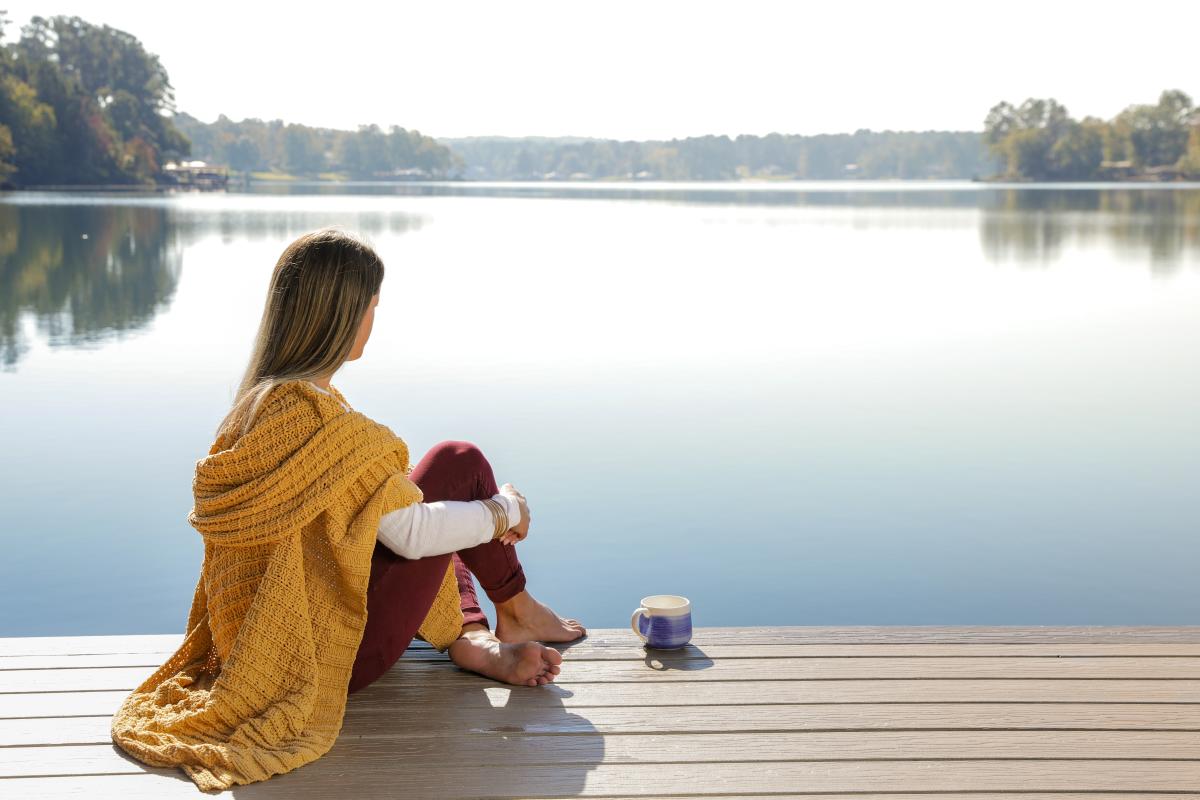 9. REST YOUR EYES
After a long day packed with fun activities, relax in any of our great hotels. There are also two campground areas with beautiful views to enjoy if you are looking to stay outdoors. If you are interested in staying in a historic home, the Rockwell House was once the former governor's home and much of its original architectural features are still intact. Milledgeville also offers beautiful lake house rentals, so the entire family can roast a marshmallow and watch the fall foliage dance on the water.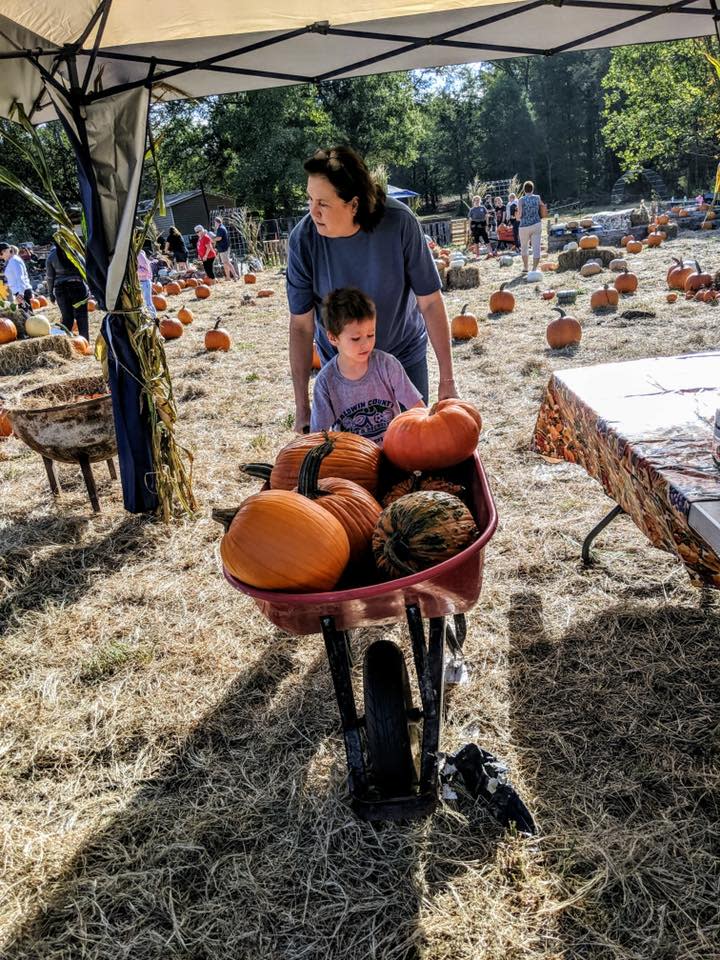 10. Visit a pumpkin patch
A trip to the pumpkin patch is the unofficial kick-off to fall. Join Comfort Farms for their annual Comfy Funky Pumpkin Patch on Saturday, October 7th from 10 am - 3 pm. The event is perfect to pick out your pumpkin and take all the fall pictures. In addition to pumpkins, there will be crafts, a hay ride, a chance to feed the Comfort Farms animals, and fresh food. Entry is $10/vehicle.
save this on Pinterest