Longing to experience the cheerful downtown atmosphere while enjoying the fresh open air and a wide variety of local cuisine? Restaurants in Milledgeville offer a safe and charming outdoor environment for you to enjoy with your friends and family. Sit under the shade of the trees while you sip on an ice cold drink and sample Milly's diverse restaurant menu. 
*Drumroll* Here is a list of the restaurants offering outdoor seating in downtown Milledgeville!

Order delicious tacos at Bollywood and enjoy them outside at their tables for two. It is the perfect place for you and your friend to grab a quick and delicious meal! Its fusion of Mexican and Indian flavors create a savory explosion that has quickly become a local favorite. The Peach Country is a classic taco you have to try!
Amici placed tall bar tables along the front of their restaurant exterior for customers who want to eat their Italian-inspired meal outside. Sizzling pizza, savory wings and fresh stacked subs are the most popular items on the menu. The Pineapple Express is the perfect Summer style pizza for you if you love pineapple!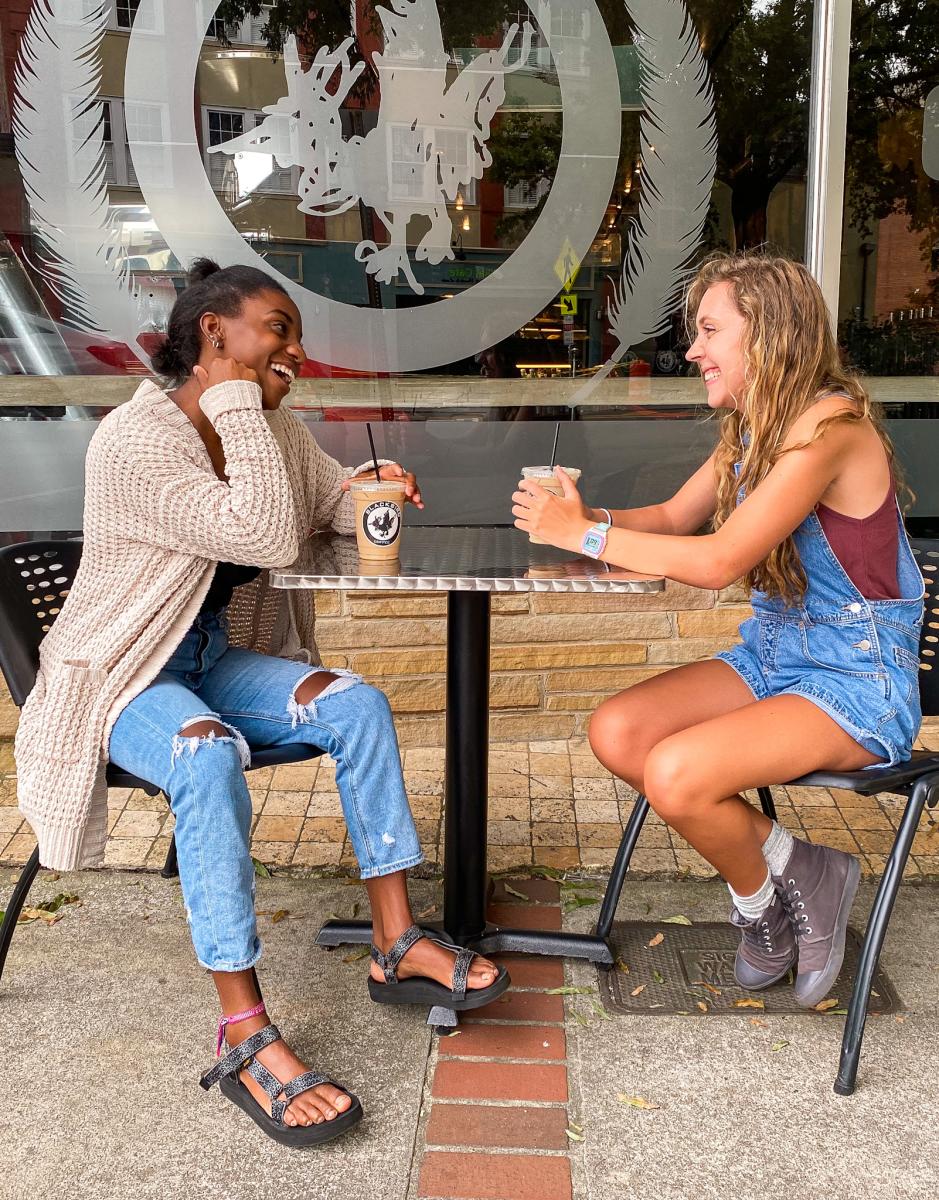 Blackbird Coffee is the perfect place to catch up with a friend over a fresh iced latte--if you love chai make sure to try their Dirty Chai!  Social distancing and retractable dividers keep everyone feeling comfortable and safe while standing in line for their daily dose of caffeine and socializing. 
Looking for a night out on the town, The Reel Grill is the perfect place to eat. Enjoy the outdoor ambiance under their umbrellas in front of their restaurant and upscale cuisine, composed of delicious steak, seafood and more! Try their half shell, charbroiled, REEL oysters with kickin' pimento cheese & applewood smoked bacon.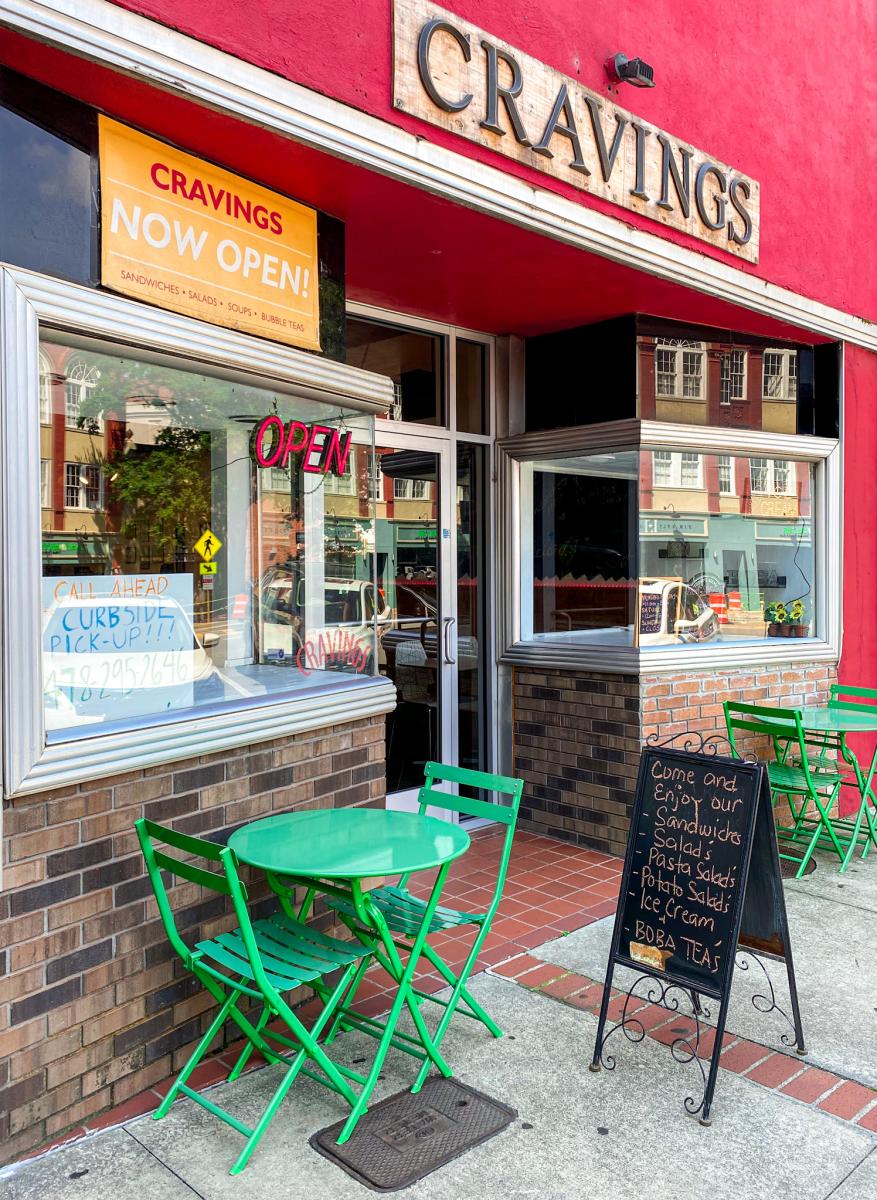 Cravings has the cutest green tables and chairs for you to sit in while sipping on some Bubble Tea and enjoying a light meal. This family owned restaurant serves fresh salads, sandwiches and soups with a Taiwanese twist. If you have never had bubble tea, now is your chance to be blown away with this sweet and eccentric drink! Try the mango flavor if you aren't sure which one to pick!
Sometimes you just need a fresh smoothie from Smoothie King. The Healthy Rewards app provides a contactless way for you to enjoy a smoothie while sitting in the wonderful Georgia sun. If you love peanut butter and chocolate, Peanut Power Plus always hits the spot!
Have the perfect start to your day at The Local Yolkal while enjoying your breakfast in the fresh Georgia air. Stop by every Friday for half off French Toast! Whether it's breakfast, brunch, or lunch, you will walk away with your taste buds satisfied and your bellies filled.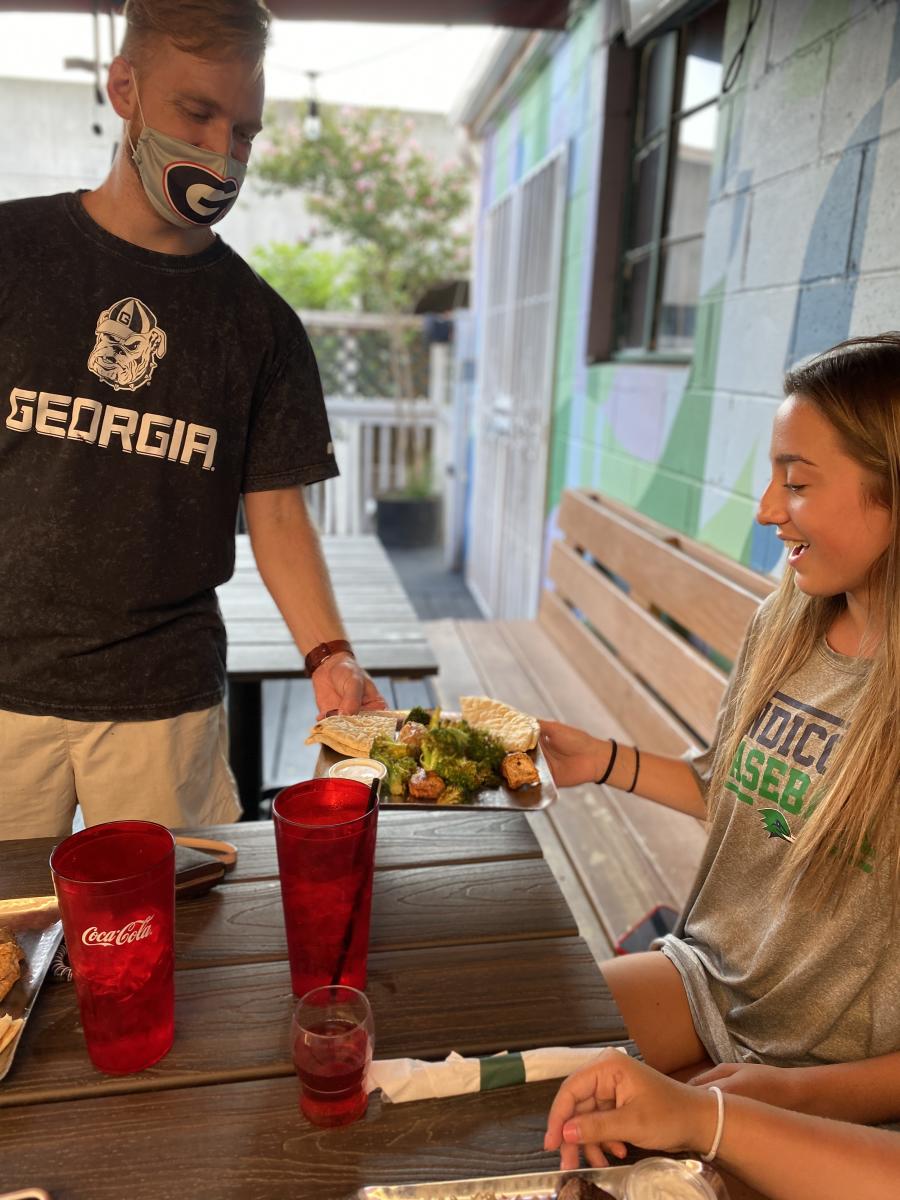 Metropolis provides a terrific back porch experience with the best Mediterranean food in Middle Georgia. Spicy Masala, Gyros, Greek salad, hummus sides and more give you a tasty look into Mediterranean culture. Stop by on Thursday's for Indian Food Night and try their delicious homemade curry and naan, all the while enjoying the fresh air and outside dining experience. Take note: the back patio can only be accessed after having entered the restaurant.
Once the summer heat begins to subside, tables set for groups up to four will be back in front of Buffington's for you to come enjoy quality food and time together. This locally owned bar and grill features over 50 craft beers and makes finger-lickin-good Lemon Pepper Wings! Come Wednesdays from 5-9 p.m. for 60 cent traditional wings--they will knock your masks off!
our favorite local patio spots
While these restaurants may not be located in the historic downtown, their places to sit on a patio and delicious bites make them worthy of a visit.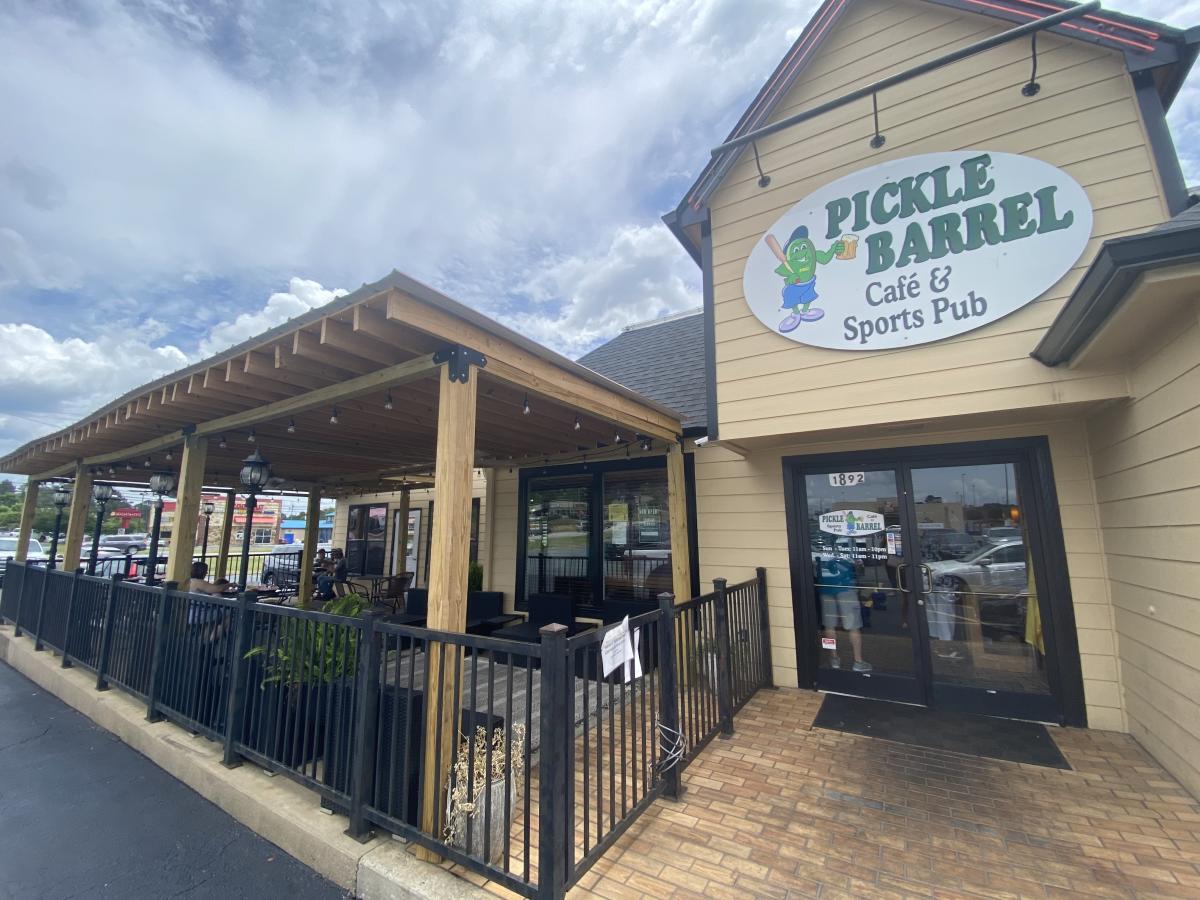 The PBC is a fantastic place to meet up with friends, grab a bite to eat, and relax. The outdoor seating patio and laid back environment is perfect for enjoying a burger or wings on those hot summer nights. Pickle Barrel Cafe's diverse menu offers fun options such as soups, sandwiches, and seafood so you are bound to find something you will love!  Don't forget to order the signature fried pickles, a favorite appetizer among locals and visitors alike.
If you are looking for traditional Mexican cuisine, make sure to check out El Amigo. Sit back, relax, and enjoy queso or guacamole with your chips and pair it with a cold margarita to create the perfect summer combo. El Amigo's shaded porch area is the perfect place to escape the Georgia heat and enjoy a burrito or quesadilla.  
For fine wine and dining, look no further than Aubri Lanes! This restaurant features a beautiful wrap-around porch area that overlooks a spectacular view of the golf course and Lake Sinclair. The space is perfect for enjoying dinner and a glass of wine with friends in the evening or admiring a beautiful Milledgeville sunset over one of the many delicious menu options, like shrimp and grits.