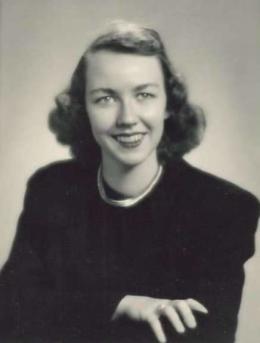 Renowned as one of America's greatest short-story authors, Flannery O' Connor was a visionary in the field of Southern gothic literature. Deriving inspiration from the land and people around her, Flannery's most-productive writing years were during her residence at Andalusia Farm in Milledgeville. Her own struggles with lupus and her devout Catholic faith set the foundation for her work which navigates the themes of religion, race, and socioeconomic barriers. During a visit to Milledgeville, you can experience several historical sites that influenced and inspired her literary legacy including her home at Andalusia Farm, her family's place of worship, Sacred Heart Catholic Church and her final resting place at Memory Hill Cemetery.
Photo of Flannery is from the GC yearbook. Photo credit to Andalusia: the Home of Flannery O'Connor, Georgia College.
1. Cline-O'Connor-Florencourt House
During Flannery's teenage years the O'Connor family moved to Milledgeville from Savannah. They initially settled in with family members of Flannery's mother, Regina. Often referred to as the Cline Mansion, Flannery lived upstairs in this c. 1820 Milledgeville Federal style home with Victorian standing-seam terne metal roof throughout high school and college. Today the home remains within the family as a private residence and stands proudly on Greene Street. The Ionic columns, hand-carved from solid timbers, are original as are the major rooms in the house. The open-work brick fence along the front is the only part remaining of the one that once encompassed the entire square. The home was also used as the residence for Georgia's Governor in 1838 and 1839 during the construction of Georgia's Old Governor's Mansion. The home is #10 on our historic walking tour.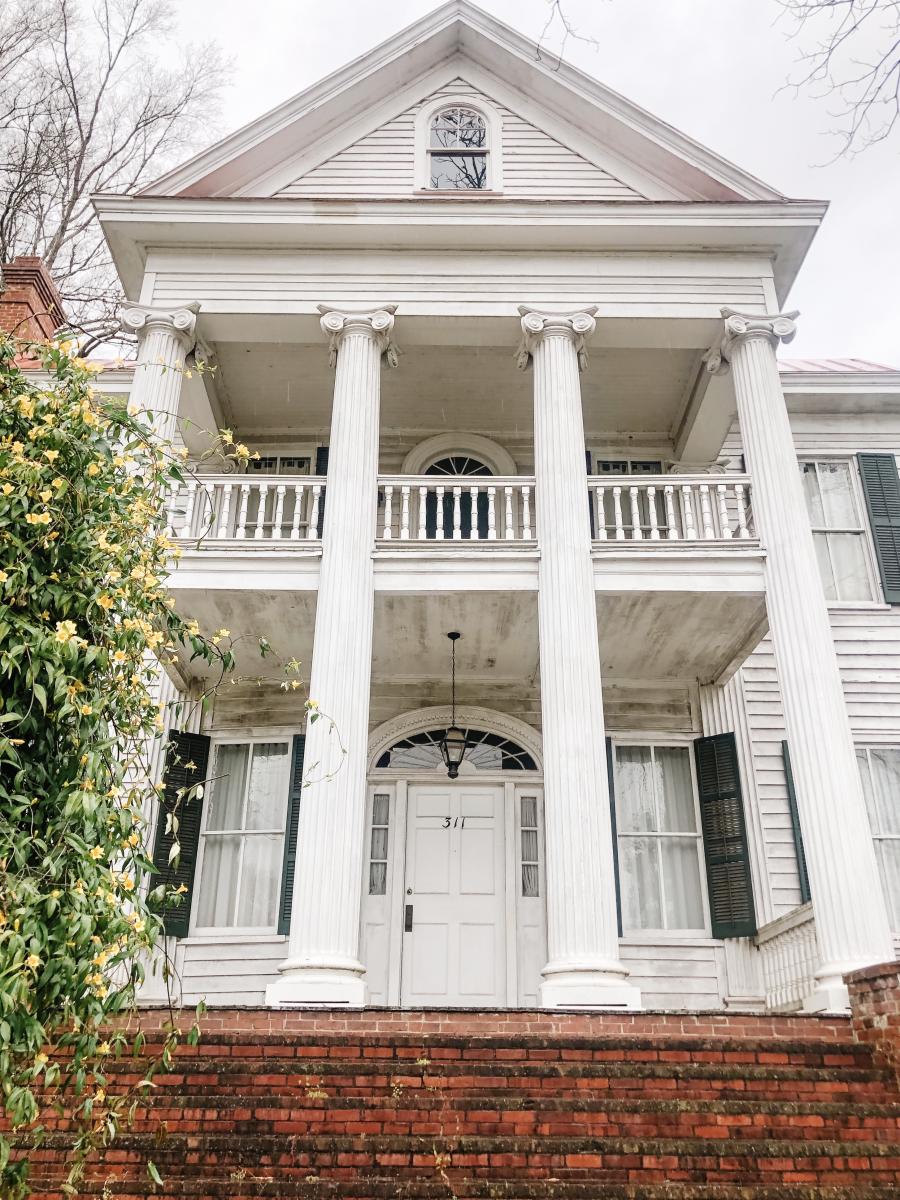 2. Sacred Heart Catholic Church
One can hardly write about the Sacred Heart Catholic Church in Milledgeville without acknowledging the threads of the Treanor and Cline families that are woven ever so snugly within the fabric of the early Catholic community in Baldwin County. For over a hundred and fifty years these families, the ancestors of internationally acclaimed author Flannery O'Connor, a devout, daily mass Catholic, have been instrumental in the development and growth of the Catholic Church in Milledgeville. The first Catholic resident of Milledgeville was Hugh Donnelly Treanor, Flannery O'Conner's great-grandfather. Mr. Treanor owned and operated a gristmill located on the Oconee River just east of town. Remnants of the mill can still be seen from the Oconee River Greenway looking north. 
Flannery and her mother attended mass every morning and the congregation still thrives today. The Sacred Heart Catholic Church sits at the corner of Hancock and Jefferson Streets. It was built in 1874 in the Gothic Revival style. Materials from the elegant Lafayette Hotel which previously occupied the sites were utilized in the main body of the church. The Gothic-arched clear glass windows are said to have been salvaged from the hotel, and were used to harmonize with the Gothic architecture of the nearby Capitol.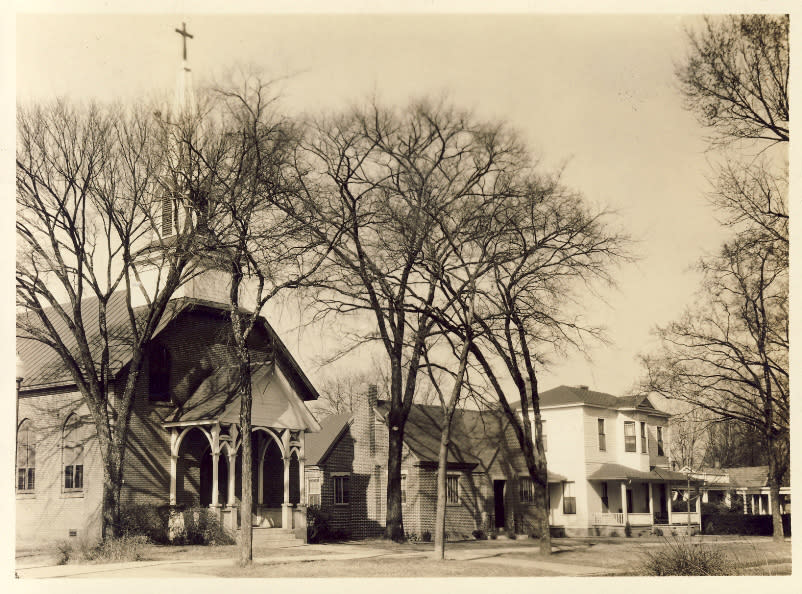 3. Georgia College
Georgia College and State University, then called Georgia State College for Women, served as Flannery's alma mater. She received a BA in social sciences in 1945 after completing an accelerated 3-year program. During her time at the college, she began her literary career by publishing satirical creative writing and artwork to various school publications. During her senior year, she became the editor of the school newspaper The Corinthian. 
Today, Georgia College celebrates Flannery's time on campus with the Flannery O'Connor Collection at Heritage Hall. Initially, the collection was established shortly after the first publication of O'Connor's short story "The Geranium" in 1946. The early collection consisted of newspaper clippings, magazines containing the first publications of stories, the published works, and some early items from O'Connor's student days at Peabody High School and Georgia State College for Women. While best remembered for her fiction, O'Connor was also an accomplished cartoonist; numerous examples of her artwork appear in the college newspaper, literary magazine and yearbook. Many of these publications are placed on display throughout the year.
The first manuscripts were given to the library by Regina Cline O'Connor in 1970. Since that time, additional manuscripts have been added including early drafts of Wise Blood, portions of The Violent Bear It Away and most of her short stories. In addition to the manuscripts, O'Connor's personal collection of over 700 books and journals are housed here.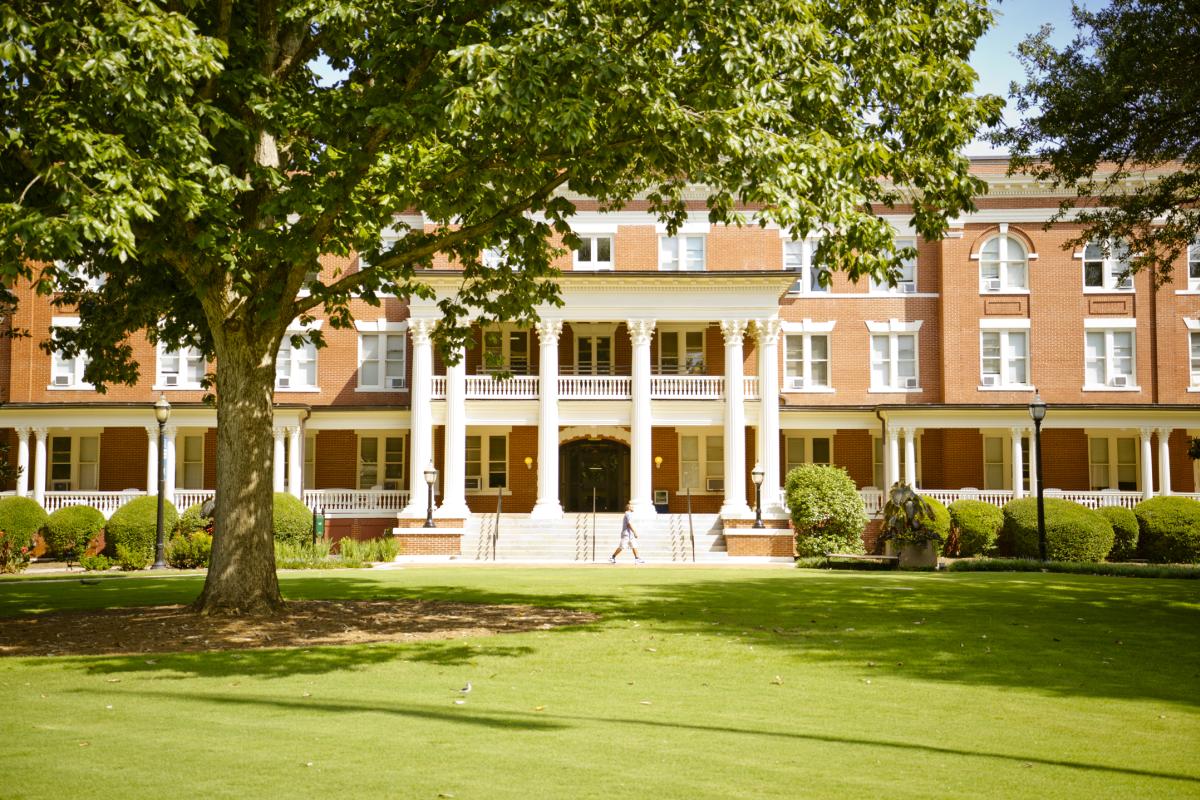 4. Andalusia Farm
First settled in 1814, Andalusia was a cotton plantation and farm until it was purchased by Flannery's uncle Dr. Bernard Cline in 1931. While living in the Cline House in downtown Milledgeville, the farm served as a retreat where Flannery and her relatives could go to spend their free time out in the countryside. During the O'Connor's residency, the site contained 14 buildings with over 520 acres of land that were used for dairy and beef farming. Following a diagnosis of Lupus in 1951, O'Connor moved to Andalusia to live under the care of her mother Regina Cline O'Connor. During the 13 years she lived at Andalusia (1951 - 1964), she completed the bulk of her literary work, as the farm's environment influenced the setting of many of her writings.
Today, Andalusia Farm is part of Georgia College's campus and serves as a house museum. In early 2022 it was designated as a National Historic Landmark by the National Park Service. Andalusia Farm is open for public tours Tuesday - Saturday 10 a.m. - 4 p.m. and Sunday 2 p.m. - 4 p.m. Tours begin on the hour and the last tour begins at 4 p.m.
The property has recently broken ground on a multimillion dollar interpretative/visitors center. Through its completion, the museum will have a state-of-the-art facility to better tell the story of O'Connor and her family, as well as properly care for the artifacts associated with the site. 
Flannery lived at Andalusia from 1951 - 1964.
5. Memory Hill Cemetery
Memory Hill Cemetery is the resting place of countless influencers of Milledgeville's past, including Flannery O'Connor's grave. On August 3rd, 1964, Flannery O'Connor died at Andalusia Farm following complications from Lupus. She was just 39 years old.  She is buried in historic Memory Hill Cemetery, on the Eastside, in Section A, Lot 39, Grave 7. In addition to the traditional flowers or even a coin, some visitors to O'Connor's grave leave behind other tokens such as peacock feathers, pebbles, stones, poems, small books and figurines.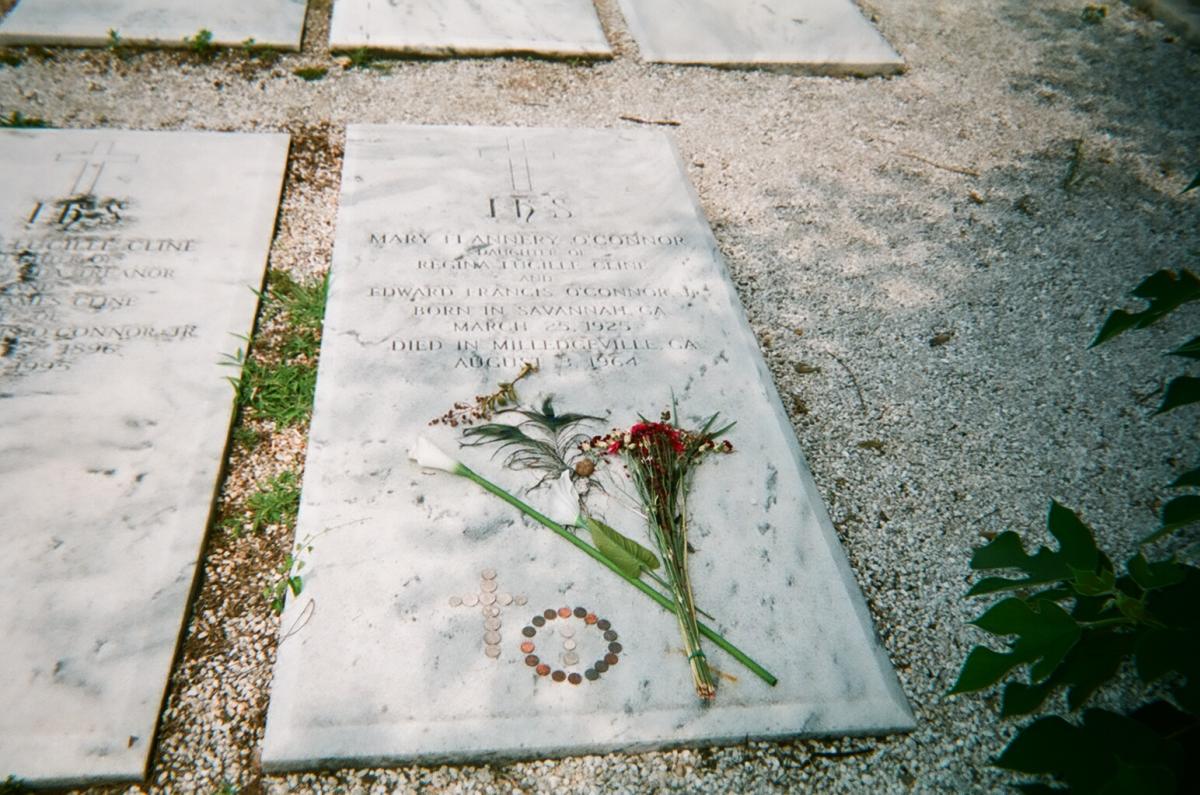 Photo via The Snout
In addition to these sites, many additional past and present locations have stories associated with Flannery. She and her mother would lunch at the Stetson-Sanford House tearoom, where her favorite dessert was peppermint chiffon pie. Today the home is owned by the Old Capital Museum Society and is opened by appointment. The Reel Grill restaurant located in downtown Milledgeville has a drink inspired by Flannery, "Flannery O'Connor's Love Letters." Known as one of their best, the drink features Woodford Reserve Bourbon, orange liqueur, bitters and is topped with champagne - garnished with a lemon. 
"When in Rome, do as you done in Milledgeville."