Whether you are an experienced hiker, lover of nature, or a casual walker, you will find many places to explore, walk, bike, hike, and even canoe and kayak around our charming town. Tucked between Atlanta and Savannah, Milledgeville has a rich history, breathtaking natural scenery, and classic southern charm that will have you clearing your calendar for a long weekend getaway.
Here are some of our favorite outdoor adventures: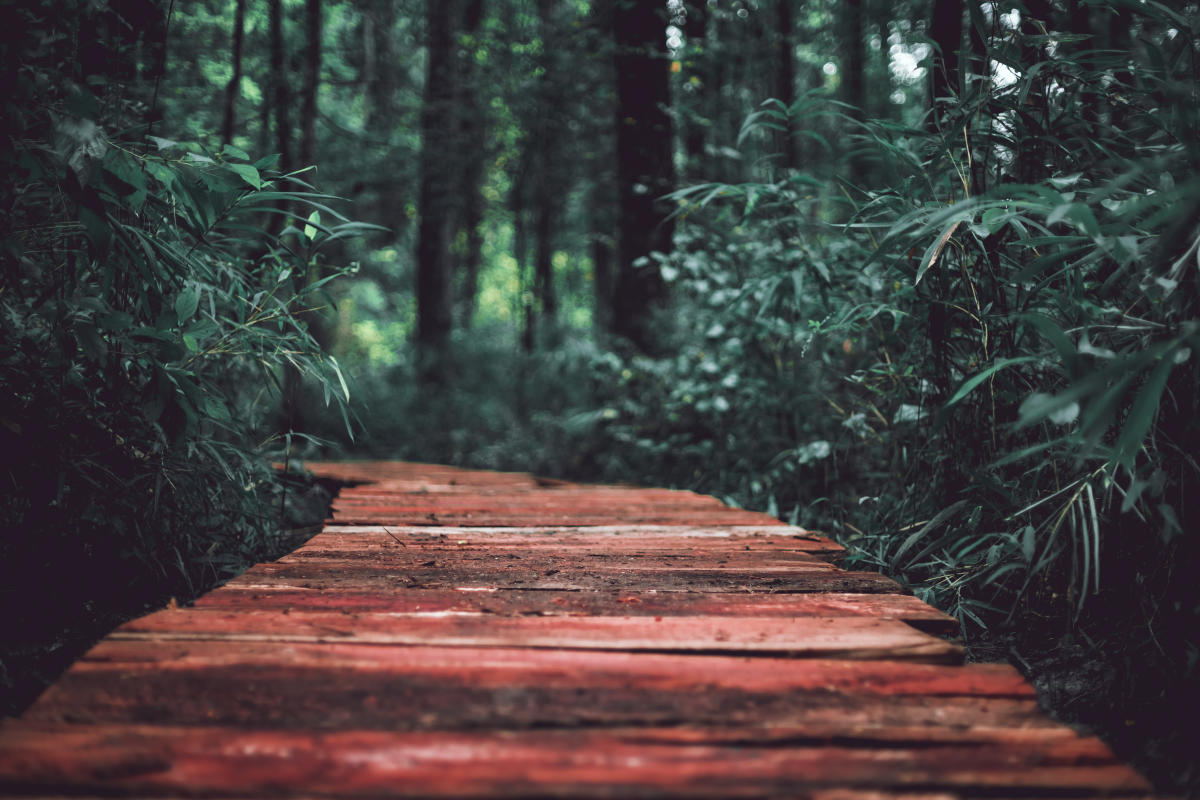 Roam Through Bartram Forest
Located just a few miles outside of Milledgeville, Bartram Forest offers outdoor enthusiasts three looping trails through pines, meadows, across a creek and alongside a pond. The three marked routes range from beginner trails to more changing tracks. All trails are perfect for walking, jogging and biking. Bartram allows visitors not only to explore on trails, but a pavilion and education kiosks allow for places to relax and take in the scenery, bird-watching, natural wildlife and wetlands. If you are interested in biking, rentals are available at the Oconee Outfitters. 
Up for a challenge? Just down the road from Bartram Forest, Selma Erwin Nature Preserve offers a singletrack trail that will keep you on the edge of your mountain bike seat for the whole 6.5 miles, about 1000' of climbing. Hiking the trail will allow you to appreciate the beauty of several bridged creek crossings, rolling hills, and a few steep climbs through hardwoods, spring and fall flowers and beautiful streams.
If you still are looking to put some miles on your sneakers, from scenic walking tours to intense hiking trails, Milledgeville offers 6 perfect hiking spots suitable for all types of nature lovers.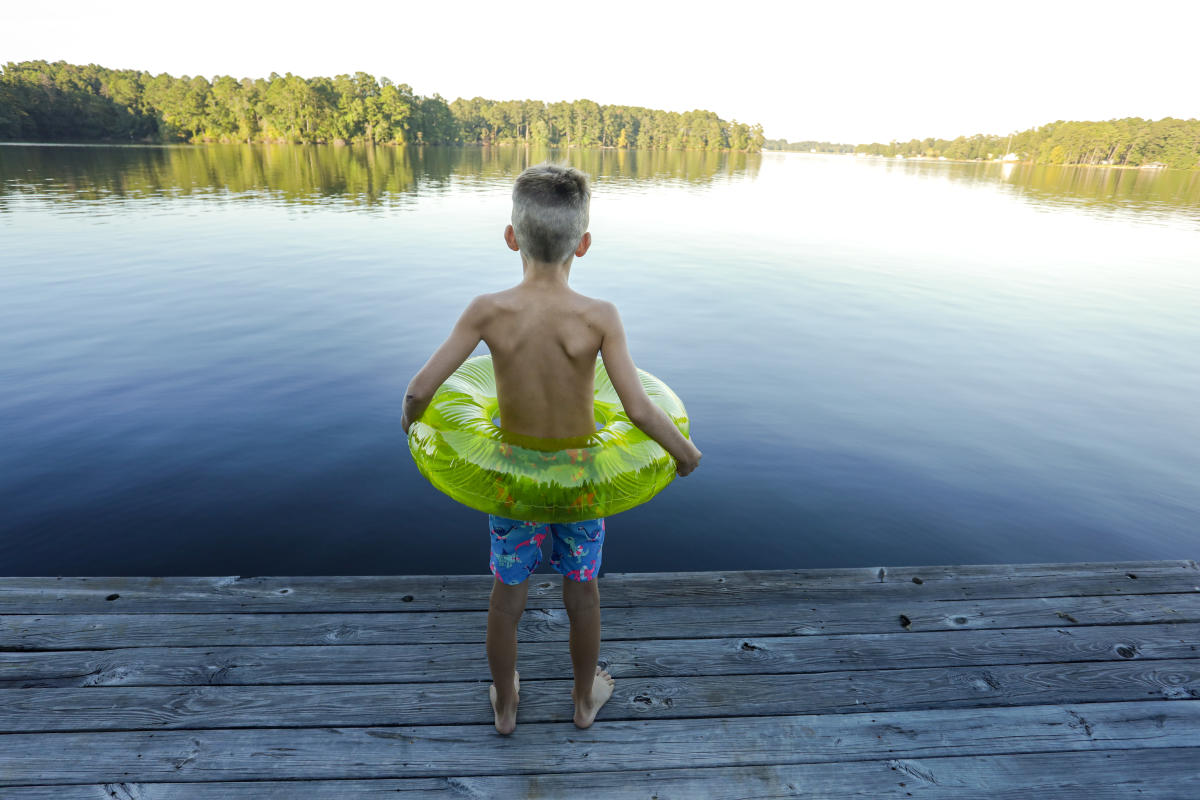 Splash in Lake Sinclair 
Here is a refreshing idea, spend the day on the water and if you need to cool off, just jump in! Encompasses 15,300 acres of winding coves and several vast stretches of open water, Lake Sinclair is easy access to fishing, swimming, boating, camping, and has several marinas for the convenience of visitors offering recreational enjoyment for everyone. Grab the family, pup and all, and head to Milledgeville for a long weekend! The kids and kids-at-heart will love bouncing the waves on a jet ski or casting a rod to catch the big one! Stay lakeside in a vacation rental and swim in the warm waters off your dock.
If you find yourself at the lake, obviously you need to get out ON the lake. Spend the day with the wind rushing through your hair, jumping into the cooler, deeper water and playing a friendly game of tossing your family member off a tube. If you don't own a boat, no problem, many area marinas rent them by the half or full day. For boat rentals and fishing guides try Sinclair Marina. Boats and jet skis are available from Twin Lakes Jet Ski as well as Jere Shai Lakeside.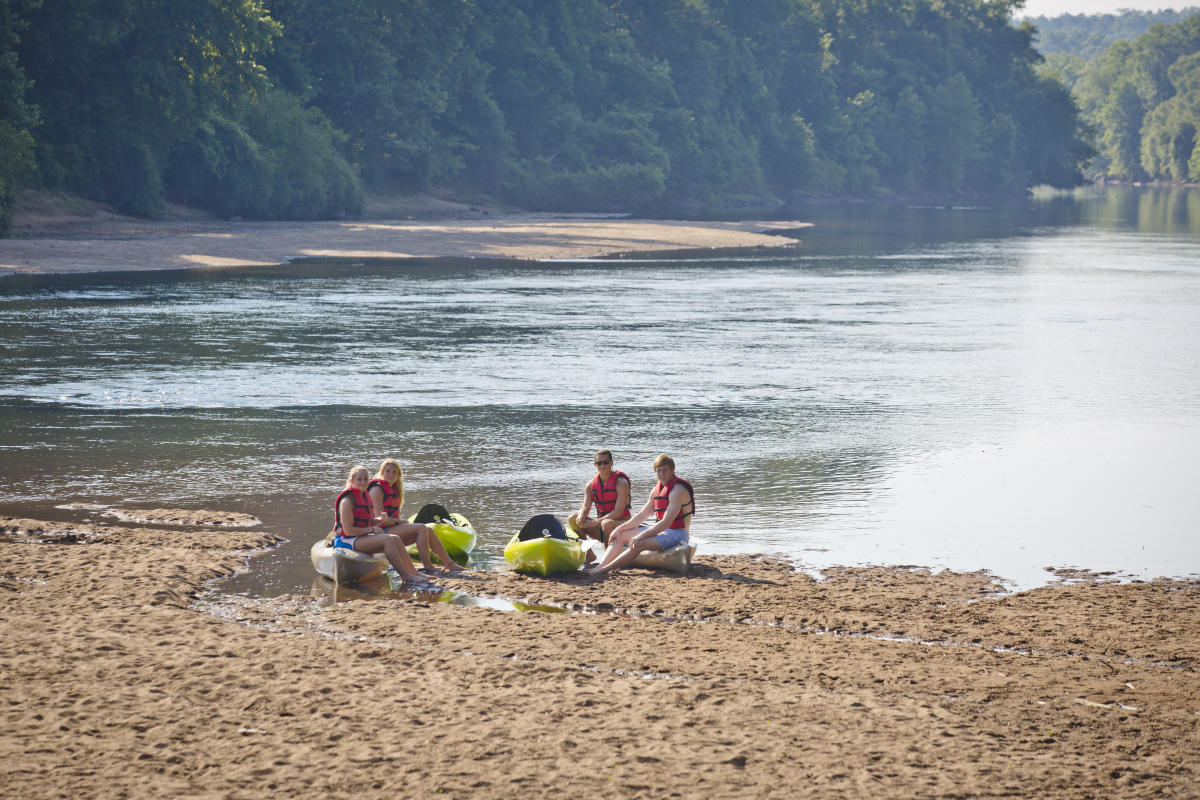 Find Your Flow and Row
Next up on your Milledgeville adventure - get your float on! If a slower pace of water-top activities is more your speed, rent a kayak. Milledgeville offers two kayaking opportunities to soak up your share of Vitamin D and be one with the water. Lake Sinclair is home to numerous inlets and quiet coves, and feeds into the Oconee River which can be enjoyed by paddlers of all experience levels.
The upper Oconee trip (Sinclair Dam to Oconee River Greenway) takes about 2 - 2 ½ hours and while you don't need to be an expert, there are some rapids as you get close to the Greenway. The lower Oconee trip (Oconee River Greenway to Central State Boat ramp) is the most common trip, the float takes about 2 ½ - 3 hours and is recommended for a relaxing river day.
Local outfitters will rent you a kayak for the half or full day as well as provide transportation to drop off and pick up sites. If you aren't feeling up for an epic solo trip, there are small group floats available down the Oconee River as well. Plan your trip to get on the water with our locals Mac's Yaks, Krazy Dave's or Oconee Outfitters.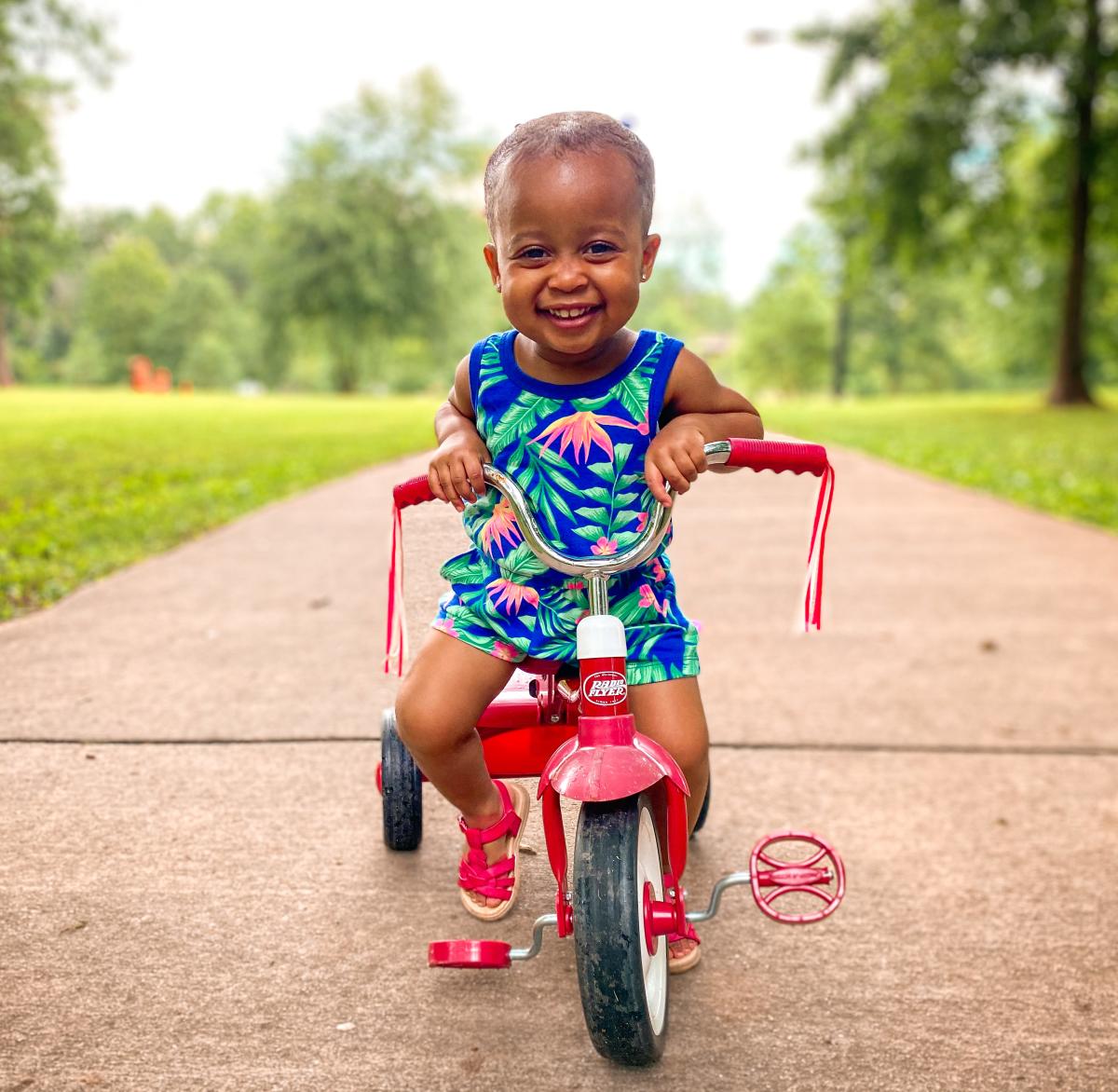 Bring the family to the Greenway
The Oconee River Greenway offers access to kayak the river, but the park also includes multiple individual fishing stations and a boat ramp, multi-use trails, a dog park, and stage for events. Ride your bike, hike, or stroll one of the family-friendly trails, perfect for little ones. The scenic trails will guide you along the river while you observe the greenery and wildlife around you.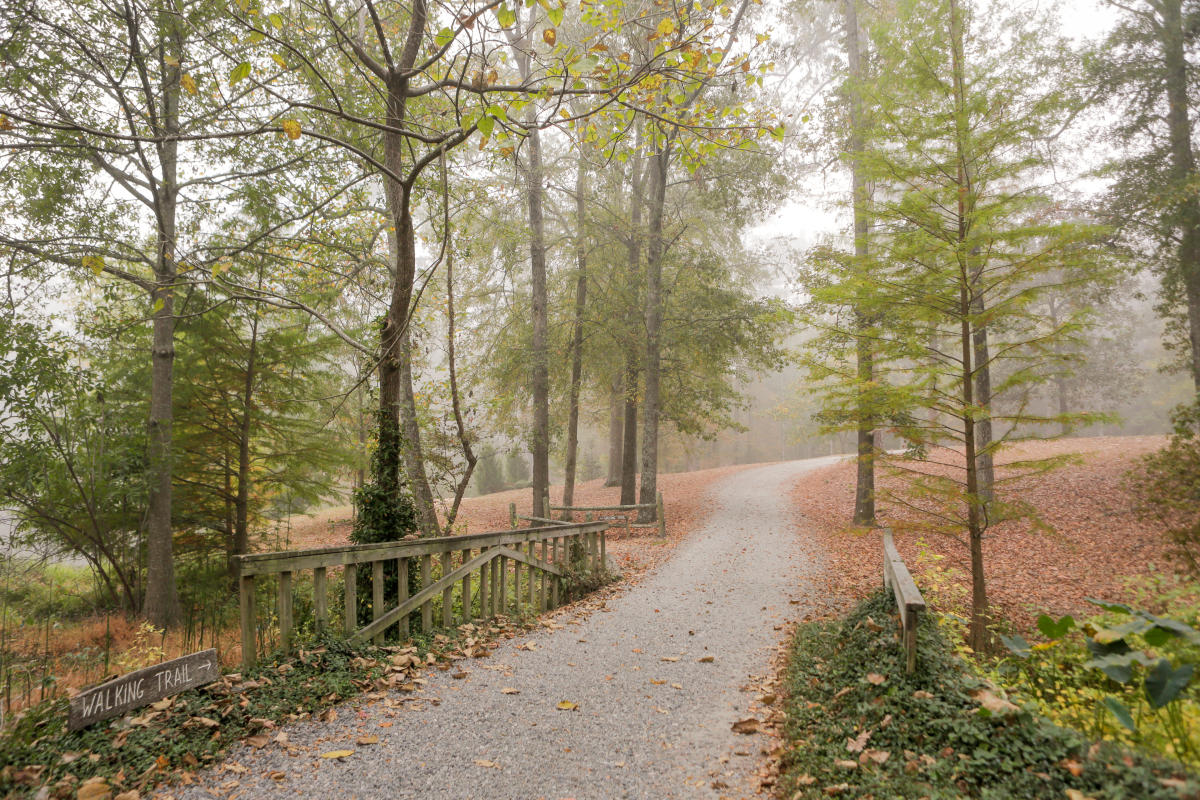 Hug the Trees 
Step foot into this beautiful outdoor museum of trees with rows of blossoming flowers, a pond, and self-guided walking trails. Explore Lockerly Arboretum's 50 acres of land at your own pace and admire the different flowering shrubs such as camellias and azaleas, and a variety of trees including oaks, magnolias and a 301 year old section of a bald cypress, as well as perennials and annuals. Visitors can walk the trails, bring a picnic lunch to enjoy at the tables near the pond, or observe the different wildlife.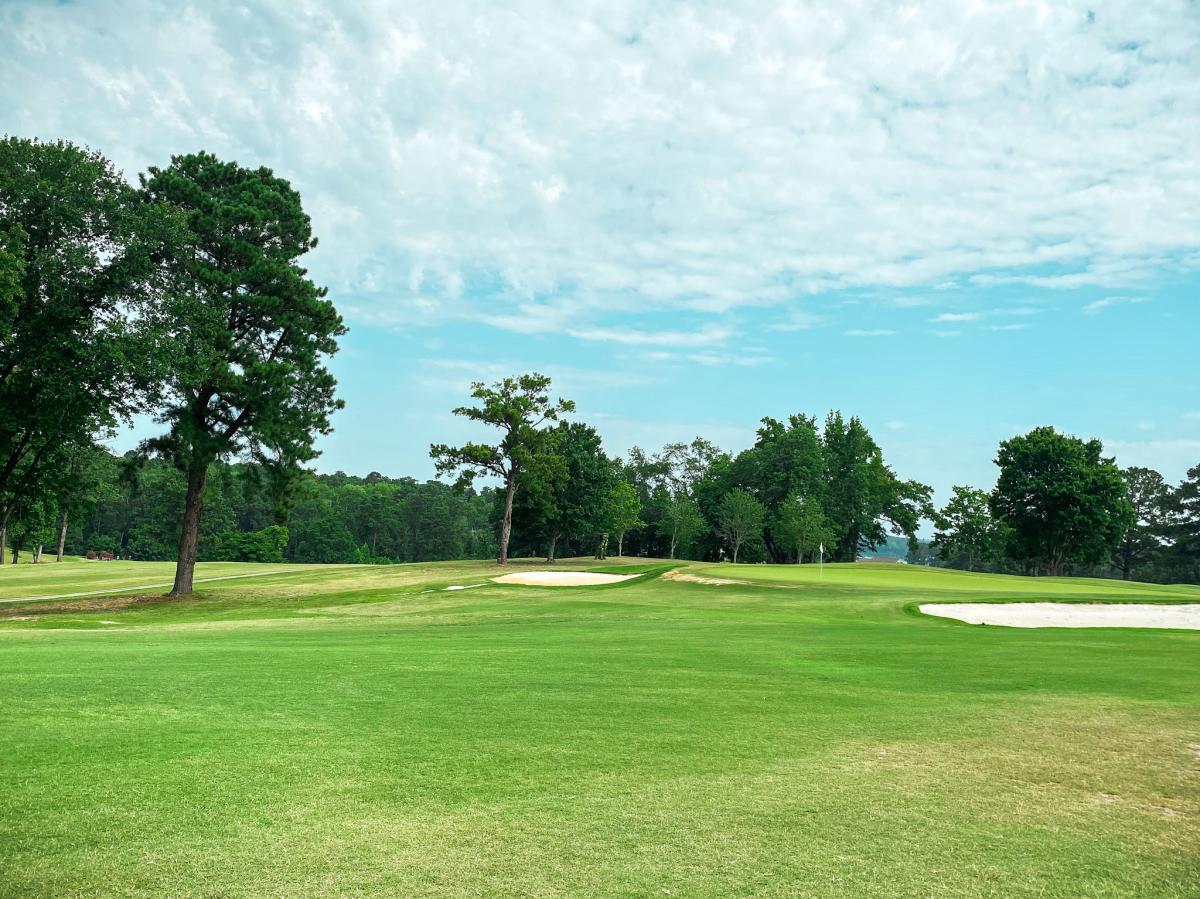 Play a Round of Golf
Enjoy a nice afternoon of golf with family or friends. The Little Fishing Creek Golf Course has an 18 hole course with a driving range and a practice putting/chipping green. The course offers a challenging layout with several blind shots and scenic views. If you are interested in a more exclusive experience, The Club at Lake Sinclair is situated on Lake Sinclair and offers an 18 hole course featuring 3 sets of tees for different skill levels.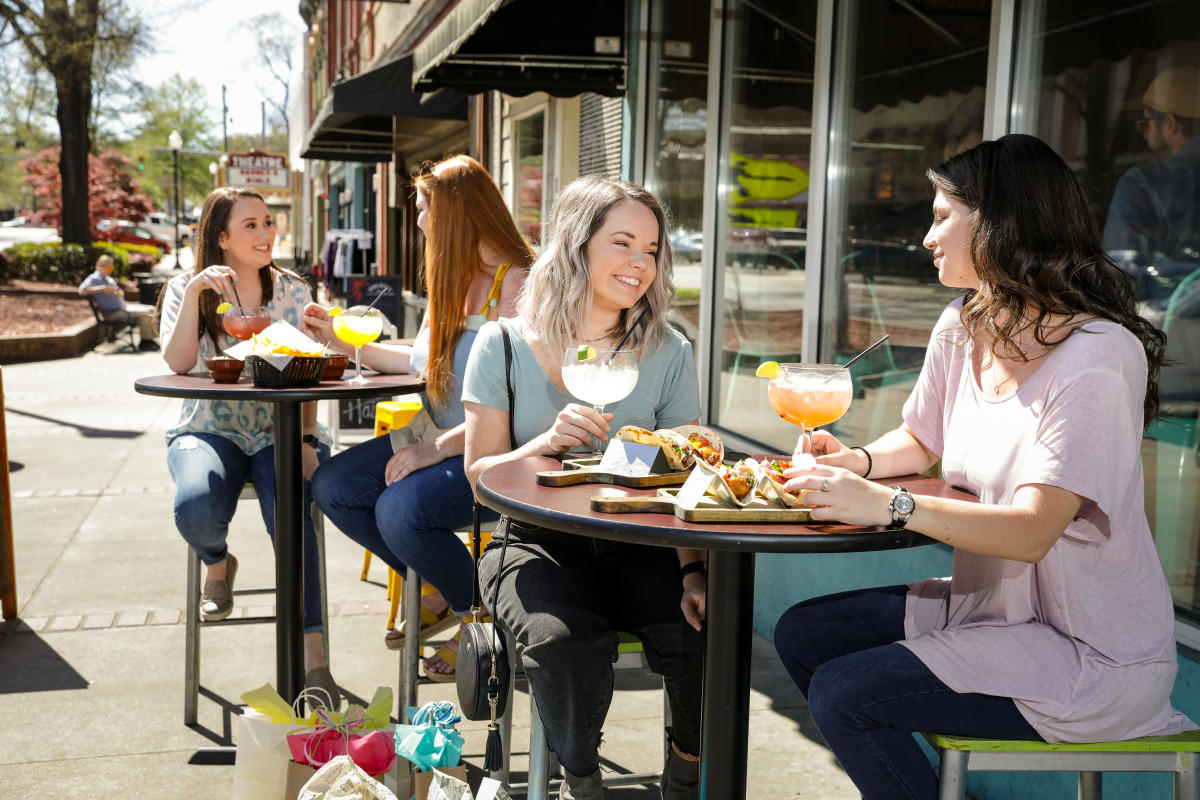 Explore the Downtown District
Need a break from the summer sunshine? Pop into our vibrant college downtown where cool drinks and historic southern charm await. The only difficult decision you'll have to make is frozen or on the rocks as you grab colorful, flavored Margaritas from Bollywood Tacos. More of a beer fan? Hop on down to Amici where you'll have your pick of Georgia crafted brews all with excellent big screen views! Looking for something non-alcoholic? Check out Blackbird Coffee, a locally owned roaster, for an assortment of iced coffees and frappuccinos. The smell of fresh roasting coffee alone is worth the stop! If you don't like coffee try their Berry Pom'ade, a sweet and tart lemonade that will give you a quick cool down. 
As a former 19th century capital of Georgia, Milledgeville is brimming with historic character. Visitors can go on a self-guided historic walking tour and stroll past homes, churches and public buildings that celebrate various architecture styles refined over the last 200 years. Founded in 1803, the town was originally designed as the capital of Georgia and held that title for more than 60 years. The highest point was reserved for the Old State Capitol Building, the first public building designed in the Gothic Revival style. With its castle-like appearance you won't miss it as you walk down the beautiful streets of Milledgeville and learn about architectural features dating back to the 1800s.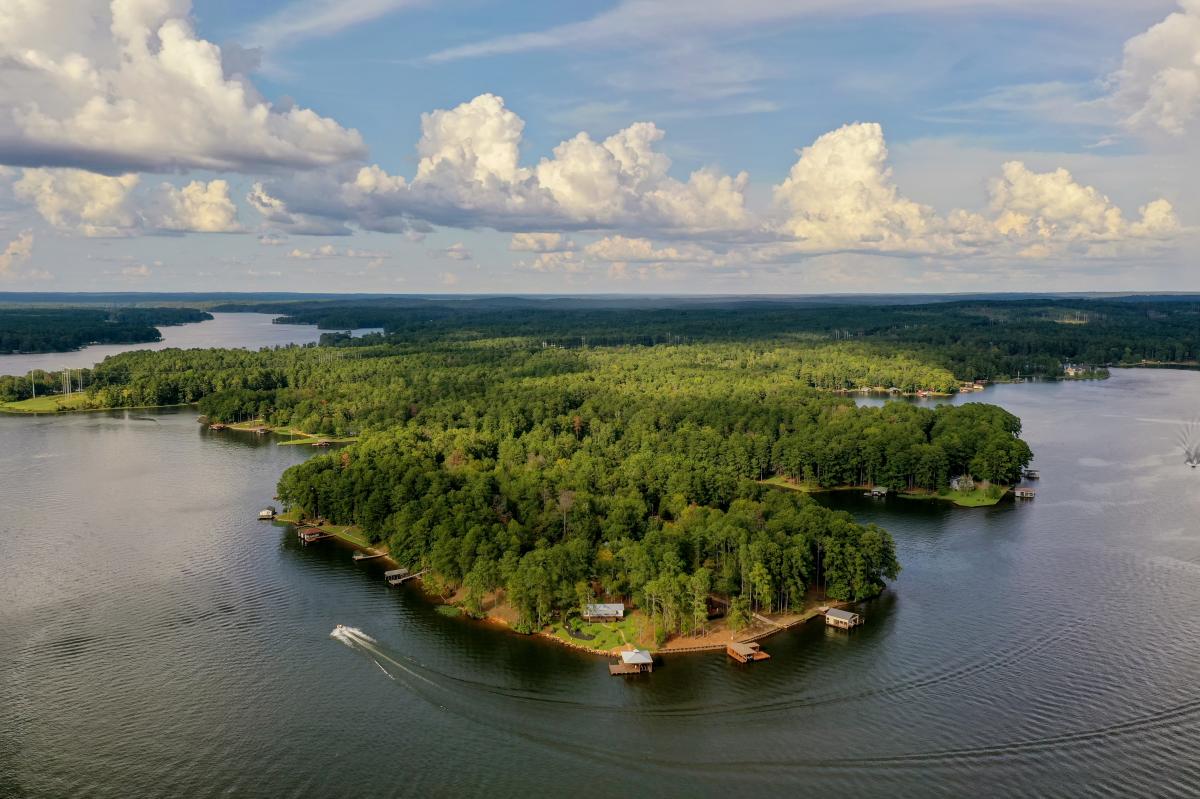 Stay the Night
Milledgeville offers a variety of vacation rentals, hotels, and campgrounds to fit your needs. If you enjoy being immersed in the outdoors, the Scenic Mountain and Little River Park allow for RV parks and Tent campgrounds.
For a relaxing weekend getaway with friends or family, rent a lake house and spend your days on the open water and your evenings roasting marshmallows by the campfire. We highly recommend the newly renovated Modern-Rustic Lake Retreat Get-Away for a luxury stay, with a fireplace, open porch, dock and beach/lake access, and more.