Need a breath of fresh air? Overly accustomed to the four walls in your house? We've got the perfect hiking spots to fulfill your active cravings! Bundle up and grab your hiking boots (or a good pair of sneakers) for a fun adventure at one of Milledgeville's six most popular outdoor destinations. From scenic walking tours to intense hiking trails, Milledgeville offers an outdoor experience suitable for all types of nature lovers. Georgia's winters create the perfect temperature for hiking and exploring the breathtaking views nature has to offer.
1. Oconee River Greenway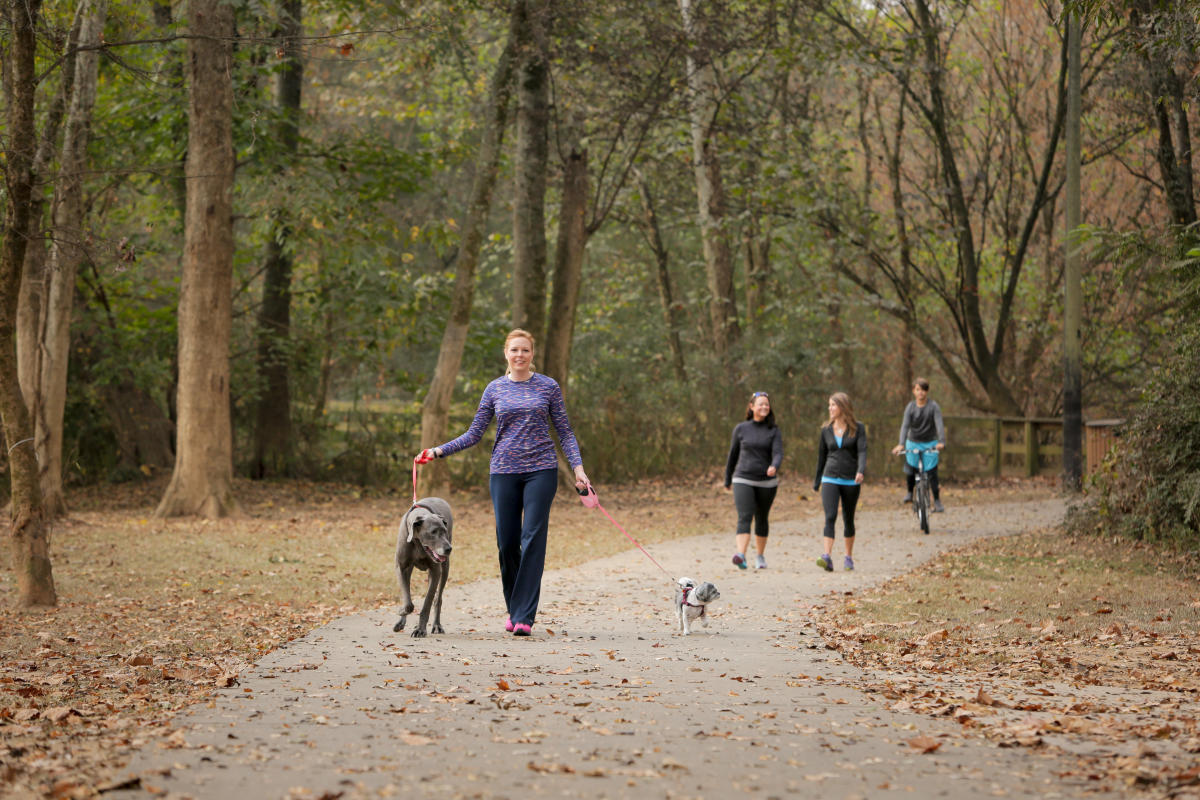 With too many Oak trees to count, lovely picnic tables, the dog park, and the roar of the river, the Oconee River Greenway remains one of the most popular springtime destinations in Milledgeville. Ride your bike, hike, or stroll one of the family-friendly trails, perfect for little ones. The scenic trails will guide you along the river while you observe the greenery and wildlife around you. The Greenway also includes several fishing stations and a boat ramp perfect for a relaxing day on the water or a kayak trip, rent here. These amenities are waiting to be used, so get out there, have fun, and be sure to pop over while out and about in downtown Milledgeville. It's less than a mile away! 
---
2. Selma Erwin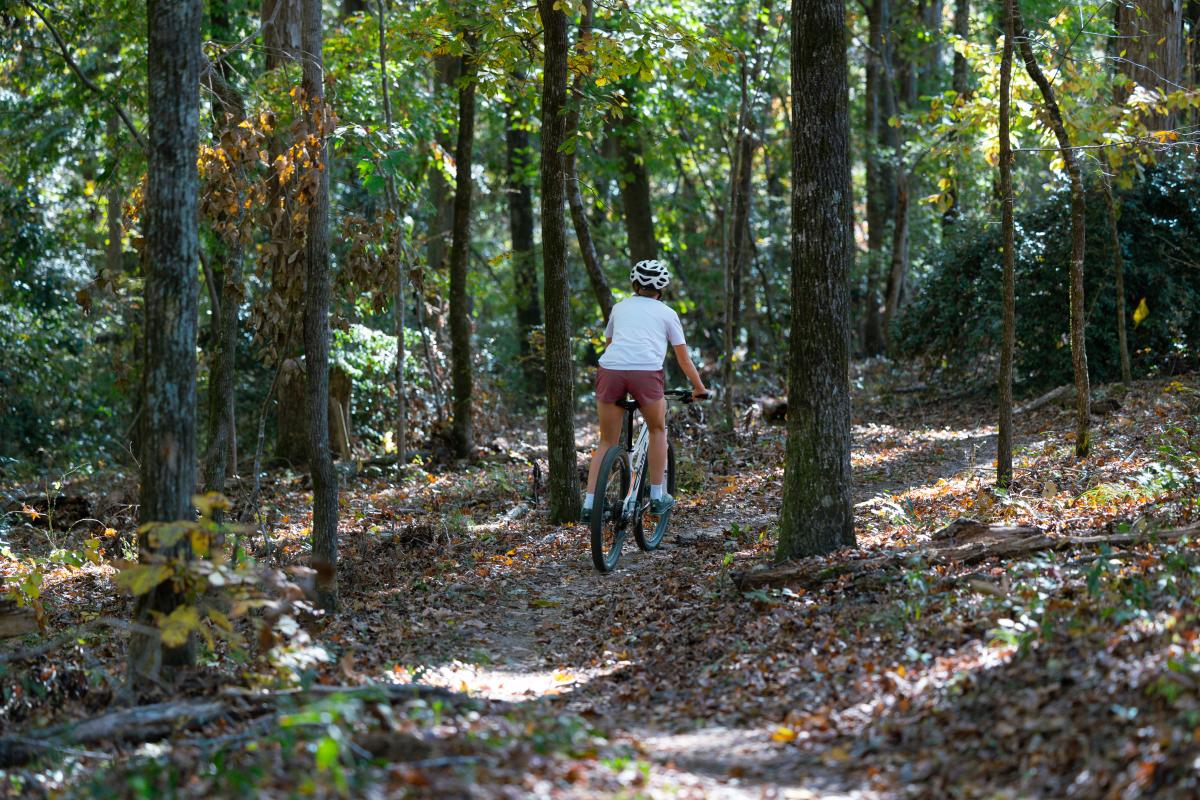 Selma Erwin trail suits all hiker preferences. This intermediate-level hiking spot is equipped with several different loop options to cater to light or strenuous workouts. For a calm stroll with the family, it might be best to stick to the .75 mile connector trail. If you want more of a push, go for Bill's 2.5-mile cut through. For an intense workout, try the new back connector trail that covers almost 7 miles of outdoor paths. If you bring your bicycle, be sure to wear a helmet for this bumpy mountain bike trail and no matter which loop you choose, the forest is sure to be full of blooming Azalea bushes and mountain flowers in the early spring. 
---
3. Bartram Forest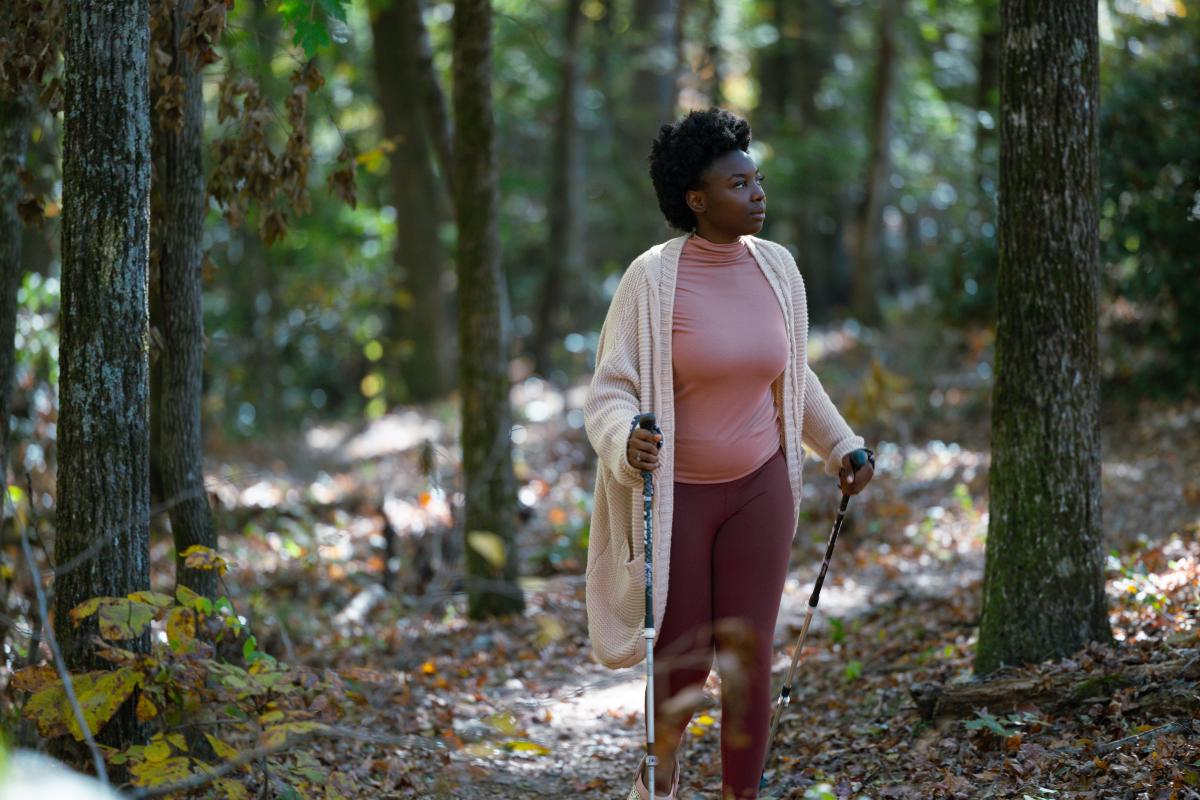 8.8 miles of pure hiking. That's right. Bartram Trail, a fan-favorite, offers a more immersed nature experience for your hiking needs. This loop trail is for all skill levels of hikers, accessible all year round, and dogs are welcome! Snap some pictures from the outlooks over the pond, which provides a beautiful backdrop no matter what time of year. If you're into archery hunting, Bartram has you covered. This forest is classified as a Wildlife Management Area to help protect and sustain our furry friends in the wild. This trail definitely pushes the limits of some hikers but makes for a great way to get outside and stay active. Please note that all visitors to the forest must have a hunting, fishing, or land use pass from the Georgia Department of Natural Resources. Register online here. 
---
4. Historic Walking Tour

If you're looking for an urban hike full of historical facts, try checking out the Historic Self-Guided Walking Tour. Stroll past Georgia's Old Capitol Building, now on the campus of Georgia Military College, as well as dozens of Greek Revival, Victorian and Federal-style homes. For an in-depth learning experience and a break from the cold weather, we suggest a tour of one of the finest examples of High Greek Revival architecture in the nation, Georgia's Old Governor's Mansion. The Mansion is open Tuesday thru Saturday, 10-4 and Sunday, 2-4 with tours every hour. Historic Walking Tour Brochures are available at the Visitor's Center located at 200 West Hancock Street.
---
5. Lockerly Arboretum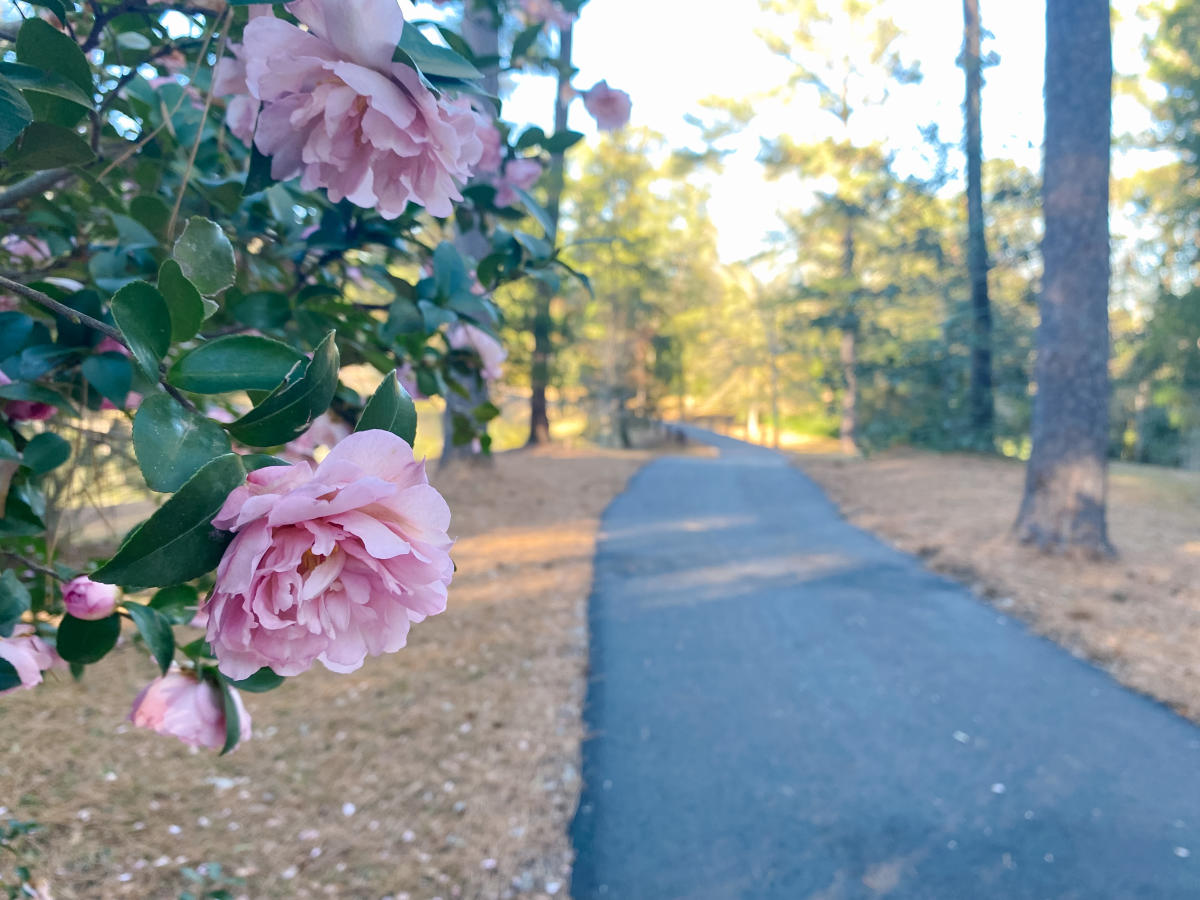 Boasting 50 acres of gardens, walking trails, and a pond, Lockerly Arboretum was founded in 1965, by Mr. E. J. Grassmann. This Milledgeville treasure features flowering shrubs such as camellias and azaleas, and a variety of trees including oaks, magnolias and a 301-year-old section of bald cypress. A 1-mile paved nature trail is home to many mature hardwoods, ferns and wildflowers. The centerpiece of Lockerly is Rose Hill, a National Register, Greek Revival style home built in 1852 by Daniel R. Tucker. Visitors can walk the trails, bring a picnic lunch to enjoy at the tables near the pond, and watch birds and wildlife. The grounds are free and open to the public Monday-Friday from 8:30 am - 4:30 pm and Saturdays from March - November from 10:00 am - 4:00 pm.
---
6. Tobler Creek Trail at Andalusia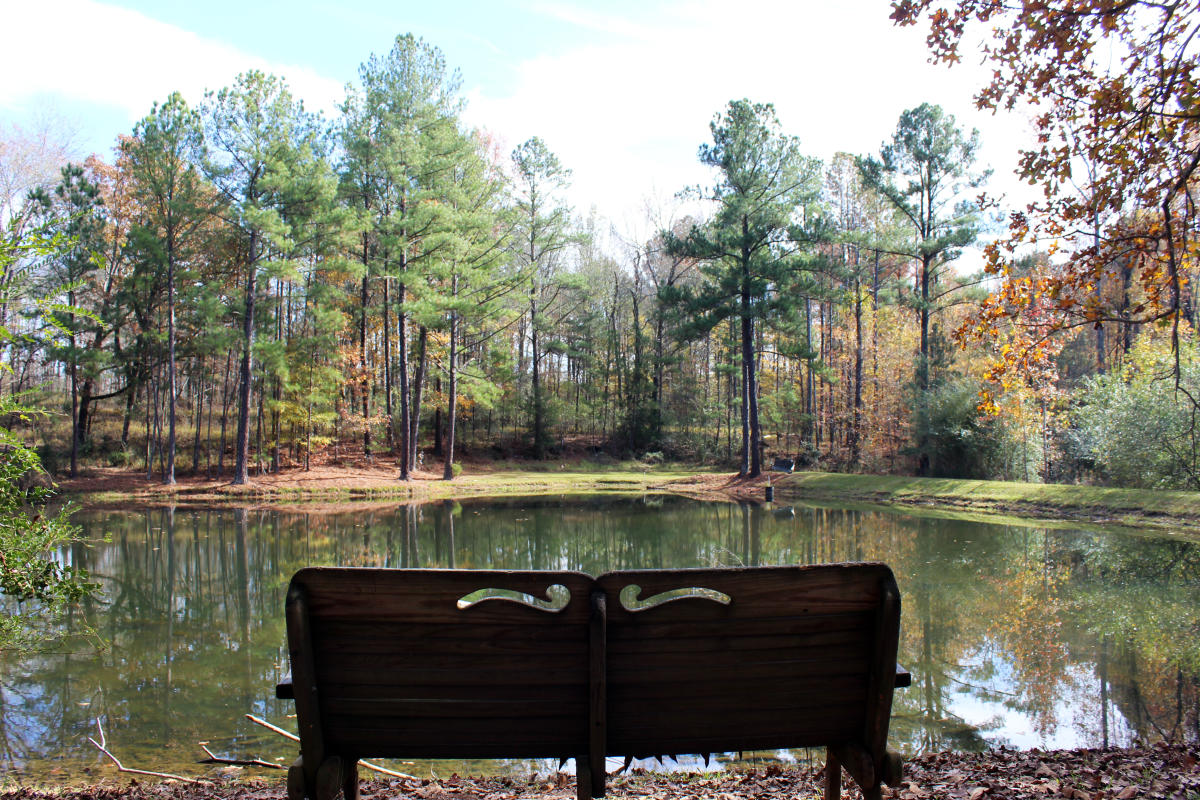 Photo courtesy, Andalusia: the Home of Flannery O'Connor. 
Nestled just on the Milledgeville city limits, Tobler Creek Trail at Andalusia Farm is open to visitors Tuesday through Saturday 10 am-4 pm and Sunday from 2 pm-4 pm. The 3/4 mile leaf-covered trail loops around the low cow pond, nearby tall field grass, and through the dense woods and back again. Along this brief trek, be on the lookout for various wildlife, from smaller chipmunks and hummingbirds to larger wild turkeys and deer. The grounds are free and open to the public Tuesday - Saturday from 10 am - 4:30 pm and Sundays from 2 - 4 pm.
So, with so many options to choose from, go out there, get on the grind, hike some trails, and feel the sun.