Just a short trip away from the hustle & bustle of Atlanta, Lake Sinclair's beautiful waters offer recreational enjoyment for everyone. Grab the family, pup and all, and head to Milledgeville for a long weekend!
Your plans for a Lake Sinclair getaway surely include going for a swim in the refreshing waters and maybe casting a line. While visiting Lake Sinclair, minutes from downtown Milledgeville, there is so much more you must plan to do.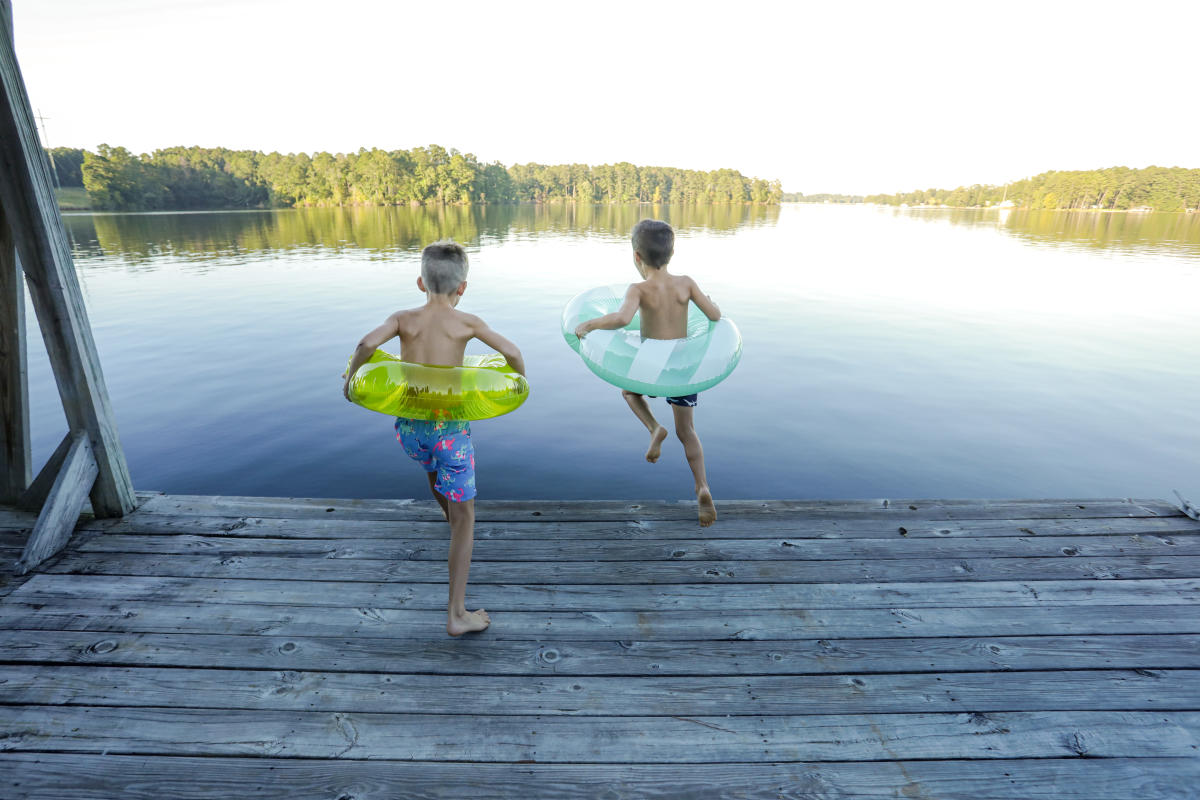 1. RENT A LAKE HOUSE
Soak in the sun at beautiful Lake Sinclair with your morning coffee, with a good book lounging on the dock in the afternoon, or with a family cannonball contest before dinner. The fun doesn't have to stop when the sun goes down, many lake houses offer a firepit perfect for roasting marshmallows. After a day of fun you'll be glad your bed is just steps away as Milledgeville offers a variety of beautiful lake house rentals.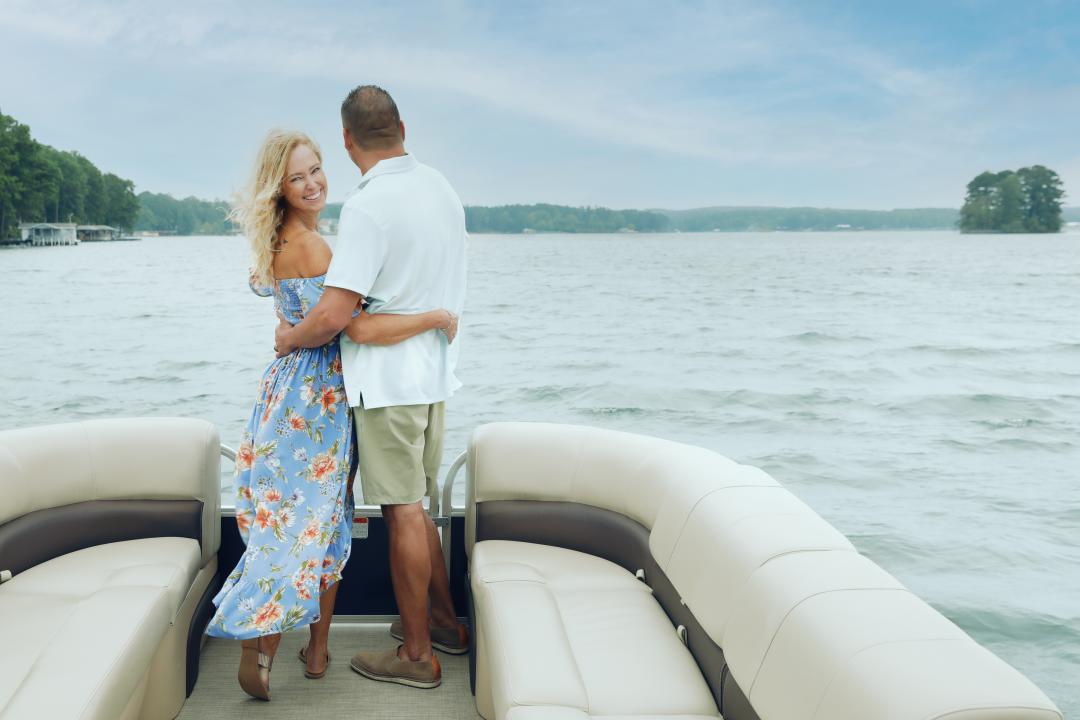 2. Cruise the waves
If you find yourself at the lake, obviously you need to get out ON the lake. Spend the day with the wind rushing through your hair, jumping in the cooler, deeper water and a friendly game of tossing your family member off a tube. If you don't have a boat, no problem, many area marinas rent them by the half or full day. For boat rentals and fishing guides try Sinclair Marina. Boats and jet skis are available from Twin Lakes Jet Ski as well as JereShai Lakeside.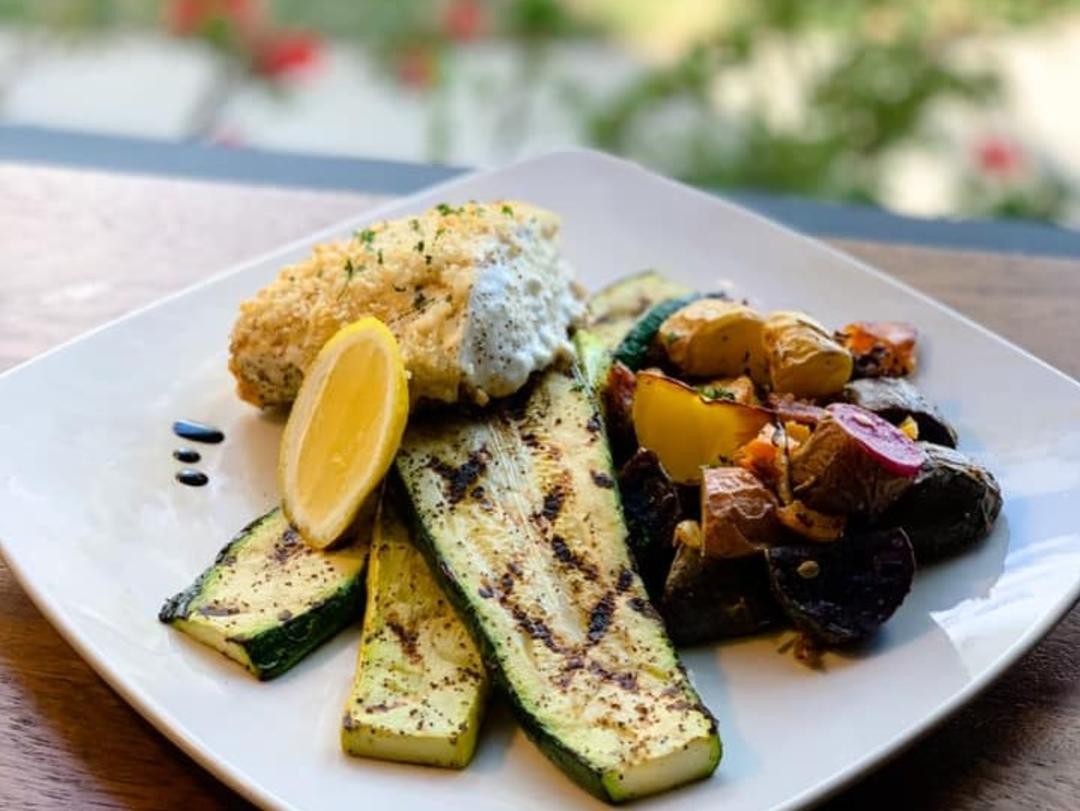 3. Dine Lakeside
With views of Lake Sinclair from their dining room and deck, Aubri Lanes will take your taste buds on a vacation to the coast with their award winning seafood including their crispy calamari, sesame seared ahi tuna and their shrimp and grits. Their talented culinary team uses only the freshest ingredients for chef-inspired dishes. If seafood isn't your choice, locals love their bone in pork chop and hand cut ribeye. All the steaks are certified angus beef, the best around! 
If you find yourself near the Little River Campground boat ramp, Taylor's Cove offers a mouth-watering selection of seafood from oysters to shrimp tacos, burgers, wings and the local favorite, brisket mac-n-cheese. Taylor's Cove has a beautiful porch overlooking the water, enclosed dining room, an indoor and outdoor bar, where on the weekends, March - August, you will find a lively atmosphere with live music! Did we mention it is only steps away from docking your boat?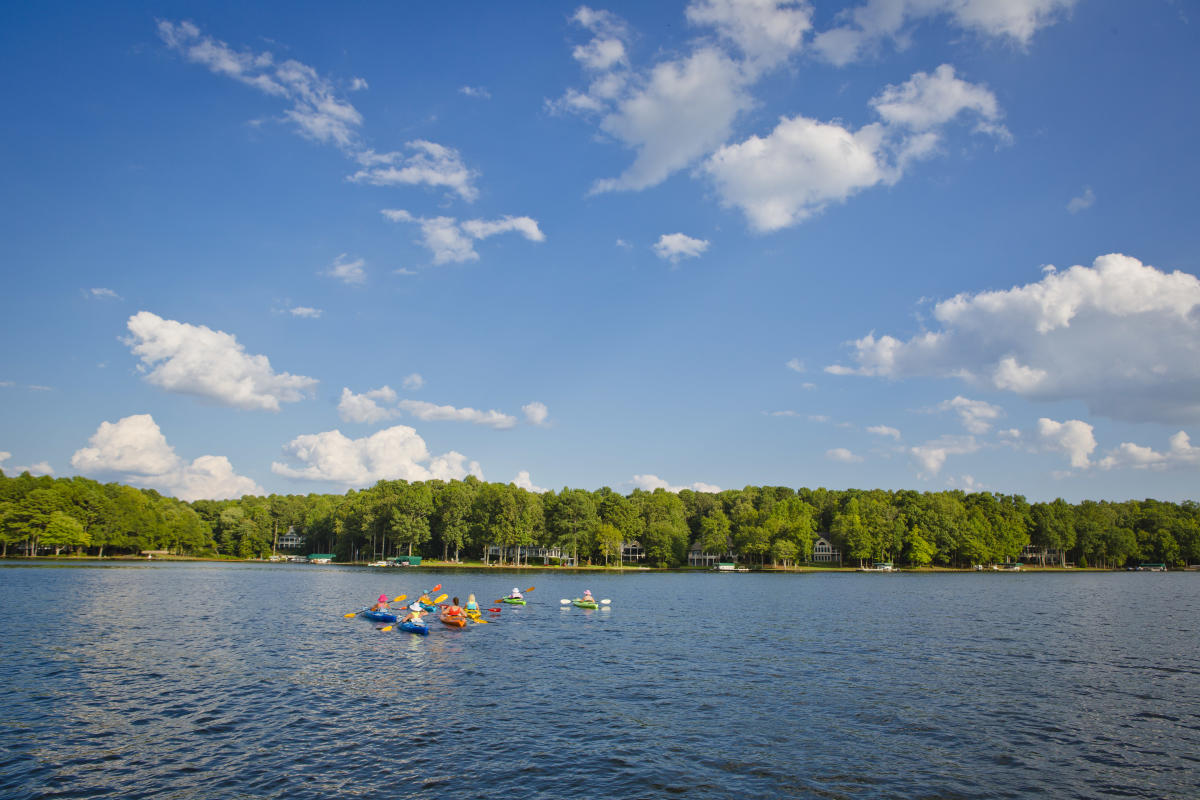 4. Paddle Calm Waters
If a slower pace of water-top activities is more your speed, rent a kayak. Lake Sinclair is home to numerous inlets and quiet coves, and feeds into the Oconee River which can be enjoyed by paddlers of all experience levels. Local outfitters will rent you a kayak for the half or full day as well as provide transportation to drop off and pick up sites. If you aren't feeling up for an epic solo trip, there are small group floats available down the Oconee River as well. Plan your trip to get on the water with our locals Mac's Yaks or Oconee Outfitters.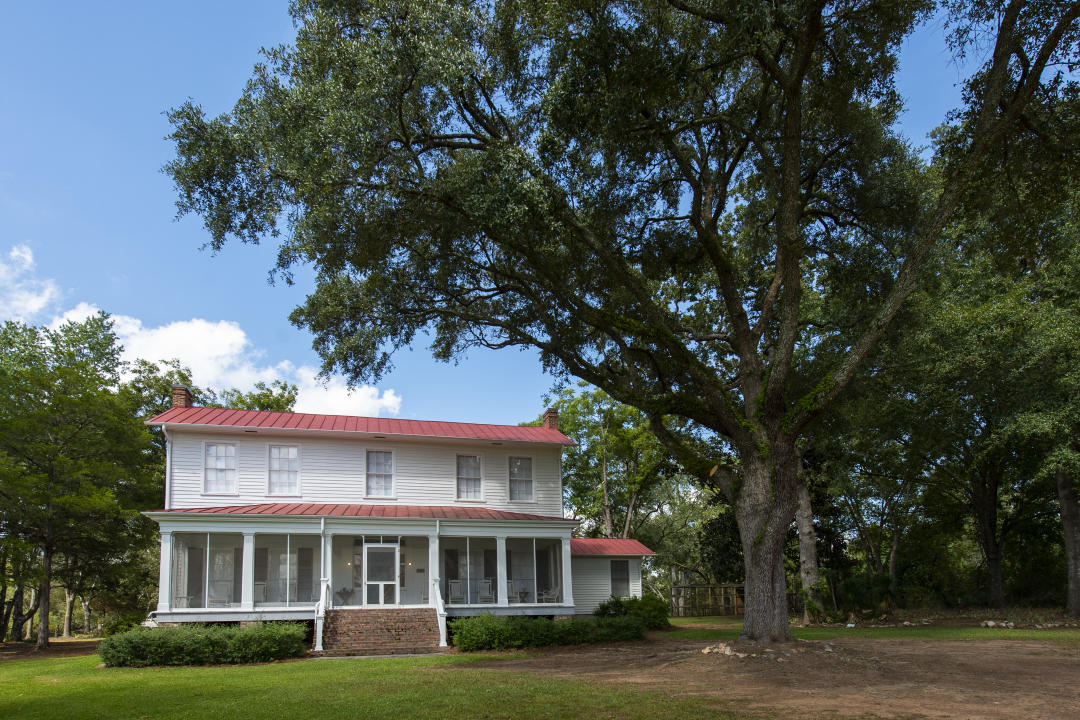 5. Explore Inspiration
Located just 5 miles from Lake Sinclair, Andalusia Farm is tucked within the pines. Serving as the home of famed American author Flannery O'Connor from 1951-1964, the property was first settled in 1814 as a cotton plantation. Following a diagnosis of Lupus in 1951, O'Connor moved to Andalusia and completed the bulk of her literary work, as the farm's environment influenced the setting of many of her writings. Today, the home is open for tours and has been reinterpreted to the 1950's when O'Connor would have been in residence.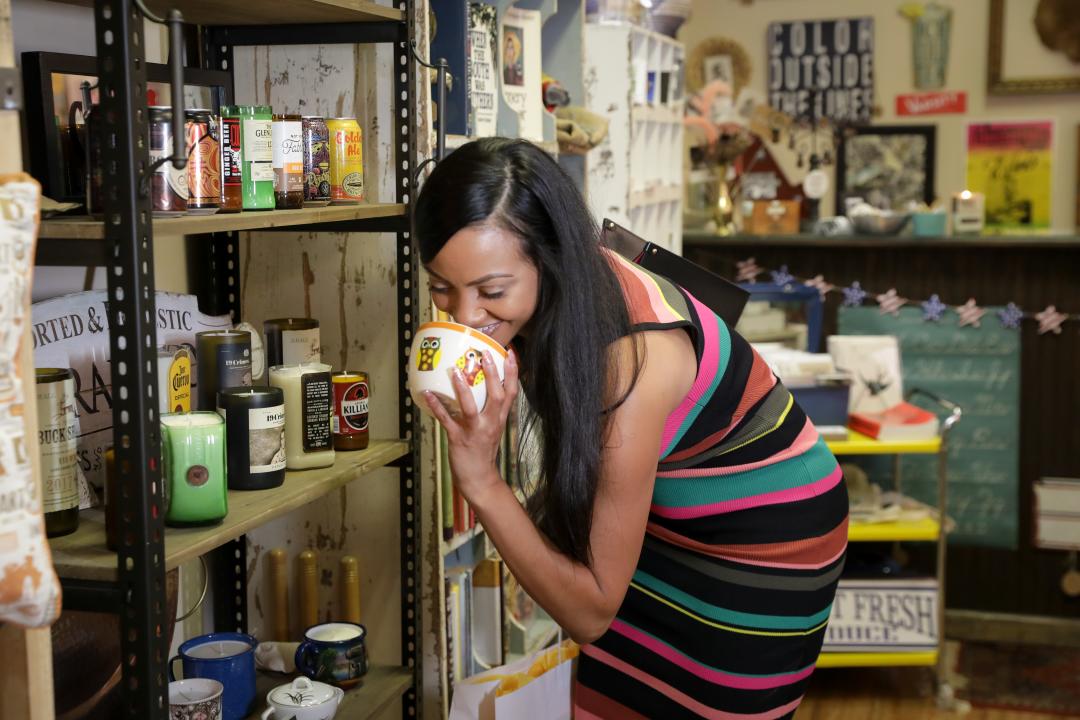 6. Hunt for Antiques
If you need a break from the sun, hunting for a unique treasure is thrilling. Milledgeville is home to some great antique and vintage shops. Downtown's Market Collective, Auntie Bellum and The Red Door offer a variety of vintage items including old bottles, hand-crafted gifts, postcards and historical artifacts. Closer to Lake Sinclair ensure you stop by Little River Antiques for curated antiques, vintage items, home decor and outdoor sporting equipment.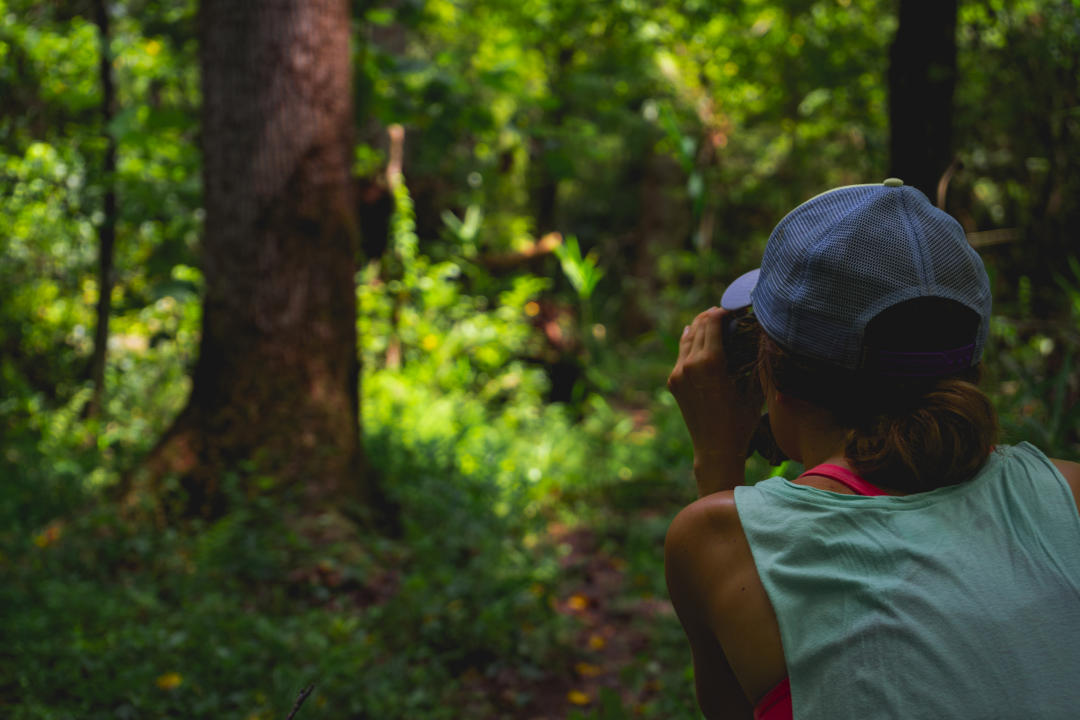 7. Lace up
Grab some hiking boots (or a good pair of sneakers) and get outside to one of Milledgeville's six most popular outdoor destinations. From scenic walking tours to intense hiking trails, Milledgeville offers an outdoor experience suitable for all types of nature lovers. Bartram Forest's winding trails, pine trees that touch the sky, and trickling creeks are perfect for hiking, jogging, or simply just taking a casual stroll. If you want to explore any of the trails on two wheels, bike rentals are available from Oconee Outfitters. 
Have little ones in tow? An adventure at Lockerly Arboretum is the perfect place for your mini-mes to let out some steam. Located a few miles south of Milledgeville, Lockerly Arboretum has shady spots to enjoy picnics with your family, a one-mile nature trail meant for budding explorers, and in the Woods Museum, you'll even come across some native wildlife.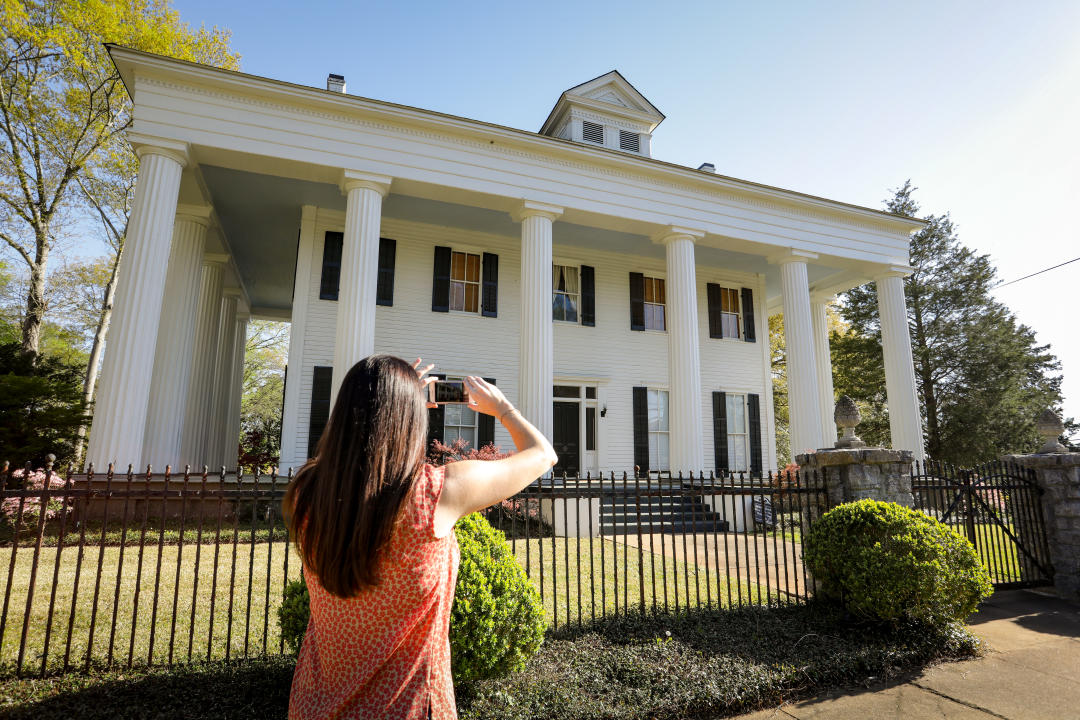 8. Leisurely Meander through History
Many come to Milledgeville with one thing on their mind: rich Georgia history, as she served as the capital of Georgia from 1803 to 1868. Get lost in the architectural grandeur when you take a leisurely stroll down oak lined streets in downtown Milledgeville's 10 blocks of historic district. From homes to churches to college campuses, our Historic Walking Tour invites you into the past of well preserved Federal-style architecture, enhanced by noteworthy Greek Revival, Victorian and Classic revival styles. Need to pop into some air-conditioning? Tour one of the finest examples of High Greek Revival architecture in the nation, Georgia's Old Governor's Mansion. Serving as the residence for Georgia's chief executives for over thirty years, the Mansion is open for public tours Tuesday thru Saturday, 10-4, and Sunday, 2-4 with tours every hour on the hour.
If you prefer to ride, hop aboard the town's most iconic resident "Milly the Trolley" for a fully narrated tour of Milledgeville's historic district! Featuring grand architecture, beautiful squares and historic neighborhoods, the sixty minute tour provides an overview of Milledgeville's history during its sixty-eight year period as the capital city of Georgia. During the course of the tour, guests will cruise the historic district via trolley and also be escorted on a guided walk through the former statehouse square and St. Stephens Episcopal Church, consecrated in 1843. Trolley tours are hosted on Fridays and Saturdays at 10 am, depart from the Milledgeville Visitor Information Center and are offered rain or shine.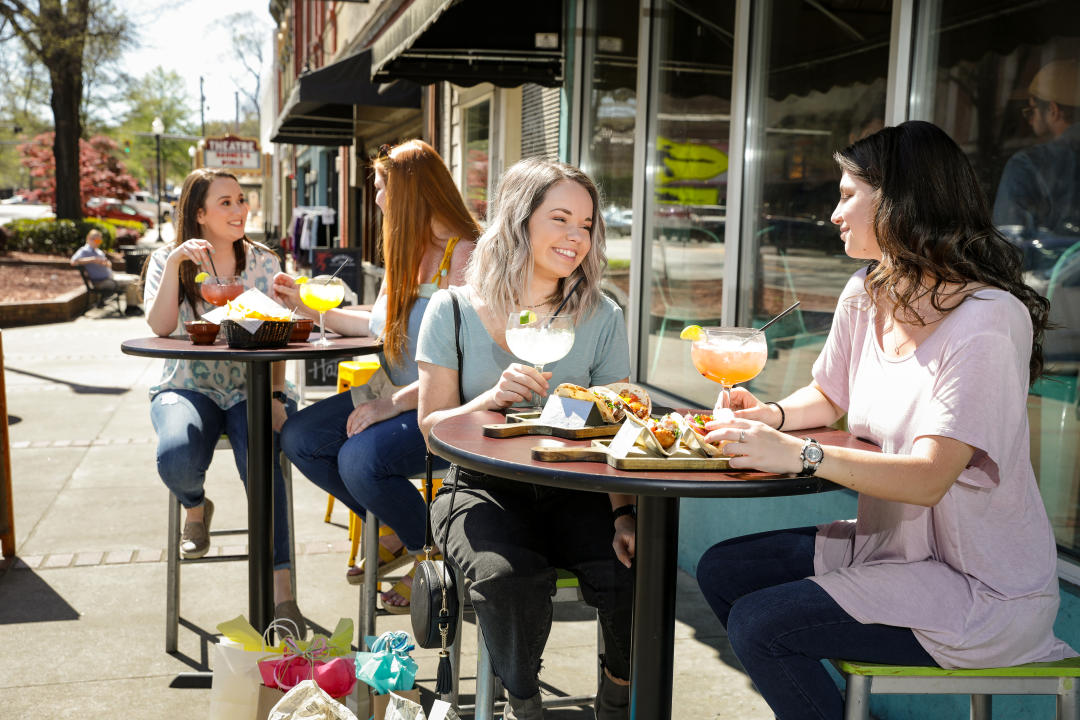 9. Enjoy Refreshing Drinks
After strolling the historic district, experience the cheerful downtown atmosphere while enjoying the fresh open air at a crave-worthy establishment. Downtown Milledgeville's revitalized historic buildings offer a walkable plethora of choices. If it's Monday, you're in luck at Bollywood Tacos. Nothing beats Marg Monday at Bollywood Tacos where margaritas are mixed from scratch. If it's Tuesday, Amici will live music during dinner and a mountain of honey-hot wings ready for you to devour. Buffington's features locally brewed drafts and over 50 offerings of bottled craft beer. If a great selection of martinis and specialty drinks is your style, The Reel Grill of Milledgeville is the spot to be. Embrace Milledgeville's history and try Flannery O'Connor's Love Letters specialty drink, with a name inspired by the famous Milledgeville writer. 
Though the energy in Milledgeville never truly dies, it certainly takes on a new form of life as the sun goes down. Many downtown restaurants and bars are open for "late night" from 10 pm – 2 am, offering live music, karaoke, trivia, dancing and more.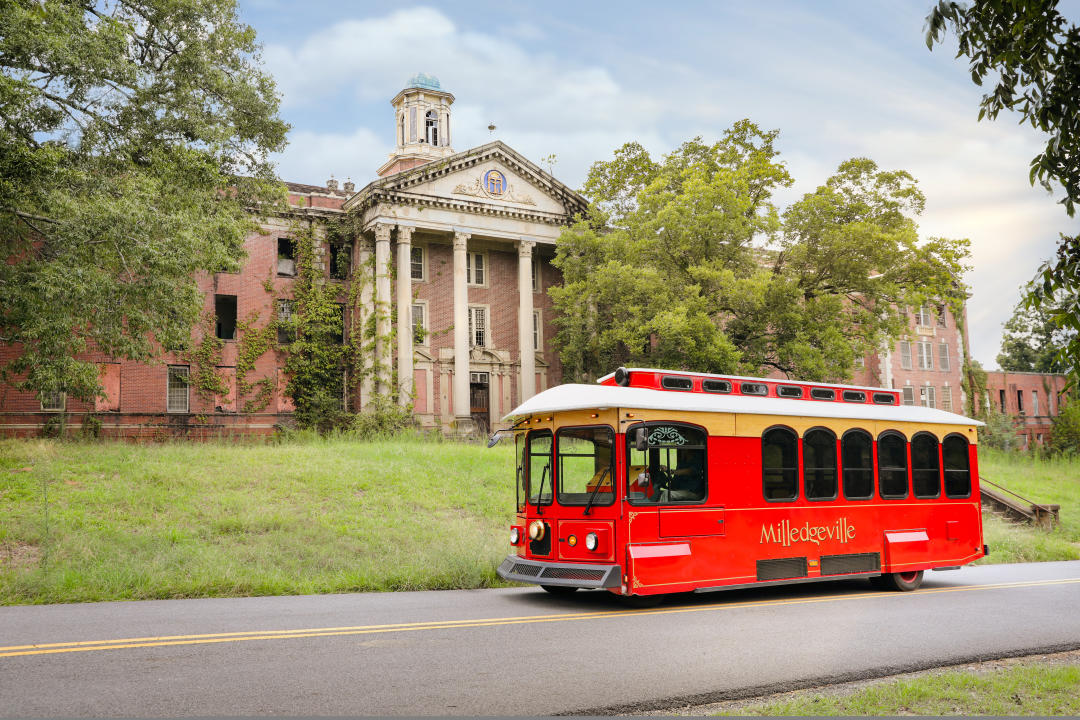 10. Discover Central State Hospital's Story
Since its founding in 1842, the Central State Hospital Campus (originally known as the Georgia State Lunatic, Idiot, and Epileptic Asylum) has been one of Milledgeville's most well known and intriguing sites. The site gained national recognition during the 1960s as the United States' largest mental institution with over 12,000 patients, 6,000 employees, and more than 8,000 acres of land. Today, Central State Hospital serves over 200 existing patients and has downsized to roughly 2,000 acres of land. 
For those interested in exploring more of the history of the former Central State Hospital campus, a guided trolley tour is your perfect chance. Board 'Milly' the trolley and set out on a guided driving tour through the grounds of Central State Hospital. Learn about the history of the institution as well as the redevelopment of the grounds from a former Central State employee and tour guide.  Tours are offered monthly. 
Book Your Stay
on Lake Sinclair
These vacation homes on Milledgeville's Lake Sinclair have plenty of space for everyone in your group, whether you are planning an exciting family vacation or a refreshing getaway with friends.