Cinco de Mayo is falling on a Taco Tuesday this year and we are already dreaming of all the delicious tacos we will consume! With so many tasty tacos to choose from in Milledgeville, we aren't going to let social distancing hold us back from the food we love. The silver lining of ordering curbside is that no one knows if you order ten tacos just for yourself and eat them in stretchy pants (that's what we call a win, win)! So order up and help us in selecting the best of the best! Review those in the running below and then head on over to our Instagram page stories to vote! (Voting is now closed.)
CONGRATULATIONS Bollywood Tacos! 

Best classic taco:
Sometimes, a classic taco is all you need to make it through the day. There is nothing better than a crunch shell, perfectly seasoned meat, melty cheese, and fresh veggies on a Taco Tuesday! 
Los Magueyes:
Tacos al Carbon is the perfect classic taco. Los Magueyes serves up these rolled tortillas filled with meat, rice, bean, pico de gallo, and guacamole. It doesn't get much better than that. 
Bollywood:
The CARNE-ASADA taco can be found at Bollywood and is sure to please. Filled with  grilled steak and topped with cilantro, sautéed onions and peppers, tomatoes and fresco cheese. What more could you ask for?
Best specialty taco:
Classic tacos are a timeless must, but sometimes, it's fun to spice up an old favorite. Adding new fillings and throwing in some new flavors can change a dish entirely. These tacos are for the adventurous eaters.  
Bollywood: 
The Peach Country Taco at Bollywood brings Mexican cuisine a little closer to home. This non-traditional taco includes fried chicken, bacon, pimento cheese, and peach salsa all wrapped in a tortilla. 
El Tequila:
El Tequila's Tacos al Pastor brings a little sweetness to the classic taco. These tacos are served with chicken or steak, cilantro, onions, and are topped with marinated pineapple.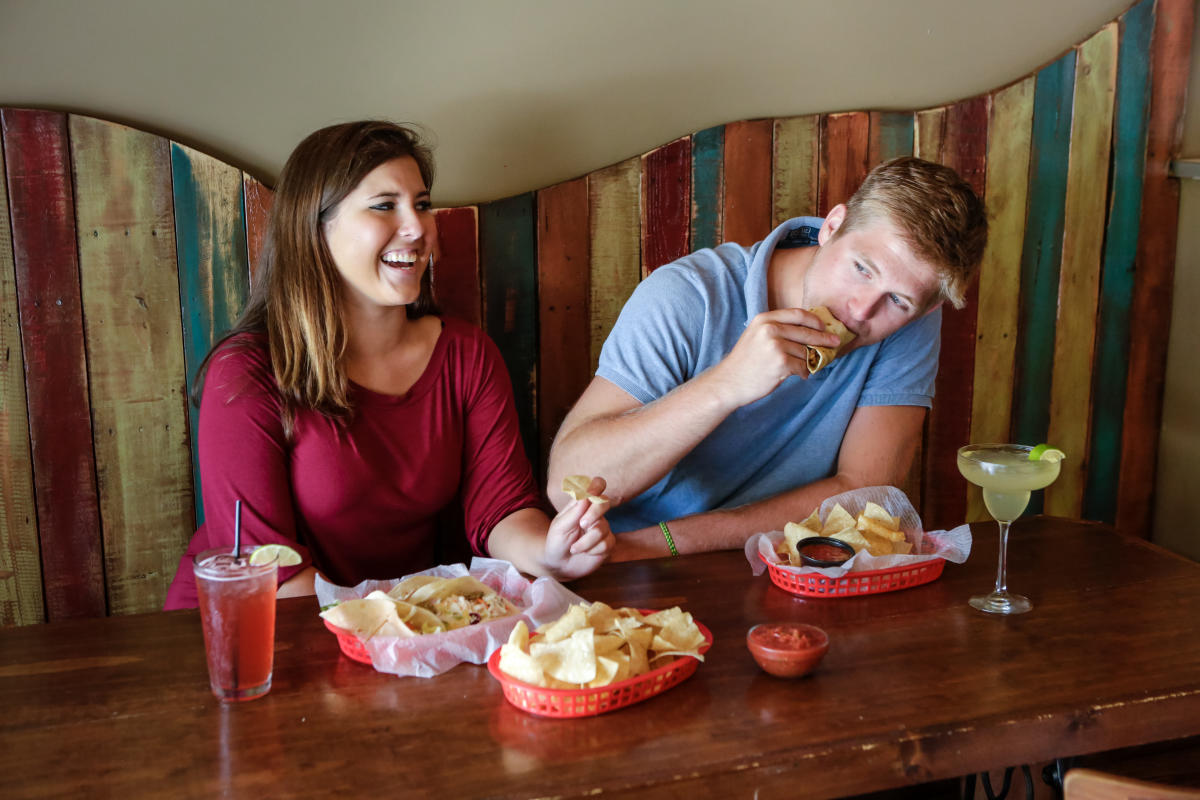 Best seafood taco:
Fish tacos, shrimp taco, grouper tacos… we could go on and on about all the different variations. These tacos can be found all around town, but which one beats all the rest?
Ole' Chobys
Blackened or fried grouper plays the starring role in the Fish Duo tacos from Ole' Chobys. A house blend of toppings make them unique to the restaurant, but the fish is the star of the dish with house blend of toppings.
Reel Grill
There are plenty of fish to choose from when ordering Reel Grill's Seafood Tacos. Shrimp, salmon, grouper, or ahi tuna is available on flour tortillas with cajun aioli, lettuce, salsa, and pepper jack cheese. You'll have to order them multiple times to try all of them!
Velvet Elvis
Velvet Elvis' fish tacos are not to be missed. Their flour tortillas are filled with mahi mahi and topped with all the classics like lettuce, cheese, sour cream, and pico de gallo. 
El Amigo
El Amigo's Bang Bang Shrimp Tacos have a spicy kick to them! Filled with fried shrimp, these tacos are topped with fried jalapenos, lettuce, pico de gallo, sweet chili sauce, and jalapeno ranch. 
---
Results of Round ONE: 
Our Instagram audience has spoken with over 250 votes! 
Best classic taco:
Los Magueyes: Tacos al Carbon VS Bollywood: CARNE-ASADA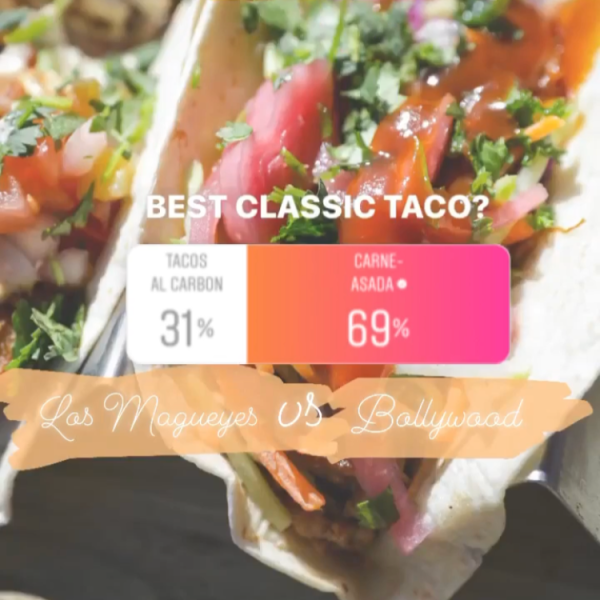 Best specialty taco:
Bollywood: Peach Country Taco VS El Tequila: Tacos al Pastor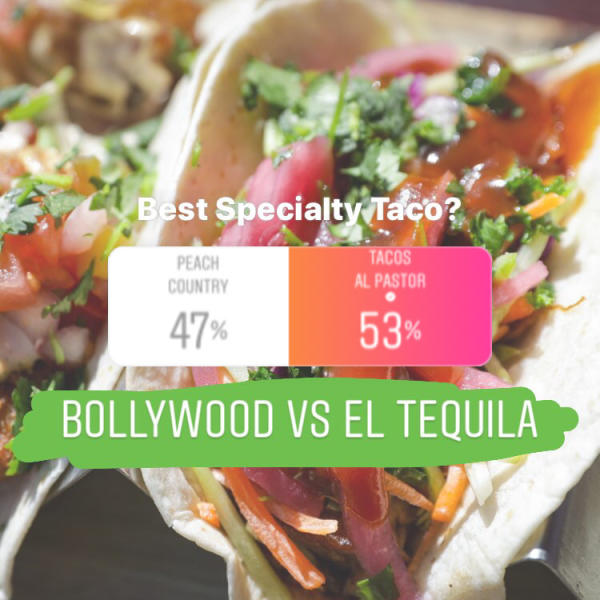 Best seafood taco:
Ole' Chobys: Fish Duo tacos VS Reel Grill: Seafood Tacos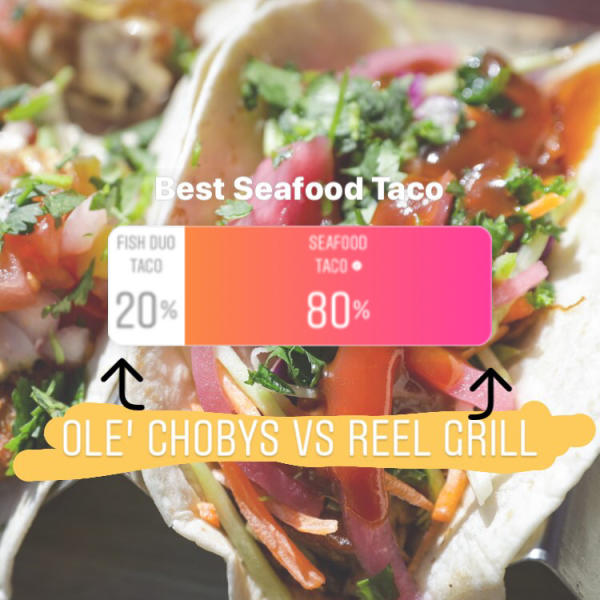 Velvet Elvis: Fish tacos VS El Amigo: Bang Bang Shrimp Tacos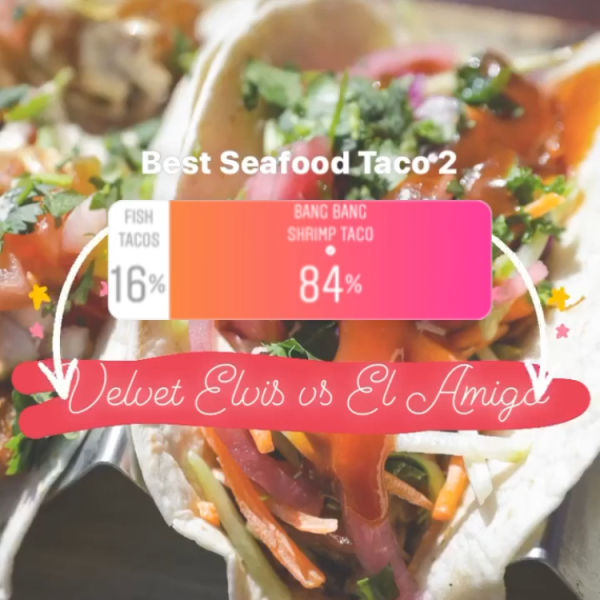 ---
Results of Round TWO: 
Our Instagram audience sure loves tacos, with over 150 votes we have our finalists! 
Bollywood Tacos: CARNE-ASADA VS El Tequila: Tacos Al Pastor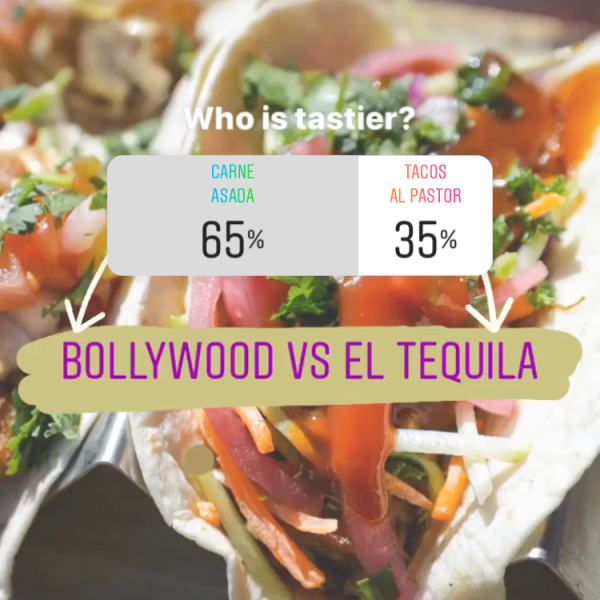 Reel Grill: Seafood Tacos VS El Amigo: Bang Bang Shrimp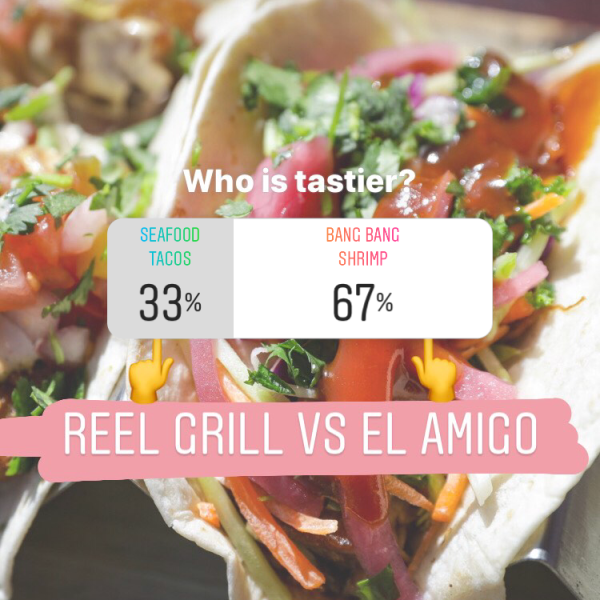 Results of Round THREE: 
Bollywood Tacos: CARNE-ASADA VS El Amigo: Bang Bang Shrimp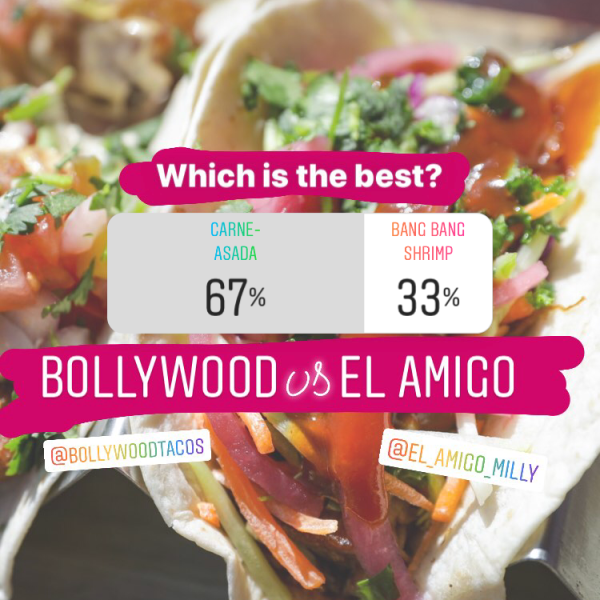 Congratulations Bollywood Tacos!