Milledgeville is a place with an amazing downtown, but in the surrounding areas, we have rich farmland and some awesome farmers to go along with it. With The Green Market every other Saturday in Milledgeville, you won't be missing out on the best organic and fresh produce from these cool locals. Here are some of the highlights: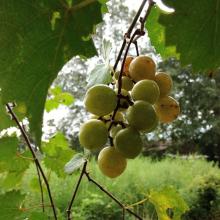 Babe & Sage farm has everything from fresh peppers and lettuce to turnips and muscadine grapes, these farmers will wow you with their huge spread. They are at the market every other week, and keep The Green Market Instagram updated with a ton of beautiful pictures.
Kids Corner: If you want to come to the market, but you have a little one to look after, the Green Market has a great kids corner for your tots to play in. With coloring books, chalk and bubbles, they will be entertained for as long as it takes you to explore through the fresh food.
Bone Creek Farm: If you love farmers markets, but are looking for something more, this stand is for you. Bone Creek Farms create their own essential oils, soaps, and lotions with all natural goat milk. You will love the scents and design too. They are almost too pretty to use!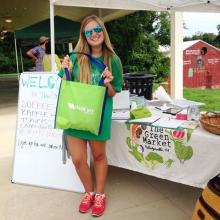 Raffle: When you arrive, enter into the raffle to win a basket of goodies from different farms. These are known to have amazing thing like home-made soap, potted plants, bread, and fresh vegetables, and the winner is announced at the end of the market.
Salamander Springs: This eccentric stand will make you wish you lived the farmer's life. With home-made jam, bread, succulents, flowers, and fresh vegetables, Salamander Springs is a one-stop-shop for everything you need.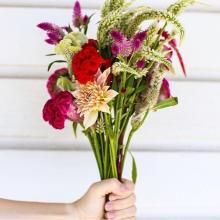 Instagram: The Green Market has an extremely active social media presence (@the_green_market). They constantly post updates on the market, repost the customers' pictures, and feature several different farmers. They also post a picture of the raffle winner every week, and their awesome green t-shirts.
Cannot make it on a Saturday, check out The Farmers Market open every Tuesday, May – October and also located at The Pavilion.  This market runs through the end of October, dates include October 11, 18 and 25.