When thinking about the rich history of Milledgeville, many think of the capital period, the colleges, or pieces of historic downtown that have stuck in one's memory. Many people of notable importance were either born in Milledgeville or chose this great place to live for a period of time. Check out eight of the most notable Milledgevillians, which one surprised you?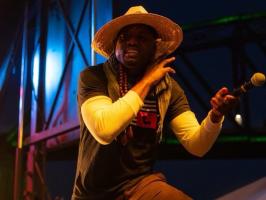 1. Fish Scales
Following his collegiate athletic career at Western Kentucky University, Milledgeville native Melvin Adams Jr., or Fish Scales,  entered the rap scene with a group of friends who took on the name Nappy Roots. Nappy Roots had tremendous success through their last studio album in 2017. Fish Scales now also releases music as a solo artist and his album "Da Sticks Mixtape, Volume 1" featured members of the Nappy Roots, Jay-Z, and other industry leaders. Today, Scales and other members of Nappy Roots own the Atlantucky Brewery in the Castleberry Hill neighborhood of Atlanta. 
2. Oliver Hardy
Born in Harlem, Georgia in 1892, to a hotel manager and Confederate veteran who died shortly after his birth, Oliver Hardy's mother moved across central Georgia in an attempt to make ends meet. Oliver was the youngest of five siblings, but only he and an older sibling lived with Emily Norvell, his mother. Emily moved her family to Milledgeville in 1903 and began managing the Hotel Milledgeville, later named the Hotel Baldwin. Young Oliver attended elementary school at Georgia Military College. He worked for a time feeding paper into machines for the Union Recorder. In his late teenage years working at the Palace Theatre at 133 S. Wayne Street in downtown Milledgeville managing the operations of the theatre. Oliver's mother gave up on Milledgeville and decided to move to Covington in 1910. 
3. Joel Godard Jr. 
Milledgeville native Joel Godard Jr. was the announcer of the Late Night with Conan O'Brien from its start in 1993 to 2009 when Conan went to host the Tonight Show. Godard continued to announce with NBC, announcing the Thanksgiving Day Parade from 2000-2010. 

4. Blind Willie McTell
Born blind in one eye, and eventually losing sight in the other, Willie McTell learned the Piedmont blues style, which originated along the Southeastern seaboard and into Appalachia. He never had overwhelming national success, but rather inspired future musicians in the folk and southern rock genre. McTell recorded "Statesboro Blues" in 1928 and that became the most popular song of his career which continued until the 1950s under multiple aliases. Taj Mahal covered the song in 1967, directly influencing Macon, Georgia natives, the Allman Brothers. This track inspired Duane Allman to learn the slide guitar, becoming a trait of their southern rock sound. The Allman Brothers recorded "Statesboro Blues" at the iconic Filmore East in 1971. McTell never knew the success of his songs or the influence he had as he died in Milledgeville in 1959.  
5. James Wallace "Wally" Butts Jr.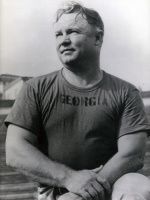 Born in early 1905 in Milledgeville, Wally went to college at Mercer University and played football, basketball, and baseball. He graduated in 1929 and began his football coaching career at the high school level shortly after. He coached at three high schools, including Georgia Military College from 1932-34. He then was hired as an assistant football coach at the University of Georgia in 1938 and took over as head coach in 1939, a job he held until 1960. He led the Bulldogs to a national championship in 1942 and four SEC championships. He held a coaching record of 140-86-9 and is a member of the College Football Hall of Fame. 
Photo Courtesy of UGA Special Collections Library Online Exhibitions.
6. Tasha Butts
Born in Milledgeville in 1983, Tasha Butts played collegiate basketball at Tennesee. She also played in the WNBA for a season with the Minnesota Lynx. She is currently an assistant basketball coach at Georgia Tech. In 2021, she was diagnosed with breast cancer in an advanced stage. Since her diagnosis, she has used her platform to help other survivors or patients with the financial burden that often accompanies cancer treatment. She continues to be active with the Georgia Tech Women's Basketball team. 
Photo Courtesy of The Union Recorder.
7. Flannery O'Connor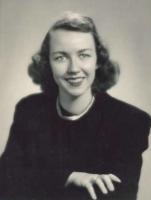 Mary Flannery O'Connor was born in Savannah, Georgia in 1925. Her family would later move to Milledgeville to stay with members of their extended family as her father traveled to Atlanta for work. She was enrolled at the Peabody School to finish her 7th-grade education and ultimately continued schooling in Milledgeville at the Georgia State College for Women where she actively contributed to the school paper, the Corinthian, for many years. Flannery's father became increasingly ill with Lupus and died when she was only fifteen years old. Flannery would continue to be raised by her mother and relatives in Milledgeville. She obtained a scholarship to attend the State University of Iowa in 1945 and graduated in 1947. She continued to write as her main profession in the northeast until she had her first serious Lupus episode and was forced to again move to Milledgeville in 1951. She continued writing, revising, attending speaking engagements, tending to her farm animals, and corresponding with friends across the country. During the periods of time that she could not travel, colleagues would visit her in Andalusia. In 1964, her condition worsened and she died at the Baldwin County Hospital on August 4, 1964, at the age of 39. Flannery O'Connor's final resting place is #1 on the Memory Hill Self-Guided Walking Tour.
8. Carl Vinson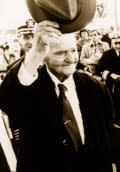 Born in 1883 to a large farming family in Milledgeville, Georgia, Carl Vinson would become a major political asset through over 50 years of service in the House of Representatives. Vinson grew up in Milledgeville, attending Georgia Military College, then Mercer University to get his law degree. He began his political career at the age of 25, winning a seat in the Georgia General Assembly. In 1912, he won the Representative position for the Tenth District, being the youngest to hold a seat in the House at the time. Vinson's political career is distinguished by his continuous effort to strengthen the Navy. During his tenure, he led multiple bills to encourage the strategic armoring of America's shores. While he represented a land-locked area, he was adamant that the United States should capitalize on its resources, and grow defense departments where applicable. This mindset proved valuable through World War II and into the Cold War. He quietly retired from the House in 1965, being the longest-serving member at that time. He continued to live in Milledgeville through the end of his life and died on June 1, 1981. Carl Vinson's final resting place is #31 on the Memory Hill Cemetery Self-Guided Tour.
9. Susan Myrick 
Susan Dowdell Myrick was born on February 20th, 1893 at Dovedale Plantation in Baldwin County. Susan would attend Georgia Normal and Industrial School from 1910-1911 and go on to teach at the school as well as others across the country. She would later begin writing for the Macon Telegraph 1928, becoming their war editor throughout World War 2 and being promoted to associate editor until 1967 when she semi-retired. She died at age 85 on September 3, 1978. Susan Myrick's final resting place is #4 on the Memory Hill Cemetery Self-Guided Tour, in the same lot as many generations of her family. 
Myrick is most noted for her friendship with Margaret Mitchell which turned into a consulting position on the film adaptation of Gone with the Wind in 1939. Myrick spent six weeks in Los Angeles coaching the actors in the dialect of those living in Georgia at the time and she influenced the décor and set up of the set based on her experience of the south following the war.
10. Logan Crosby
The Milledgeville native and John Milledge Academy graduate claimed the hearts of America for signing classic country hits on his TikTok account while finishing his degree at the University of Georgia. During his final semester at U.G.A., he joined ABC's Claim to Fame show hosted by the Jonas Brothers. Upon finishing his time on the show, he moved to Nashville, TN full-time and recently released two singles. He is currently planning to record his first studio album.
11. Charles Herty
Born on December 4th, 1867 in Milledgeville, Georgia, Charles Holmes Herty would obtain a Chemistry degree from the University of Georgia, then a doctorate in the same field from John Hopkins University. He returned to the University of Georgia to teach Chemistry while also helping to revive the athletics department along with organizing their first real football team. He served as the head coach for their first games in 1892, beating Mercer University 50-0, then falling to Auburn University 0-10.

He developed an improved system for harvesting pine resin in 1901. The new system was not as destructive as the prior method, therefore saving pine trees from deforestation in the south. During the Great Depression, he was granted funds from the Georgia Legislature and the Chemical Foundation to research the uses of young pine trees. Three weeks before his death in 1938, he found out that his research had paid off and a newsprint mill in Texas was working to make paper pulp from pine trees. Today, there are more than 10 pulp mills in Georgia, thanks to Charles Herty. Charles Herty died of a heart attack on July 27th, 1938 in Savannah, Georgia. His final resting place is #32 on the Memory Hill Cemetery Self-Guided Walking Tour. 
12.Gloria Walker & The Chevelles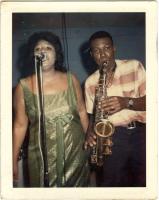 In 1967, Curtis Davis of Milledgeville began recruiting young musicians from the area to form a band which became known as The Chevelles. Members were recent graduates or current students of J.F. Boddie High School, including Gloria Walker who became their frontwoman. She happily joined them in performing throughout the area, then even traveling to Detroit in hopes to get regular shows and a record deal. 
Gloria Walker & The Chevelles cut their first record "Talking About My Baby" which would go to #7 on the Billboard R&B chart and #60 on the Billboard Top 100 chart. Following their success with this tape, Gloria performed at the Apollo Theater in New York in October of 1968. She would turn down individual touring opportunities with James Brown and record deals with labels because they did not include the whole group. They again toured central Georgia but dissolved by mid-1969.
Gloria would go on to produce individual records and later DJ around the area, but never regained the notoriety she had in 1968. The band members subsequently created a variety of spinoff groups including The Mighty Chevelles and The Music Makers Band. They too did not find widespread success. See more about the roots of Milledgeville music in "The Soul of Georgia" exhibit at Georgia College's Heritage Hall.
* Image courtesy of Georgia College Special Collections