As autumn falls upon us, Milledgeville overflows with seasonal festivities. Whether you are canoeing under the full moon, touring a haunted cemetery, or strolling through the azalea gardens, this charming small town is the perfect fall getaway. Here are some of our favorite events happening this fall:
Recurring Fall Events

Central State Hospital Tours
Board the historic trolley tour and explore the former largest mental institution in the world. Since its founding in 1842, the Central State Hospital Campus (originally known as the Georgia State Lunatic, Idiot, and Epileptic Asylum) has been one of Milledgeville's most well known and intriguing sites. In the 1960s, Central State was reported to have over 12,000 patients, 6,000 employees, and more than 8,000 acres of land. 
Learn the hospital's fascinating history through a guided trolley tour with multiple dates occurring every month. There will be two tours offered each day, 10 AM to 12 PM and 1 PM to 3 PM. Tours are $30 a ticket and seating will be socially distanced. Tickets will go on sale on the first Monday of that tour's month. Call the Visitor's Center to reserve your tickets at (478) 452-4687.
Milledgeville Ghost Tours
Get in the fall spirit with a haunted ghost tour. Hear about Milledgeville's spooky and sinister past during the Ghosts of Milledgeville Walking Tour. Join us for a guided walking tour of some of Milledgeville's hauntings throughout downtown.
Tours are $12 a ticket and they occur every Saturday from 9 AM to 10 AM. To join the tour, pre-purchase tickets in advance by calling (478) 452-4687 or in person at the Milledgeville Visitors Center.
The Revolutionists Play
Attend the Revolutionists play presented by Georgia College with shows running from September 28th to October 3rd. The play introduces four beautiful, badass women who lose their heads in this irreverent, girl-powered comedy set during the French Revolution's Reign of Terror. Playwright Olympe de Gouges, assassin Charlotte Corday, former queen (and fan of ribbons) Marie Antoinette, and Haitian rebel Marianne Angelle hang out, murder Marat, and try to beat back the extremist insanity in 1793 Paris. This grand and dream-tweaked comedy is about violence and legacy, art and activism, feminism and terrorism, compatriots and chosen sisters, and how we actually go about changing the world.
Full Moon Float
Travel down the Oconee River as the moon guides you along your journey. The Oconee Outfitters hosts the Full Moon Float event once a month, where attendees will rent kayaks and sail down the river. The float will depart the Oconee River Greenway at approximately 9:00 PM, paddling to the Central State boat ramp. Kayak rentals are available for $35/single, or $60/tandem.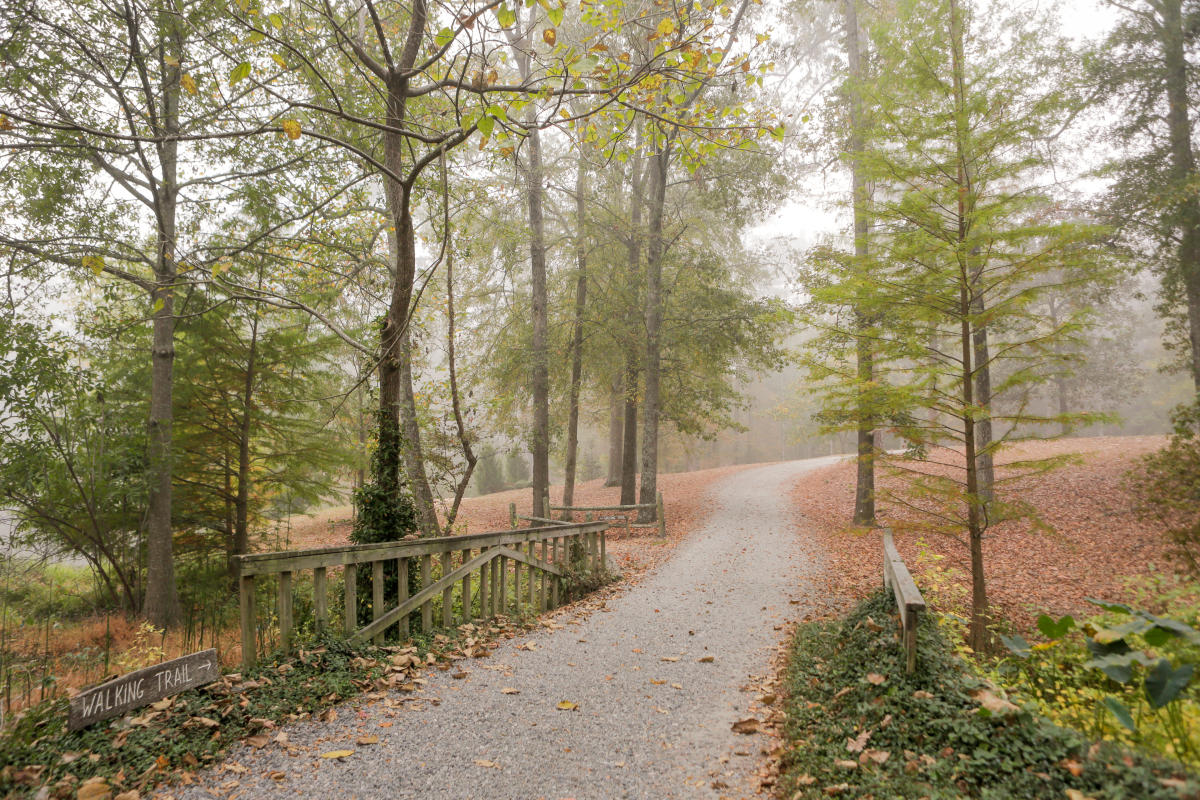 Lockerly Arboretum
We can't discuss fall in Milledgeville without including the Lockerly Arboretum. As sweater weather approaches and the leaves begin to change, the scenic views around Lockerly become picturesque. Stroll through 50 acres of gardens and walking trails surrounding a tranquil pond. Spot a variety of different plants including flowering shrubs such as camellias and azaleas, and a variety of trees including oaks, magnolias and a 301 year old section of a bald cypress, as well as perennials and annuals. Visitors can walk the trails, bring a picnic lunch to enjoy at the tables near the pond, or watch birds and wildlife.
October Signature Events

Oct. 2 - Concert at Taylor's Cove
Dine at Taylor's Cove and listen to a live performance from Free Lance Ruckus on the first Saturday in October. Free Lance Ruckus is a southern alternative Americana rock band with unique, powerful lead guitar, a solid rhythm section, and vocal harmonies that emphasize a singer/songwriter style. The concert begins at 8:00 PM on Taylor's Cove's outdoor patio overlooking Lake Sinclair. 
Oct. 22 & Oct.23 - GMC Alumni Weekend 
GMC Alumni Together Again! Join your fellow GMC Alumni and friends for an amazing lineup of events. The 2021 Alumni Weekend will include a golf tournament, an alumni parade, cheer on the Bulldogs at the Prep Homecoming football game, participate in the 26th Will Robinson Memorial Run or attend the JC Football game. There's no better place to be.
Oct. 26 through Oct. 29 - Haunted Cemetery Tours
Embark on a Haunted Cemetery Tour through Memory Hill to hear the history and tales of some of our permanent residents. Originally designated as one of the four public squares of twenty acres each in the Milledgeville town plan of 1803, it later came to be known as Cemetery Square.
Walking tours will take place nightly, Tuesday, October 26 through Friday, October 29. There will be 2 tours a night 7 PM and 7:30 PM. Tickets are $15 per person and there will be 20 people per group. 
Oct. 30 - Family Fun Day
Come join the Lockerly staff and volunteers for a day of interactive activities for the whole family. Family Fun Day will take place at the arboretum on Saturday, October 30th from 9 AM to 1 PM. This event is FREE and open to all ages! Activities for the day include hay rides, fun with microscopes, guided hikes, animal tracks, and more. 
November Signature Events

Nov. 1 through Nov. 6 - Georgia College Alumni Weekend
Reconnect with Georgia College during Alumni Week. Join Georgia College friends and faculty for a full array of activities, reunions, and celebrations! GC will have on-line events Nov. 1-3 and in-person events Nov. 4-6. 
In respect for the health and safety of GC alumni and staff, there will be no in-person registration available at the actual events.  All registration must be completed on-line, in advance of the events. Early-bird registration ends Sep. 2, 2021. Regular registration ends Oct. 14, 2021.   
Nov. 4 - Wine in the Woods 
Wine in the Woods at Lockerly Arboretum will give an opportunity for guests to experience Lockerly at a different time of day. Guests will have the opportunity to stroll softly lit paths through their new Azalea Legacy Garden while sipping a glass of wine. The perfect end to a long day! All buildings on the grounds will be open for exploration, including Rose Hill. Tickets are $15 for non-members and the event will go from 5 PM to 7 PM.
Nov. 10 through Nov. 14 - Puffs the Play
Enjoy the incredible play, Puffs, at the Campus Black Box Theatre. For seven years a certain boy wizard went to a certain wizard school and conquered evil. This however, is not his story. This is the story of the Puffs... who just happened to be there too. A tale for anyone who has never been destined to save the world. Shows are from November 10th to the 13th at 7:30 PM, and November 13th and 14th at 2 PM.