As autumn falls upon us, Milledgeville overflows with seasonal festivities. Whether you are canoeing under the full moon, touring a haunted cemetery, or strolling through a pumpkin patch, this charming small town is the perfect fall getaway. Here are some of our favorite events happening this fall:
Recurring Fall Events

Central State Hospital Tours
Board the historic trolley and explore the former largest mental institution in the world. Since its founding in 1842, the Central State Hospital Campus (originally known as the Georgia State Lunatic, Idiot, and Epileptic Asylum) has been one of Milledgeville's most well known and intriguing sites. In the 1960s, Central State was reported to have over 12,000 patients, 6,000 employees, and more than 8,000 acres of land. 
Learn the hospital's fascinating history through a guided trolley tour with multiple dates occurring every month. Call the Visitor's Center to reserve your tickets at (478) 452-4687.
Milledgeville Ghost Tours
Get in the fall spirit with a haunted ghost tour. Hear about Milledgeville's spooky and sinister past during the Ghosts of Milledgeville Walking Tour. Join us for a guided walking tour of some of Milledgeville's hauntings throughout downtown.
Tours are $12 a ticket and they occur select Saturdays at 10 AM. To join the tour, pre-purchase tickets in advance by calling (478) 452-4687 or in person at the Milledgeville Visitors Center.
Full Moon Float
Travel down the Oconee River as the moon guides you along your journey. The Oconee Outfitters hosts the Full Moon Float event once a month, where attendees will rent kayaks and sail down the river. The float will depart the Oconee River Greenway at approximately 9:00 PM, paddling to the Central State boat ramp. Kayak rentals are available for $35/single, or $60/tandem.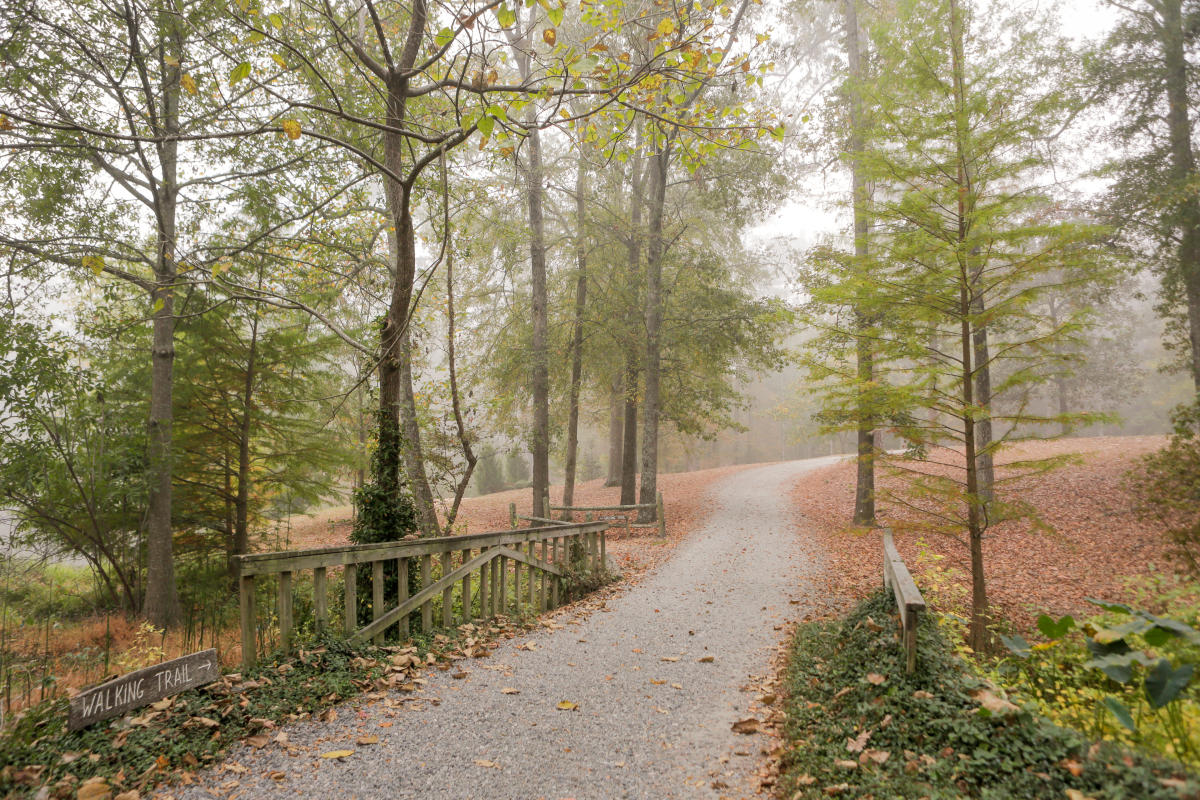 Lockerly Arboretum
We can't discuss fall in Milledgeville without including the Lockerly Arboretum. While the Arboretum itself isn't a specific reoccurring event, as sweater weather approaches and the leaves begin to change, the scenic views around Lockerly become picturesque and should be on your reoccurring plans. Stroll through 50 acres of gardens and walking trails surrounding a tranquil pond. Spot a variety of different plants including flowering shrubs such as camellias and tea olives, and a variety of identified trees. Visitors can walk the trails, bring a picnic lunch to enjoy at the tables near the pond, or watch birds and wildlife.
October Signature Events

Oct. 8 - Comfy Funky Pumpkin Patch
Join Comfort Farms for their annual Comfy Funky Pumpkin Patch on Saturday, October 8th from 9:30 AM-4:00 PM. The event is perfect to pick out your pumpkin and take all the fall pictures. In addition to pumpkins, there will be crafts, a hay ride, a chance to feed the Comfort Farms animals, and fresh food. Entry is $5.00 per vehicle. 
Oct. 20 - Oct.22 - GMC Alumni Weekend 
GMC Alumni Together Again! Join your fellow GMC Alumni and friends for an amazing lineup of events. The 2022 Alumni Weekend will include a golf tournament, an alumni parade, cheer on the Bulldogs at the Prep Homecoming football game, participate in the 26th Will Robinson Memorial Run or attend the JC Football game. There's no better place to be.
Oct. 22 - Deep Roots Festival
Deep Roots is the highlight of Milledgeville's fall events and each year we eagerly await its awesome music, tasty food, fun activities and the chance to gather with our people. On October 22, 2022 get ready for over 100 vendors & downtown shops featuring unique gifts, arts and crafts; jumping and climbing fun in the kidzone; free local music & entertainment at the locals only stage; Milledgeville's biggest car show; a sanctioned steak cook-off; and awesome music into the evening from Willie Jones, The Collection and Champagne Lane. 
Oct. 27 - Oct. 29 - All Shook Up: The Musical
Get dressed up and attend the theater with friends or family. Enjoy All Shook Up at the Goldstein Center for the Performing Arts. Follow Chad in his move to a midwestern town that doesn't know what to do with his energetic musical style. Music by Elvis, inspired by Shakespeare's Twelfth Night.
November Signature Events

Nov. 4 & 5 - Georgia College Alumni Weekend
Reconnect with Georgia College during Alumni Week. Join Georgia College friends and faculty for a full array of activities, reunions, and celebrations!.   
Nov. 9 - 13 - The Legend of Georgia McBride
Enjoy the Legend of Georgia McBride at the Campus Black Box Theatre. Meet Casey, a soon-to-be father who is looking to make ends meet after being fired from his job of being an Elvis impersonator. He must quickly learn about show business and find himself through it all. Shows are from November 9th to the 12th at 7:30 PM, and November 13th at 2 PM.
Beginning Nov. 20 -  Christmas at the Mansion
Take a step back in time and discover holiday traditions passed down from our city's earliest families as Georgia's Old Governor's Mansion is transformed with 19th-century era Holiday decor. Experience the Holiday cheer at Christmas at the Mansion open for tours November 20 - 22 and November 29 - December 21, 2022.
Join an evening tour of the Mansion with candles lit and choirs singing in the rotunda. Candlelight tours are at 6 p.m., 7 p.m., and 8 p.m. on December 3rd and 17th, 2022. Normal admission rates apply and reservations are required for the candlelight tours.