Our warm spring season is blossoming to life, offering the perfect strolling weather. Get lost in the architectural grandeur when you take a leisurely walk down oak-lined streets in downtown Milledgeville's 10-block historic district. Founded in 1803 around a series of beautiful squares and wide streets, Milledgeville was designed to be a capital city. For more than 60 years, she remained the capital.
From homes to churches to college campuses, our Historic Walking Tour invites you into the past. Explore Milledgeville at your own pace with this self-guided tour which will take you past over 40 structures of well-preserved Federal-style architecture, enhanced by noteworthy Greek Revival, Victorian and Classic revival styles. If you get hungry along the way, our downtown restaurants are only a block (or two) away. 
1. Gothic Revival
Designated as the new Capital of Georgia, the highest point in the city was reserved for the Statehouse Square. In 1805 construction began and The Old Capitol Building became the first public building ever designed in the United States in the Gothic Revival style. Significant expansions were added to the building with north and south wings built c. 1828 and 1834. The work was directed by architect Henry Hamilton, who added the crenellations and a plaster skin. The beautiful east and west porticoes with their granite steps were added in 1835, completing the building to the appearance it maintains today. It served as the seat of government for the State of Georgia from 1807 to 1868, hosting the state's Secession Convention in early 1861.
Georgia's Old State Capitol is site #2 on the tour. Additional Gothic architecture site you will see include Sacred Heart Catholic Church (#38) and St. Stephen's Episcopal Church (#13).
2. Greek Revival:

Who knew you could find Greek-inspired architecture in the heart of middle Georgia? The c. 1839 Old Governor's Mansion is another important architectural marvel that housed Georgia's chief executives for 30 years and is recognized as one of America's finest examples of High Greek Revival architecture. Designed by noted architect Charles Clusky, an Irish immigrant and built by Timothy Porter of Farmington, Connecticut, the four stories tall Mansion looms over Milledgeville with its stately columns, imposing façade and interior Rotunda. During the Civil War, the Mansion was claimed as a "prize" in the "March to the Sea," when General William T. Sherman headquartered in the building on November 23, 1864. Following the war, Georgia's capital was relocated to Atlanta, and the Mansion was abandoned. Given over to Georgia Normal & Industrial College (currently known as Georgia College), the Mansion served as the founding building of the institution and is the campus's most treasured structure. Beginning in the late 1990s, an initiative was begun to return the Mansion to its splendor. Georgia's Old Governor's Mansion now serves as an historic house museum. The Mansion was designated a National Historic Landmark in 1973 and is an accredited museum of the American Alliance of Museums. In 2015, the Old Governor's Mansion was named an affiliate of the Smithsonian Institution.
Georgia's Old Governor's Mansion is site #43 on the tour. Additional Greek Revival buildings of interest you will see in Milledgeville include The Old Parsonage (#26), Thirteen Columns (#11), Newell-Watts House (#8), and the Gobert-Baston-Snyder Cottage (#24).
3. Neoclassical: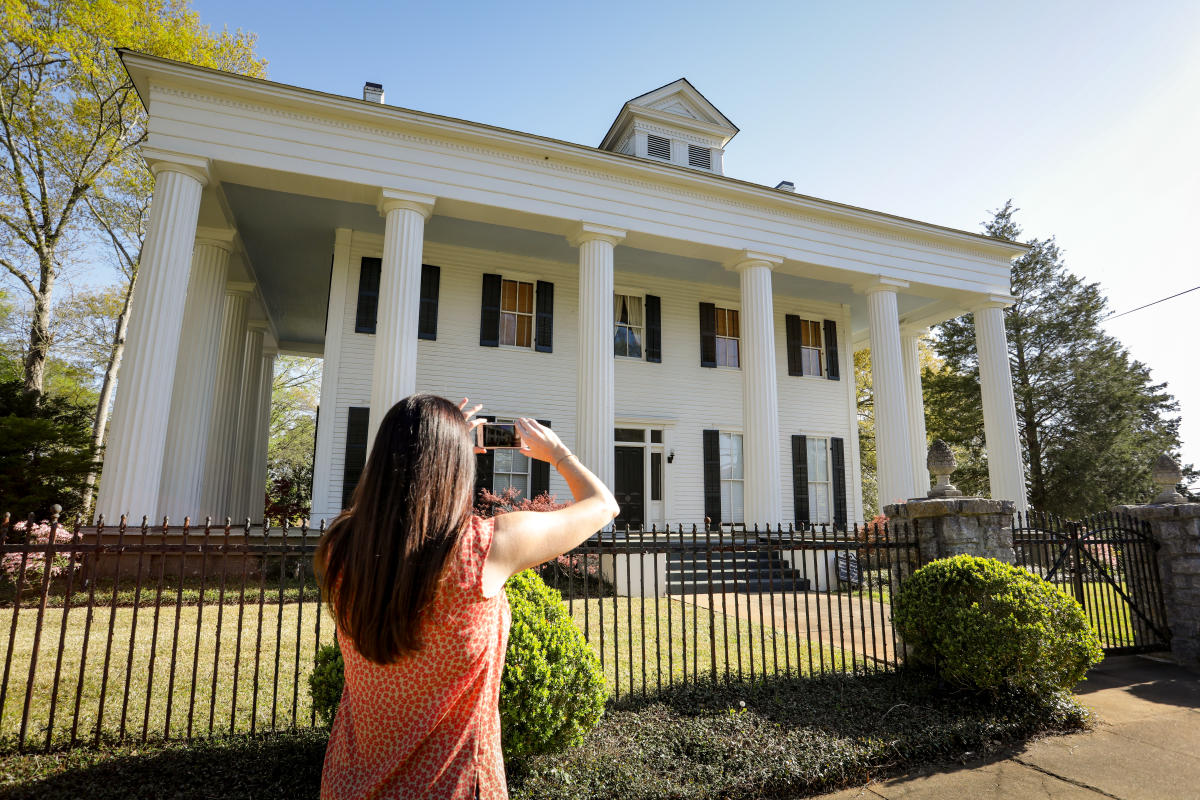 The Sanford-Powell-Binion-Mara-Hogg- Mimbs-Thornton-Sims House was originally built in 1824 by General John W.A. Sanford, it was a four over four clapboard with only four columns. Gradually the portico was enlarged until it extended around three sides of the house, with fourteen columns. When Dr. T.O. Powell became the owner in 1890, the house was rebuilt in the Neoclassical style, using the same fourteen columns.  
The Sanford-Powell-Binion-Mara-Hogg-Mimbs-Thornton-Sims House is site #9 on the tour. Other Neoclassical buildings of interest you will see include the Bell-Martin House (#22) and Atkinson Hall (#41).  
4. Milledgeville Federal: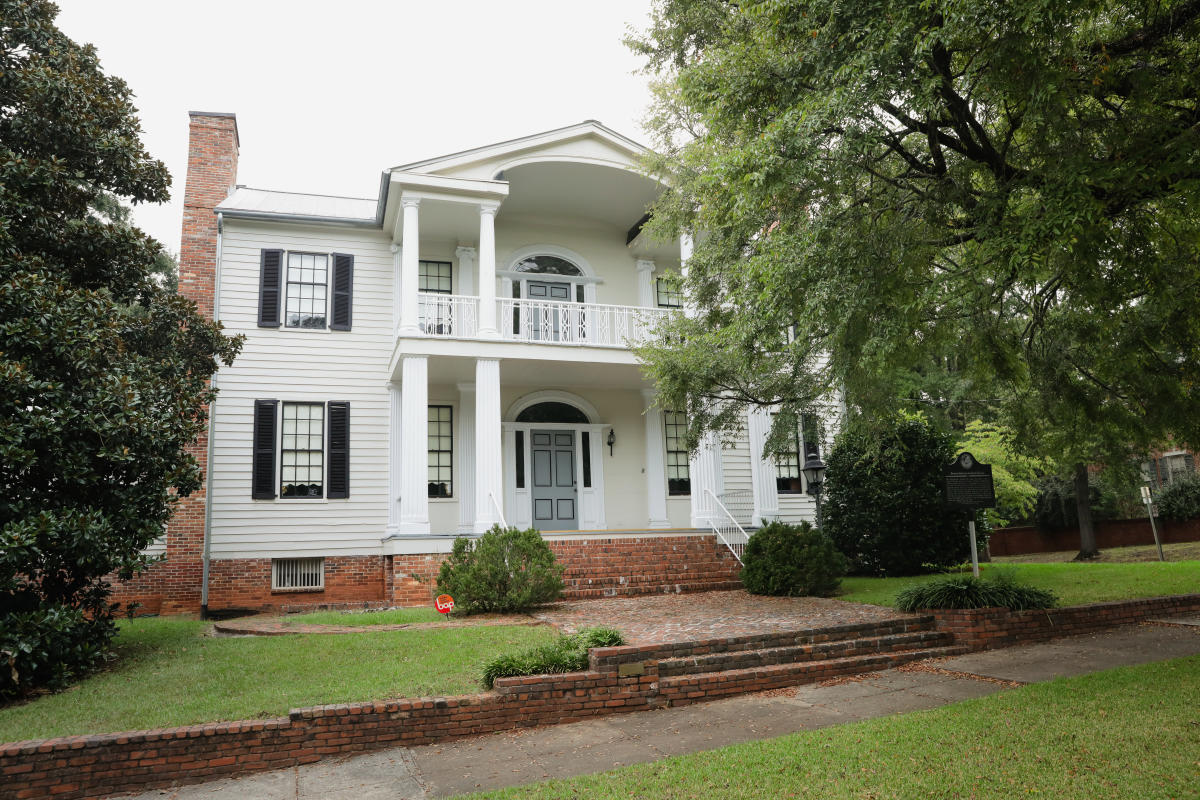 English-born architect, John Marlor, moved from Charleston in 1815 to leave his own colorful mark, developing a new American architectural style known as Milledgeville Federal.  Visitors can schedule a tour Marlor's work at the c.1825 Brown-Stetson-Sanford House. This house has a beautiful Palladian double portico and original pilasters, take note that the fanlights have a spread eagle and dogwood blossoms ornamenting the lead dividers. Marlor's signature details are seen in a cantilevered oval spiral stair that dominates the central hall and hand grained woodwork which remains in the parlor. The home once served the state capital as the Beecher-Brown Hotel and then the State's Rights Hotel for the many visiting legislators who came to the area. From 1951 to 1966 the it was a tea room noted for its excellent cuisine. The original Brown-Stetson-Sanford House located on Wilkinson Street before it was given to the Old Capital Historical Society (OCHS), moved to the present site in 1966, and restored as its headquarters.
Mostly self-taught, Marlor had an interesting take on different architectural styles. His personal style relied on a combination of Georgian and Federal structures with more complex elements being added in as he began to gain experience. In the end, he created an entirely new style known as "Milledgeville Federal", characterized by side-gabled roofs, spiral staircases, and fanlight front entrances. Marlor died in 1835 in Milledgeville and is buried in Memory Hill Cemetery. While the man himself is gone, 5 of his most beautiful structures remain in the city. 
The Brown-Stetson-Sanford House is site #23 on the tour. Other Milledgeville Federal buildings of interest you will see include the Paine-Jones House (#21), Howard-Jarratt-Garrard-Baker House "The Cedars" (#27), Orme-Sallee House, Williams-Ferguson-Lewis-Olivier House "The Homestead" (#15), Blount-Parks-Mara-Williams House (#7), Newell-Watts House (#8), and Milledgeville's Masonic Hall (#39). 
5. Victorian: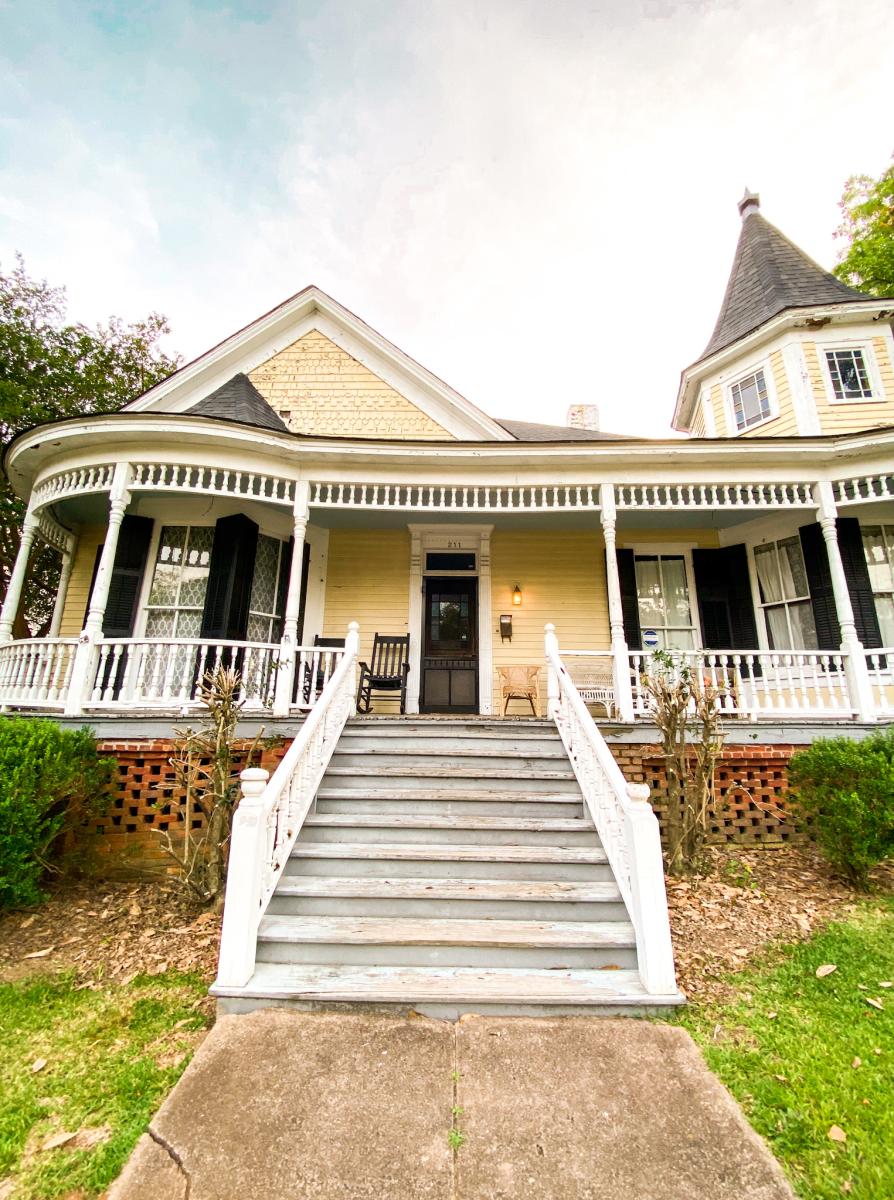 Another common architectural style found among historical Milledgeville homes is Victorian or High Victorian. Built in 1894, the Fraley-Sessions-Lawrence-Harrington-Sheppard House is a charming Victorian with details that include a wrap-around porches with gingerbread trim, two bay windows, and a turret on the front corner with stained glass windows. 
The Fraley-Sessions-Lawrence-Harrington-Sheppard House is #20 on the tour. Other Victorian buildings of interest: McComb-Hollomon-Waddell House (#12), Bearden-Montgomery-Gormly-Cash-Higgins-Bugg House (#16), Alling-Bethune-Combs House (#17), Myrick-Jenkins-Harris House (#18), Flemister-Alton House "Buena Vista" (#19), Fraley-Sessions-Lawrence-Harrington-Sheppard House (#20), and Beeson-Andrews-Stewart- Roberts House (#30). 
All of these sites are identified on our self-guided, historic walking tour. Brochures are available for pick up in the Visitor Center, 200 West Hancock Street.