We're all feeling a bit cooped up these days! If you're getting the urge to travel beyond the walls of your home, let us help take you on a springtime tour by bringing a little bit of Milledgeville to you. Through virtual tours, online activities, and at home delivery, you can feel a slice of Milly all within the safety of your own home.

Virtual Tours
Springtime in Milledgeville
This spring wasn't what we expected. Our priorities have been shifted and our lives realigned but we do know this… life is still full of beauty, hope and wonder. Milledgeville cannot wait to welcome you and your friends and family when the time is right. Take a peek into what our special town has to offer!
Flannery O'Connor's Andalusia
Famed American author Flannery O'Connor called Milledgeville home from 1951-1964. Andalusia Farm, now owned by Georgia College, recently reopened to the public as a house museum and is full of original furnishings and pieces from Flannery's time there. Virtual Reality Georgia created a virtual reality tour that takes you through the main house and allows you to discover what inspired Flannery's work all from the comfort of your own home.
Georgia's Old Governor's Mansion
While you may need to stay in place right now, you can still visit one of Milledgeville's most iconic attractions, Georgia's Old Governor's Mansion, without leaving your house (or your bathrobe!). The Mansion has a virtual tour available on YouTube, created by Virtual Reality Georgia, that offers you the same tour you would receive if you were able to physically visit the house museum. Complete with a tour guide and 360-degree control to feel more realistic and explore the Mansion with a 3D feel, this virtual reality tour is a great activity to do in your spare time when you can't shake the urge to travel.
Georgia College Alumni
Doing your part to flatten the curve but feeling limited? Georgia College Alumni Facebook page has a solution. The public community is actively sharing videos to relieve stress and tackle boredom. Enjoy videos of violin concerts, expand your knowledge with composting tips, or get active with virtual Zumba every Tuesday and Thursday. If you're feeling the stress of unexpected isolation, take fifteen minutes to Zen out with live videos from peaceful outdoor scenes. With new videos almost daily, you'll get fresh entertainment  on a regular basis.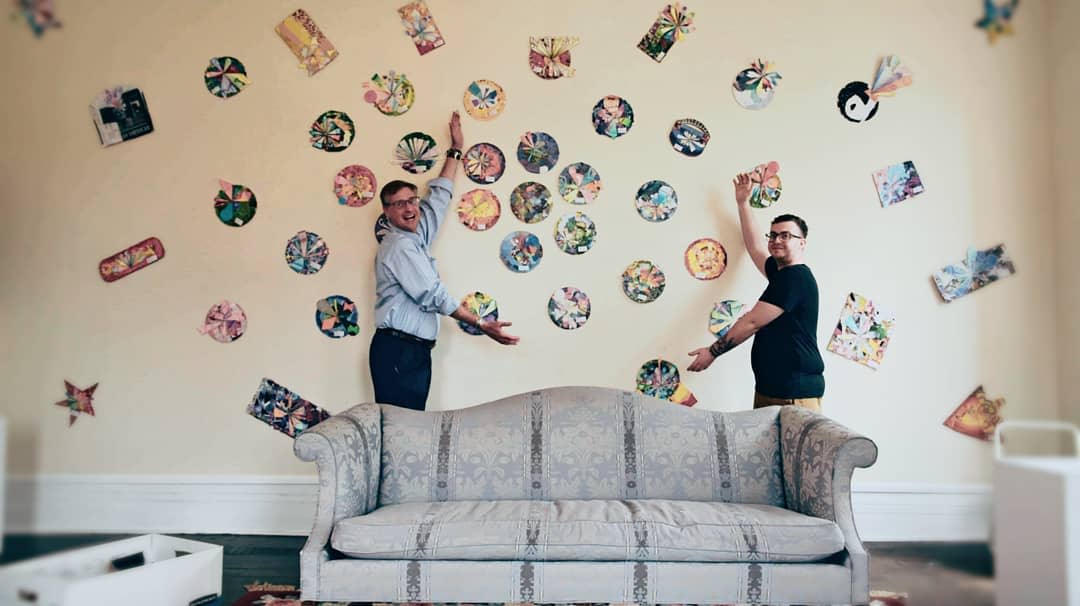 For the Kids
Coloring Sheets
Whether you're giving the kiddos a chance to get creative or you're looking to defuse adult stress with some detailed coloring, download these Milledgeville coloring sheets to reacquaint with some iconic local sites!
Allied Arts "All in this together"
As Allied Arts said, in this time of uncertainty and social isolation, we do think it's a beautiful thing that people are using technology to help stay connected. Introduce the kids to art through daily videos from or about artists in the Milledgeville community. From activities to exhibits, this is a great way to get creativity with your young ones.
Word Search
See if you can find all the iconic Milledgeville terms in our word search! 
Jigsaw Puzzle
Why not pass the time with a puzzle featuring your favorite small town. Enjoy these 5 digital jigsaw puzzles feature Georgia College, Lake Sinclair, 'Milly' the Trolley, Rose Hill and Georgia's Old Governor's Mansion. 

Munch on Milly
Bake Flannery's Pie
If you're a pro in the kitchen or want to try something new during social distancing, this is the perfect recipe for anyone. Peppermint Chiffon Pie was considered one of the more interesting dishes from the Sanford House tearoom. It was known to be among Flannery O'Connor's favorites! So if you're a peppermint lover, put your baking skills to the test and try out this little bit of history!
Drink Blackbird Coffee
Does staying home have you craving your favorite coffee shop a little extra lately? We get it and so does Blackbird. Although the coffee shop is temporarily closed, that doesn't stop them from providing their rich coffee to its biggest fans. You can order Blackbird coffee to be shipped to your home through the link provided and fuel your love from home!


Local Produce from Comfort Farms
Determined to serve our community, Comfort Farms has gone virtual. Customers can order anything from eggs, goat cheese, and steak to fresh herbs, fruit, and vegetables. Just choose a pick-up date, pay, and head to Comfort Farms where they'll load up your car for you! Things may not be what we're used to but the work doesn't stop and Comfort Farms thanks you for your support!


Curbside pick-up
If you are lucky enough to be a Mocal (a Milledgeville local), you can still dine on one of our iconic establishments from the comfort of your home. Numerous restaurants are offering curbside pick-up and delivery. If you aren't sure which restaurants you can still enjoy from home, don't worry. We put together a list of Milledgeville restaurants and what they're offering during this time!

Get Your Rod Ready
Hooked on Wild Waters
If you've been daydreaming of when you can get back out on the water and fish, make sure you're ready when the time comes. "Hooked on Wild Waters" enjoys some "river bassin" on the Oconee River in Milledgeville, Ga while also stopping by GA Power for some water safety. Along with a feature on Hooked on Wild Waters, there are plenty of videos to dive into on YouTube about fishing on Lake Sinclair. Find the best spots and more tips and tricks to up your fishing game before you get back out there!