The countdown to gift giving is ON! Are you still looking for some stocking stuffers or gifts for someone? Look no further, give the gift of Milledgeville this year! From local makers, art prints of iconic Milly memories, and freshly-roasted coffee, it is no exaggeration that you can check off everyone on your list from the shops in downtown Milledgeville.
If you are into local small business owners and makers selling Christmas gifts, decor, art, and more, be sure to check out the Milly Market held on Friday, December 2 from 5 - 8 p.m. and Saturday, December 3 from 10 a.m. - 3 p.m. at the Annex building downtown. 
Here are a few of our Holiday Milledgeville gift recommendations: Many items are available for purchase in downtown Milledgeville. Some are offered online and you can get the items delivered.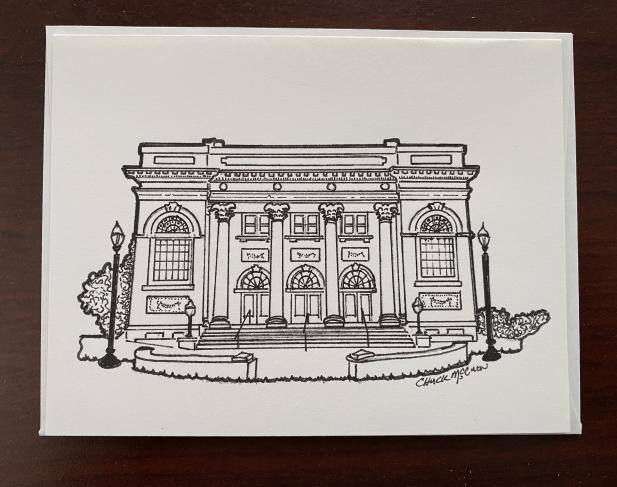 Georgia College Buildings Card @ Eclectic
These 4"x6" cards feature simplistic drawings of iconic Georgia College buildings. Choose from multiple variations. Available in store for $6.00.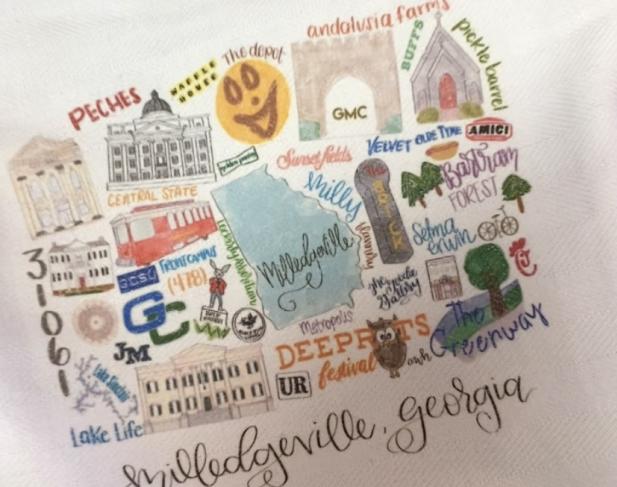 Milledgeville Icons Tea Towel @ Market Collective
From iconic Smiley Cookies to Deep Roots Festival, this towel has all things Milledgeville. Available in-store for $14.00.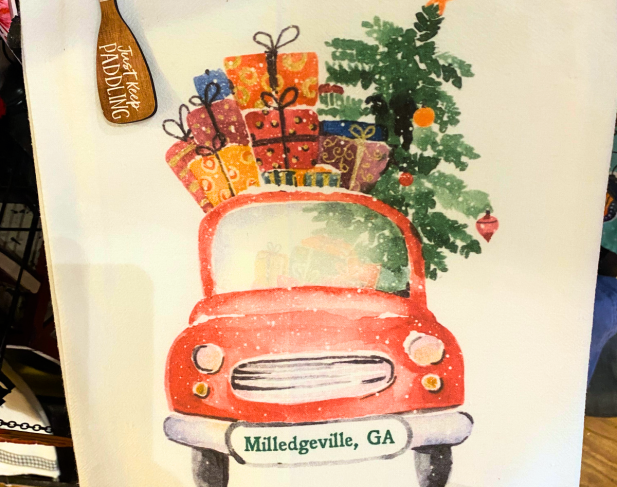 Milledgeville Holiday Tea Towels @ Eclectic
This white tea towel with a classic red truck is a perfect addition to the kitchen through the holidays. Available in-store for $15.00.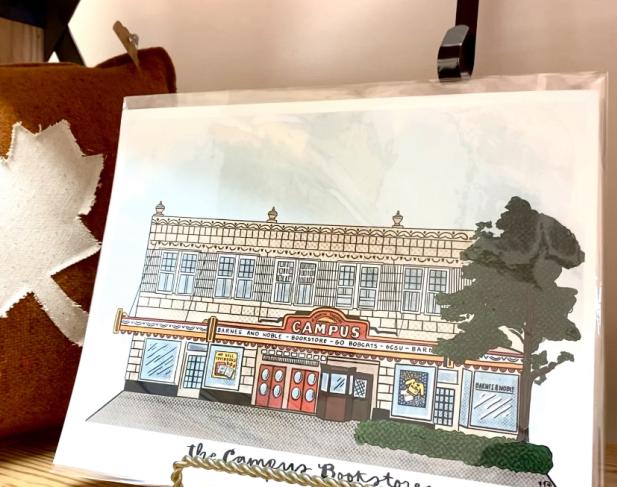 Georgia College Campus Theatre Watercolor Print @ Market Collective
This 8"x10" watercolor rendition of the historic Campus Theatre in downtown Milledgeville is perfect for a Georgia College alumnus or former Milledgevillian. Available in-store for $15.00.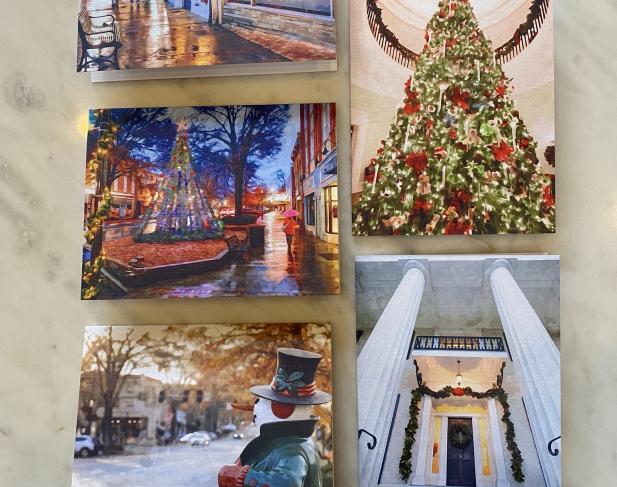 10 Milledgeville Cards @ Welcome Center
These 4x6 cards feature watercolor renditions of favorite Milledgeville sites dressed for the Holidays. Available in-store, 10 cards for $17.99.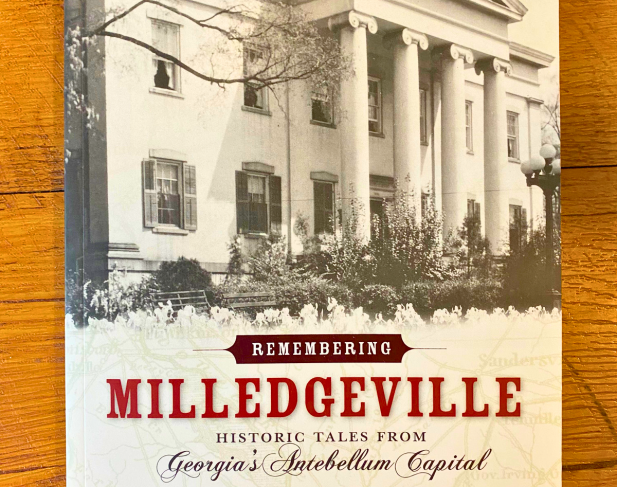 Remembering Milledgeville @ The Red Door
Written by Hugh Harrington, this book encapsulates the long history of Milledgeville in short excerpts. It is a nice coffee table read! Available in-store for $17.99.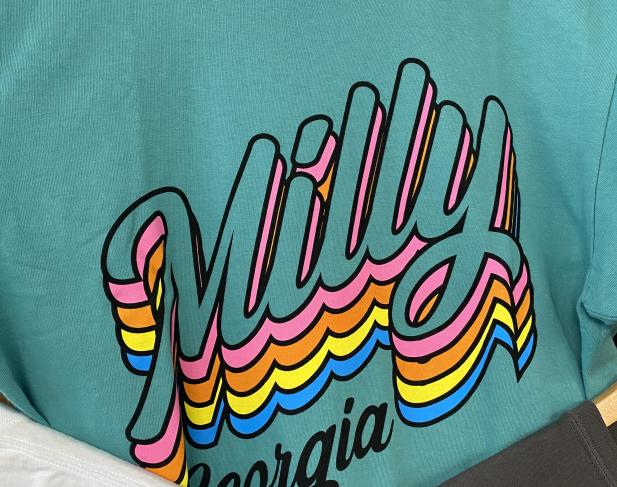 Milly Short Sleeve T-Shirt @ Spiritwear
Represent your favorite Georgia town with this bright teal t-shirt. Spiritwear also has lots of other Milledgeville and GC shirts and hats for everyone on your list. Available in-store for $25.00.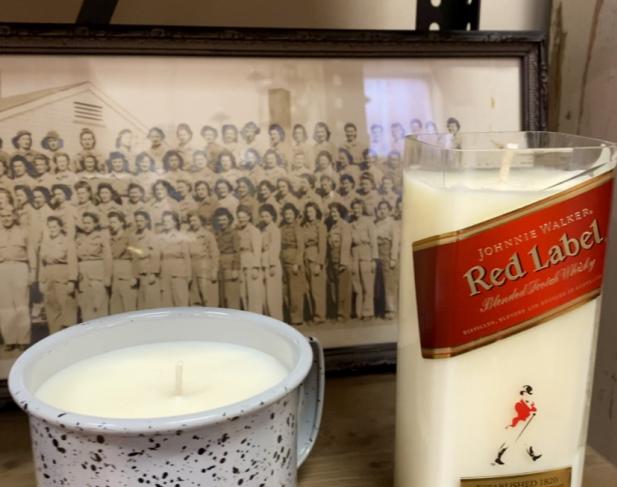 Hand-Poured Candles @ Market Collective
Pick up a unique, locally-poured candle at Market Collective. All candles are poured into unique containers, like old bottles or jars. Available in-store, prices vary.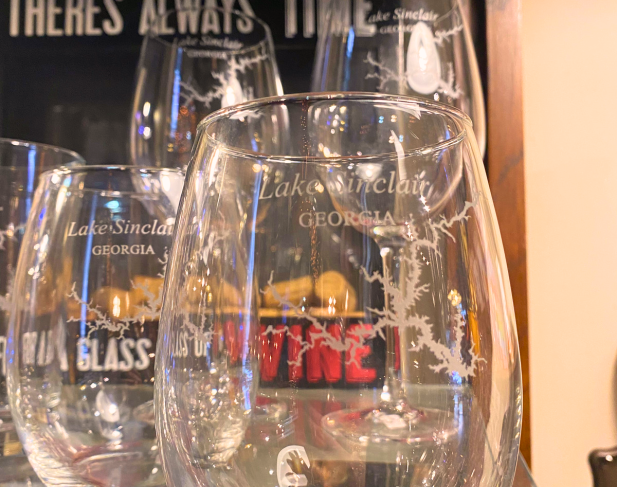 Lake Sinclair Etched Stemless Wine Glasses @ Eclectic
Perfect for a lake home, these stemless wine glasses have the outline of Lake Sinclair etched on the outside. Set of 2 available in-store for $32.00.
It is better to give than to receive and anyone would be thrilled to receive these thoughtful gifts. 
These are just a sampling of all the fine products that our local shops and restaurants have to offer not only during the holidays, but all year round!