Tis the season for twinkling lights and all things nice. Christmas music playing in every store, wreaths decorated on doors, holiday sweets, roasted chestnuts, wrapped up in your favorite sweater, and spending time with friends and family are all the things we love most about this season. There are so many things to do this Holiday season in Milledgeville. Make it as jolly as can be with a little help from our Christmas Bucket List! Check them off as you go!
HOLIDAY HAPPENINGS
___LOCKERLY IN LIGHTS
Enjoy the holidays at Lockerly Arboretum in a safe and socially distanced way! An inaugural drive-through holiday lights display offers a rare opportunity to experience Lockerly at night! Glistening trees, Christmas decorations, carolers, a pianist performance and the beloved two-act ballet, The Nutcracker, are what await you this holiday season at Lockerly! Lockerly in Lights will be open each Saturday from November 21st until December 19th!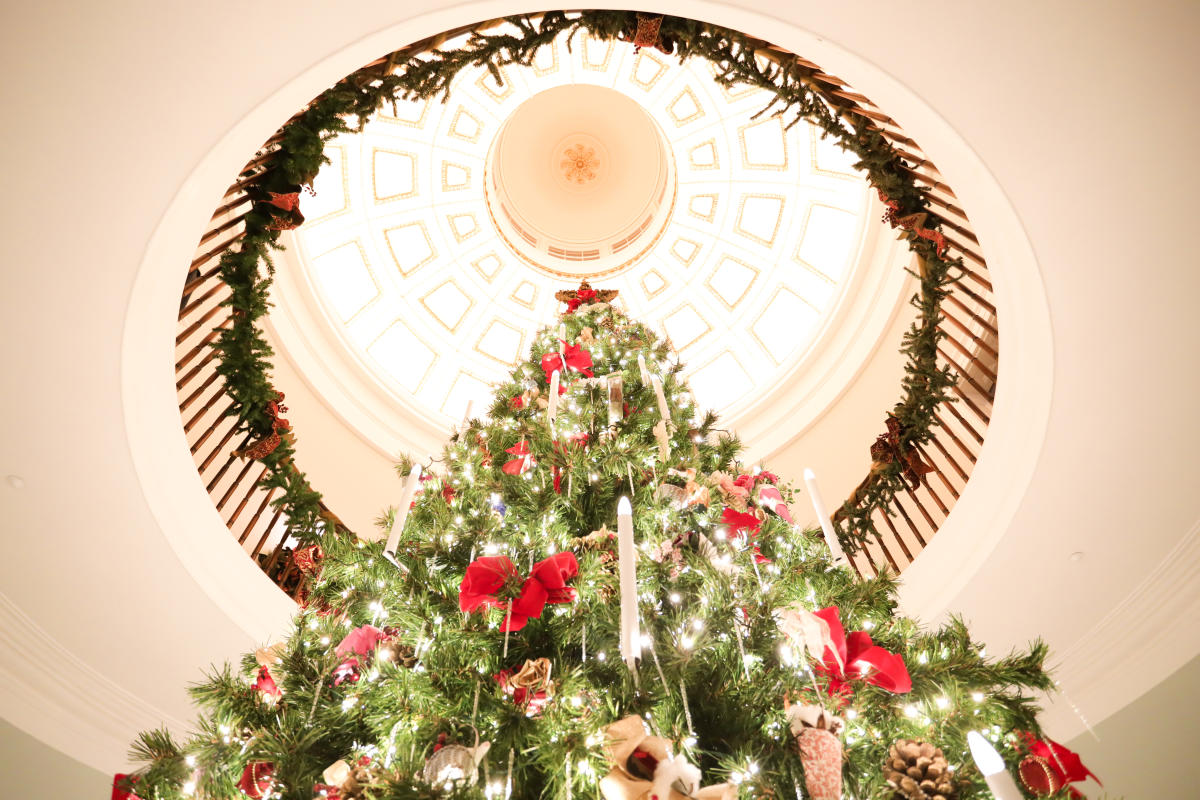 ___CHRISTMAS AT THE MANSION
Experience the festive holiday cheer at Georgia's Old Governor's Mansion this Christmas. Holiday decorations reflect the time period, 1851-1853, when Governor Howell Cobb and his family occupied the beautiful home. Tour the Mansion by candlelight for a unique experience and follow the sound of angelic voices to the hidden rotunda inside the house where musicians are gathered around the 30 foot Christmas tree! The Mansion will be fully decorated for the holidays and open for tours beginning on Saturday, November 21 and run until Wednesday, December 23, 2020. The Mansion will be closed for Thanksgiving, Wednesday, November 25 - Sunday, November 29.
___GO TO THE REINDEER FLIGHT SCHOOL
With over 30,000 lights, flying reindeer and Christmas cheer tucked around every corner, The Reindeer Flight School is one of Baldwin County's largest lights display and a unique local experience. Operated by a local retiree with a love for the Christmas season, this experience takes place in a residential area and is a fun favorite with small children. The Flight School will begin nightly from December 11th to the 25th, with the best chance of Santa making a stop on Saturday and Sunday! Just be sure to come out before 9 pm when all the lights go out and reindeers go to sleep!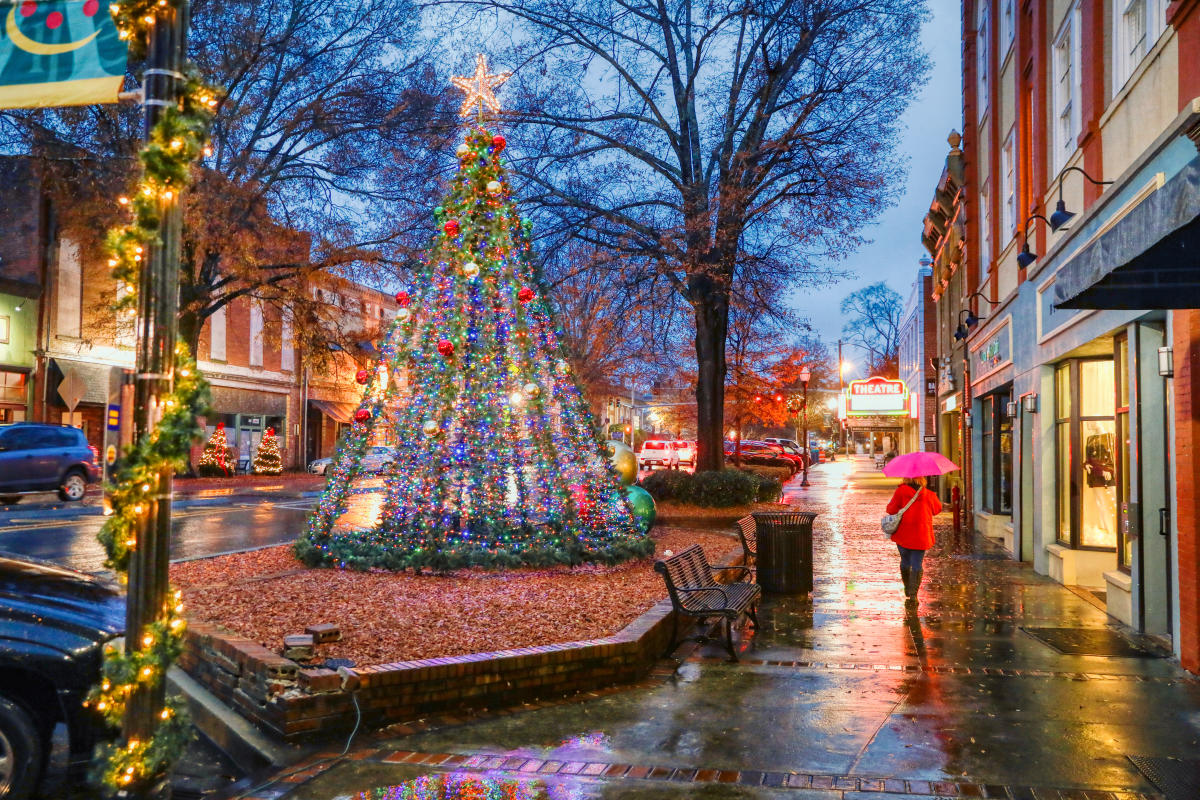 ___SEE ANNUAL LIGHTING OF THE CHRISTMAS TREE
On the first Friday of December at 6 pm the twinkling lights of our downtown Christmas tree will brighten up the streets. To see Santa's annual lighting of the Christmas tree, tune into Facebook for a video stream on the Main Street page! Take in the sparkle, decorations and festive shop windows as you wander about downtown this season.
___WRITE A LETTER TO SANTA & DROP IT IN THE MAIL BOX 
What do you want for Christmas this year? Let Santa know by writing a letter and dropping it off in the red mailbox that says "Letters to Santa" placed outside City Hall! It is a direct route to the North Pole, so you can be sure Santa and his elves will get right on it. Mail that makes it to Santa's desk is sure to get a response back, so make sure your address is legible. The special Santa Mailbox will be located outside of City Hall from November 20th until December 13th. There is no charge to send Santa a letter.
TREAT YOURSELF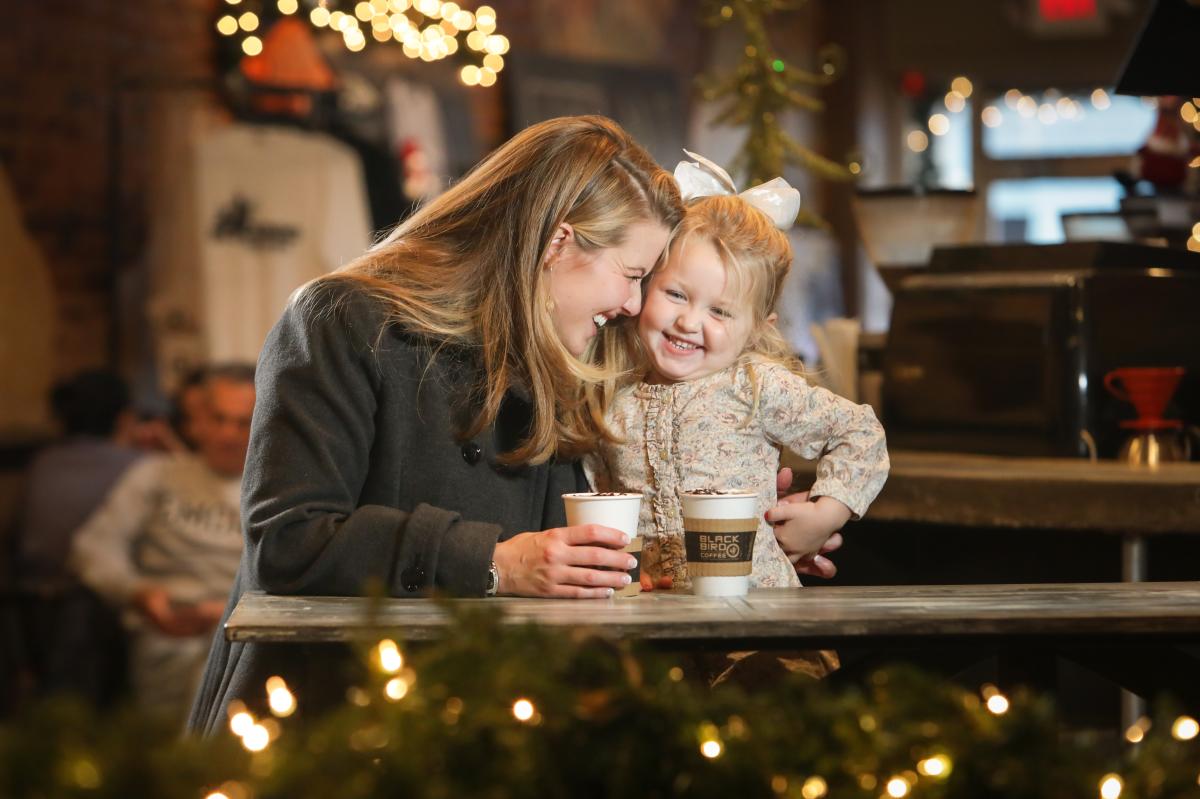 ___SIP ON A PEPPERMINT LATTE FROM BLACKBIRD 
As the air cools, there's nothing better than sipping on a hot beverage from your local coffee shop. Order a peppermint latte, hot chocolate or a fogle chai and prepare yourself to taste Christmas in a cup! Located in downtown Milledgeville, Blackbird Coffee makes for a quick and easy stop with some shopping following at some of our local boutique and antique shops. Take in the holiday grandeur as you go! Open 7am to 9pm Monday through Saturday and 8am to 8pm on Sunday!
___TRIM YOUR TREE WITH THE CVB'S NEW CHRISTMAS ORNAMENT (COMING SOON)
Get our new 2020 collectors Christmas ornament and spruce up your Christmas tree this holiday season. This year's ornament is blue and will be featuring the Cline-O'Connor-Florencourt House built in 1820 to celebrate its 200 year anniversary! At one time it was used as the residence for Georgia's governor while the present Old Governor's Mansion was being built. The house was also formerly owned by the late Flannery O'Connor. It is a great gift for anyone who loves history, architecture and Christmas!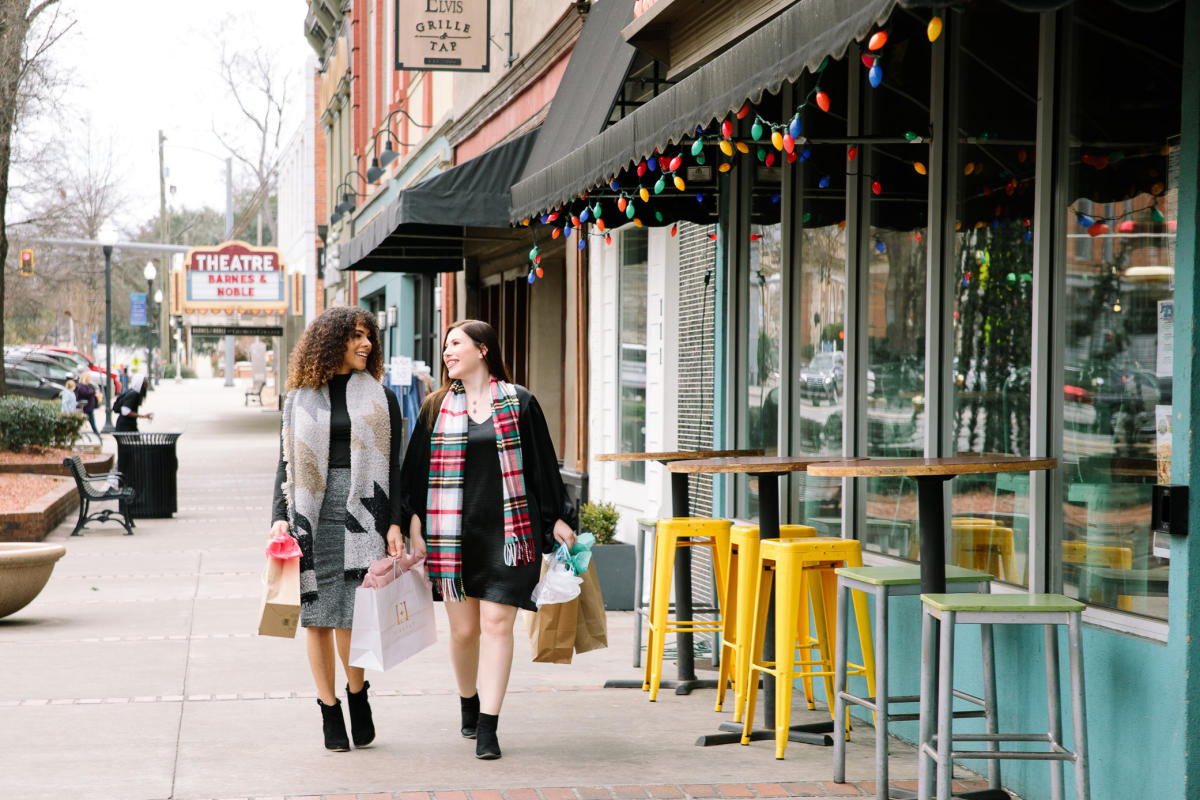 ___PICK UP A GIFT FROM A LOCALLY OWNED STORE
Show that special someone how much they mean to you by purchasing a little trinket from one of our locally owned shops! There's gifts of all shapes and sizes, some funny, some sweet. Market Collective, Eclectic, Southern Roots and local boutiques are some shops that are sure to set you up with the perfect personal gift.
___HAVE A HOLIDAY MEAL WITH YOUR SWEETIE
Dress up for a fun night out on the town with your sweetie! Enjoy a tasty sit down meal at one of our local restaurants, each offering a unique experience and delicious cuisine. There's everything from delicious steak and seafood from The Reel Grill to brick oven pizza from The Brick. Pair a cocktail from The Brick with your meal and enjoy the festive atmosphere this holiday season with the ones you love. This year The Brick is serving delicious seasonal sips such as an Apple Cider Mimosa with caramel and brown sugar on top, a Pumpkin Martini and a Salt Caramel Mule!

___ GET A TREAT FROM A LOCAL BAKERY
Satisfy that sweet tooth with a little treat from one of our local bakeries. Whether it's a snowman cookie from Doodle Bakery, Apple Bread from Goodie Gallery, a variety of decorated Christmas cookies from Ryals Bakery, or a Christmas milkshake from Hope's Kreation Bakery, you won't be disappointed. Grab something scrumptious when you are out and about in Milly. You can't have a blue Christmas when you have sugary goods in hand!
___GET CHRISTMAS DECORATIONS AT LOCAL SHOPS
Pick up some festive Christmas decorations to make your home feel jolly and bright. Christmas wreaths, scented candles, cute signage, blankets, pillows--you name it--our local shops will give you home just the perfect touch needed this Christmas! 
___ORDER CHESTNUTS FOR THE HOLIDAYS
Comfort Farms will keep you stocked and ready for the holiday season. Be sure to order some locally owned chestnuts to snack on over the holidays and roast over an open fire! Simply order online for only $12/bag, choose your pick up time, and then head on over to Comfort Farms!
SEE MILLY IN LIGHTS
___HISTORIC DISTRICT
Stroll the Historic District of Milledgeville and see the extravagant lights and holiday decorations on the already gorgeous homes! Porches wrapped in garland, twinkling lights hanging from the columns, wreaths welcoming guests through the door and Christmas trees peeking through the windows. Pick up a historic walking tour brochure from the Visitor's Center and read up on the history of each home you see! 
___EXPERIENCE CHRISTMAS BY BOAT
The lights downtown are a sight to behold, but have you seen Christmas on the lake? Rent a boat from Sinclair Marina and take a ride through in the moonlight to see houses decorated in lights, reflecting off onto the water. See a beautiful collage of white, green, and red lights as you soar across the lake, bundled up with some steaming cocoa in hand! Each house is different from the last, keeping you on the edge of your seat as you round the bend! 
For a complete guide to find the best lights in town, check out our lights guide.