Your first bite reveals juice dripping down your hands. meat cooked to perfection and flavors from bacon to cheese to egg to onion dance.
While in Milledgeville, there is going to be that night, one at a minimum, where you're craving a mouthwatering burger, with all the fixings. Whether you prefer yours blackened, blued, with an egg on it, or even made of beans, we have revealed 5 of the most sought after burgers in town!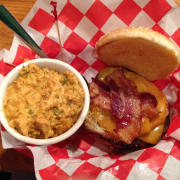 Buffington's "Skillet Burger"
Feeling in the mood for a little breakfast on your burger? This one is for you! Piled high on top of an Angus beef patty sits crispy bacon, cheddar cheese and the real breakfast kicker, a fried egg. Try it with one of their infamous chowders, like the daily special turned permanent fixture, Bob Marley Soup. You'll be wondering why breakfast can't be this good all the time.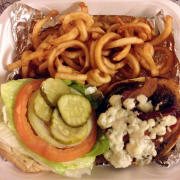 Velvet Elvis's "Black and Blue Burger" 
Blackened rubbed and blue cheese sprinkled, add strips of bacon and this yummy burger is best served with all the works. Wondering what the works are? Well they don't disappoint, crisp lettuce, juicy tomatoes, red onions, mayonnaise and mustard! Add on a side of seasoned curly fries, and you'll want two of these burgers.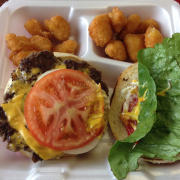 AJ's Hot Wings and More's "Cheesesteak Burger"
This local favorite and hidden gem is located on N. Columbia St a few miles north of downtown Milledgeville, and offers one of the biggest, juiciest burgers there is. Loaded with lettuce, tomato, onion, mayo, ketchup and mustard, you can't miss this classic! The Philly meat is 100% beef and grilled to perfection. Try it with a side of their famous corn fritters! Did we say they have corn fritters?!!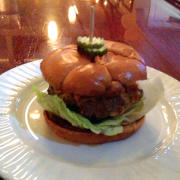 Aubri Lane's "CAB Angus Beef Burger"
A creamy, decadent southern classic thrown on your burger? This marriage between two stand alone favorites offers a taste bud tango. Aubri Lane's and their yummy pimento cheese is mounded atop a 10 oz beef patty, topped with bacon, steak sauce, lettuce, tomato and red onion. It just hits the right spot. And, if you're still not full, their bread pudding is a hit among the locals!
Buffington's "Veggie Burger"
Lighter, Leaner, Homemade. Veggie burgers at Buffington's are done a little differently than most places. They provide the luxury of making any of their burgers a veggie burger by switching out the patties! Enjoy a personal favorite, the 'Southwest' with fresh avocado and pico-de-gallo or the 'Caprese' with mozzarella, spinach, tomato and balsamic reduction. If you're no wimp, the 'Cry Baby' features roasted jalapenos, caramelized onions and white American cheese. The word with the locals is whatever classic or gourmet combination you choose, this black bean patty is one of the best around, and it's definitely vegetarian approved!
We can't wait to see you licking your fingers and smacking your lips in Milledgeville!