Enjoy a relaxing getaway in our charming small town with a variety of luxury inns and historic homes to choose from. Whether you are traveling with friends and family or by yourself, you can find the perfect place to accommodate your every need. Milledgeville offers a range of properties on the lake, in the downtown district, and there are enchanting historic homes all around town. Here are some of our favorite rentals to choose from: 
FAMILY FRIENDLY PROPERTIES ON THE LAKE
Soak in the sun at beautiful Lake Sinclair and explore 15,300 acres of winding coves and several vast stretches of open water. Lake Sinclair boasts over 500 miles of scenic shoreline and with Milledgeville's mild climate, you can rent boats and fish all year round. For boat rentals and fishing guides try Sinclair Marina. Boats and jet skis are available from Twin Lakes Jet Ski as well as Jere Shai Lakeside.

Leisure Lake Escape 
7 guests - 3 bedrooms - 4 beds - 2 bath
How do you define vacation? If it goes something like this: a single level home with a wraparound porch offering broad deep-water views; private dock; firepit, located on a quiet cul-de-sac that's minutes away from dining and shopping. If these highlights are part of your checklist for a vacation experience, then Leisure Lake Escape will meet and exceed your expectations! Nestled on nearly an acre of waterfront property, Leisure Lake Escape's red tin roof peeks from just behind the tree-lined driveway. Parking is easy, and it's in the driveway that guests discover a rare feature among vacation rentals: a ramp that connects to the wraparound porch! With no steps to climb to the main (and only) level of the home, this property is perfect for those with limited mobility.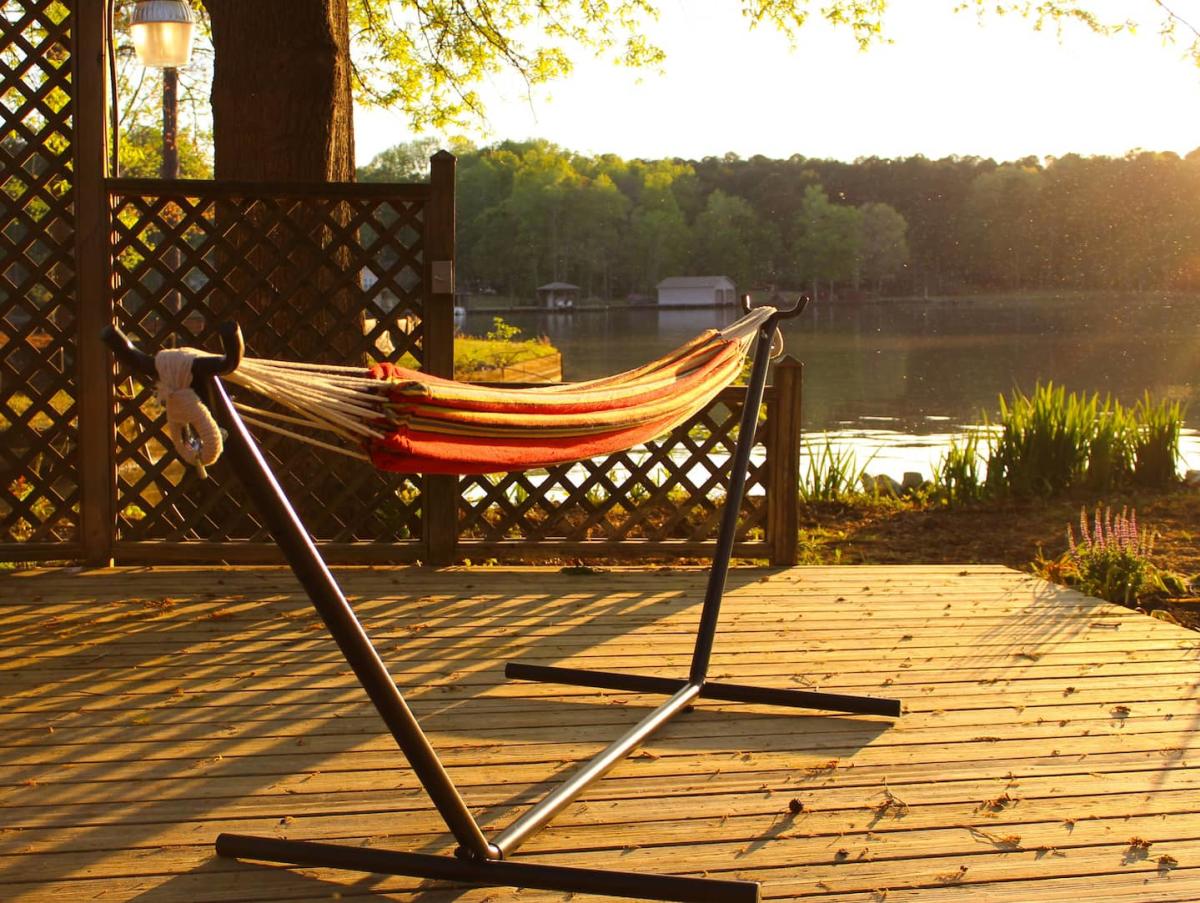 Bluebird Lakefront Lodge 
9 guests - 4 bedrooms - 6 beds - 2 bath
The Bluebird Lakefront Lodge is great for families and couples. The cabin has amazing amenities including a gas grill, firepit, kayaks, life vests, and a boat house to store your boat. It is in a nice quiet neighborhood near many restaurants and marinas. There is plenty of outdoor seating and a covered deck for you and your guests to enjoy the outdoors no matter the weather. If you are traveling with a large group, the kitchen has a large dining room table for gatherings. This home has a lot of charm that will make you feel right at home. Enjoy relaxing on the hammocks outside while reading a book, fishing on the dock, or making smores around the fire pit.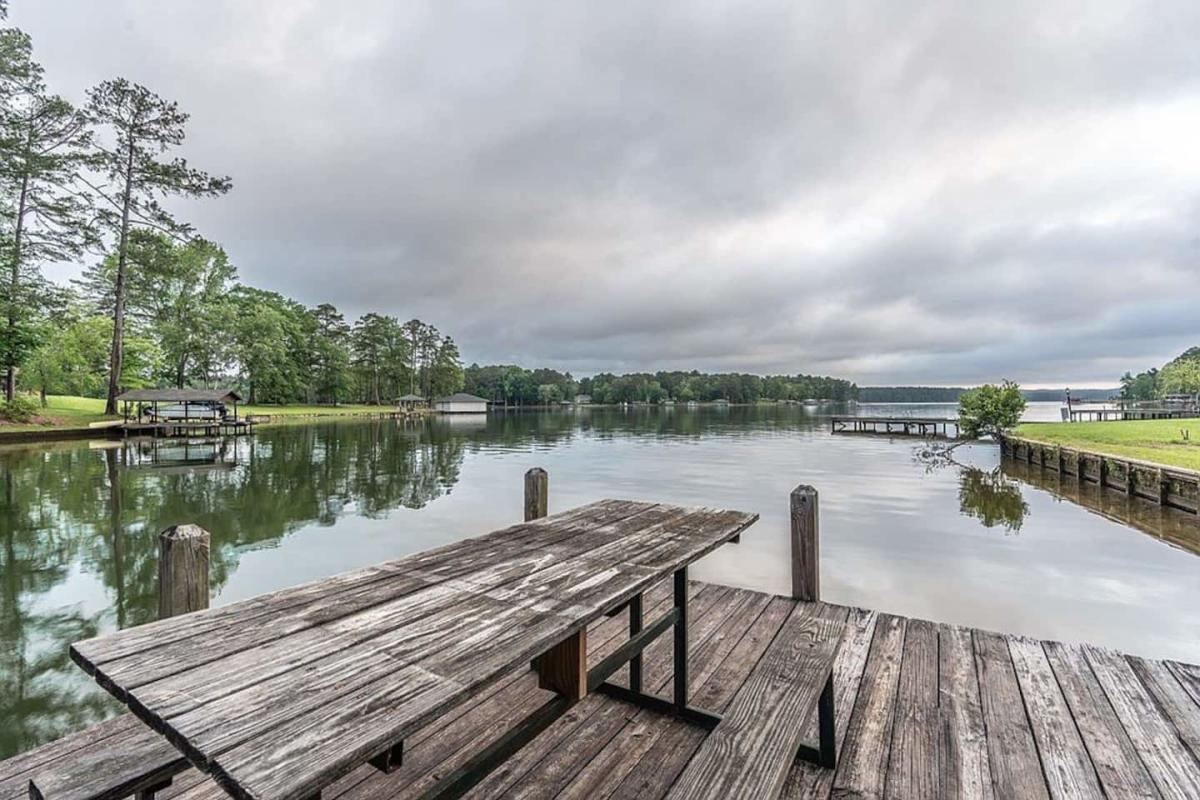 Lake House Retreat
8 guests - 4 bedrooms - 5 beds - 2 bath
You'll love waking up in this peaceful lakefront Airbnb. The Lake House Retreat is a hidden gem sits on 2 acres of lawn leading to fishing from the dock and boathouse on Lake Sinclair. The hosts have even left you fishing poles, so guests can fish off the dock. Bring a boat or rent one! On the upstairs level are two bedrooms with a full bath, just five steps UP from the main level. On the main level you'll find the kitchen, living room, office and dining areas with a fireplace in the living room and a flat-screen TV. Glass doors take you out on a deck with a dining table and chairs overlooking the lake. For your entertainment and dining super close, there is a cool local restaurant on the lake, Taylor's Cove (Formerly Ole Chobys). They feature a live band, and dinner every Friday and Saturday evening.
HISTORIC HOMES
Founded in 1803 around a series of beautiful squares and wide tree lined streets, Milledgeville was designed to be the new Capital of Georgia. Milledgeville remained the capital for over 60 years and many of the historic buildings are still standing to tell tales. Learn the rich history of our charming small town and how it has helped shape America's history. 
Rockwell House
10 guests - 5 bedrooms - 6 beds - 5 bath
Immerse yourself in history and grandeur while visiting Milledgeville. The Rockwell House, once occupied by a Georgia governor, offers breathtaking historic architectural features with a delightfully fresh interior design. Enjoy the peaceful sounds of the self-playing grand piano or take a quiet moment to explore the fenced 12-acre grounds. The Rockwell House offers 4 guest suites or private bookings of the entire house. Whether you are traveling alone or in a group, this home will ensure lasting memories as you explore the fascinating history of Milledgeville.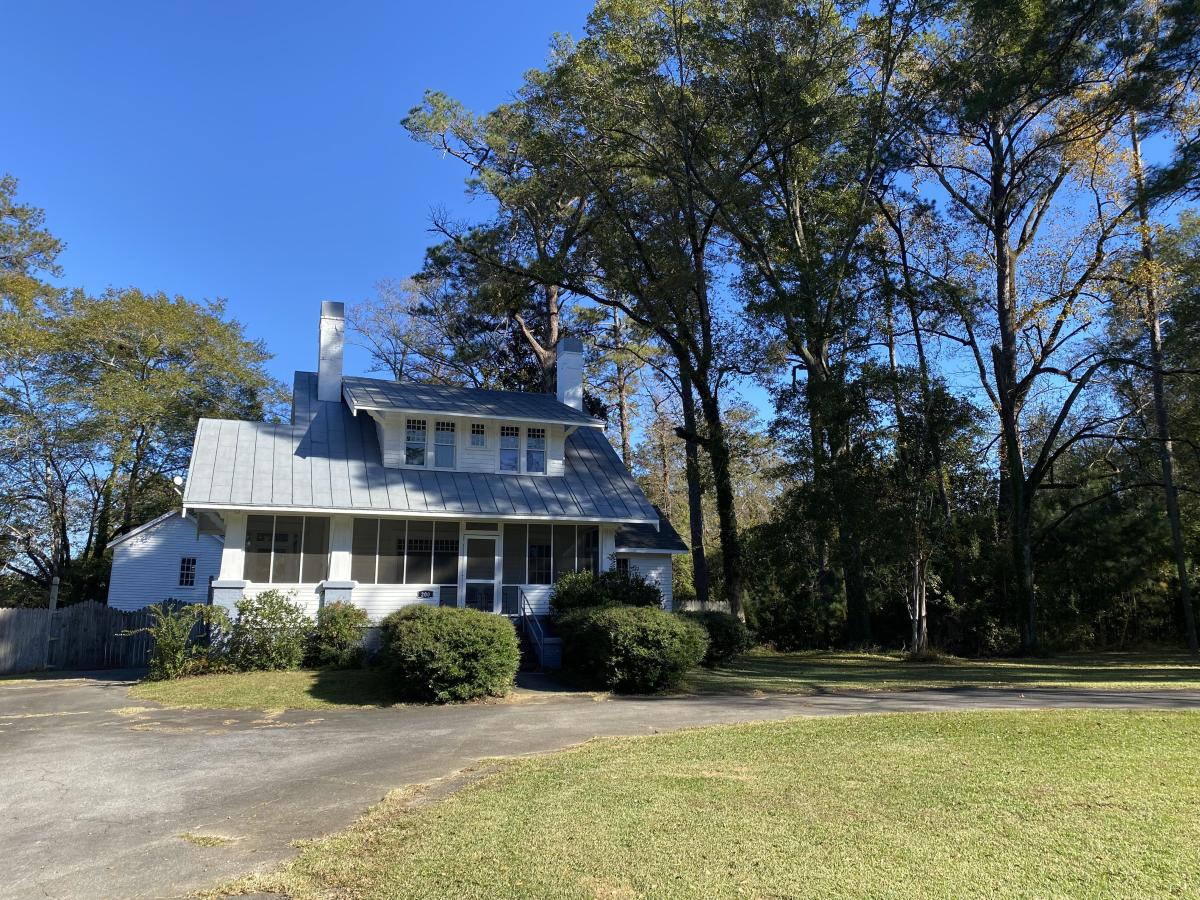 Bungalow on Central State Grounds
5 guests - 3 bedrooms - 3 beds - 2.5 bath
Stay on the campus of what once was the largest mental asylum in the world. This fully renovated craftsman, 1920's bungalow is situated on the corner of a large pecan grove, across from the Central State Hospital infirmary. Walking, driving or trolley tours are available to learn all about the history of one of the nation's oldest and largest institutions for the mentally ill. Note: Buildings are closed to the public. There are no tours inside buildings.
INNS IN THE DOWNTOWN DISTRICT
Downtown Milledgeville consists of 10 blocks with local restaurants, boutiques, museums, and more. Indulge in incredible food, shop for unique goodies and antiques, and learn the fascinating history of Milledgeville and the historic figures that helped shape it.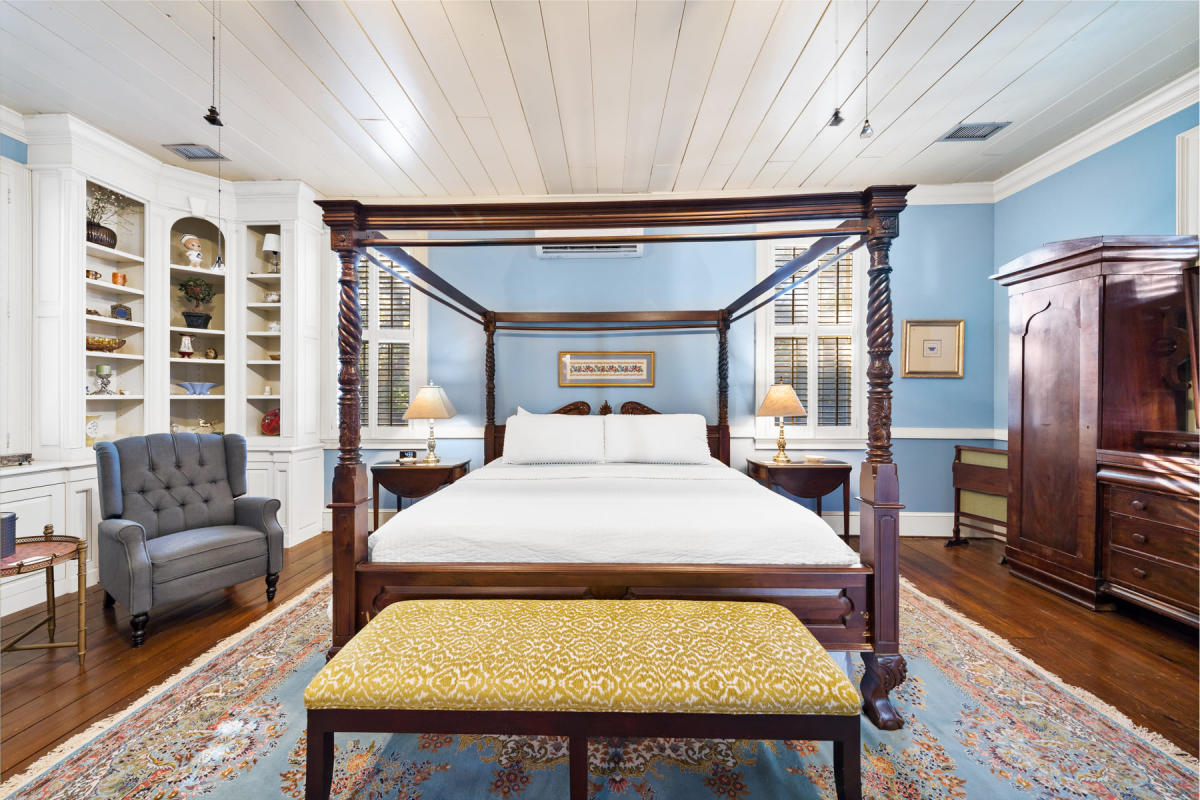 The Inn on North Jefferson Street
2 guests per room - 3 bedrooms - 3 beds - 4 bath
Opened in late 2021, the newly renovated Inn on North Jefferson Street is walking distance from restaurants and shops in Downtown Milledgeville. This beautiful antebellum home has a fenced-in backyard, a covered back patio, a pool, a spacious kitchen and dining room area, multiple fireplaces, and a cozy living room. Bedrooms can be individually booked for up to two guests. The inn is perfect for a romantic getaway with luxury rooms and plenty of interesting activities to do around the downtown district.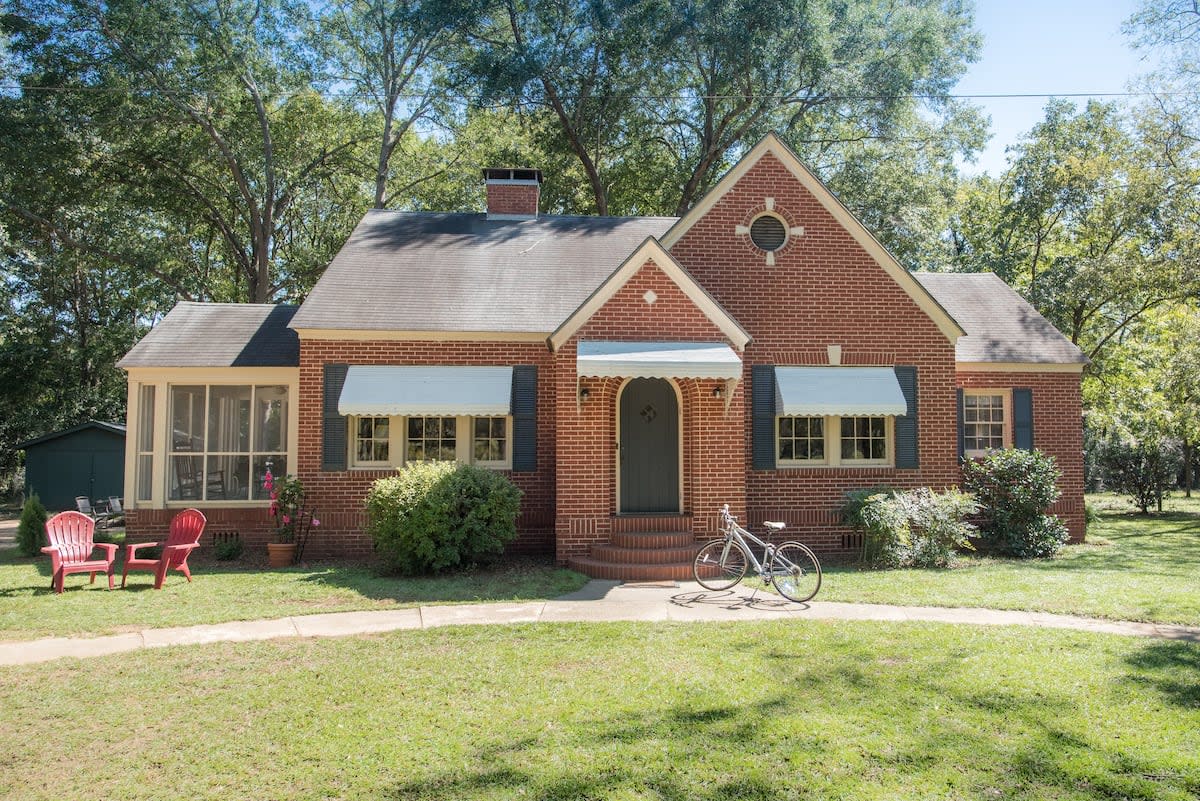 Malpass House
5 guests - 2 bedrooms - 3 beds - 1 bath 
Built in 1941, this home is full of charm as well as history. The Malpass House is located on the site where 30,000 union soldiers camped on their March to the Sea in 1864. The house has an outdoor grill, fire pit and screened in porch. Most importantly, the entire property is fenced in and ready for kids and "kennel trained" pets. The property is located only one mile from downtown Milledgeville and three minutes from the Oconee River Walk where kayaking and canoeing is offered. If you are traveling with your furry friend, the Oconee River Walk also has a dog park.