Pizza and wings are the two ultimate food groups for any college student. Besides the obvious fact that they are delicious, wings and pizza can easily be shared amongst a group of people and no one will object. This affordable and filling meal is perfect for a dinner with friends or for a quick snack before heading to the library. Here is a list of our favorite places to go for pizza and wings.  
Restaurants that have it all

The Brick
Indulge in a delicious pizza with a side of wings. The Brick is a perfect spot for friends and family to catch up while sharing a great meal. They offer a wide range of specialty pizzas and a make-your-own option with fresh toppings to choose from. Some of their fan favorites include the California BLT with alfredo sauce, bacon, tomato, shredded romaine, and Italian dressing and the Cannibal with baked chicken, beef, pepperoni, ham, Italian sausage, and mozzarella cheese. If you are looking for a snack, The Brick's Stuffed Cheese Bread appetizer is delicious with garlic butter, mozzarella cheese, marinara sauce, and your choice of toppings. All options pair perfectly with a plate of wings. They have a range of flavors including lemon pepper, brown sugar, jammin' jerk, and BBQ sauce. Make sure to come on Tuesdays for 55 cent wings starting at 4:30 PM. If you are with a group of friends, stay for Trivia Night starting at 10:30 PM.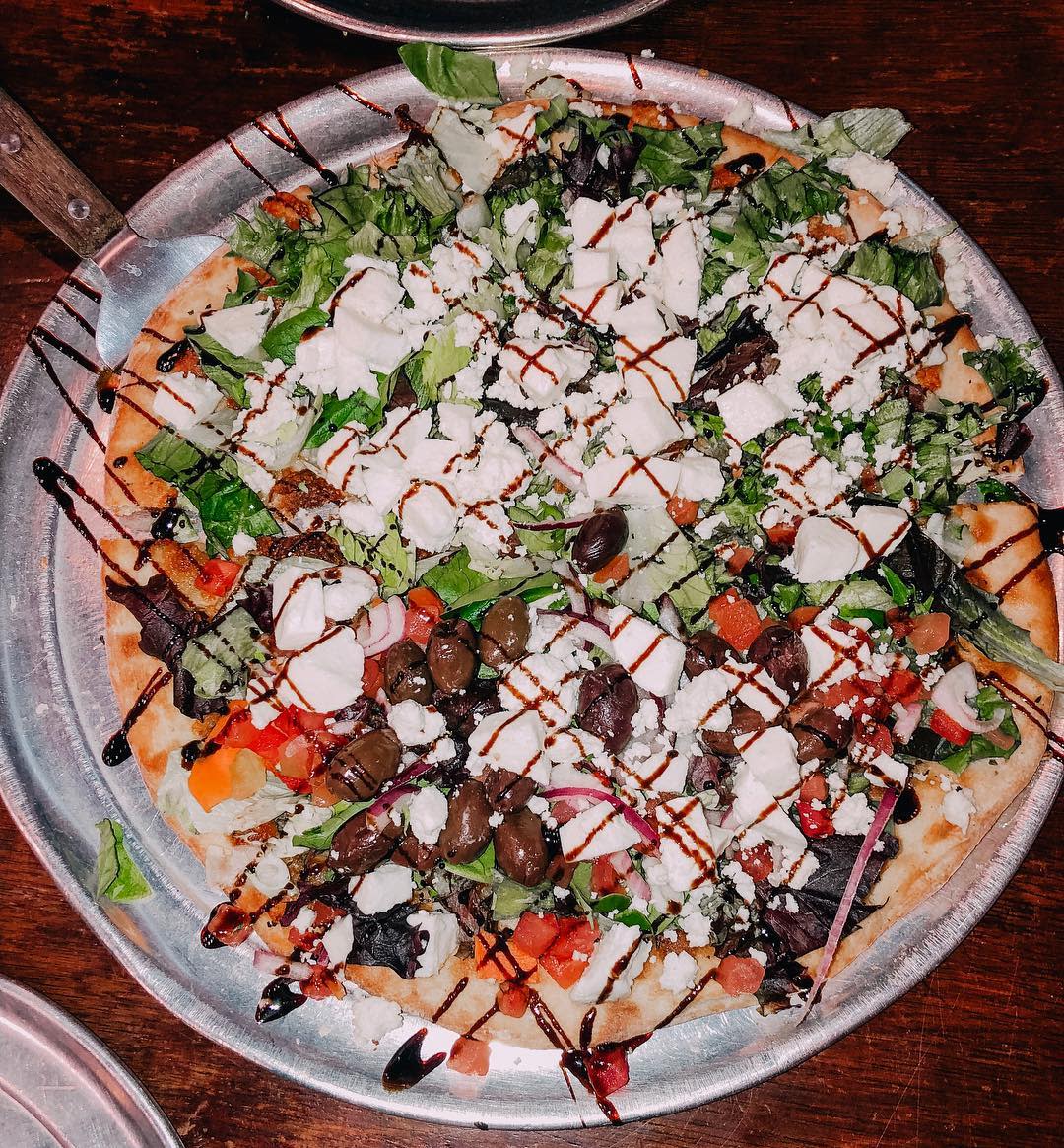 Amici
After enjoying Wing Night at The Brick, come to Amici's Wing Night on Wednesdays for more incredible deals. Dig into a plate of jumbo or boneless wings. Wings come with a variety of sauces including sweet chili, BBQ, and lemon pepper. Amici also has a great selection of gourmet pizzas including their Muay Thai pizza with grilled chicken, sweet Thai chili sauce, red onion, banana peppers, feta cheese, and fresh basil and their Tuscan pizza with pepperoni, black olives, red onion, diced tomatoes, and pepperoncini.
Grab a slice 
Bibas
This authentic Italian eatery, provides specialty pizza with fresh ingredients and a unique twist on all of your favorites. Bibas is a perfect place to go for a date night or an outing with friends. We highly recommend their Pesto Pizza topped with pesto sauce, chicken, roasted red peppers and light mozzarella cheese or their Italian Stuffed Pie which is a covered pizza, stuffed with ham, pepperoni, sausage, cheese and a touch of sauce. Compliment your pizza with a glass of Italian wine and mouth watering garlic rolls. 
Savory Wings

Pickle Barrel Cafe
This sports bar off 441, serves mouth watering wings that you can enjoy on their back porch or while watching the game inside. PBC makes their own sauces that compliment their extra crispy famous wings perfectly. Some of their sauces include teriyaki, honey BBQ, scorcher, honey mild, and islander. Every Wednesday night, they host Wing Night with incredible deals that you won't want to miss.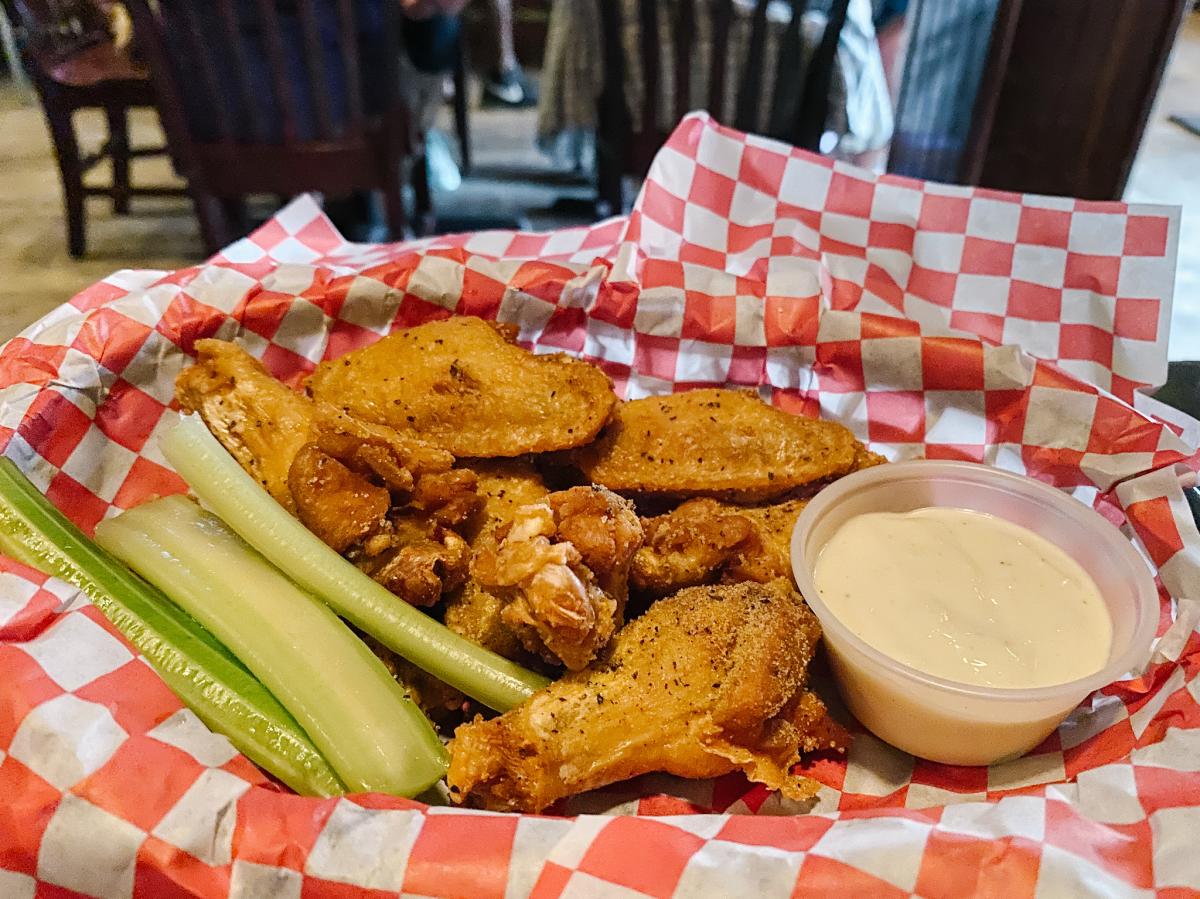 Velvet Elvis
Velvet Elvis also hosts Wing Night on Wednesday nights to ensure you never go a week without wings. Their flavors include hot, mild, honey hot, lemon pepper, and honey BBQ. While you are there, grab a refreshing pint of beer and enjoy watching the game. 
AJ's Hot Wings To Go
Their wings were voted the best by the Union Recorder for a reason. Try their famous wings as a main dish or a plate combo with any of their other delicious items. AJ's Hot Wings has a wide range of sauces from honey BBQ to extra hot. Some of their combos include 5 wings and a philly sandwich, 5 wings and a mini burger, and 10 wings. They are located near the Greenway, which is a great place to picnic and enjoy your delicious meal.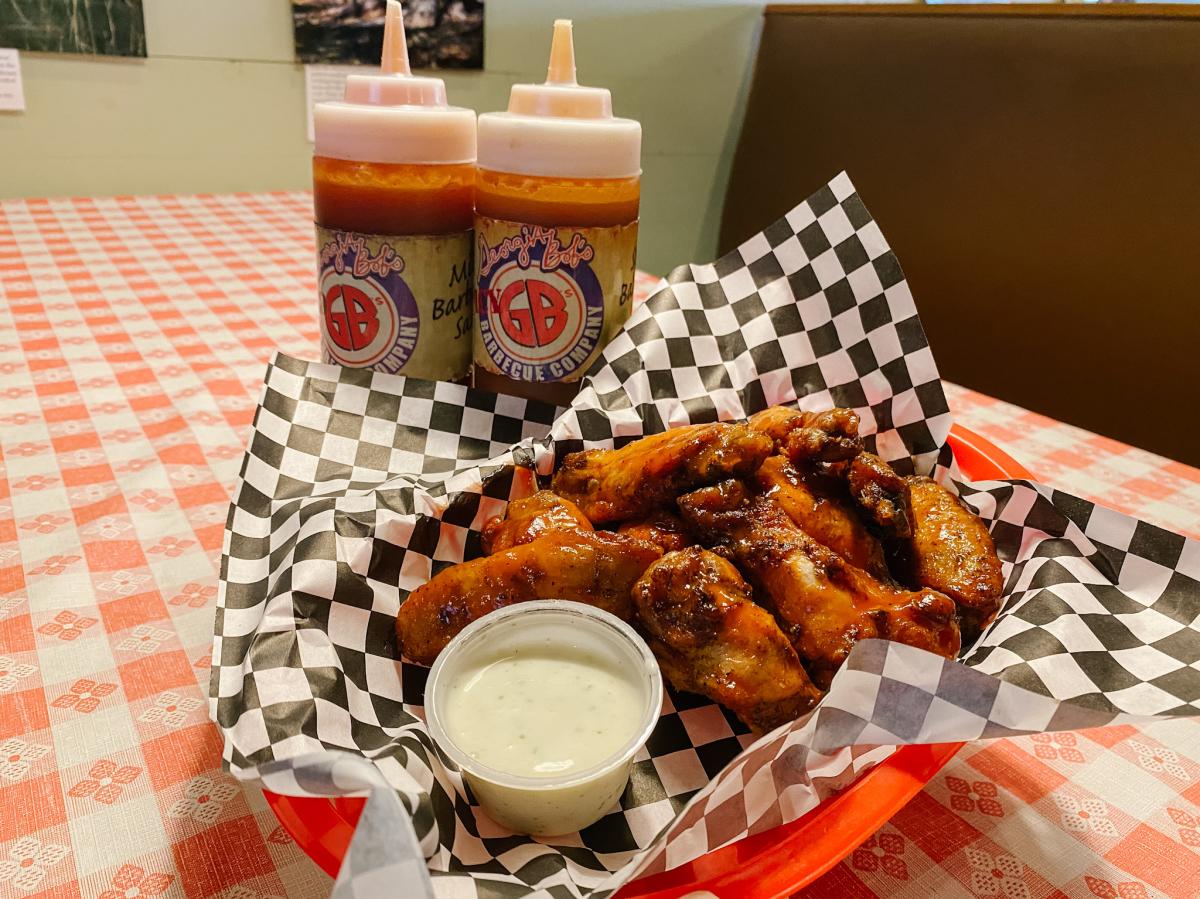 Georgia Bob's BBQ
Located in Downtown Milledgeville, this authentic restaurant serves some of the best barbeque in town. Buy a 10, 20, or 40 piece count all at an affordable price. Georgia Bob's sauces include original, mild, spicy, sweet, buffalo, and lemon pepper. While you are there, treat yourself to their famous peach cobbler for dessert.