Everyone loves a good sandwich. Whether it's a gourmet panini or just a plain turkey, Downtown Milledgeville has a tasty option for everyone! Just take a walk down the West Hancock Street and you'll find a superb sandwich at every stop.
Let's skip Jimmy John's - we have all been there, done that. We've got local restaurants to explore that you won't find back home.  
Though this iconic Downtown restaurant has a plethora of perfect sandwiches to choose from, you'll definitely want to order the Grilled Chicken Pesto. With roasted red pepper, melt-y provolone cheese and sourdough spread with basil pesto and mayo, what more could you ask for?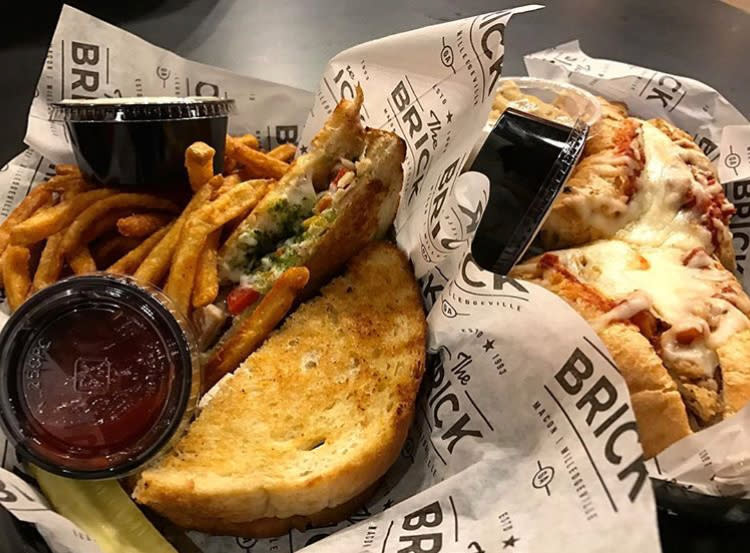 Photo courtesy of yumyumgud on Instagram.
Then we'll move a few doors down to Buffington's.
Now, we all know that Buffington's burgers are to-die-for, but they've got some pretty good sandwiches as well. Today, let's ditch the meat and opt instead for the Veggie Panini - you won't regret it! Smooth hummus, swiss cheese and crunchy fresh veggies sandwiched between savory wheat berry bread makes for a super satisfying sandwich.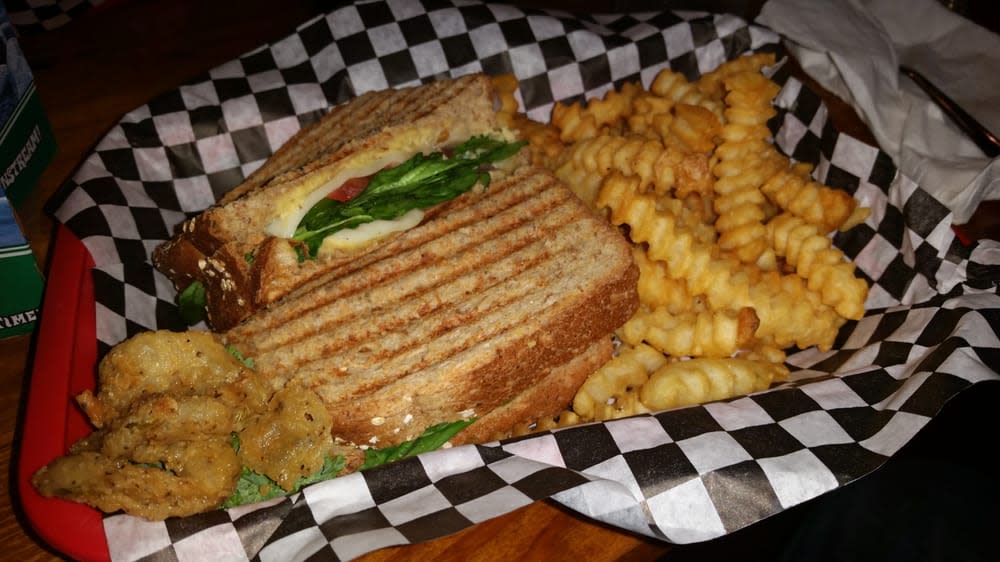 Photo courtesy of Jennifer H. on Yelp
Next stop: Georgia Bob's BBQ.
This classic barbecue joint is a staple of Milledgeville that you won't want to miss. Here, we love their classic Pulled Pork BBQ Sandwich. Toasted on wheat bread and served with a side of potato salad, this makes for the most delicious, comforting meal.
Photo courtesy of Georgia Bob's BBQ
Though they are known for their delicious and elegant caffeinated beverages, Blackbird also offers handcrafted sandwiches, salads and pastries made fresh daily. Our pick is the Artichoke Sandwich. Though this is also a meatless option, it won't be lacking in deliciousness. Savory roasted red pepper, artichoke, and soft provolone cheese make for a tasty flavor combination. Pair it with an iced coffee for the perfect afternoon pick-me-up.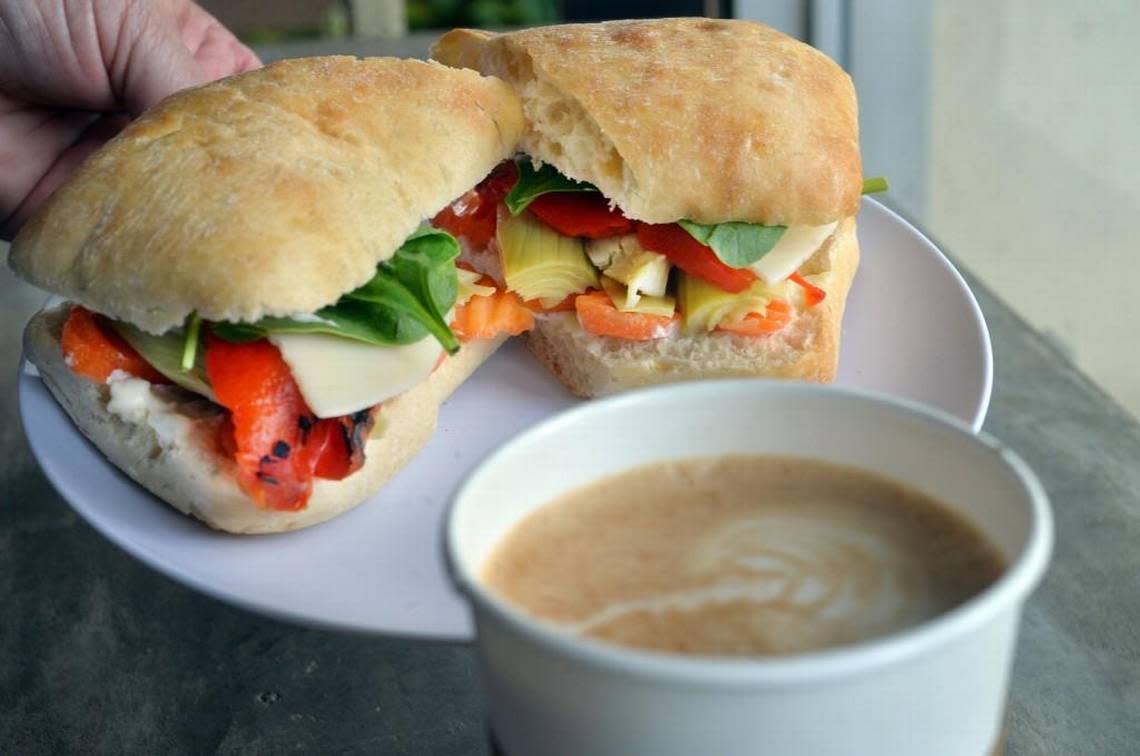 Photo courtesy of the Macon Telegraph.
Our final stop is Cravings, which is home to several sandwich creations unlike anything else in Downtown Milledgeville.
Though the Spicy Chicken or Tru Bleu may catch your eye, our "cravings" are for The Gobbler. Essentially, this is Thanksgiving in one sandwich. It's loaded with turkey, cream cheese and cranberry jelly, providing you with those key holiday flavors. The finishing touch? Buttermilk bread as the bun. This sandwich will send Holiday Greetings to your taste buds any time of year.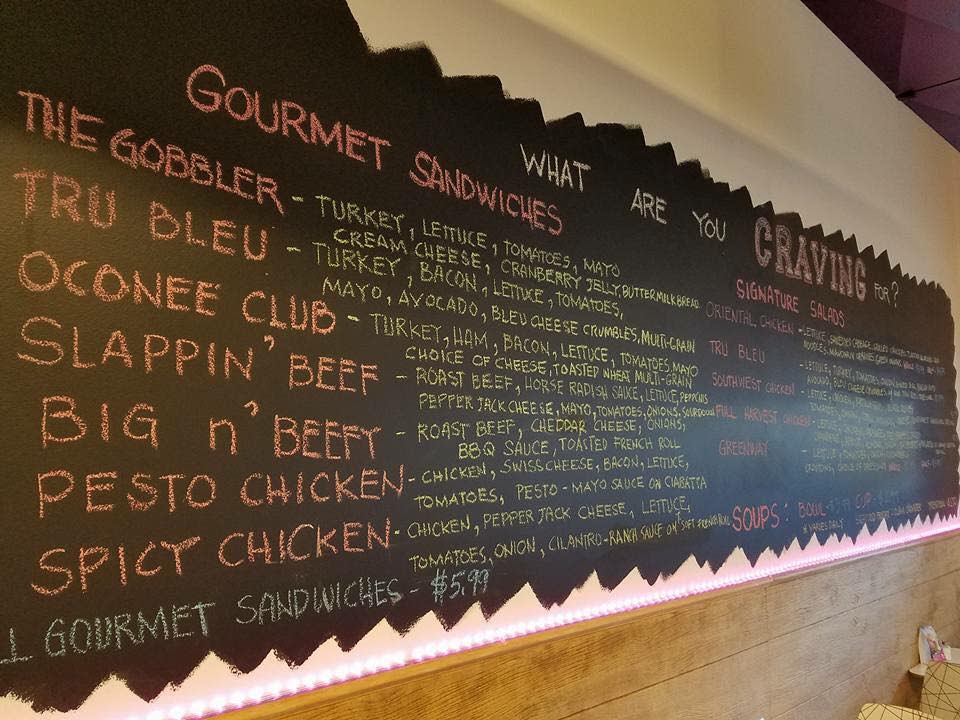 Photo courtesy of Cravings Milledgeville
We hope you enjoyed our sandwich tour. Though our top picks are to-die-for, don't be afraid to venture toward another sandwich on the menu. Each of our locally owned restaurants have plenty of options for every type of sandwich lover.
If you plan to follow along, good news: these stops are all on the same side of the street! Be on the lookout for part two, when we cross the street and discover what sandwich options lie on the other side of West Hancock.