In the age of Pinterest and Do-it-yourselfers, The Market Collective is a shop that can cure the most extreme cases of crafting fever. Whether you want to buy something that is beautifully hand-made, or be involved in creating a special craft, The Market Collective has everything you need for a personalized gift. Located on Wayne Street, this vintage and rental store has amazing finds from local artists that anyone can appreciate.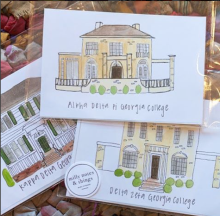 Personalized Paintings
Stop by and pick up a unique set of cards, painted by Amanda Wilson Harper or Ann Vinson with florals and greenery. Use this as your stationary and make everyone envy your taste. You can even special order the cards for events like weddings. For something close to your heart, order a hand-painted picture of your home, by Mary Stramm. These cute representations of your home make the perfect wall decoration for any family.
Local Accessories
If you are looking for beautiful hand-made jewelry, look no further than Broke Girl Bracelets by Sarah Cook, Accessorwize by Allison Butler, and Peachy Keen by Airica Hodges. These jewelry makers have seasonal colors and styles that will always stand out in your jewelry box. Market Collective even has something for the boys, the most unique bow-ties for any occasion. Madison O'Brian, a GC art student, created her company Madison Ties, and sells at Market Collective.
Soy Candles with a twist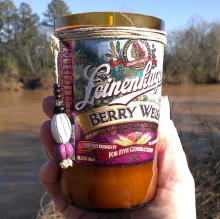 As for one of the best kept secrets in Milly? Southern Soul Soy candles by Kim Stewart. Customers can bring in any container to hold their very own soy candle created by Kim, with amazing smells like Ginger-Pear. From old wine and beer bottles, to teacups and wooden bowls, Kim can create an amazing candle that really speaks to your personal style.
Handmade Soaps
If you love Kim's candles, you will adore her sister's handmade soaps. Based in Tipton, Juli Riddle wraps her soaps in burlap and ties them with a hand-written card that labels the scent. These soaps make perfect gifts!
Reclaimed Furniture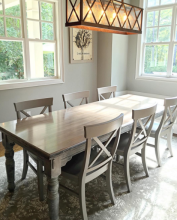 Do you ever wish you had the skills of Joanna Gaines to make that old thrift-store find into something new? The Market Collective has furniture from local artists that will make you fall in love. Ashley Brady, owner of Aspire, breathes new life into old furniture, which can be found around the shop.
Follow them! Each of these local artists can be found on Instagram (links below), as well as in stores at Market Collective. Check them out, and send them some love!
The Market Collective Vintage-New • Home Decor • Clothing • Painted Furniture • Artisan Goods•Event Rentals all in Downtown Milledgeville,Georgia @themarketcollective
millynotesandthings @millynotesandthings
Wilsonharperdesigns Original hymn print artist, Handlettering. Watercolor. Card making. Prints, globes, Invitations. Wood work. @wilsonharperdesigns 
Broke Girl Bracelets handmade jewelry right out of Milledgeville, GA @brokegirlbracelets
AccessorWise!  AccessorWise available at Our Favorite Things in Macon, The Market Collective in Milledgeville and Refresh and Refine on St. Simons Island! @accessorwise
|peachykeen| |handmade jewelry| + free shipping always! @peachy.keen.xo
Madison Ties Hand crafted bow ties. Custom orders. @madison_ties
southernsoulsoy @southernsoulsoy
Ashley Brady Hauling and Hoarding furniture girl aspiring to make things pretty/ furniture painting and restoring/ appreciator of good food and wine. @aspirebyashleybrady