Meet (the redesigned) Milledgeville
The Milledgeville-Baldwin Convention and Visitors Bureau (CVB) has completely redesigned its tourism website VisitMilledgeville.com to give it the fresh and functional feel that users have come to expect. With user experience the top priority, the new website design allows visitors to access information whenever and wherever they want it. The new website will allow the Milledgeville-Baldwin CVB to continue to promote Milledgeville and Baldwin County as a destination of choice in the most effective way possible.

When visitors access the site, they now immediately see large, vibrant images of our community.  This fresh, new feel is organized in a way that makes the most sense and with the user experience in mind. Adding to the visual spotlights, the updated website also features the dynamic image box tool and Featured Events module. Unlike previous static versions of the image box, a click on the Call to Action will prompt additional information in the same window. The content, imagery and navigation throughout the site are designed to be inspirational by providing ideas for Milledgeville a experience. Even those who do not know exactly what they are looking for will be able to navigate the pages with ease. As the user scrolls down the page, their screen will fill with a variety of events, dining options and attractions so that tourists of all kinds will be targeted in one way or another.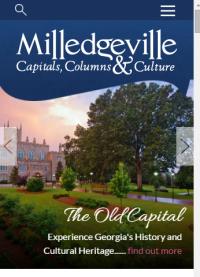 Milledgeville's redesigned website is ideal for our young college students and active outdoor enthusiasts because of the added responsive design feature. Responsive Website Design automatically adjusts content for an optimal viewing and interactive experience across a wide range of devices, including desktop, tablet and mobile phone. Whether on the road or at home, VisitMilledgeville.com functions for the modern traveler across a multitude of devices.
Simpleview, a tourism industry leader with over 350 CVB clients, had the task of redesigning the website. Simpleview's design team visited Milledgeville in 2014, resulting in a understanding of who we are.  Everything from the banner images to the background textures to the fonts were chosen to reflect the balance of the history and excitement of Milledgeville. The Milledgeville-Baldwin CVB's website license agreement with Simpleview will provide the Milledgeville-Baldwin CVB with regular upgrades as they are pushed live to leading CVBs across North America and internationally.
Milledgeville residents and visitors are encouraged to visit the new website at www.VisitMilledgeville.com for the latest information on Milledgeville events, attractions and travel information.
###
About Simpleview
Based in Tuscan, Arizona, Simpleview has supported destination management organizations (DMOs) since 2001 with tools, knowledge and creativity to help them perform at the top of their game. Working with the world's top cities and smallest towns, Simpleview believes that every DMO has a role to play in creating a better experience for the people who visit and a better life for the people who call it home. In 2007, Inc. Magazine began publishing the Inc. 5000 list of fastest-growing U.S. private firms. Simpleview ranked on that list and has secured a spot every year since, earning a place in an elite group of less than 400 companies nationwide. Simpleview has achieved that distinction by managing their business with the same approach they bring to customers: smart use of resources, visionary thinking, attention to everyday needs, hard work, planning ahead and never stopping at "good enough." Today, Simpleview is a company of more than 150 people dedicated to destination marketing, both by working with individual DMOs and by helping the industry as a whole adapt, evolve and thrive.
###
Milledgeville-Baldwin Convention & Visitors Bureau
200 West Hancock Street | P.O. Box 219
Milledgeville, GA 31061 | 31059
478-452-4687 | 800-653-1804