This newly renovated historic beauty, originally built in 1820, is now available to welcome guests for overnight accommodations. The Inn on North Jefferson Street has five grand rooms with three currently available for guests to enjoy a luxury stay with incredible amenities and walking distance from the downtown shops and restaurants. 
In June of 2021, the owners of Local Yolkal in Downtown Milledgeville, Cliff and Jen Charnes, purchased this 6,000 square foot home with the dream of turning it into an inn. After renovating the home, they opened their business in November of 2021. The home has beautiful Victorian bay windows and staircase, a relaxing patio with fans, a pool, multiple fireplaces, and a spacious kitchen, dining room and living room for guests to enjoy. 
A HISTORIC EXPERIENCE 
Josiah Doles, the original owner and builder of the home, designed it as a Piedmont plain house. The home featured a small stoop porch, six rooms, and a breezeway leading to the kitchen, which was separate from the rest of the house. The home has since been owned and renovated by several different people including some historical figures. The brother of Josiah, George P Doles purchased the home in 1856 and was a confederate army general who died in the battle of Cold Harbor in 1864. 
In 1863, the house was sold to James A Jarratt. James was the father of the infamous character, Dixie Haygood, better known for her stage name, "Annie Abbot, the Little Georgia Magnet." Haygood was an illusionist who performed spectacular feats all around the world and whose social circle included world class performers such as Harry Houdini. In fact, she was so talented that many who could not fathom the art behind her illusions falsely claimed her to have had psychic abilities. When Dixie was just two years old, her family sold the house. 
RELAXING BALCONY
This charming home has a beautiful balcony overlooking the surrounding property including the beautiful greenery and fenced in pool. Relax on one of their many rocking chairs as you observe the stunning scenery. On hot summer days, the fans will help keep you cool.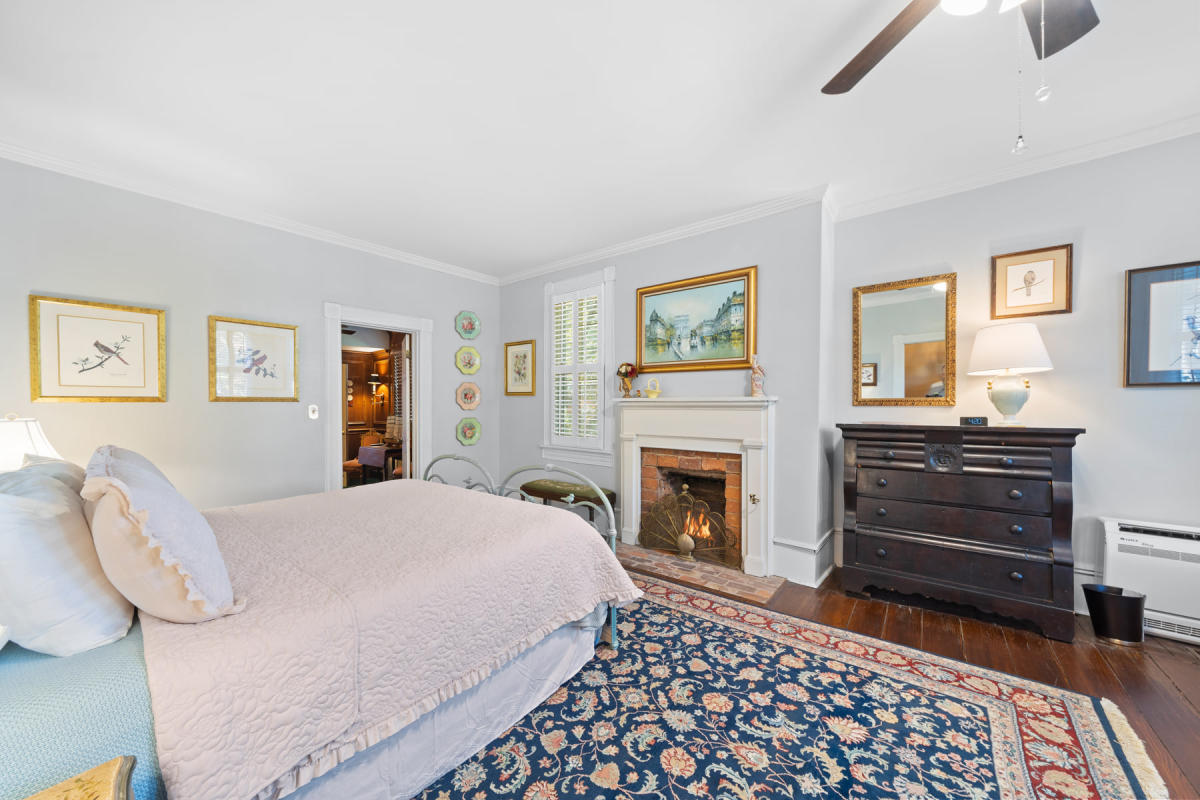 THE VIRGINIA SUITE
The two room deluxe suite comes with a king bed and separate sitting room, called the library, with a TV & fireplace. The Virginia suite has beautiful bay windows and a cozy interior design. Guests may enjoy reading by the window, cozying up to the fireplace while watching a good movie, or playing card games in the library.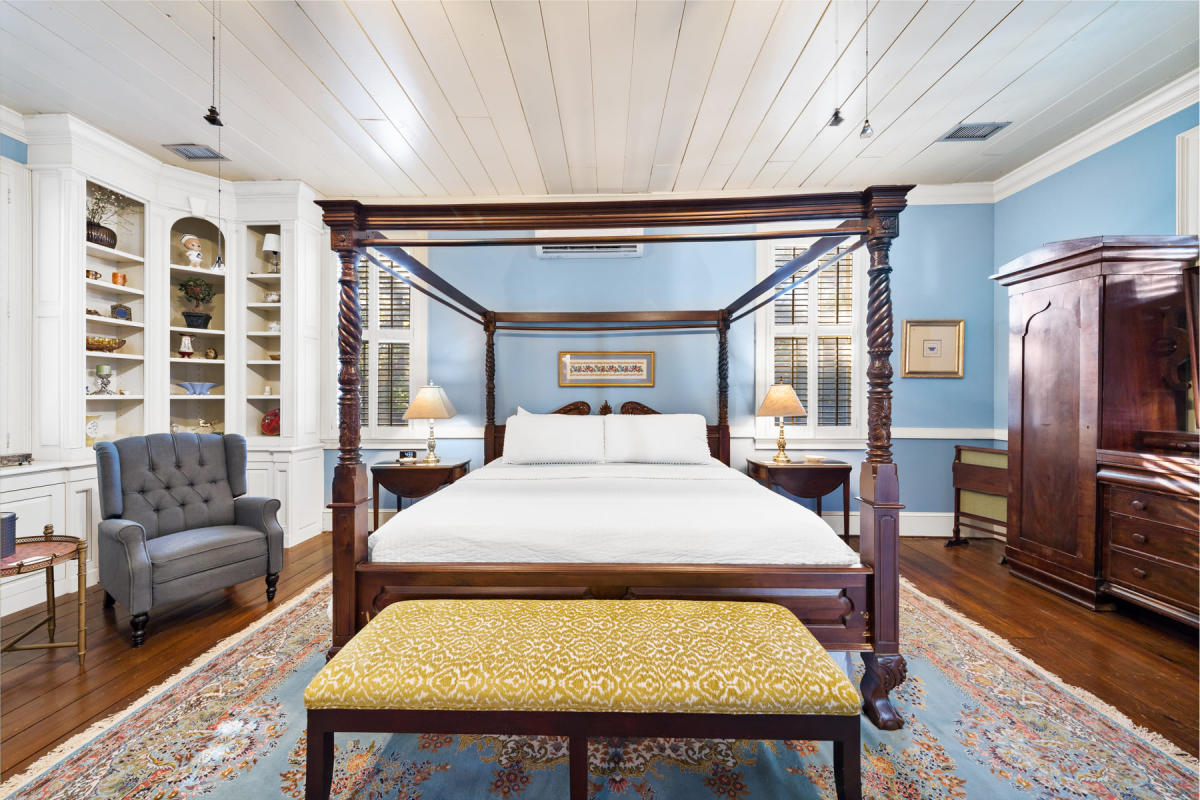 THE ELIZABETH SUITE
Originally the primary bedroom, this spacious room comes with a king size bed, a fireplace, a desk, multiple windows, and gorgeous built-in bookshelves. The bathroom comes with a vanity, shower, and bathtub for guests to enjoy a relaxing self-care day.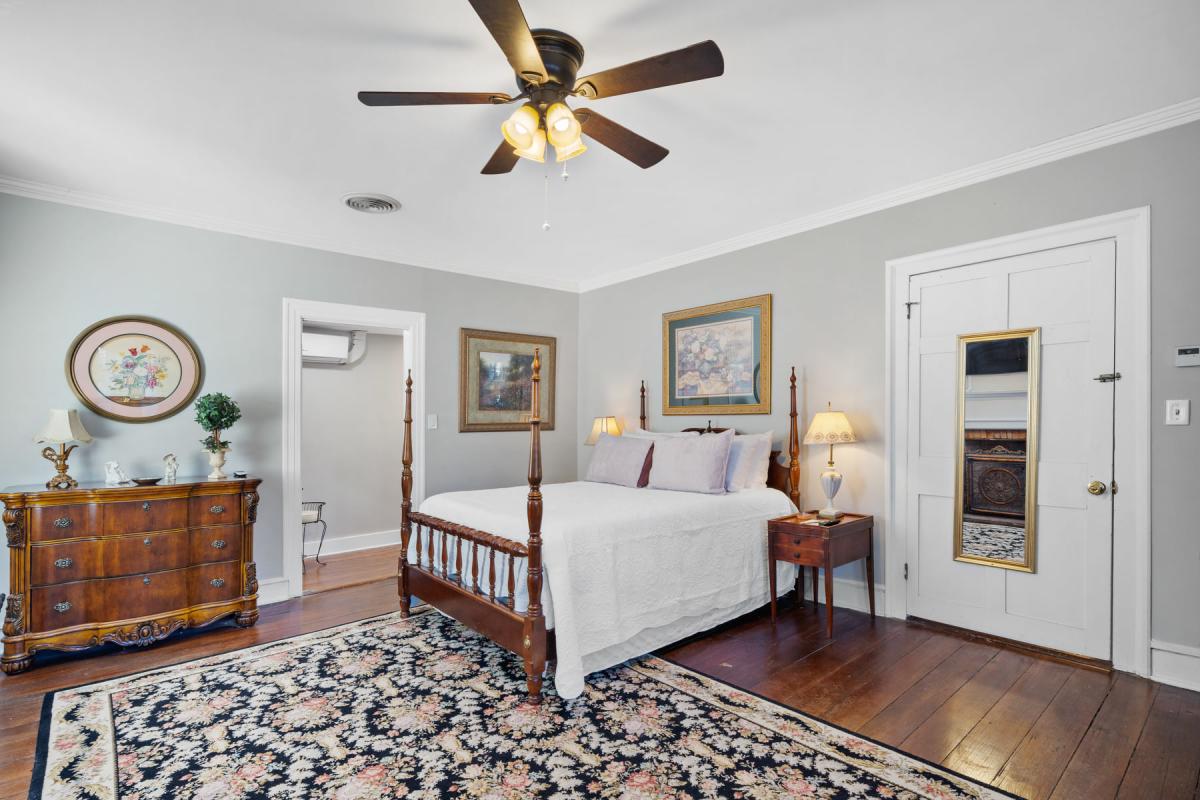 THE GLENNA SUITE
This suite is located upstairs, overlooking the historic North Jefferson Street. The rooms features include a queen size bed, a non working fireplace, a walk-in closet with a vanity, a large bay window, and a Clawfoot Tub. This room provides an intimate stay that is perfect for guests wanting to enjoy the beautiful view and a homey atmosphere.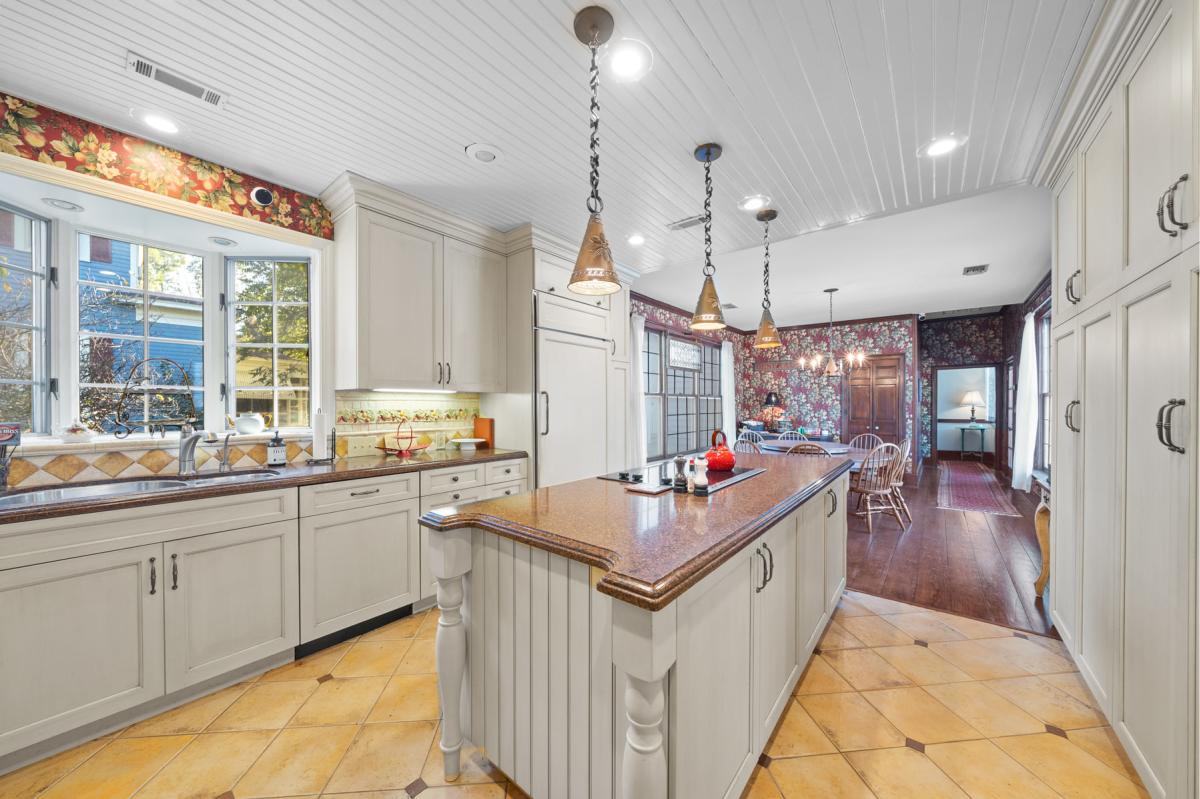 SPACIOUS KITCHEN
The inn's pristine kitchen comes with a hospitality table with snacks and soda, a coffee maker and coffee pods, and basic kitchen amenities. The perfect gathering spot for enjoying some local take out or door dash and have dinner here.
BOOK YOUR STAY
Looking to visit overnight? The Inn on North Jefferson Street has three suites available for booking (a fourth one coming soon) and allows two guests per suite. Enjoy a luxury stay in this historic inn. Guests who stay overnight are given the perfect opportunity to explore the charm of downtown Milledgeville with a complimentary breakfast voucher for the Local Yolkal Cafe. Indulge in award winning eggs benedict, gourmet omelets, mouth watering burgers, and more.