Article originally appeared in the Union Recorder by Vic Powell, http://www.unionrecorder.com/news/freeman-s-barber-shop-has-long-history-in-milledgeville/article_a5202030-d659-11e5-915e-ff98ed4e68ea.html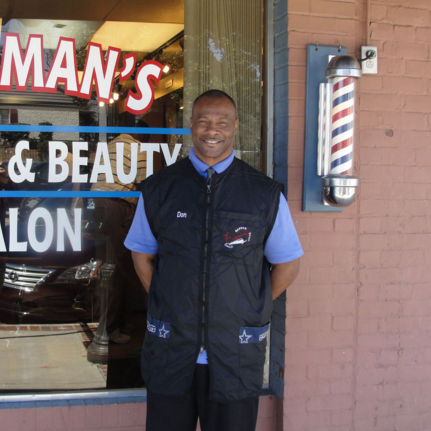 Freeman's Barber Shop opened its doors in downtown Milledgeville in 1968 and has been in operation ever since.
"My father is the one that originally started the business," said Robert Freeman Jr., who now owns the business. "He came to be a barber just as a child in the neighborhood."
Freeman said his father, Robert Sr., was born in Milledgeville but was raised for several years in Sandersville. He and his brother Isaiah were sent to live with an uncle in Sandersville after his grandmother became ill. When she got better, they were able to return and live with his mother and other siblings. Freeman Sr. returned during his teenaged years and graduated from Boddie High School.
While young, Robert Sr. got an apprentice license from one of the master barbers in Milledgeville and later became a master barber himself.
"He was a full-time fireman for Central State Hospital fire department. He did that at night and worked in the barbershop during the day."
Freeman said his father had always had the vision of being an entrepreneur.  Although he worked several different jobs, he worked where he could still pursue his passion, which was barbering.
In 1968, the first Freeman's Barber Shop opened where the current police department is now.
As a black business owner in a Southern city just as the Civil Rights movement was coming to an end, Freeman said his father had a hard time establishing the business.
"It was very difficult," Freeman said. "(It was difficult) finding a space, first of all, and then coming up with the money to do it."
In the 1970s the county told business owners they would have to relocate, Freeman said, due to the planned building of a new police department on McIntosh Street. Freeman said his father moved to 142 N. Wayne St., and the business was located there for years until Freeman bought the building next door. That marked the third and final move of the barbershop, to 140 N. Wayne St., where it has remained for 34 years.
It was also in the 1970s that Robert Sr. began teaching his craft.
"In the late 1970s, he became the barber instructor for the Youth Development Center," Freeman said. "He taught them to become barbers."
It was during the 1970s and 1980s that Freeman's Barber Shop faced its most difficult times.
"People weren't getting their hair cut," Freeman said. "They were getting afros and didn't want to cut their hair. What helped a lot during that time were all the young men who had to get their hair cut on a weekly or biweekly basis. The military men in town (due to Georgia Military College) had to get haircuts. That was one of the tough times, but we managed to pull through."
Freeman's Barber Shop has always had a very diverse clientele, Freeman said.
"Being close to the college, it's always been very open to diversity and still is. Anyone and everyone is welcome, and it's always been that way. Even when my father worked at the YDC, a lot of white co-workers would come to the barbershop and get their hair cut. He was very well liked and very well respected in the community."
Freeman continued teaching the skills necessary to become a barber to the youth at the YDC and worked in his barbershop until his death from prostate cancer in 2004 at age 63.
Robert Jr. now owns Freeman's Barber Shop, though he no longer practices in Milledgeville.
"I graduated from Georgia Southern University and was recruited by the federal government," Freeman said. He now lives in Maryland for his primary job, and he's opened four additional Freeman's Barber Shops.
"My father taught me — that's how I learned is from my father," Freeman said of his barbering skills. "I am a master barber and licensed in four states."
The Milledgeville location is managed by Don Reese, Freeman's brother-in-law.
"When my sister started dating Don, I encouraged him to get into the business. He was a corrections officer at the prison," Freeman said. "He decided 15 years ago that it was a good move and retired as a corrections officer and came on full-time. He's been a barber for 14 or 15 years."
Freeman's is active in the community, Freeman said, and often holds events and specials.
"We do specials for back to school, Christmas and other holidays. We do things for the kids at GMC, especially the ones who have to get their hair cut often with the military style," Freeman said.
Freeman said he tries to tie specials at his barbershops into the work he does in Maryland.
"A few months ago, we did free blood pressure screens and had a nurse come down. We did free blood pressure tests for African-American men because they tend not to go to the doctor," Freeman said.
It was held at the barbershop with the idea of "go where they'll be."
One of the main fundraisers Freeman's Barber Shop has is for cancer due to several members of the family having the disease.
"My father died of prostate cancer. An aunt and uncle passed of cancer. It's been at the forefront, so now we do Cuts for Cancer once or twice a year," Freeman said. "People will come out and get their head shaved in public in exchange for donations. We've been involved with that for at least 15 years."
Freeman's Barber Shop is located at 140 N. Wayne St. Hours are from 8:30 a.m. to 7 p.m. Monday and Tuesday and Thursday through Saturday. The shop is closed Wednesdays and Sundays. It can be reached at 478-452-4396 or online at www.freemansbarbershop.com.