Musicians, storytellers, and poets take the stage where everyone gets five minutes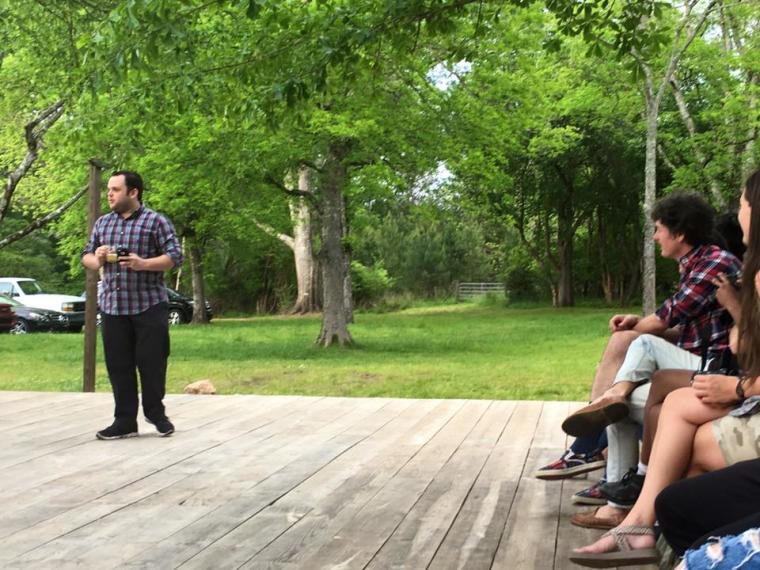 MILLEDGEVILLE, Ga. – Andalusia Farm has launched extended evening hours and is hosting Thursdalusia!, an open mic program every third Thursday. The drop-in evening is moderated by Milledgeville's own Daniel Wilkinson, local actor, teacher and Andalusia's resident bon vivant. Anyone who wishes to present anything—and we mean anything—will have five minutes on the backyard deck at the farm. The 500+ acre former dairy farm on U.S. 441, four miles north of downtown Milledgeville, is where Flannery O'Connor wrote most of the work that established her as one of the world's foremost 20th Century writers.
The light at a farm such as Andalusia is referenced frequently by O'Connor in her writing. Sunsets on the farm can be particularly dramatic and the sun and the woods often do look like they are on fire.
 "…looking at the sun which was going down in front of them, almost on top of the tree line. It was swollen and flame-colored and hung in a net of ragged cloud as if it might burn through any second and fall into the woods."
(Flannery O'Connor, "A Circle in the Fire")
New seasonal hours are in place so visitors can experience the sunsets as O'Connor did. Through September, the farm will be open every Thursday until sunset. Regular open hours are 10:00 a.m. to 5:00 p.m. Thursday – Sunday and, seasonally, on Thursdays until about 8:30 p.m. The new evening hours offer visitors added opportunities to tour the house, shop in the Andalusia store, visit with our peafowl, and generally enjoy the property. A mile long nature trail loops through the woods along the Tobler Creek and there is indoor and outdoor seating. Small groups and families are welcome, as are picnics, and leashed pets. Multiple volumes of O'Connor's books are scattered about for visitors to read a short story in the place it was written; short stories generally take 30 minutes to read. There is free admission to Andalusia Farm, although visitors are encouraged to make a $10 voluntary contribution and donations large and small are always welcome.
Thursdalusia! open mic is once a month through September. It starts at 6:00 p.m. and will go until sunset. Refreshments are provided and there is plenty of seating. The program will take place on the Nail House Deck, an open air platform in the footprint of the old Nail House, or garage, in the backyard behind the main house where O'Connor lived with her mother from 1951 until her death in 1964 at age 39.
"Andalusia in the evening is particularly beautiful. The waning light casts a magical spell on the landscape," says Executive Director Elizabeth Wylie. "We are also excited to showcase and celebrate the creative spirit in our open mic program. This third Thursday event is a wonderful low-key opportunity to try out a song, or poem or just tell a story in a fun and supportive environment."
Thursdalusia! open mic evenings are every third Thursday 6:00 p.m. until sunset. Each person who wants to present will be allotted five minutes of time; musical groups or theater acts can combine their time, i.e. trios will get 15 minutes and quartets will get 20 minutes.
Remaining 2016 Thursdalusia! dates are:
June 16
July 21
August 18
September 15
Thursdalusia! is supported in part by Gil's Package Store and Wild Heaven Craft Beers, makers of the newly launched Wise Blood IPA. http://wildheavencraftbeers.com/
ABOUT THE FLANNERY O'CONNOR - ANDALUSIA FOUNDATION (FOCA)
FOCA is a non-profit organization dedicated to the restoration, preservation and appreciation of Andalusia Farm, the final home of Flannery O'Connor, and to perpetuate her place in the roster of great writers of the 20th Century. The 500+-acre farm in Milledgeville, Georgia, is open to the public from 10 a.m. to 5 p.m., Thursday through Sunday. NEW SEASONAL HOURS: April through September the farm will stay open Thursday evenings until sunset. For more information: www.andalusiafarm.org
###
For more information, contact:
Elizabeth Wylie, Executive Director
Elizabeth@andalusiafarm.org
478-454-4029