Guns and Peacocks featured in "Covering Flannery"
Book design and Flannery O'Connor's aesthetic explored in exhibition and program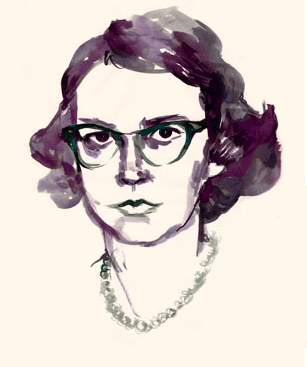 MILLEDGEVILLE, Ga. – A prosthetic leg, an arrow-pierced crow, and a burning cross are among the ink drawings that will be on display for a seven-month run at Andalusia Farm.  "Covering Flannery: Book Design and Visual Narrative" will be on view from February 5 through September 3, 2017 at the farm on U.S. 441, four miles north of downtown Milledgeville.
The exhibition features studies for new covers for O'Connor's most well-known volumes of fiction. The work offers visitors a glimpse of the ways in which art work becomes marketable book covers through collaboration between artist and graphic designer along with the third collaborator…the stories.
"These gorgeous ink studies plumb the depths of Flannery's sometimes dark and often humorous fiction." said Elizabeth Wylie, executive director of the Flannery O'Connor-Andalusia Foundation, which operates the farm where the author wrote most of the work that established her as one of the world's foremost 20th Century writers.
"Covering Flannery" will be launched Sunday, February 5 with a public program featuring the award-winning collaborators: artist and illustrator June Glasson of Laramie, Wyoming and Charlotte Strick of New York City.  The presentation also kicks off Andalusia's Annual February Four in which one of O'Connor's stories is examined from four different perspectives. The 2017 series will focus on O'Connor's second novel "The Violent Bear It Away."
The public is invited to attend the presentations each Sunday in February from 3-5 p.m. at the farm on U.S. 441, four miles north of downtown Milledgeville. The presentations will last from 3-4 p.m., followed by receptions, 4-5 p.m. Space is limited to 25 on a first-come first-served basis. Ample parking is available.  Podcasts can be accessed at https://itunes.apple.com/us/podcast/andalusia-wise-pod/id957920196?mt=2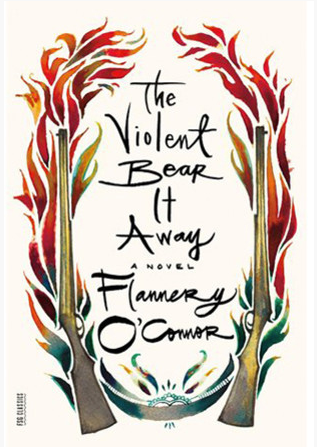 All events are free and open to the public.
February Four 217 "The Violent Bear it Away" lineup:
February 5 Visual Artist & Graphic Designer
June Glasson (Laramie, WY) and Charlotte Strick (NYC) will focus on the design process as they sought to bring O'Connor's work to visual life.
February 12 Creative Writer
Shannon Skelton (Milledgeville, GA) will explore O'Connor's creative process as evidenced by the novel, and she will read from her own work.
February 19 Scholar
Rhonda Armstrong (Augusta, GA) will speak on "Violent Asceticism" in the novel drawing from her scholarship on corpses and other "lesser bodies."
February 26 Journalist & Moonshiner
Candice Dyer (Cleveland, GA) and a North Georgia industry professional will share information about the history of moonshine making and distribution and connect it to the novel in which moonshine figures prominently.
Covering Flannery is a collaboration between Mark Sellers, Charlotte Strick and June Glasson. February Four 2017 has been guest curated by Monica Miller. The combined projects have been supported in part by The Flannery O'Connor Review at Georgia College.
Cover design by Charlotte Strick. Cover art by June Glasson. Reprinted by permission of Farrar, Straus and Giroux, LLC.
To learn more about Andalusia Farm and the exhibition see http://andalusiafarm.org/Covering Flannery/
Glasson and Strick are available for interview February 4 and 5, 2017. Wylie, Sellers, Miller and O'Connor Scholar and FOCA Board member Bruce Gentry are also available for interview.
PHOTO CREDITS
Photo of book cover for "The Violent Bear it Away": Cover design by Charlotte Strick. Cover art by June Glasson, Courtesy Farrar, Straus and Giroux, LLC.
Portrait of O'Connor: Courtesy of Farrar, Straus and Giroux, art by June Glasson.
All other images: Courtesy of June Glasson
Additional photos are available upon request.
ABOUT THE FLANNERY O'CONNOR-ANDALUSIA FOUNDATION (FOCA)
FOCA is a non-profit organization dedicated to the restoration, preservation and appreciation of Andalusia Farm, the final home of Flannery O'Connor, and to perpetuate her place in the roster of great writers of the 20th Century. The 500+-acre farm in Milledgeville, Georgia, is open to the public from 10 a.m. to 5 p.m., Thursday through Sunday. For more information: www.andalusiafarm.org
####
For more information, contact:
Elizabeth Wylie, Executive Director