On May 6, Georgia Military College (GMC) officials ceremoniously broke ground for its new Military Science Department building, part of the school's ongoing investment in its cadet/ROTC programs. The ceremony was well attended by GMC alumni, friends, and community members, including speakers Representative Earl Ehrhart, Mayor Gary Thrower, and Lt.Gen. William B. Caldwell IV, GMC president.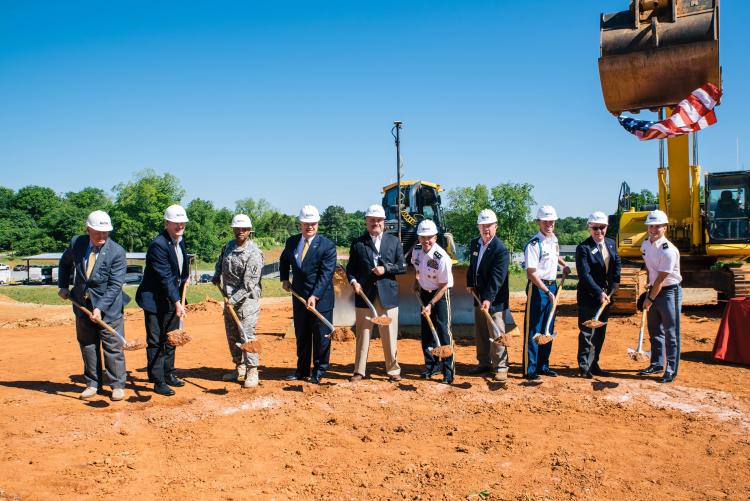 "Over the past five years, the GMC ROTC program has answered the call and met the needs of the Army by producing an average of more than 40 officers a year. During the last two years in particular, we've set the conditions to bring in the most talented and potentially largest class ever to our Early Commission Program. We've also become recognized as the strongest of the country's five military junior colleges," said Lt. General William B. Caldwell IV, GMC president. "Against that backdrop, we've broken ground on this new Military Science Building as a show of our continued dedication to enabling Cadet success and improving their infrastructure to meet the future needs of the Army."
 Scheduled for completion in August 2017, the new 13,500 square foot, one-and-a-half-story building will house two state-of-the-art classrooms, as well as a conference room, an administrative office, three private offices, two 4- to 6-person offices, a cadet workroom, a reception area, a recruiting office and a break room for the cadre.
 Located at 430 S. Lincoln Street, the new building will facilitate interaction between the Military Science Department, the GMC Corps of Cadets staff and students by bringing expanded classroom and training space adjacent to cadet living quarters and program offices. The building is also close to the Oconee River Greenway, where cadets regularly carry out physical training.
"As we celebrate the 100th anniversary of the ROTC, the new Military Science building is a tangible reminder of our renewed commitment to the Corps of Cadets at GMC," said Lt. General Caldwell. "Here, our cadets will hone their leadership skills, build on their academic acumen and fortify their physical abilities to fully prepare them for the future."
 The new building will also honor the past with a "Hall of Heroes," featuring GMC military program alumni whose service and achievements reflect the values and benefits of a GMC education.
 "Ultimately, our credentials as a school rest on the success of our graduates once they leave GMC," said LTC(P) Thomas M. Nelson, professor of Military Science, who will deploy to Afghanistan next month after heading the school's Military Science department for the past two years. "Backed by GMC's investment in program operations, re-energized recruitment efforts and strong support for student development, our cadets are poised for success, regardless of where their life's journey takes them."
 Pictured, left to right:  Mr. Charlie Garbutt, Garbutt Construction; Mr. John Jefferson, Georgia State Financing and Investment Commission; COL Reginald Neal, Commander, 48th Brigade, Georgia National Guard; Honorable Gary Thrower, Mayor, Milledgeville; Honorable Earl Ehrhart, Georgia House of Representatives District 36; Lt. Gen. William B. Caldwell, IV, President, Georgia Military College; Mr. Randy New, Chairman, GMC Board of Trustees; Lt. Col.(P) Thomas Nelson, GMC Professor of Military Science; Mr. Dudley Rowe, Chairman, GMC Foundation; Cadet COL Kurtis (Lee) Hemrick, Regimental Commander , 137th Corps of Cadets.