If you are looking for a perfect date night, or a relaxing evening with impeccable service, Aubri Lanes is the place to go. Now in the running to attend the Jekyll Island Shrimp and Grits Festival, we want to give you the low-down on downtown Milledgeville's favorite fine dining experience. Here are 5 reasons locals love Aubri Lanes.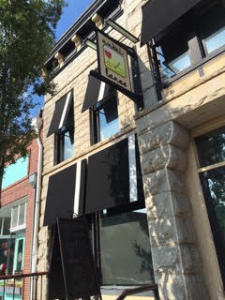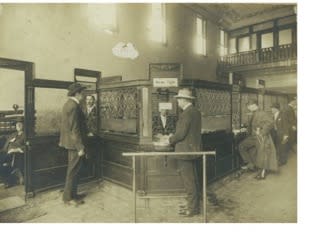 Their award winning Calamari and delicious Shrimp and Grits. Aubri Lanes takes your taste buds on a vacation to the coast with their award winning seafood. Featured in Georgia's '100 Plates Locals Love', their crispy calamari is famous with locals and tourists, and their Shrimp and Grits has the possibility of making it down to the Jekyll Island Shrimp and Grits Festival.
Their historic location on Wayne Street.  With Milledgeville's rich history, owner Jason Medders wanted to keep the historic charm of the building. Originally a banking Company from 1884-1940, Medders make sure to keep the beautiful hammered tin ceilings and the famous bank vault that now hosts their wine cellar, complete with over 60 different bottles of wine.
The elegant atmosphere. With their two levels, high ceilings, beautiful staircase, and quiet rooms, Aubri Lanes is the perfect place to bring somebody special. You can even book a private room (the old bank vault!) that seats 2 amongst their best wine. For a deal on their excellent wine selection, visit on a Wine-Down-Wednesday for 25% off their regular wine list.
Divine desserts. Make sure you leave room for dessert after your mouth-watering meal. The Telegraph in Macon says "The bread pudding is made from the sweet rolls that are served with each meal, with plumped raisins and bananas foster sauce."
Their weekly specials. Every day Aubri Lanes has new specials depending on what fresh seafood comes in. This week they are expecting fresh ahi tuna, which they will turn into a pan seared ahi tuna over wasabi mashed potatoes- asian style boo choi topped with candied ginger.
Love Aubri Lanes? Make sure to vote for them to go to the Jekyll Island Shrimp and Grits Festival HERE. In each region, the restaurant with the most votes will be named regional champion, with one of its top chefs then heading to the Jekyll Island Shrimp & Grits Festival to compete against the other regional winners in the professional cooking competition on Sunday, September 18, at 11 a.m. The prize is the title of "Georgia's Best Shrimp & Grits" and cooking them for the Governor in the Mansion.