Milledgeville remembers the achievements and contributions of African-Americans throughout our rich history in the United States. Take a look at 5 ways Milledgeville played a role in making African-American history.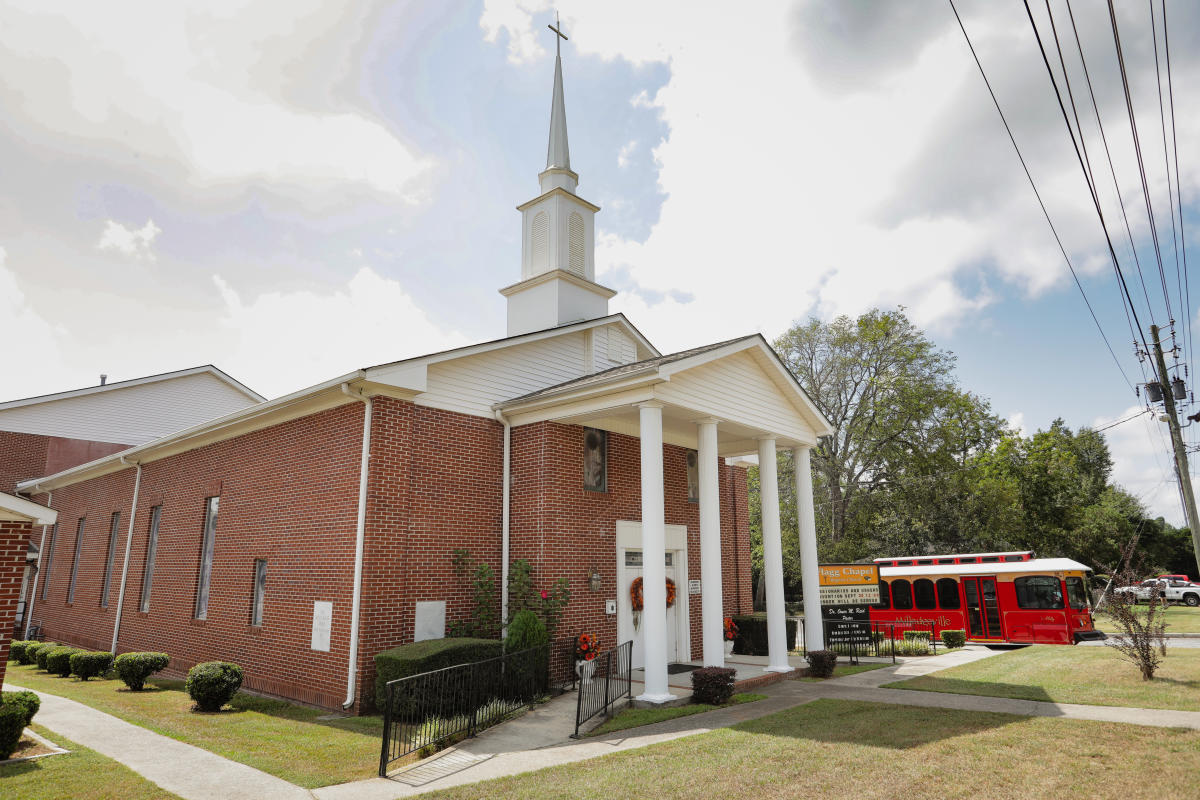 1. Flagg Chapel Baptist Church
Renown as Milledgeville's first African-American Church, Flagg Chapel Baptist Church was established in 1845 by Wilkes Flagg with the support of his free black followers. Flagg, a former slave of Dr. Tomlinson Fort, worked as a blacksmith to make and sell goods and through his hard work eventually purchased his own freedom as well as the freedom of his wife Lavinia and his son Wilkes Flagg Jr. After securing his family's freedom, he purchased the acre of land where Flagg Chapel now stands, and started a blacksmith shop and built a house.
Flagg was motivated to create an environment where African-Americans could freely worship after being denied membership rights to the local First Baptist Church of Milledgeville. Flagg served as the head pastor of Flagg Chapel Baptist Church, located at 400 W Franklin Street, from 1845-1878. During his leadership, the church also served as the first opportunity for African-American education in Baldwin County, opening its doors as the educational home of 350 African-American students while Eddy High School was being built in 1868. Sadly, the original Flagg Chapel burned in 1973; however, the congregation was able to rebuild and a new church was erected in 1976 on the same site.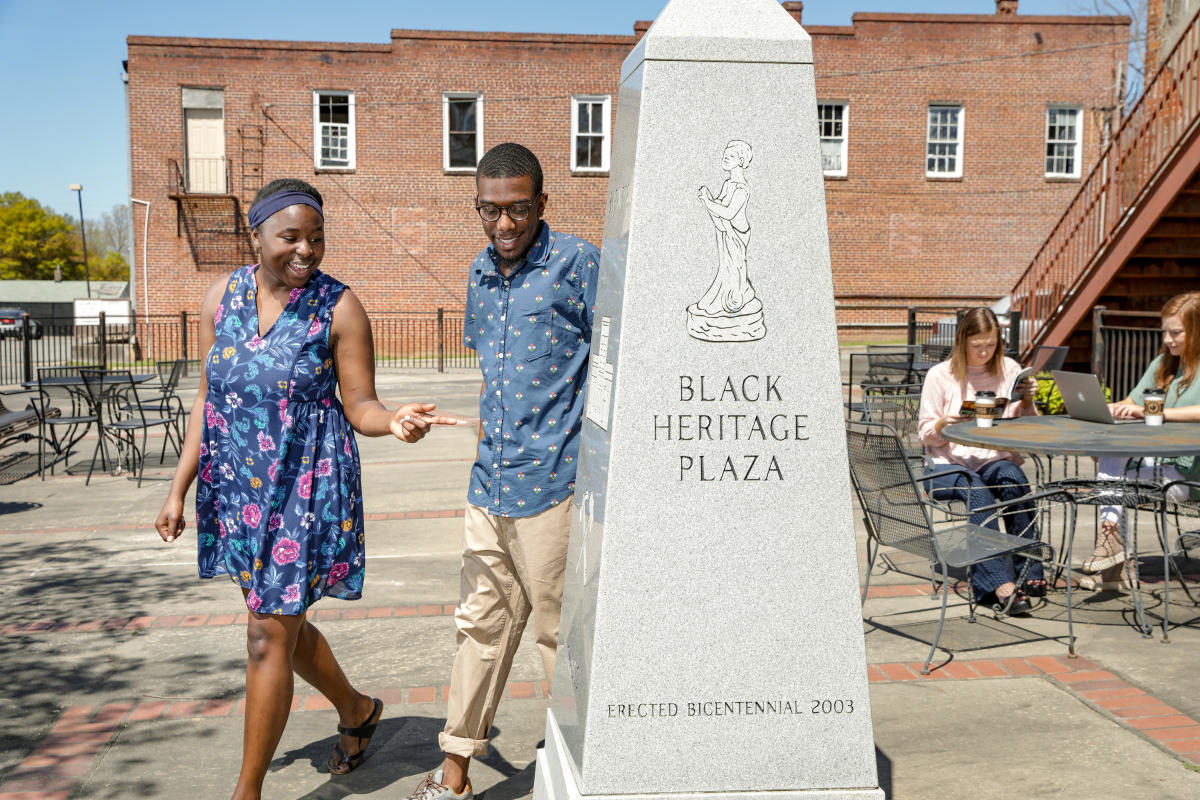 2. Black Business District Monument 
Drop by the Black Business District Monument in the downtown Black Heritage Plaza to recall the once bustling Black Business District, a historic hub that was home to a collection of Milledgeville's African-American owned businesses until the late 1970's. These African-American community leaders stood firm in their business models in a time where segregation and mistreatment were common. To escape the degrading shopping experience some African-American's endured while shopping with whites, many shopping districts, like this one, were created to support cafes, restaurants, doctor's offices, and other businesses for colored people. Milledgeville's "Strip" was located on McIntosh and Wayne Street, just off the main white shopping area found on Hancock and Wayne Street.
After desegregation, most districts fizzled away, but the shell of their existence still remains. Today, most of the original "Strip" only exists in the memory of the community; however, Milledgeville's oldest and most prominent African-American run business, Slater's Funeral Home, was a vital portion of the original "Strip" and is still in operation today. Opened by Alonzo Slater in 1911, Slater's Funeral Home was run as a family business and once operated in the space now known as Allen's Market. In 1939, Slater's Funeral Home moved to the location it still calls home today at 244 N. Wayne Street.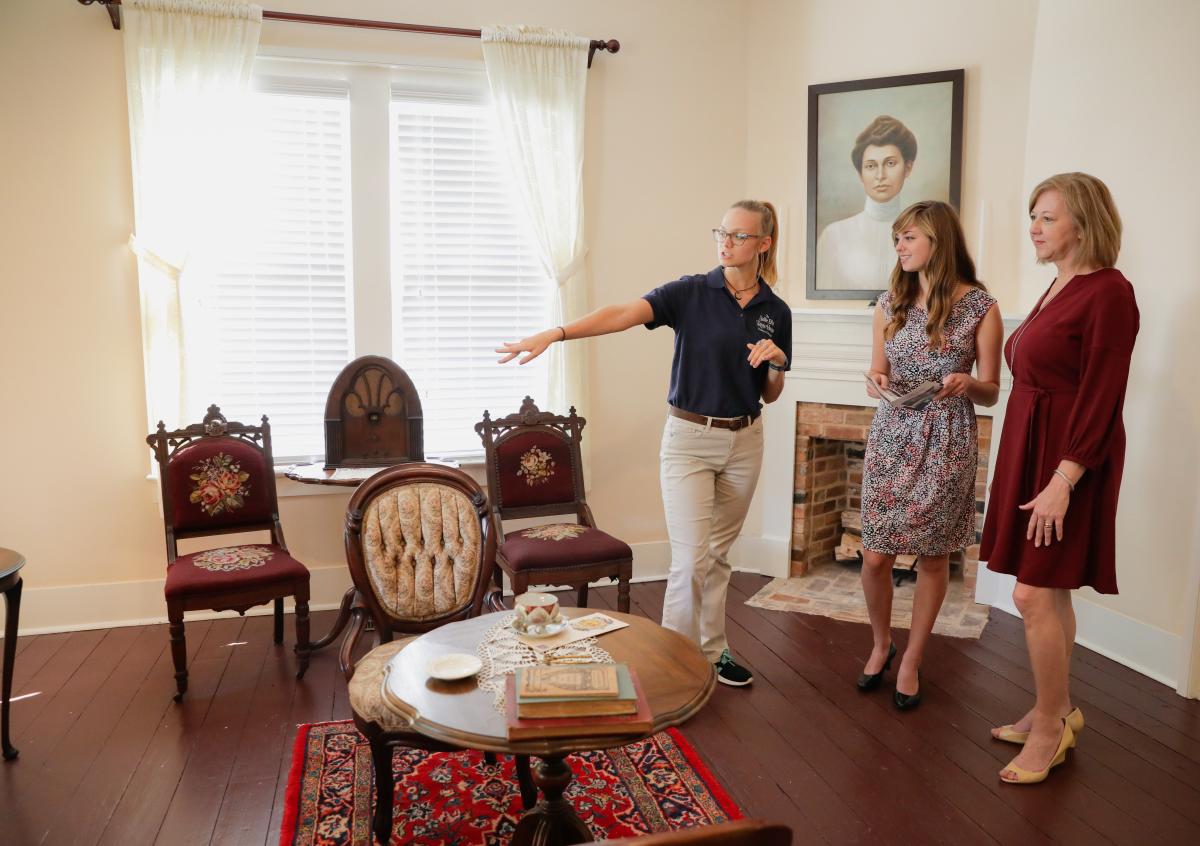 3. Sallie Ellis Davis House 
Visitors are invited to learn about the life and legacy of one of Baldwin County's most passionate and influential educators at the Sallie Ellis Davis House. Born in 1877 to a prominent white landowning merchant and an African-American woman, she exemplifies two minority groups that still exist today and persevered in the areas of education and community. Her determination earned her a Master's degree in education from Atlanta University. Davis' commitment to her community and the children of Baldwin County led her home to Milledgeville where she served as a schoolteacher and later became the first African-American principal of Baldwin County at Eddy High School. Davis's ideals remain encouraging to people of color and women today, which is all the more reason you should visit the legacy she left behind! Davis believed that through a combination of hard work and education one could accomplish anything. The Sallie Ellis Davis House is open for tours Tuesday, Thursday and Friday from 1 - 4 p.m. and the first and third Saturday of the month from 1 - 4 p.m.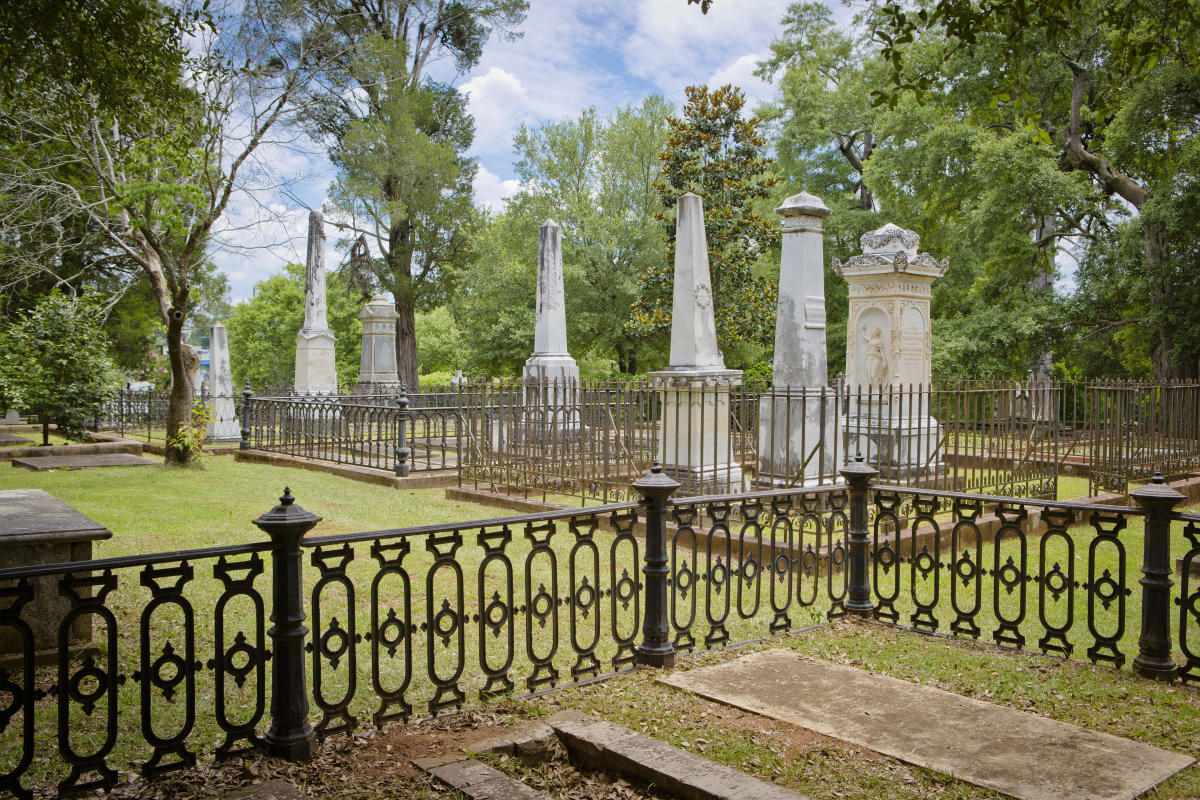 4. Memory Hill Cemetery
Pay a visit to the burial site of free and enslaved African-Americans at Memory Hill Cemetery located at 300 West Franklin Street. Established in 1810 by the First United Methodist Church of Milledgeville, the Milledgeville Cemetery was renamed to Memory Hill Cemetery in 1945 and covers a total of 30 acres. The cemetery contains over 7,300 identifiable graves and at least 1,200 unmarked graves. The rear of the cemetery contains numerous unmarked slave graves. Both the left and right rear sections are where slaves and free African-Americans were buried among unmarked stone slabs and uneven land. Out of that section alone, there are almost 500 unmarked graves and almost 550 unknown graves.
Burials of special note include Dr. B. J. Simmons, Milledgeville's first African-American physician, and three Buffalo Soldiers from the 9th Cavalry in Troop H (Sol Sanford, Robert E. Lee, and James Arthur Gibson).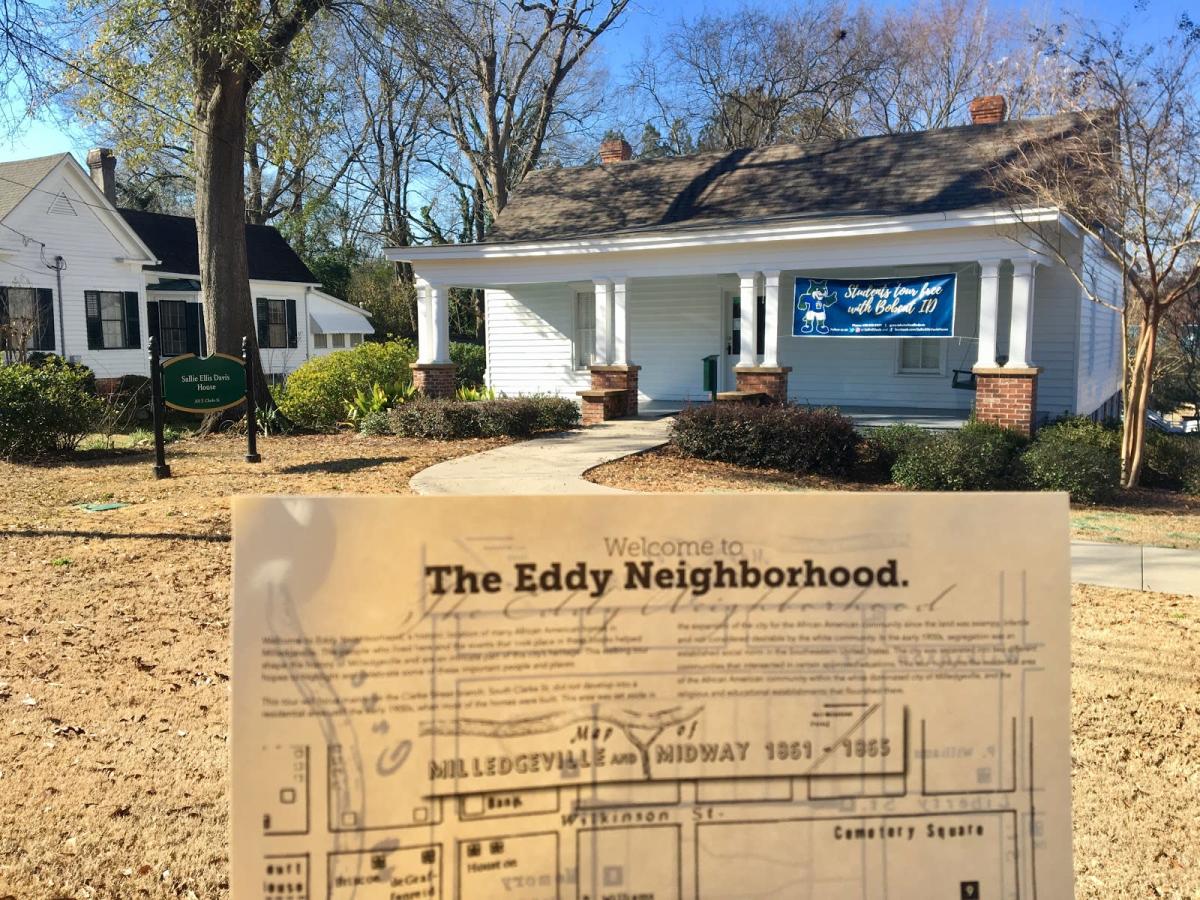 5. Walk Eddy Neighborhood
The Eddy Neighborhood is an historic location of many African-American homes in Milledgeville. Experience the stories and heritage of people who lived here and the events that took place in these blocks which play an intricate role in the city's heritage and served as the foundation of Milledgeville. Pick up a self-guided walking guide, which is available in the green box outside the Sallie Ellis Davis House or from the Visitor Information Center, to learn more about the churches, historic sites and individual histories that have shaped the landscape of both historic and modern Milledgeville. 
With a variety of historical locations to offer, Milledgeville does not fall short when it comes to notable moments in black history. Visit us to find out more about the religious, social, and cultural advances made possible by resilient Milledgeville community members in black history!