Boys! This one is for you! We know how hard it is to find the perfect gift for your girl, so this year, we compiled a list of amazing gifts that you can get for your sweetheart in beautiful Milledgeville. With all of our adorable shops, bakeries and fun adventures, Milly knows exactly how to get a smile on your darling's face.
Sweets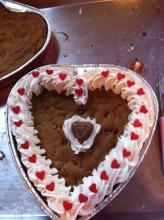 Head over to one of Milly's many amazing bakeries to get your love bug a sweet gift. You can't go wrong with any of our bakeries, but of course we all have our favorites! At Doodle's you can get an array of delicious cupcakes with flavors like French Silk, Strawberry and Chocolate Truffle. For a more personal touch, visit Ryals Bakery and get a special ordered cake with a sweet message on it. If your lady loves cookies, go to SweeTreats and stock up on their amazing double-chocolate-chip cookies and heart-shaped cookie cake.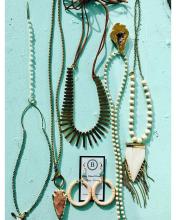 Jewelry
Downtown Milledgeville is filled with the trendiest clothing and jewelry stores that can cater to any style. If your baby loves bohemian style, check out The Market Collective which has local hand-made jewelry. For the trend-setter, go to Shelvie Jean or French Vill'Edge, which feature the coolest styles that everyone wants. If you want to get something truly special, Jack & Milly has customizable pendants that any girl is sure to love.
Spa-day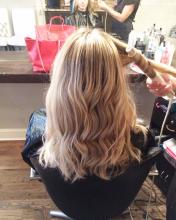 If you really want to pamper your favorite person, send them to one of Milledgeville's most loved locations for a girls day. Hairbar can go full glam-squad and make her feel like a queen. She can get a blowout, color and even a mani-pedi. At Serenity Wellness Spa or Charmed Salon & Spa she will relax with a customized massage or facial.
Stay-cation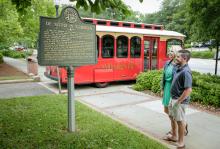 Spend the day exploring the city with your sweetheart right here in Milledgeville! Have you ever ridden the trolley? Or walked the trails at Lockerly Arboretum? Start your day with breakfast at The Local Yolkal Cafe, serving classics such as Biscuits & Sausage Gravy or Open Faced Smoked Salmon Bagel.  And try a breakfast beer, after all you are on vacation. Then stroll across the street to the Welcome Center for the 'must do' in Milledgeville, the Trolley Tour, hurry, it only leaves once daily at 10 am Monday – Friday (11 am on Saturdays). Grab a bite for lunch downtown at somewhere you have never tried, perhaps the new Jamaican restaurant Kirk's Jerk Kitchen. Take a tour of the Old Governor's Mansion, it was home to the governors of Georgia from 1838 to 1868. Or stretch those legs with a stroll among the 50 acres of gardens at Lockerly Arboretum. Here you can relax with a fresh breeze in the air. If you are feeling adventurous, reserve a kayak from Oconee Outfitters and spend the afternoon on the Oconee River. They will meet you at the river where its shoreline remains largely undeveloped offering an opportunity to see native bird and plant life. Dine in an 1884 Milledgeville Bank, now Aubri Lane's restaurant for a romantic dinner. Serving classic southern cuisine with a contemporary twist, make a reservation for a private dining table located in old vault!  
No matter what your get your girl for Valentines Day, she is sure to love a day in Milledgeville.