Milledgeville is great year-round, but fall is the absolute perfect time to experience all the town has to offer amid cooler temperatures. Ghosts are taking over our streets (both in toddler form and supernatural), pumpkin spice fills the air and football has hit our big screens all leading up to a fantastic autumn in Milledgeville! 
Our schedule is chocked full this time of year, so grab your Pumpkin brew, put on some boots, a scarf, and get out on the streets of Milly! 
Need ideas for what to do? Here are 17 of our favorite things to enjoy while in town this autumn. 
Fall Events 
With the outside temperatures finally settling on numbers below the 90's, there are plenty of activities taking place so come out and meet our town! 
1. Ahoy Mateys! Get ready to sail the high seas of Milledgeville aboard Painting, Pumpkins, and Pirates Oh My! While you won't find any hidden gold on October 5th, your child will enjoy a pirate themed story time, a "sail" around town on "Milly" the trolley, and a chance to create their own pumpkin work of art at the Mod Podge Mama.
2. Do you know a scarecrow's favorite fruit? Straw-berries! From October 10 - 25 the crows will be scarce as Scarecrows in the Arboretum will have taken over Lockerly Arboretum's lovely grounds.  
3. Hay Rides, Kids-n-Clay, Fun with Microscopes, guided hikes and more will take place during Family Fun Day at Lockerly Arboretum on October 19. 
4. Y'owl, it is back! Milledgeville's famous Deep Roots Festival is October 26 complete with a local artists market, a kids-zone, food galore, and live music from Ripe, Larkin Poe, AJ Ghent, and more! Deep Roots is the biggest event of the season, the streets are closed, the crafts are amazing and the smell of BBQ fills the air.  
Happy Haunts
We're dying to have you visit any of our spooky sites!
5. While Milledgeville is a lively little town, there are some residents here that can't say the same. "Grim Grinning Ghosts" come out to socialize once a year and that time is now! Climb aboard 'Milly' the trolley between October 21 - 24 to meet some of Milledgeville's famous spirits during the annual Haunted Trolley Tours.
6. For a killer night out, Georgia's Old Capital Heritage Center at the Depot, Inc. presents: 'Til Death Do Us Part, a murder mystery dinner party on October 4 with the professionals from the Murder Mystery Co., Atlanta. The evening will take place inside The Chapel of All Faiths, where you can experience dinner, raffles, entertainment and murder. 
7. Running for your life through the historic Central State Hospital campus while being pursued by Zombies...what could be more motivational and thrilling? If you're brave enough.... The Thriller 5k and Fun Run will take place October 25. 
8. Bring your little mermaids & monsters to downtown Milledgeville on October 31 for classic candies and bags full of goodies. Children are invited to trick-or-treat at our downtown businesses between 10 am and noon.
9. Pick up a treat and learn about the history of Halloween at Georgia's Old Governor's Mansion with a Family Halloween Tour on October 31st. For a more sinister evening, take the Death After Dark Tour (for mature audiences only) later in the evening and learn the deathways of the 19th century.
Watch the leaves change 
Fall is one of the most beautiful times of the year, mainly because of the leaves. Leaves are changing from their normal green to sharp yellows, reds, and oranges. 
10. Located just a few miles outside Milledgeville, go for a hike at Bartram Forest. The 1,343 acre property offers outdoor enthusiasts three looping trails through pines, meadows, across a creek and alongside a pond. 
11. Feel the autumn breeze off the water at the Oconee River Greenway. The Park and Riverwalk offer almost 3 miles of trails, paths and boardwalks to walk, jog, bicycle, relax and enjoy the beauty of the Oconee River. Part of the dam and mill structure are still visible in the river just north of the bridge.
12. If you prefer the water over the woods, head up to Lake Sinclair for a sunset cruise. Summer may be gone, but that doesn't mean you shouldn't spend time out on the water! Watch the sun dip below the horizon as the sky paints itself in pinks and oranges. 
Bite into your fix of fall flavors
Apples, caramel, cinnamon and pumpkin spice flavors seem to capture the sweet tastes of autumn so distinctively. Yumm.   
13. SweeTreats is always a necessary stop when you've got a craving for something sugary and now is a great time to stop in! Mix in favorite fall flavors, like pumpkin spice or caramel to your ice cream. Or indulge in other treats, like their caramel apple pound cake (it's as yummy as it sounds!)
14. A delicious part of fall simply has to be the baking season and in Milly there is no need to preheat the oven! Doodle's salted caramel pumpkin cupcakes (and homemade soups and chili) are sure to get you in the fall mood.
15. Pumpkin Spice sure is nice. This flavor is an absolute classic! You simply can't start off the fall season without a seasonal sip of Pumpkin Spice and Blackbird Coffee makes one of the best around. Head downtown to our local coffee shop and get your fix, iced or hot!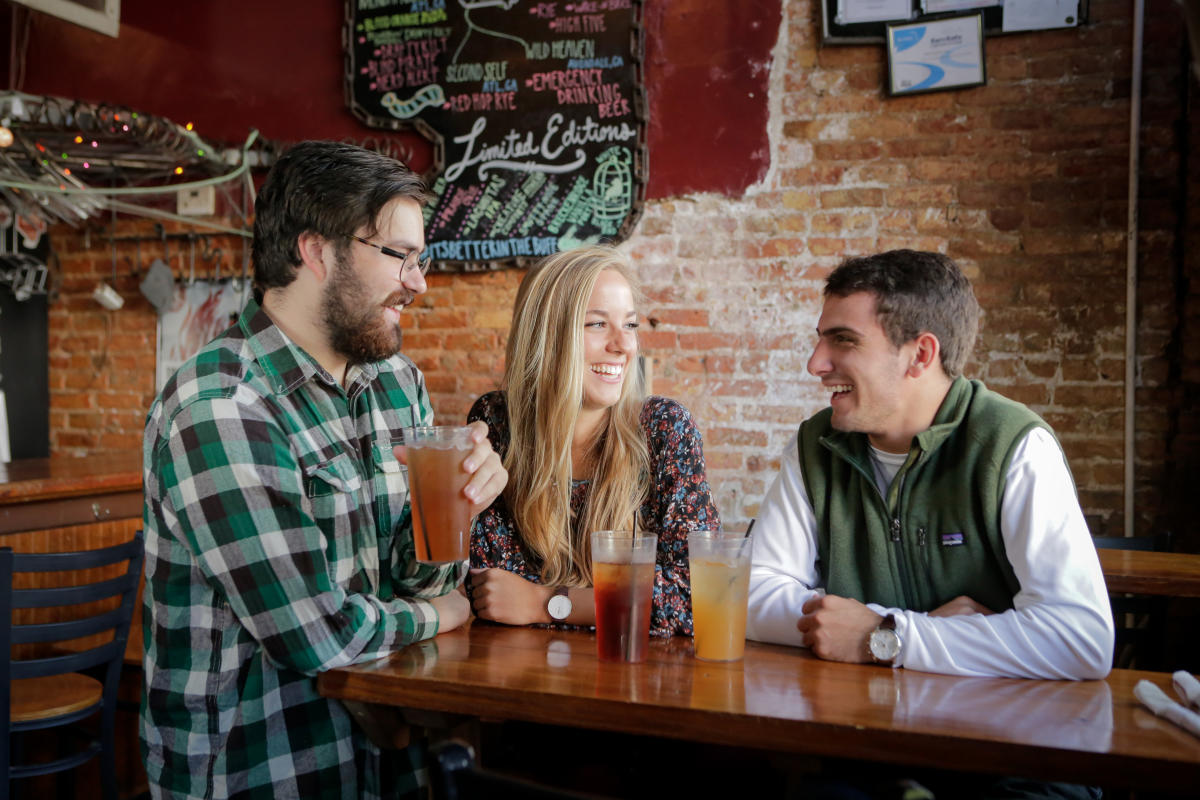 School is back 
Fall is on the way, that means back to school and football! 
16. Go Bulldogs! Go Bobcats! Go back in time to class, cheer on the GC Volleyball Team, take a campus tour or attend the GMC Bulldog football game.  Whatever your passion, you'll find it at Alumni Weekend at Georgia Military College on October 18 -19 and Georgia College on November 1 - 2.
17. Fall brings out one of the most critical aspects of Southern culture: FOOTBALL! That's right. Your favorite teams are getting ready to head back out on the field again and it's time to park it in front of the TV to take in every moment. Find out the best places in Milledgeville to grab a bite and catch the game on the big screens. 
See? There is just SO much to do in Milledgeville to celebrate fall. Don't worry, you'll have time to get it all done if you start now!