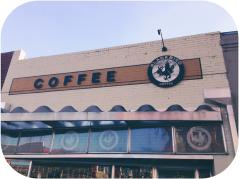 Blackbird Coffee is not your ordinary small town coffee shop. Located on Milledgeville's Main Street, this shop is constantly pouring, dripping and roasting coffee. The regular customers of this quaint café have just as much of a passion for coffee as the baristas. When you first walk in, you are greeted with the overwhelming smell of coffee beans, sweets and different syrups and chocolates. A man wearing a suit and grading papers is sitting at a table next to a group of young, tattooed musicians discussing their latest gig. The atmosphere at Blackbird is welcoming and it feels like a little home away from home. Blackbird Coffee is a true Milledgeville getaway.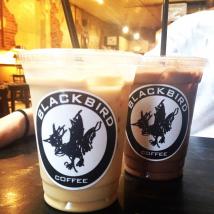 Each barista is considered a "coffee-roaster" as well, meaning the baristas roast and create the coffee beans and the coffee is produced in store. If you're lucky enough to be strolling downtown while the roasting process is occurring, you will experience the pleasant aroma of fresh roasted coffee all throughout Main Street. With favorites such as the "Honey-Nut Soy," the "Vanilla Caramel," and the "Coca Mocha Nut," Blackbird is the place for fresh coffee or a specialty drink. If coffee isn't your forte, they offer a wide variety of teas as well as freshly brewed hot apple cider and hot chocolate. Recently, they have begun to offer a small variety of beers and wine, as well as mimosa's and liquor that pairs well with coffee. Their specials change for the seasons, with special teas and chilled drinks in the summer, and toasty, warm drinks in the winter.
Blackbird Coffee offers delicious sweet treats and lunch specials. Their delicious biscuits, stuffed with cheese, egg and sausage or bacon, are the first to go in the morning, definitely bringing truth to the quote "The early bird gets the worm." Go-go balls are offered as well for protein and are filled with peanut butter, granola and other sources of protein. Their cookies are legendary, easily the size of one's hand. Blackbird Coffee is unique in the fact that they offer lunch specials, with a sandwich, chips and a drink during the afternoon and they offer delicious hand-scooped ice-cream that can be made into milkshakes upon request!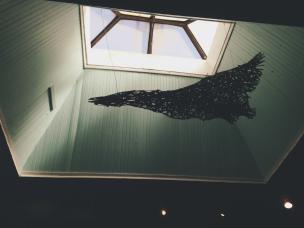 The basement of Blackbird, also known as "The Nest" is a great spot to host events as well. Every Thursday, Georgia College's improv company, known as Armed Farces, hosts an improv show. This show is popular among college students and locals, and has grown greatly in size since the show's opening two years ago. The show begins at 8:00 PM every Thursday during the school year and is open to everyone.
This coffee shop is a hot spot for acoustic nights. Once or twice a month, "The Nest" will be rented out and turned into a music lover's paradise. With acts ranging from Milledgeville locals, Georgia College students and even out-of-towner's, the acoustic nights are quickly becoming a popular spot for entertainment. This café also offers poetry nights and other nights of artistic expression that are open to the public. Local artists are featured monthly, and customers of this shop have the ability to buy their artwork or photography that is proudly displayed on all walls of the store.
A visit to our quaint and beautiful Milledgeville would not be complete without a stop into this unique coffee shop. With art covering the exposed brick walls, to quaint corners with armchairs and tiny lamps, Blackbird is a relaxing escape from reality. Whether it's just a stop in to grab a quick cup of coffee, or a couple hours spent lounging on one of their many couches, you're always destined to have a relaxing and delicious time at Blackbird Coffee.

To learn more about Blackbird, visit their various social media sites!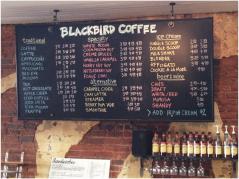 • Facebook: Blackbird Coffee
• Twitter: @BlackbirdMilly
• Instagram: @blackbirdmilly
• Website: http://blackbirdcoffee.com/
• Square: https://squareup.com/market/blackbird-coffee?hl=en-CA
Check out this behind-the-scenes video about this beautiful coffee shop: http://vimeo.com/60836652
There are also a few other places around Milledgeville to grab a cup of joe and a sweet treat!
• Starbucks on N. Columbia
• Starbucks located inside Kroger on N. Columbia
• Dunkin Donuts located on N. Columbia
• Books and Brew located on Georgia College's campus
• Einstein Brother's Bagels located on Georgia College's campus