SIP THROUGH MILLEDGEVILLE
A trip to Milledgeville is not complete without a little downtown fun! Whether you want to dance the night away at Capital City dance hall, or sip margaritas at Gringo's, there's always something fun going on. We know everyone is always looking to taste on a budget though. Here are some of the best nightly drink deals featured in Downtown Milledgeville year round!
(And daily specials are often posted with any of these restaurants on their social media accounts!)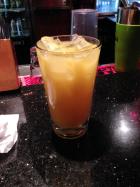 The Brick: Every Sunday, The Brick opens up to serve $2 mimosas and bloody marys. After your fun night on the town the night before, calm down with a delicious mimosa and a yummy Greek salad or stuffed breadsticks. For $1 extra, create a "man"mosa which adds vodka into this already delicious mixture of orange juice and champagne. The Brick also boasts one of the largest draft and bottled beer menus, and features local brews as well!
Facebook: https://www.facebook.com/TheBrickDowntown
Twitter: @thebrick93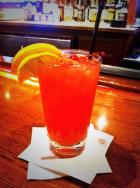 Chops: Chops is a unique bar, located in the basement of Capital City. Chops features drink specials all weekend, varying from $2 well drinks and domestic beers, to BOGO drinks and $1 shots. Every Wednesday night, from 10 p.m. to 2 a.m., they also offer a "Sink or Swim" deal where you can drink an unlimited amount for $8 (girls) or $10 (guys). A Wednesday night in Milledgeville would not be complete without a trip down the stairs to Chops.
Facebook: https://www.facebook.com/chopsmilledgeville
Twitter: @chopsdowntown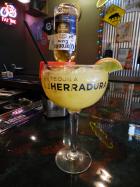 Gringo's: Every Thursday night, Gringo's opens up its bar to $10 bottomless wine. Once you get tired of drinking Gringo's wine, you can head on over to Aubri Lanes, where your wristband is also valid for bottomless wine. The special starts at 9 p.m. and goes until 12 a.m., which is plenty of time to get your wine on. On Friday night, they offer $10 bottomless margaritas from 9 p.m. -12 a.m., which is a steal since Gringo's specialty is the margarita. They also have the largest drink in Milledgeville, known as the "Coronarita." With a tiny bottle of Corona, dumped into a large glass of homemade margarita mix, you'll have the best of both worlds in this drink. Add some peach or pomegranate syrup and you are good to go for the rest of the night.
Facebook: https://www.facebook.com/gringos.milledgeville
Twitter: @gringosmville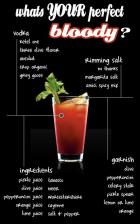 Amici: If customizable Bloody Marys are your thing, Amici is your place on Sunday's! If you order a Bloody Mary on Sunday, you will be handed a long sheet of paper, asking what type of salt, add-on's or other concoctions you would like in your mix. Starting at $3 for a basic mix, and increasing with the customizable options, Amici does a Bloody Mary right.
Facebook: https://www.facebook.com/AmiciMilledgeville
Twitter: @amicimilly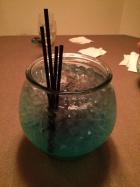 Aubri Lanes: In addition to the joint wine night with Gringo's, Aubri Lanes is the original "Fish Bowl" creator in Milledgeville. With over 5 different liquors, this drink is served in an actual fish bowl with as many straws as you need to finish it! For $15, this fish bowl of deliciousness will keep you going all night in downtown Milledgeville! They also boast specials such as a cucumber martini and a s'mores martini, topped with toasted marshmallows. You don't want to miss these unique drinks.
Facebook: https://www.facebook.com/aubri.lanes
Twitter: @aubrilanes
We can't wait to see you dancing, drinking and chatting with your friends here in Milledgeville!