Centrally located along the 175.7 mile Antebellum Trail Bike Route (ATBR), Milledgeville is home to a still-growing cycling culture. 
Milledgeville is known as one of Georgia's antebellum gems, and exploring it on bike is one of the best ways to get a first hand view of the columns and culture that have been so well preserved. The Bicycling Club of Milledgeville works locally to keep Milledgeville a bike-friendly town, organizing trail rides and events that get locals and visitors alike outside, moving, and experiencing nature and culture.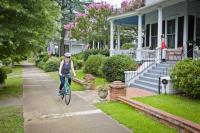 Biking in Milly is fun and efficient. One of the perks of a small town is its walk-ability…but what about bike-ability? Cycle down Liberty Street with ease and gaze at beautiful, century-old homes, ride downtown for morning coffee or a late lunch, or bike to the Oconee Greenway and ride alongside the river. Whether for leisure or transportation, the routes and possibilities are many to be counted.  
As we enter fall and both temperature and humidity take a plunge, biking season begins its rise. There's very little more pleasant than a brisk ride over cracking acorns and among changing leaves on old, tall southern trees. That's one of the reasons why the Georgia Biking Summit has chosen Milledgeville as its 2015 host, November 6th through 8th! Sponsored by the Bicycling Club of Milledgeville, Georgia Bikes!, and Live Healthy Baldwin, the event will promote bicycling safety, culture, and fitness, and will celebrate a community with a shared love of cycling. 
When in Milledgeville, the favorite pit-stop for cyclists is Oconee Outfitters. Located centrally downtown, the locally owned shop is the place for cycling and other outdoor accessories, as well as the famous "Keep Milledgeville Crazy" t-shirts. Plus, the Oconee Outfitters staff can point you in the direction of all the best bike routes for leisure or exploration. See some of our route recommendations below.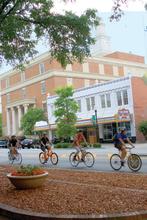 Historic district: A ride around the downtown area historic district brings you past beautiful the beautiful antebellum homes and landmarks of Clarke Street, Liberty Street, and Greene Street…just to name a few.  A ride down Hancock Street will take you by the 125 year old, historic Georgia College & State University…the alma mater of writer Flannery O'Connor!  Just east of the campus is historic downtown Milledgeville with its old-timey campus theatre, traditional architecture, and well-preserved history. 
Bartram Forest: Take your bike out to Bartram Forest, located at 2892 Highway 441 South, for trails that wind through a forest once inhabited by Native Americans. You'll find abundant wildlife, natural wetlands, wildflowers and rows of trees in all shades of green. This route is perfect for nature lovers, especially in the cooler Autumn temperatures that fall on Milledgeville.
The Oconee River Greenway: For paved nature trails and a riverside ride, the Oconee River Greenway located just east of downtown Milledgeville is the best choice. With open green areas as well as miles of paved trails that run alongside the Oconee River, the Greenway is family-friendly and perfect for a bike ride and a picnic. 
If you're planning a trip to Milledgeville, bring your bike and become a part of the biking culture as it grows and prospers. Experience capitals, columns, and culture from the comfort of your bicycle seat.