Milledgeville has been a bit rebellious in the past, but always had classic beauty and her attraction is undeniable. Milledgeville is quirky and that's just one reason we love her. Here are 6 quirks that make her so fascinating!
Guinness Book of World Records
Milledgeville is the only city in history that has a law on the books that states all trains must stop at red lights. Because of this weird law, set long ago, Milledgeville can be found in the Guinness Book of World Records! Who knew our little town could be known for such an oddity.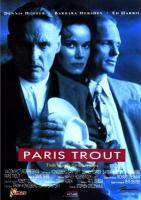 Film Industry
The grounds of Central State Hospital have been home to various Hollywood productions and we've even had a Hollywood film based off a story from the 1950's. From spooky horror films to television shows like The Originals and The Walking Dead, Milledgeville has been home to some real thrillers! And, have you ever heard of the film Paris Trout? That movie was based off of Milledgeville native Marion Stembridge and a crime he committed in the 1950's right here in town!
Baked Goods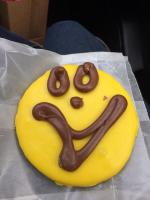 As weird as it may be, the most famous treat in Milledgeville is a smiley face cookie from Ryal's Bakery. You can't miss this sweet treat when you're strolling around Milledgeville, and if you ask any local, they'll point you right to Ryal's!
Peacock Farm
Still in existence from Flannery O'Connor's residence in Milledgeville, a local peacock farm sits off the beaten path at Andalusia Farm. You may not see this hidden gem when you're driving down N. Columbia St., but keep your eyes peeled and definitely make a stop! The peacocks roam the grounds and, if you're lucky, they'll let you snap a picture when they're showing their feathers!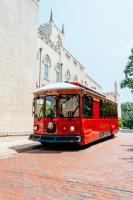 A Trolley named 'Milly'
'Milly' the Trolley is one of the many modes of transportation here in Milledgeville. That is, if you're wanting to take a tour. This big red trolley can be seen around town during the weekdays and weekends and gives tourists a great view of the city that they might have missed otherwise. Everyone knows who 'Milly' is and it isn't a stop to Milledgeville without a picture with her!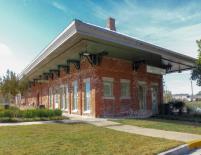 Trains
Milledgeville is home to train tracks galore and even has a train track dividing the busiest street in town in half! Rumor has it that one time a train was stuck at this busy intersection for several hours and residents climbed into and over the cars in order to talk to each other. The Depot, located on Georgia College's campus, was once the Milledgeville Train Station and is a beautiful piece of architecture that is a must see.