We get it. Deep Roots is the highlight of Milledgeville's fall events and each year we eagerly await its awesome music, tasty food, fun activities and the chance to gather with our people. We're sad we've had to break for 2020 but we know that the festive soul of Deep Roots still runs through our streets. Until we can gather again safely, we wanted to share a few highlights that keep the spirit of Deep Roots alive in Milledgeville all year long. 
AUTHENTIC FOOD
If you loved the finger-lickin' good Deep Roots BBQ Cook-Off, try Georgia Bobs for this year's fix. Traditional, authentic Southern Barbecue that's made mouths water since being founded over 150 years ago. Beef brisket with a side of macaroni and cheese and fried okra are sure to leave you satisfied and wanting more!
If food trucks were more up your alley, grab a to-go order from one of the restaurants downtown--it's quick and easy food to be enjoyed at one of your favorite locations around Milledgeville...picnic at GCSU's front campus or The Greenway, anyone? Outdoor street dining is also now available for most of your favorite dining hot spots and as an added bonus, you can still people-watch while enjoying the fresh fall air.
DRINKS
If you enjoyed grabbing drinks with your friends while at Deep Roots, we've still saved a seat for you at one of our local bars. Secure a spot at Amici, The Brick, Metropolis, Velvet Elvis and Buffington's which each offer an atmosphere of camaraderie and a wide array of different drinks. Take in sports on the big screens at The Brick or Velvet Elvis, try Amici's new taps from local Georgia breweries, or cheers to one of Buffington's seasonal drinks like an apple cider mimosa or pumpkin pie smash.
Looking for something of the non-alcoholic variety? You can still pop by Blackbird for some of their freshly roasted coffee and word on the street is their new Pumpkin Pie Latte is pretty amazing for all of you fall lovers out there. Check out Cravings for a refreshing Bubble Tea to sip while strolling the streets and browsing store windows for your next must-have find.
ARTS and SHOPS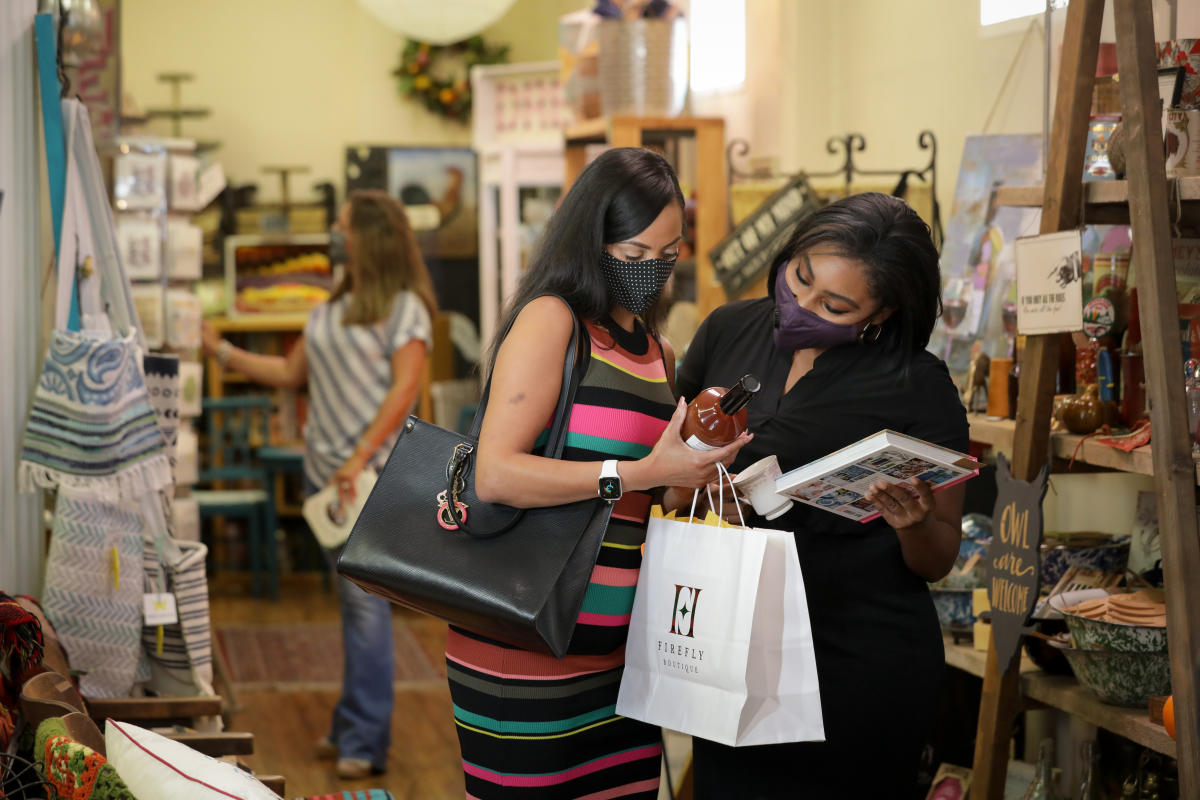 If you like shopping the vendors, looking for various artwork, jewelry, soaps, clothing and skin care, go explore Eclectic, Market Collective, and The Red Door. There are little treasures, many locally designed, that make for the perfect gift or a special treat just for you! Firefly and The French Vill'Edge sell the most darling outfits that leave people begging to know where you got them! New kid on the block Southern Roots specializes in men's clothing and has a great selection of your favorite preppy brands. 
If you love gazing at the intricacy of artwork and want to buy a new picture to hang in your living room, check out Allied Arts virtual exhibit here! Search the exhibit "Mountains to Sea'' and follow the map from one room to the next, examining each exhibit until you find the perfect one! If you're looking to be more hands on, sign up for an art class at the newly opened Artworld Studios on Wayne Street. We recommend the new black light psychedelic painting class on Friday's for a fun experience!
LIVE MUSIC
If you like live music, head over to Buffington's every Friday night to hear local and touring bands play original music. Soak up the invigorating atmosphere and enjoy a couple of cold ones with your buddies--there's over 50 bottled craft beers! Amici also has a great selection of live local bands to listen to every Tuesday from 6-9pm! You can still listen to live music in Milledgeville to help you hang tight until Deep Roots 2021 gets here!
KID'S ENTERTAINMENT
If your kids love connecting with spaces meant just for them at Deep Roots, they will love the Lockerly Arboretum Reptile Exhibit. Box Turtles, Yellow Bellied Sliders, an American Alligator, Red Rat Snake and a Ball Python live in the Woods Museum located on the grounds for your kids to enjoy! If they need a place to run around and burn off some energy, take them to The Greenway! There are big open fields, perfect for throwing a ball and a river to splash in! If you have a furry friend be sure to bring him along too, so he can make some new friends in their dog park! 
Fingers crossed for 2021 when we hope to celebrate Deep Roots with you bigger and better than ever! It's going to be epic.