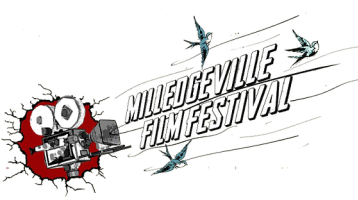 Our favorite time of year is right around the corner and we can't wait for all the fun spring festivities approaching! One of the biggest events is the Milledgeville Film Festival, happening April 13-17. Going into it's third year, this festival is a crowd pleaser and brings a lot of culture, learning experience and entertainment to our quaint town. Chairman of the festival, Jeremiah Bennett, talked to us about what makes this year's festival unique from the past two years. This year "includes speakers from the Georgia Production Partnership, the Producers Guild of America, and filmmakers from around the world" says Bennett. He went on to say that there will also be "informative panels [that] will cover vital topics such as Crowd Funding Your Project, The Impact of Women in Film & Television, and What You Always Wanted to Know About Producing."
The film festival takes place in various places around the Georgia College campus as well as a few key locations in Milledgeville, like the Oconee River Greenway and Central State Hospital. Filmmakers coming from all over the world cross borders and oceans to attend this event, bringing with them over 100 films this year. Comedy, horror, romance and sci-fi, to name a few, grace the screens of Milledgeville during this fun five-day festival and attract moviegoers from all over as well.
The best part?
 Students and seniors get a discounted rate to attend the screening and all workshops are free for everyone.
The biggest event during this wild four-day's is the Gala which invites filmmakers, guests and donors to gather and receive awards for the movies screened during the festival. Gala goers are dressed to impress and walk the red carpet into the Gala, while getting their picture taken by the paparazzi. It doesn't end there though! The spookiest tradition of this film festival is the horror film screening out on the Central State Hospital campus. This year, Bennett told us that "festival organizers and sponsors are especially excited to host the world premiere of In April, a horror film shot in Canada, which will debut at a midnight Thursday." The Milledgeville Film Festival is a must-do Milledgeville activity and is definitely one of the most glamourous events that happens!
Want to get some more information about pricing? Check out our list below!
 
Early Bird (Before March 20)
Regular Admission (March 20-April 5)
Late Pricing

 

(April 5-Festival)

Student
$40
$50
$75
Adult
$50
$75
$100
Senior
$40
$50
$75
Military
$40
$50
$75
Children Under 12

 

**Does not include after parties

$25
$25
$25
One Day Wrist Band (Good for all movie screenings but not after parties): $20
Awards Show + Red Carpet + Masquerade Party: $50
Interested in volunteering? Email: info@milledgevillefilmfestival.com
Volunteers will receive free passes for screenings!