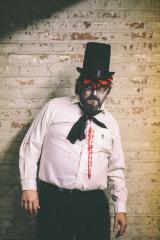 Each October, the undead of Milledgeville come to life to spook residents, tourists from all over the country and college students into learning the history of Milledgeville. But this isn't your ordinary Milly the trolley tour; hop aboard for tricks and treats alike. Taking a ride through history, you'll visit the birthplaces and final resting spots of the famous undead of Milledgeville. You might also get a sneak peek into the places they're still "alive" in today! Georgia College student Hannah risked her life to tell the tale of this year's haunts.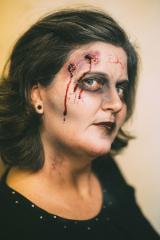 Just as you get comfortable in your wooden seat aboard Milly, the prosecutor for your trial comes aboard (who also happens to be a zombie). Four guests are chosen at random to become defendants and must pick their own character witnesses (so make sure you bring someone along that you like)! The rest of the trolley guests will be the jurors in this unusual trial. Step into the court room of Lucius Lamar I, the presiding judge of your trial. And what are you being tried for exactly? Well, you better brush up on your history before this tour, because you will need to know the names and pasts of infamous Milledgeville residents. And if you don't? Well, let's just say one guy on the tour last night didn't quite make it back to the trolley.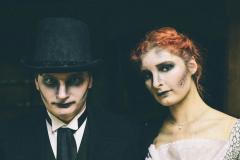 I got to sneak backstage during set-up for the show and talk to the folks that make you scream and laugh during the tour. Most performers in the show are students at Georgia College or local residents that are part of Milledgeville's acting troupe, Milledgeville Players. They all agreed on one thing: they love to give people a good scare. Many of the performers have been acting in the tour since it opened in 2000, saying that they love the characters they play and how they have embodied them over the years. The crew says they have little to no rehearsal time before the shows, and use improv during the show to keep the audience, and themselves, on their toes. This year's tour brought people from all over the south to Milledgeville, from New Orleans, Montgomery and Savannah. The sold out show gives great insight into the past and how Milledgeville was in the 1800 and 1900s. Think you can handle the undead of Millegevilles past? Take a ride on a haunted Milly the trolley and see for yourself!
The Haunted Trolley Tour is organized by the Milledgeville-Baldwin Convention & Visitors Bureau.  Daily Historic Trolley Tours are available.