You are a visitor in town and you are starving. The last thing you want to do is satisfy your hunger at yet another chain eatery in Anywhere, USA. Rather, the better question is: where do the locals go to eat around here? Where are the one-of-a-kind, "hole in the wall" locations that cater to the real folks in the neighborhood? Luckily, Milledgeville is full of such pearls that are not only unique in their atmosphere but also in their culinary magic. They are just around the corner or a small drive up the road. After polling the local community and college students, we have unearthed the best of the best. Presented are the top five hot spots with the most unique and tasty dishes that are definitely worth giving a try!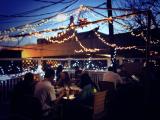 Chicken Pita Wrap at Metropolis Café - Looking for a restaurant with live music and relaxing, intimate outdoor seating? Look no further than this little piece of Greece! Located downtown on N. Wayne Street, Metropolis Café serves a variety of healthy options ranging from Greek, to Mediterranean and Indian food. The crowd favorite is the Chicken Pita Wrap, which consists of marinated and grilled chicken served with lettuce and tomatoes, smothered in tzatziki sauce, and all wrapped in perfectly grilled pita bread. Mouthwatering? Yes. Delicious? Absolutely! Whatever time of day, the Metropolis Café will always leave you satisfied and wanting to come back for more.

Buffalo Bird Sandwich at the Velvet Elvis - More commonly known as "Velvet," this is the go-to place to watch sports or simply just relax with friends and catch up over great food and drinks. This is your place if you are looking for American style food with a unique twist. The Buffalo Bird Sandwich is the show-stopper, with fried chicken tossed in buffalo sauce, covered in Swiss cheese and served on Texas toast. One taste and you will not be disappointed. Stop in and try one for yourself!

Del Pollo Loco Nachos at Buffingtons - Aside from its open-air seating with delicious food, Buffingtons is known for two things - trivia and karaoke. Here you can relive your high school days while showing everyone how smart you are. As far as food goes, you simply cannot go wrong with the Del Pollo Loco nachos. Imagine digging into homemade tortilla chips covered in queso, grilled chicken, shredded romaine, corn, black beans, salsa and sour cream. Your taste buds will definitely be satisfied! Pair their unique menu items with the friendly service they strive for, and it will "always be better in the buff!"
The Buffalo Brick Chick at The Brick - Since its founding in 1993, The Brick has never failed to keep its customers coming back for more. With a great family-friendly and relaxing environment, it is always a top choice for visitors. One of the reasons is the Buffalo Brick Chick, a sandwich that includes buffalo chicken, provolone cheese, lettuce, tomato, flatbread and blue cheese. A savory and unique choice for any meal! Make sure to check out The Brick and add your own personal testament to its culinary legacy.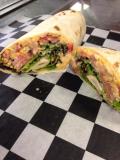 Wicked BLT Wrap at Stacked Sandwiches - A restaurant much newer to the Milledgeville area, Stacked Sandwiches has done a great job of making its presence known. Locally owned and operated, Stacked is known for its fresh ingredients and prides itself on providing customers with the healthiest options at the most affordable prices. A fan favorite is the Wicked BLT Wrap which includes pimiento cheese topped with bacon, lettuce and tomatoes stacked on country white bread. It is your typical American BLT with a twist! From its excellent daily specials to its constantly changing list of fresh, local ingredients, Stacked belongs on the must-see list for every visitor.
So as you can see, Milledgeville has many unique locations that will be sure to leave you satisfied. Come check out each and every one, and see if you don't agree that these spots bring something new and exciting to your dining experience.
Author: Guest Blogger Kellie Shirley