How to Spend a Weekend Meeting Milledgeville
We invite you to come Meet Milledgeville! There are definitely some must-sees, whether you're adventurous and outdoorsy or a history buff with an appetite, Milledgeville has something for you.
A Saturday Morning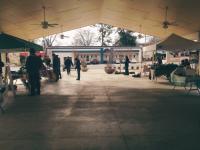 Support (while tasting) the Local Community
As the weather gets warmer and the crops begin to flourish, Milledgeville locals love to support their community at the Farmer's Market. Held on Saturday mornings and Tuesday evenings in the newly renovated pavilion in Downtown Milledgeville, you can find all sorts of yummy baked goods, produce and even some treats for your pup! All of the proceeds support the vendors themselves who come from Milledgeville and other Middle Georgia cities. The jelly's and jams are a crowd favorite and sell out quickly. What better way to see the city than meeting and interacting with the locals at the quaint market.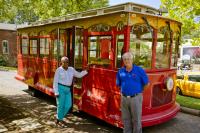 11 a.m. Trolley Tour
Step aboard 'Milly', Milledgeville's Trolley for the best way to take in the town. A drive through the landmark historic district includes rotating visits to the Old State Capitol, St. Stephen's Episcopal Church, Lockerly Hall, and the Brown-Stetson-Sanford House. Plan to venture off the trolley at many stops for a guided tour inside the attractions. The tour generally lasts two hours. The trolley tour is available Monday - Friday at 10 a.m. and on Saturday at 11 a.m. Admission is $12 adults, $10 seniors and $5 ages 6-13.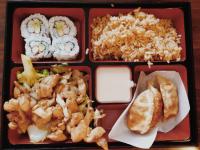 Stop for Lunch on Main Street
Milledgeville Main Street offers many great dining options. If you're in the mood for pizza, wings, or pasta, make sure to check out the Brick, Amici, or Doughboy's. All offer a wide range of Italian options that the whole family will enjoy. Feeling more like tacos, burritos and cheese dip? Stop on in to Gringos or Barberito's! If pub style food is more your specialty, the Velvet Elvis and Buffington's are your places to be. Or, if you're craving some Asian grub, both Asian Bistro and Kuroshima have delicious sushi. You can't go wrong eating in downtown Milledgeville.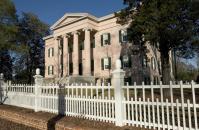 Tour the Old Governor's Mansion
Did you know that Milledgeville was once the capital of Georgia? The Old Governor's Mansion is a must see while visiting our quaint little town. During Sherman's March to the Sea in 1864, this building was used to house Sherman and his soldiers, and helped spare Milledgeville the destruction that many other Southern cities were subjected to. This exquisite example of High Greek Revival architecture is a beautiful illustration of the history of Milledgeville.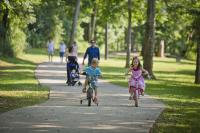 Take a Walk through the Oconee River Greenway
Listed as one of the best places for bird-watching in the South, the Oconee River Greenway is a great place to relax and take a stroll. Located on the shores of the Oconee River, this park boasts over 5 miles of walking trails, boardwalks and biking trails, and two dog parks. Surround yourself with the simplicity of Milledgeville here. The best part about this park is that it's located just blocks from downtown Milledgeville! You don't have to go far to get away from the hustle and bustle.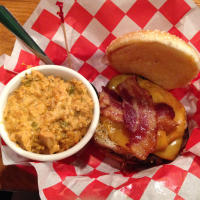 Dine on Main Street
Your opportunity to choose another eatery that will awaken your taste buds. In addition to the lunch options, Aubri Lanes offers the intimacy your date will appreciate and the history your dad will wow over. Aubri Lanes occupies an 1884 bank building while today presenting guests with a classic southern cuisine with a contemporary twist. But if you are craving a juicy, mouthwatering burger, downtown delivers. Buffingtons isn't called the burger lounge for their beers. Enjoy a 100% Angus beef personal favorite, the 'Southwest' with fresh avocado and pico-de-gallo. If you're no wimp, the 'Cry Baby' features roasted jalapenos, caramelized onions and white American cheese. The word with the locals is whatever classic or gourmet combination you choose, the vegetarian black bean patty is the best around!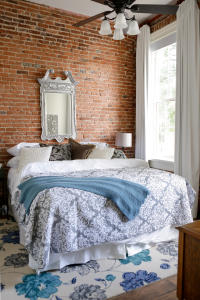 Overnight over the Downtown
Milledgeville now offers downtown accommodations, the SoHo Lofts. Steps from dinner, the newly completed extensive renovations on this historic 1890 building offer a great nights sleep. The lofts strike a balance between preserving the essence of the buildings amazing architectural details, such as the high ceilings, original hardwood floors, exposed brick walls and large original windows, while providing the modern conveniences everyone comes to expect when traveling. Combining a little hip and a little chic with a downtown "metro" feel, the lofts are ideal for any extended stay or even a couple of nights.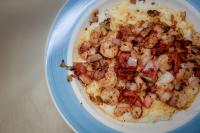 Tackle Brunch at The Local Yolkal
On your last day in Milledgeville, breakfast or brunch is a necessity. One of the newest restaurants downtown, The Local Yolkal offers breakfast and lunch items along with mimosas and specialty breakfast beers. This restaurant has become one of the most popular downtown as it's the only one of its kind. The buzzing, warm atmosphere along with the delicious coffee and stacks of pancakes make this a restaurant that you cannot pass up.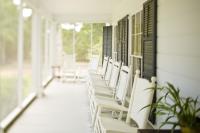 Sip Sweet Tea at Andalusia
Every wondered where Flannery O'Connor gather her information and inspiration? Look no further than Andalusia Farm! Sitting on 544 acres of rolling hills, tiny forest nooks and beautiful greens, this farm is one to be reckoned with. Andalusia offers a great escape from city life, a front porch rocking chair and insight into the scenery that inspired many of O'Connor's stories, such as A Good Man in Hard to Find. You don't want to miss this hidden beauty. *Visitors need to bring their own sweet tea for porch sipping.
Of course, there are plenty of wonderful things to see and do here, much more than one weekend can hold.
We can't wait to see you strolling the streets, grabbing some food and meeting Milledgeville.