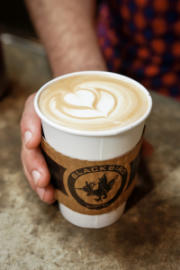 Perhaps one of the best parts of Blackbird Coffee's downtown presence is the smell of the beans roasting. It's an irresistible aroma and a subtle reminder of the joy that comes from slow-roasted, hand-poured coffee. From subtle to dark roasts and from giant chocolate chip cookies to scones, Blackbird has something for coffee aficionados, casual drinkers, and those with incurable mid-morning munchies.
Roasts:
Blackbird's roasts come from three to six regions worldwide, depending on the season. The baristas take pride in roasting their own coffee, and this gives them the freedom to control the flavor of the roasts. The coffee is roasted once or twice a week, and this assures that the brews are always fresh. Although roasted locally, the tastes are global; you'll find The Bird stocked with Brazil Mogian
a, Colombia Excelso, Mexico Altura, Ethiopia Sidamo, and Guatemala Hue Hue Tenango. The "head roaster" roasts 24 to 28 pounds of coffee at a time. Typically, the Brazilian and Mexican beans are roasted lighter, the Colombian darker, and the Guatemalan and Ethiopian fall in the middle as medium-dark brews.
Consequently, the Guatemalan and Ethiopian are found to be the most popular among customers.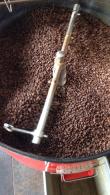 Guatemala Hue Hue Tenango – One of the more common brews, the Guatemala Hue Hue Tenango is a medium, nutty and smooth roast with hints of the bittersweet taste of dark chocolate.
Ethiopia Sidamo – Maybe the most requested roast, Ethiopia Sidamo is one of the rarer batches to find brewed on any given morning – but that just makes it all the more special. With unique and fruity notes of blueberry, this medium-dark roast is the favorite of baristas and customers alike. It's so sweet on the taste buds that typical "room for cream" drinkers are sipping it black.

Eats:
Apple Cinnamon Scone – Ask for an apple cinnamon scone at Blackbird, and your barista will answer with, "do you want that warmed up?" The correct answer is always, "yes." Whether it's a 60 degree morning or an 80 degree afternoon, there's never a wrong time for a warm scone. With a crunchy outer layer and a soft and decadent inside with bits of apple and a perfectly portioned amount of cinnamon, this is a highly recommended sweet treat for when you're feeling non-chocolate.
Chocolate-filled Croissant – The chocolate-filled croissant is Milledgeville's take on a French favorite. Flaky and buttery outside layers encompass a rich spread of chocolate. It's a flawless balance of light and decadent that pairs well with a cup of in-house roasted coffee.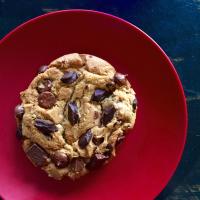 Giant Chocolate Chip Cookie – The name says it all. It's a cookie…with chocolate chips…and it's giant. It's the definite choice for a sharable treat, but there's no shame in enjoying it all yourself. Baked fresh on-site every morning, the chocolate chip cookie is a classic that can be paired with a Honey Nut Soy, Chai Latte, hot tea, or a black coffee – the possibilities are close to endless. Get it warmed slightly to give the chocolate the perfect amount of melt, and let your taste buds take it from there.
A staple of the downtown scene, a trip to Milledgeville isn't complete without a visit (or two or three) to Blackbird Coffee. Whether you're there for a morning wake up call, afternoon pick-me-up, or to wind-down your evening, The Bird is roasting up something good Monday through Saturday from 7AM to 10PM, and Sunday from 8AM to 8PM.