There is always something going on in Milly, from artist workshops and author lecture series, to a jazz concert and farmers market. Yet, there are three, mark-your-calendar, once-a-year, must-see festivals.
You have missed out on one which has happened for 2015 already. (Don't be too sad, there is always next year)
You need to act now as one is happening this weekend.
And you need to prepare as the other will be in October.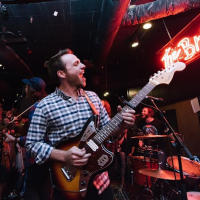 Sounds of the South
Celebrating its third year this past March, Sounds of the South is a two-day music festival held in multiple bars in Downtown Milledgeville. Indie and alternative bands from around the south are invited to play in a two hour time slot, either Friday or Saturday night starting at 10 p.m. Boasting names such a Family and Friends and Lingo, this festival is a hit for locals and college students alike. The average wristband will cost anywhere between $8-$10, and a percentage of the proceeds made the whole weekend goes to the Central State Hospital Redevelopment Authority. A wristband also ensures you entrance into each bar participating and a pretty cool souvenir afterward! Sounds of the South is completely Georgia College student run, from marketing and advertising, to fundraising and booking the bands and venues. Come rock your way into Milledgeville for this awesome music event!
Like the festival on facebook for updated content https://www.facebook.com/SoundsSouth.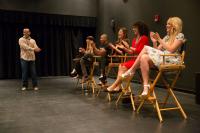 Milledgeville's Film Festival
Every April, Milledgeville is flooded by filmmakers and moviegoers alike, flocking to the Milledgeville Film Festival. This two-day festival contains meet-and-greets with producers, directors and actors, screenings of up and coming shorts films and feature films, and a Gala on the first night. While a ticket to the Milledgeville Film Festival isn't cheap, the lowest being $100, all sponsorships include tickets to the films and galas, as well as t-shirts and other all-access passes. One of the newer festivals in Milledgeville, this one is taking control of the Milledgeville festival and becoming one of the more popular festivals in Milledgeville. If your ideal spot is sitting in the dark munching on popcorn, this one is for you!
Like the festival on facebook for updated content https://www.facebook.com/MilledgevilleFilmFestival.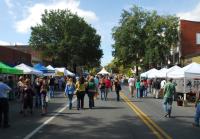 Deep Roots Festival
This festival is one to boast about. The one day, all-day festival includes craft fairs, live music, drink and food specials at all downtown bars, and did we mention open container? Taking place along Milledgeville Main Street, the entire street is shut down to provide inflatables for the kids and craft fair vendors for the adults. Each downtown restaurant also stays open all day to provide yummy food for customers, regulars and visitors, with specials and strong drinks. The festival also has a BBQ cook-off, with some of the best BBQ from around the south and an authentic antique car show. At the end of the day, when your belly is full and your money is dwindling from all the shopping, head on over to the community stage to watch two or three headlining bands perform! It's the perfect end to one of the best days in Milledgeville. Bringing visitors that range from alumni at the surrounding schools, visitors from out of town and of course, the local Milledgeville community, this festival is a Milledgeville tradition you can't miss!
Like the festival on facebook for updated content https://www.facebook.com/DeepRootsFestival.
For a complete listing of community events visit http://www.visitmilledgeville.org/events/.