Hi October! We've missed you here in Milledgeville (and so have our stomachs)! We're looking into the new fall treats coming to town for the season, whether it be pumpkins spice everything or some new yummy soups at your favorite spot!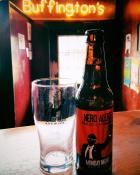 Buffington's
Known for their philosophy of fresh, never frozen, Buffington's has a lot of fun food in store for this upcoming season. Shopping at the Farmer's Market twice a week, and using local farmers like the well-known "Mater Man," sure makes for some yummy, fresh eats. Philly stuffed chicken breasts, fried jalapeño cheese curds and yummy comfort food like meatloaf and stroganoff are coming, bigger and better than ever. They're also bringing back their warm, yummy bread bowls, filled with potato and chicken divine soup. Have you ever tried the chicken divine soup? You're missing out. Chicken, rice and broccoli make this creamy soup a must. On the fun, alcoholic side of things, Buffington's is bringing in Monday Night Brewery's Blood Orange Blind Pirate brew, as well as two pumpkin beers (Sam Adams Oktoberfest and Unita Punk'n) and Atatlanta, a plum tart beer, by Orpheius. Your stomach will be warm and fuzzy after eating all of these yummy treats.

The Local Yolkal
Get your pumpkin spice on early in the day! Now offering Harvest Patch Shandy as a breakfast beer, you'll want to be out in the pumpkin patch after breakfast. The Local Yolkal is also bringing back pumpkin spice pancakes topped with yummy butter and syrup. Of course, their regular menu items are just as yummy, with biscuits and gravy and eggs benedict piled high. We can hear your stomach growling from here!

Gringos
Fall at Gringo's means soup! And lots of it. Known for yummy roasted red pepper soup, butternut squash soup, chicken tortilla soup and corn chowder during the fall, Gringo's keeps the soup hot and the margaritas cold. They're also rolling out some new secret tacos, but we weren't able to get the inside scoop on those just yet! They also have a special little thing called the pumpkin spice margarita, and boy is it tasty! Rimmed with cinnamon sugar, this margarita is unlike anything you have tasted before. But don't take our word for it, try it out for yourself!

The Brick
The Brick has some yummy food in store for the month of October. Famous for their yummy wing special on Tuesday nights, The Brick is rolling out a honey chipotle BBQ wing this month! The jumbo wings are tossed in a blend of honey, peppers, cilantro and BBQ for an unbelievable kick. More of a soup and sandwich type of person? They're rolling out a new menu item for both! Try their homemade pimento cheese sandwich on sourdough with a warm cup of Guinness braised beef chili. And, to top it all off, throw in some Guinness chili and cheddar kettle chips for a real treat! You better hurry though, these yummy food specials are only here until the end of October!
So grab your scarves, pull on your boots and head to downtown Milledgeville for seasonal delicious specials; while they last.