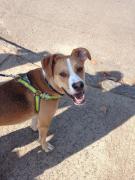 Hi guys! Rocko here again! Now that the weather's getting hotter, my mom and I love to check out different spots around town to stay cool. (Of course, I'm always cool, I'm just trying to help mom out a little.) There's plenty of places all over Milledgeville to get you in a summer state of mind!
SweeTreats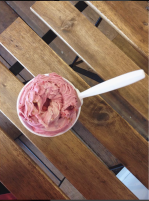 Located in downtown Milledgeville, Mom loves to come here and get baked goods, ice-cream and frozen yogurt. They even have benches and tables outside for pups like me to sit and lick ice-cream off mom's hands. They also do custom made pound cakes for any occasion you need one for. This year, mom got a peach pound cake made for her birthday and the crumbs were delicious!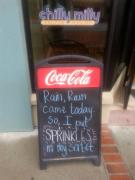 Chilly Milly
This new sweet spot in downtown Milledgeville is attracting dogs and their owners from all over. Pile your yummy yogurt creation with cheesecake, fruit, granola, candy bars and anything else you can imagine! Being a pup means I can't eat a lot of sweet things, but I sure do love to lick leftovers of vanilla frozen yogurt. They're even open until 11 PM every night so we can get our late night fix!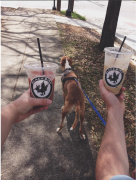 I don't know anyone who loves coffee more than my mom! She has to drink a lot to keep up with me all the time. They don't just serve coffee here though! Get a scoop of ice-cream, a sweet baked good and even some unique beers. After my mom's got her caffeine fix, we stroll though downtown and window shop! I love evening strolls downtown during sunset.
Tingen Ice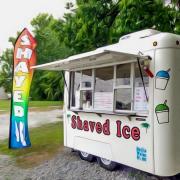 Located on North Columbia, this little truck is a must do! Flavored ice is perfect for summer days and nights and keeps pups like me nice and cool! The lines are long here so get here early for your frozen treat! It's just so woofin' yummy!
Let me know where your favorite spots are to stay cool and keep your tummy's full!