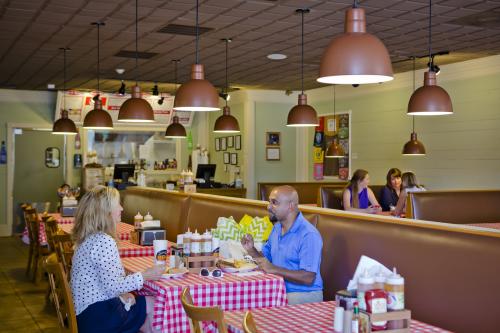 BBQ: a southern staple. Not to mention the mac and cheese, fried okra, collards, coleslaw and beans that come with. And with so many restaurants offering these tasty flavors, we have highlighted some of the local favorites.

1. BBQ Sandwich with Sweet Barbeque Sauce- Georgia Bob's: Located in the heart of downtown Milledgeville, Georgia Bob's offers a wide variety of menu items. Famous for their BBQ, as well as their scrumptious "Chocolate Delight," Georgia Bob's is a hot spot for students and locals alike. The restaurant also provides a wide variety of in-house made BBQ sauces, vegetables and sweet treats. You might recognize this restaurant from its other stores located around Middle Georgia, such as in Warner Robbins, Perry, Macon and Byron. This BBQ will melt in your mouth and have you coming back for more!

2. BBQ Sandwich w/ Cole Slaw- Old Clinton BBQ:Smells of barbeque and home-grown goodness hit you as soon as you walk in the door. Old Clinton has been one of the oldest places for BBQ in the Middle Georgia area, with another location in Gray (since 1958!). Their specialty is the BBQ sandwich topped with cole-slaw and pickles. If you're feeling extra hungry though add on an order of their infamous mac-and-cheese bites. Filled with cheese, noodles and a few peppers, they'll give you a little pep in your step. Old Clinton is located on N. Columbia St. on the way to the lake, so it's considered a local, hidden gem of Milledgeville.

3. BBQ Pork Taco- Gringo's Taqueria: This much flavor in a taco should not be allowed! Tender barbeque topped with cole-slaw and bbq sauce and served with yummy chips and salsa, we know you can't say no! If you're still feeling hungry after a couple of these tacos, try some yummy fried plantains! Gringo's Taqueira is located in Downtown Milledgeville and offers authentic Mexican food at a reasonable price!
4. BBQ w/ Sliced Bread Plate- Paradise Country BBQ: When in Milledgeville, do as the locals do. Paradise Country is tucked between a gas station and Kroger and most drive right past it. But, this place is definitely not one to be passed by! Heaping portions of BBQ, BBQ sauce, home-cooked veggies and delicious thick bread are served with cold tea, lemonade and other southern staples. Their Brunswick Stew makes a great pairing with ribs or a chicken sandwich too.
5. Pulled Pork Dinner- The Real Deal Grill & More: If you're looking for hearty, wholesome southern BBQ served with huge portions of fried okra, corn nuggets or even baked beans, Real Deal is for you. Their name doesn't lie, this place is the "Real Deal!" Located on W. Andrews St. just South of downtown, this place is a must try when visiting Milledgeville. Their extensive menu is sure to please everyone, if BBQ isn't your style!
We can't wait to see you having a finger-licking good time here in Milledgeville!
And if your journey takes you beyond the Milledgeville dining scene, the region has a Brew's & Q's BBQ Trail.  The trail features the area's craft brews, tangy flavors and local's who've been teasin' taste buds for years!   With over 30  locally-owned locations, it makes it easy to taste and drink your way through these regional favorites.  And there is a t-shirt for you if you visit 10+ locations!  More information is available at www.BrewsNQs.com.