If you have ever visited a small, southern town, then you know there is truly nothing like it. The ability to walk anywhere, the ambiance of a vibrant downtown, locally owned shops and restaurants, and cheery––good for the soul––people who wave as they pass you by. Life slows into a relaxing stroll down Main Street when you come to Milledgeville. No need to worry about the hustle and bustle of a large city, Milly brings savory flavors to your lips, stunning historic sites, charming boutiques and greenery for all you nature lovers out there––all for affordable prices and the perfect little getaway! 
Here are accolades that Milledgeville has won recently! 
Coolest Small Town 
Great American Main Street
See where you can explore in Downtown Milly!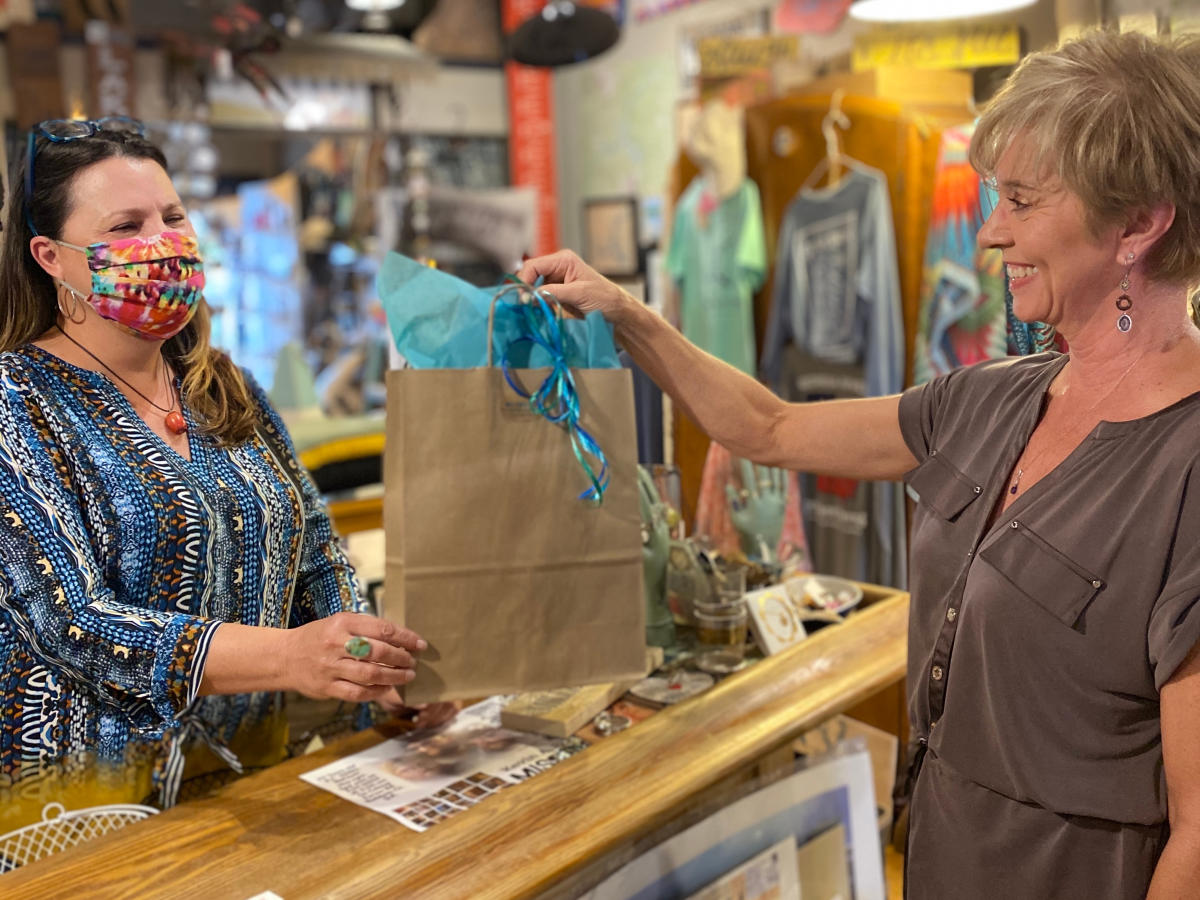 SHOP
Spice up your wardrobe with stylish clothing, jewelry, accessories and footwear when you hit the town in Milledgeville. Sift through nostalgic relics and vintage furniture in our antique shops, and artisan goods and delightful home decor. 
Auntie Bellum Antiques, 127 W. Hancock St. (478) 454-0097 – A nostalgic stop overflowing with treasures to add to your collection. Find vintage furniture, jewelry, magazines, books, vinyls and other historic keepsakes in this quaint little shop. 
The Red Door, 133 S. Wayne St. (478) 452-8261 – Browse through findings from the Civil War Era along with more gems from Milledgeville's past. Locally crafted items, including pottery, are also for sale here!
The French Vill'Edge, 106 W. Hancock St. (478) 452-3110 – A trendy boutique with a hint of French fashion and at affordable prices. Daily arrivals keep your style trending and your closet happy!
J C Grant Co, 116 S. Wayne St. (478) 452-2222 – Bring on the bling! This full service jewelry store is an accredited gem laboratory with a bridal registry and watch repair shop. Purchase fine jewelry and watches here to add a little sparkle to your day!
Southern Roots, 112 S. Wayne St. (478) 804-0146 – Calling all our southern fellas! This men's store has polos, button downs, polos, t-shirts, outerwear, swimwear and shoes. There's clothing for all ages!
The Market Collective, 124 N. Wayne St. (478) 457-4360 – A shop full of creativity, artisan goods, home decor and all things vintage. Looking for the perfect piece for an event? Rentals are available too!
Miles of Styles, 134 S Wayne St. (478) 491-2368 – Shop women's gently used name brand clothing for great prices. A great place to find vintage and eclectic fashion for everyone (sizes up to 3/4X)
Oconee Outfitters, 112 N. Wayne St. (478) 452-3890 – This is your one stop shop to enjoy the great outdoors. Bicycles, kayaks, stand-up-paddle boards and other outdoor gear is all available in stores. Just looking for an adventure? Feel free to rent instead for a full or half day spent on Lake Sinclair, Lake Oconee or The Oconee River Greenway––transportation is provided! They also have a bicycle repair shop for any bike that might need fixin'.
Spirit Wear, 105 W. Hancock St. (478) 741-5515 – This is not your ordinary t-shirt shop! No minimums. Free professional artwork. No set-up fees. It is almost too good to be true! Get screen printing, digital garment printing, embroidery, monogramming, vinyl and unique accessories for affordable prices! 
Eclectic, 132 N. Wayne  St. (478) 295-0331 – If you are looking for a unique gift, jewelry or home accessory, this little shop is the place for you. There is something at every corner when you walk in so be prepared to take your time looking through the large assortment of treasures! 
Firefly, 117 W. Hancock St. (478) 295-1222 –  Casual and high-end clothing, shoes and accessories for ladies. Features several designer brands that are exclusive to the store in Middle Georgia and will give you a chic new look!
Bayne's Army Store, 118 S. Wayne St. (478) 452-2384 – Local since 1952, this place has all of your gun, rifle, hunting and army needs at a low price and professional quality.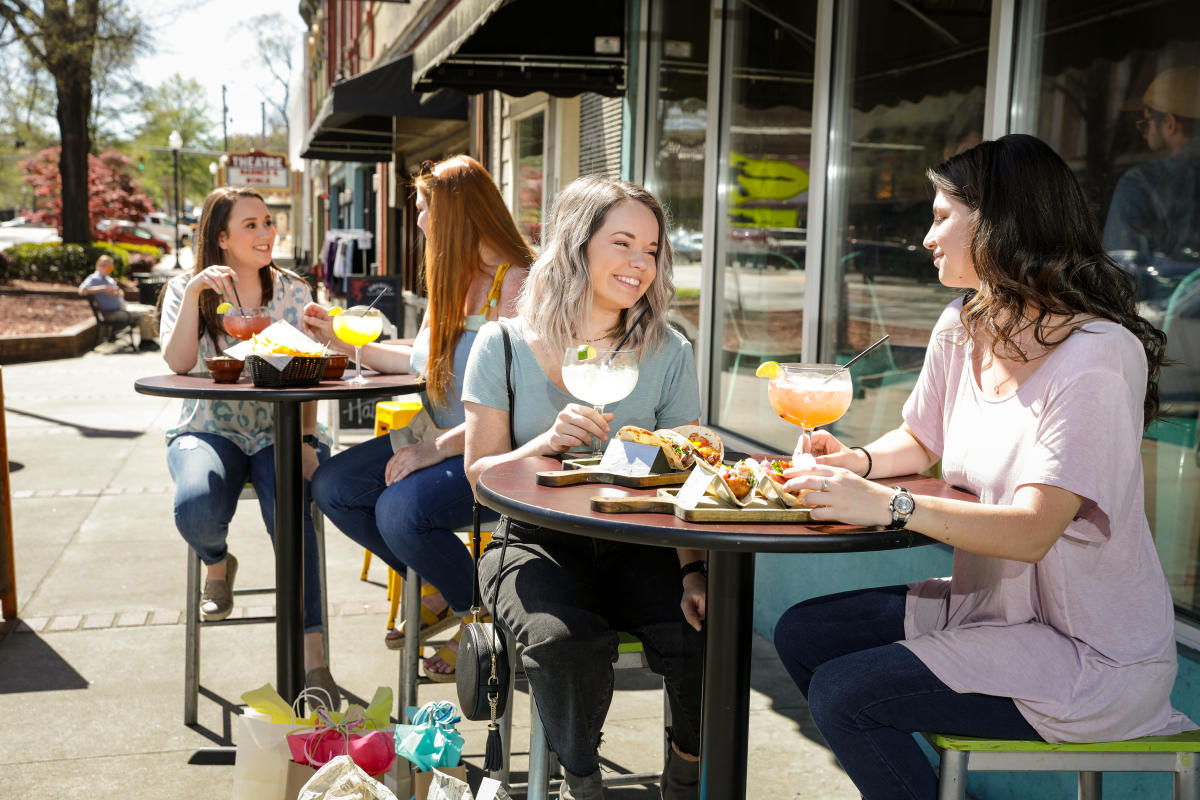 DINE
Whether you are craving an elegant sit-down dinner, a southern style meal, juicy burgers, international cuisine, coffee & cocktails, or something sweet––you name it––downtown Milledgeville's got it! Takeout or Dine-In makes it easy to satisfy those taste buds, while cheery smiles––concealed behind masks of course––await you and friends. Take note that all restaurants adhere to Governor Kemp's executive order, providing a safe outing just for you! 
Pizza, Burgers, Baskets
Amici, $$, 110 W. Hancock St. (478) 452-5003 – Italian inspired restaurant with hand-tossed pizza, savory wings and stacked subs with fresh ingredients. Try The Pineapple Express if you're craving a pizza with all the good toppings!.
The Brick, $$, 136 W. Hancock St. (478) 452-0089 – Home of brick oven pizza, pasta, calzones, salads, sandwiches, wings, nachos and more! Experience local celebrity, Mark the Magic man and enjoy their staple Buffalo Chicken Dip!
Buffingtons, $$, 120 W. Hancock St. (478) 414-1975 – Stay entertained at this locally owned bar and grill that features over 50 crafts beers and hosts touring bands. Get some lemon pepper wings and call it a night! 
Ned Kelly's Down Under, $$, 119 S Wayne St. (478) 295-2699 – Upscale pub food that is sure to please. The Aussie's signature burgers are a must–check out their Hugh Jackman one!
The Velvet Elvis Grille, $$, 113 W. Hancock St. (478) 453-8226 – American grilled cuisine and tap including wings, steaks, burgers, salads, tacos, soups, and more! The Buffalo Bird Sandwich will satisfy your spicy cravings! 
Keeping it Quick
Barberitos, $$, 146 W. Hancock St. (478) 451-4707– This quick stop is a great if you are wanting some fast, delicious Tex Mex in Milly. Their Chipotle Ranch makes everything better.
Jimmy John's, $$, 100 S. Wilkinson St. (478) 344-0444 – Sandwiches and chips at a low price!
Smoothie King, $, 119 N. Wayne St. (478) 295-1234 – Sip on a refreshing smoothie while you walk around downtown Milly. Peanut Power Plus hits the spot!
Local Favorites
Blackbird Coffee, $, 114 W. Hancock St. (478) 454-2473 – If you are a coffee connoisseur looking for fresh house-roasted coffee and delectable pastries, this is the place for you. Locals love to sip on chai lattes while passing time with friends!
Georgia Bob's BBQ, $$, 116 W. Hancock St. (478) 295-0696 – This popular Southern BBQ is good for the soul and will leave you wanting more. It's over 150 years of authentic, made-from-scratch menu. The Pulled Pork BBQ Plate will knock your socks off!
The Reel Grill, $$, 114 S. Wayne St. (478) 288-5306 – An upscale restaurant with a casual feel, serving delicious steak and seafood. Try their half shell, charbroiled, REEL oysters with kickin' pimento cheese & applewood smoked bacon. It's seafood in the south!
Sweet Cravings
Doodle's Cupcake Bakery, $, 140 N. Jefferson St. (478) 288-0854 – A variety of cupcake flavors and specialty bakery items. Not to mention their casseroles that are a little known secret!  
Ryals Bakery, $, 135 N. Wayne St. (478) 452-0321 –  A favorite quick stop to satisfy that sweet tooth. The Smiley Face Cookie will be sure to brighten up your day!
On the Lighter Side
Cravings, $$, 108 W. Hancock St. (478) 295-2646 – A locally family owned, sandwich shop with a Taiwanese twist to everything they make. Their menu consists of traditional soups, salads, sandwiches and a selection of bubble teas!
Local Yolkal Cafe, $$, 117 W. Hancock St. (478) 295-0098 – Perfect for all of your breakfast, brunch, and lunch needs. Order everything from omelettes to pancakes to cinnamon bun french toast. Stop by on Friday's for half off French Toast. 
International Flavors
Bollywood Tacos, $$, 107 W. Hancock St. (478) 295-3200 – A little taco shop with a BIG imagination! Serves up some of the most exciting cuisine in the area and is known for its fusion of Mexican and Indian flavors that bring delicious dishes to the table.
Kirk's Jerk Kitchen, $$, 128 N. Wayne St. (478) 454-0094 –A family-owned business that serves up a fusion of Jamaican and Southern cuisine. They have so many unique choices, you will want to try everything! 
Kuroshima, $$, 138 W. Hancock St. (478) 451-0245 – Serving Japanese cuisine downtown Milly since 2007. Guests love the local hibachi-style meals, sushi, and Japanese appetizers. When you are craving sushi, you know where to go!
Metropolis Cafe, $$, 138 N. Wayne St. (478) 452-0247 – The best Mediterranean food in Middle Georgia, with everything from spicy masala to Greek salad. Be sure to pair your meal with a side of hummus! Stop by on Thursdays for Indian food including homemade curry and naan. It's a cozy restaurant with many healthy international choices!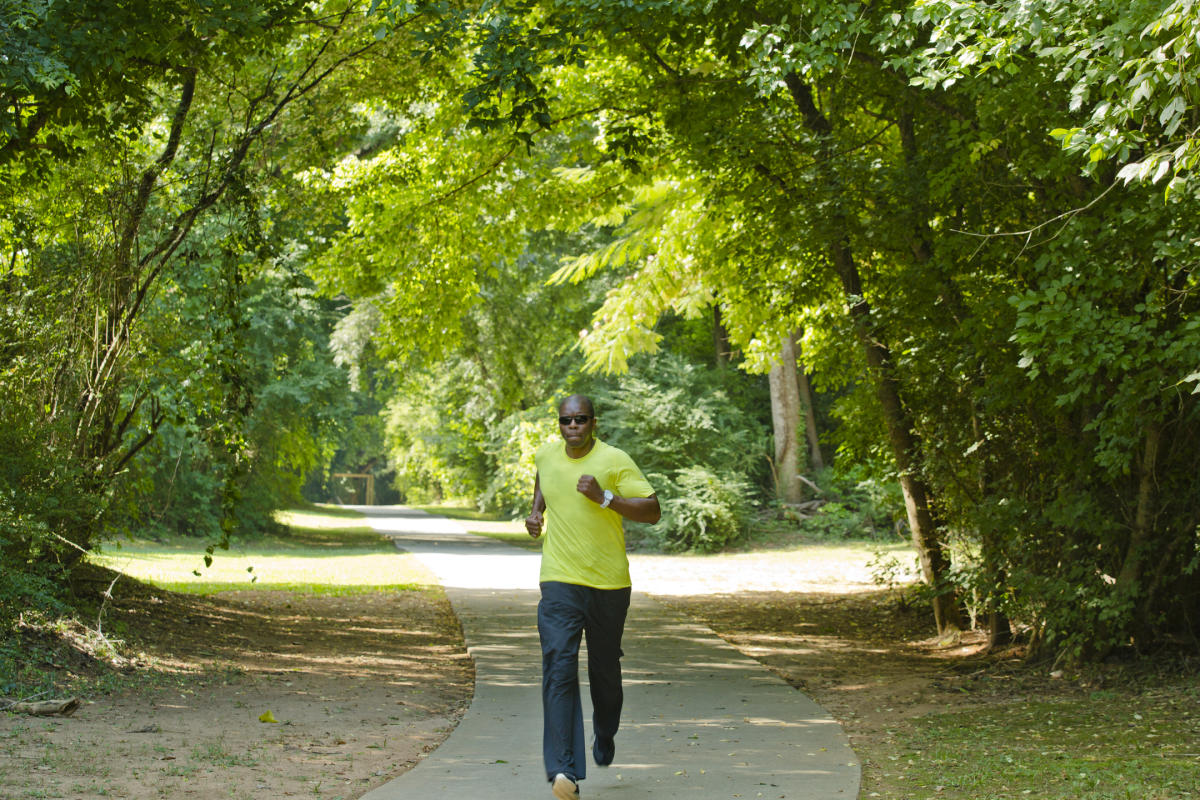 PLAY
Immerse yourself in 10 blocks of historic architecture while gazing up at our intricately designed Antebellum homes and other historic sites. Roam through miles of enchanting trails on foot or bike at our local greenway. Hop in a kayak for another adventure atop the glistening river with the sun smiling down on you. 
Historic Self-Guided Tours
Historic Self-Guided Walking Tour, 200 W. Hancock St. (478) 452-4687 – Try something new by touring Milledgeville's stunning architecture and rich history by car or by foot! Whether you're a longtime local or just passing through Milledgeville for the day, we encourage you to grab a map and immerse yourself in the beauty of over 40 Greek Revival, Milledgeville Federal, and Victorian style homes and history-filled stories.
Old Capitol Building, 201 S. Clarke St. – See the first example of Gothic architecture in a public building from the outside. It served as the seat of government for the State of Georgia from 1807 to 1868, and in its legislation chambers the Secession Convention was held in 1861. The building underwent a $10 million renovation in 2000 and remains a favorite site to see.
Memory Hill Cemetery, Liberty and Franklin St. – Originally designated as one of the four public squares of twenty acres each in the Milledgeville town plan of 1803, it later came to be known as Cemetery Square. The infamous Flannery O'Connor, Congressman Carl Vinson and many more are buried here!
Recreation Opportunities
Oconee Outfitters, 112 N. Wayne St. (478) 452-3890 – Looking to have an adventure? Stop in or call to arrange a full-day and half-day kayak rental, canoe rental, paddle board rental and bike rental. Bring your own gear and they'll provide the transportation!
Oconee River Greenway Park and Riverwalk, 420 E. Green St. – Enjoy a quiet, leisurely afternoon of fishing, canoeing or tubing down the Oconee River. Bring your furry friend and play in the dog park or take on the trails by bike or on foot while immersed in the luscious greenery around you.
The City of Milledgeville has passed an ordinance to require face masks in public places. If you are outside in a public place and cannot maintain a minimum of 6 feet from people who do not live with you or you are inside any building that is not your residence or in a commercial vehicle with others who do not live with you, you must wear a mask unless the entity has posted a sign on its entrance. Frequently Asked Questions Regarding City of Milledgeville Mandatory Mask Ordinance can be found HERE.