Article originally appeared in the Union Recorder by Billy Hobbs.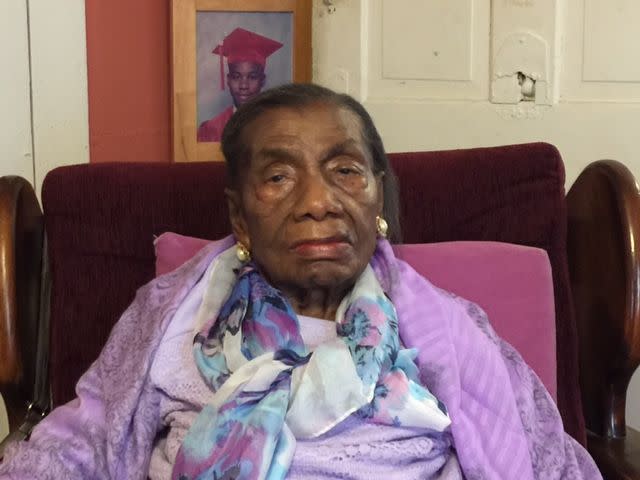 MILLEDGEVILLE, Ga. — When Naomi Holsey-Hicks Hardy was a little girl she dreamed of someday becoming a schoolteacher and living to be at least 100.
Both of those dreams have now been realized.
For four decades, she was a classroom and substitute teacher in the Baldwin County School District. And just recently, the Milledgeville woman celebrated her 100th birthday on April 11 with three days of celebration.
"I'm grateful that God has let me live this long; I really am," Mrs. Hardy said during an interview last Friday at her home off Dr. Martin Luther King Jr. Street. "He's been mighty good to me."
She attributes her long life and overall good health to having lived a Godly life, one in which she has tried to be obedient and serve the Lord.
As a little girl growing up in neighboring Hancock County, Hardy worked in cotton fields with many of her siblings to help her parents earn a living.
"It was real hard work," recalled the soft-spoken Hardy.
She remembers many things that happened to her in the past, and has even begun writing down many of those memories for her family.
In a purple-colored composition notebook, Hardy writes about many of her fondest memories in life.
She talked about her parents being Christians.
"I was raised in a Christian home where values and principles were taught."
By the time she started school at age 5, she already was smarter than most students her age.
"I knew my ABCs and could count," she said.
She remembers her first two schoolteachers and where she went to school. The school wasn't in a traditional school building, but instead inside Pearson Chapel A.M.E. Church.
Her teacher assigned her and classmates to learn and recite a poem, titled, "Violets."
Hardy still knows the words:
"I know blue modest Violets;
Dreaming with dew at morn;
I know the place you come from;
And the place where you were born;
When God cut holes in Heaven;
He let the stripes come down from Heaven;
The little stripes of you."
Her first two teachers helped inspire her to want to become a schoolteacher.
Hardy still is recognized as the oldest member of the local Georgia chapter of retired educators.
Her life has been wrapped around her strong faith and the teachings of God and helping others along the way.
"We all love Mrs. Naomi," said her pastor, the Rev. David Luke, of Flipper A.M.E. Church in Milledgeville. "Everybody loves Mrs. Naomi. She is our oldest member."
He, like many of her friends as well as family members, helped her celebrate her 100th birthday.
"The birthday celebrations lasted three days," said daughter, Edna Stone. "She had a lot of visitors dropping by to see her. She had balloons, a big birthday cake with a 100th candle on it, all kinds of food and flowers, too."
Stone, and her two sisters, Nettie Knox, and Barbara Garnes, helped their mother celebrate her historical birthday, as did five of their aunts, all of them their mother's sisters whose ages are 98, 93, 92, 87 and 84.
Asked what she wished for after blowing out the triple-digit candle on her birthday cake, Hardy replied with a big smile, "I wished for many, many more birthdays."
Stone said when she and her other siblings were growing up their mother was outspoken.
"Mama always wanted us to do right and to follow the Lord's guidance in whatever we did," Stone said. "All of us have tried to do that."
Stone said her mother, who taught math, reading and English when she was a schoolteacher, is in pretty good shapre with the exception of a stroke that she sustained back in February.
"She's doing pretty good, considering," Stone said.
Hardy had been able to get around with the use of a cane prior to the stroke, but now has to use a walker to get around in her home.
She receives medical care every day from Janette Glenn, a CNA, who has become more like a member of her family.
"Mrs. Naomi still reads from the Daily Word every day and prays everyday," Glenn said.
Asked what is the biggest advice she can give to the world today, Hardy said, "Tell them to do good things and to be Godly."