Downtown overflows with history, from the historic buildings and antebellum homes to the engaging museums and notable landmarks. Experience history up close and personal on March 2 nd, during First Friday, from 6 to 8pm. Milledgeville Main Street has partnered with the Convention and Visitors Bureau, Old Governor's Mansion, Sallie Ellis Davis House, and Marlor House to offer an evening of discovering downtown Milledgeville's history.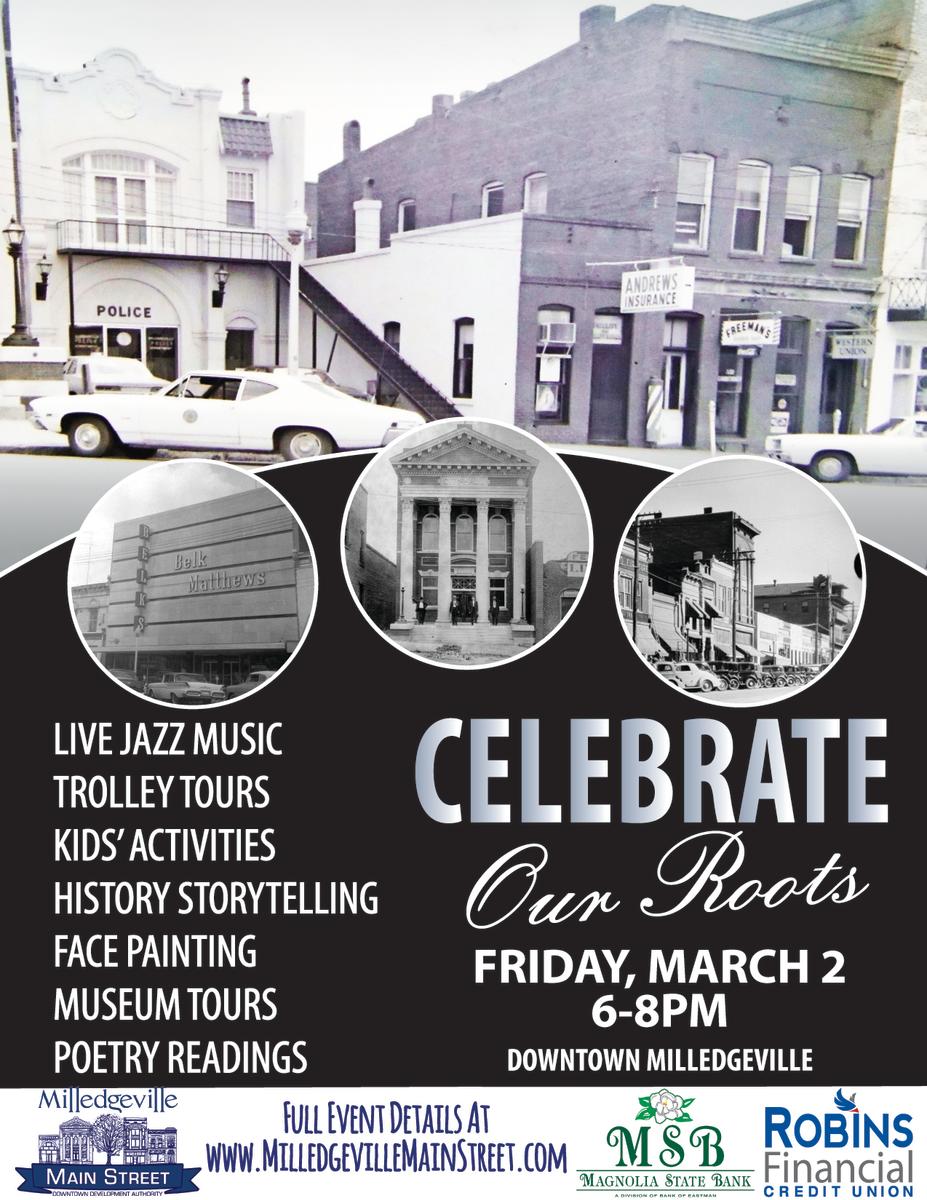 The Convention and Visitors Bureau invites downtown visitors to tour the past aboard a FREE trolley ride destined for a multitude of museums, a learning excursion led by their expert trolley guide. Pick up for the Trolley rides will be at the crosswalk located on the 100 block of North Wayne Street. Historic stops include the Marlor House, Sallie Ellis Davis House, and Georgia's Old Governor's Mansion.
The Marlor House, located at 201 N. Wayne Street, is displaying the exhibit "Take Me Away" by photographer Maryllis Wolfgang. Wolfgang moved to Milledgeville in 1980 and earned a B.S. and M.S. in Psychology from Georgia College. She realized a passion for photography in the early 2000s, embarked on a new journey opening her own photography business, The Crazy W, LLC, in 2007 and has since participated in multiple festivals each year.
The Sallie Ellis Davis House was the home of dedicated and passionate Baldwin County educator, Ms. Davis. Davis worked in education her entire career, first as a teacher and, later, the principal at the Eddy School, touching the lives of countless Baldwin County children. The house, located at 301 S. Clarke Street, will be open to the public during First Friday for historic tours. An exhibit celebrating the life and accomplishments of The Honorable Floyd L. Griffin, Jr. will be on display during the event.
The Old Governor's Mansion was the regal residence to Georgia's governors, from 1839-1868, whose interior interprets the history of the free and enslaved residents of the building and its grounds. Designated a National Historic Landmark in 1973, it is an accredited museum of the American Alliance of Museums and a Smithsonian Institution affiliate. On display through May 2nd, the exhibit "A Space for Sound: An Audio Survey of Georgia's Old Governor's Mansion" showcases the work of Artist Ernesto R. Gomez. Tours will start every 30 minutes.
Debuting in the new Birdhouse Theatre expansion inside Blackbird Coffee, Dr. Bob Wilson, historian, university professor, and master story-teller, will take downtown visitors back in time on a journey through stories about Milledgeville's history. Grab a cup of tea or coffee and listen to some of Milledgeville's history between 6 and 8pm during the First Friday event.
Shopping and dining options are a plenty in downtown Milledgeville. On South Wayne Street, Miles of Styles offers 25% off the entire store for First Friday as well as 10% off everyday to students and educators and there is no bad choice for dinner in downtown Milledgeville! Enjoy time with family and friends by shopping downtown, eating yummy food and enjoying the events of First Friday!
Enjoy live entertainment by Richard Martin and Dustin McCook, a duo playing music together for over 5 years, primarily with the band Free Lance Ruckus. Covering many different styles and genres with their own unique and tasteful touch, their original songs emphasize vocal harmonies in a "southern alternative Americana rock" style with special focus on Dustin's powerful and captivating lead guitar. They have songs for all musical tastes covering a range from Bob Dylan, The Beatles, Tom Petty, and Johnny Cash to Bob Marley, Dean Martin, Jimi Hendrix, and more.
Allied Arts will host Alaskan Fiddle Poet Ken Waldman during First Friday at Allen's Market. Waldman's performance will include Waldman's own poetry and music compositions, as well as poems written by local Midway Hills Academy students. Doors open at 7pm for the show at 7:30pm and there is no admission charged for this event. Parents are encouraged to bring children for this fun performance.
There will be no shortage of fun for the kiddos with games and hands-on activities provided by the Milledgeville Jaycees, Magnolia State Bank and The Georgia College Chemistry Club. Fanciful faces will be colored as artist Lisa Marie Barry shares her talent with face painting.
While downtown, don't miss an opportunity to purchase a raffle ticket for the chance to win a choice of $10,000 or a Nissan Rogue, as well as a 4-night stay at a luxury Las Vegas Casino/Hotel, or $500 at JC Grant Company Jewelers. Tickets are available at JC Grant Jewelers and the Milledgeville Chamber of Commerce, and at the Raffle Drawing Party at The Apothecary, located at 125 S. Wayne Street, until the drawing at 7pm. Live music will be played by The Fall Line Ramblers, hors d'oeuvres will be served, and a cash bar available at the party for raffle ticket holders. Get your ticket and join the fun at First Friday! 
Milledgeville Main Street is looking for local talent who want an opportunity to showcase their skill by participating in monthly First Friday events. All artists, musicians, dancers, special skills, and talents are welcome to apply. For more information about First Friday or how to get involved, contact the Main Street Office at 478.414.4014 or email Deana at dthornton@milledgevillega.us.