Community members invited to bring in film to screen, projectors provided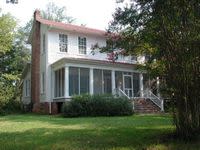 MILLEDGEVILLE, Ga. – Andalusia Farm will host Home Movie Day Saturday October 1, 2016 from 2:00 – 5:00 p.m. The event is organized in partnership with University of Georgia Libraries' Brown Media Archives and Peabody Awards Collection. Andalusia Farm will host this worldwide celebration of amateur films and filmmaking, held annually in October.  The event provides an opportunity for attendees to bring in their home movies, learn more about their own family films, how to care for films and videotapes, and how home movies have helped capture personal history. Home Movie Day is free and open to the public.
There will be screenings of home movies from the Media Archives' holdings, including footage from Athens and the earliest home movie footage from Georgia shot in 1917 in Thomasville at the Pebble Hill Plantation and other locales around Georgia and the Southeast.  Also included will be a short clip of Flannery O'Connor at Andalusia Farm in the early 1960s. There will be discussion of the best ways to preserve film and videotape. Attendees are encouraged to bring films, videotapes, and DVDs for inspection and screening when possible (a variety of projectors will be available), and archivists will be in attendance to answer questions. 
For Home Movie Day at Andalusia, there is particular interest in seeing any films showing Milledgeville itself, the surrounding area, or families of Milledgeville. It's a part of the state that isn't well represented in film footage, so folks in the area have an opportunity to show what growing up there was like.  Did someone in your family film any of Georgia's universities' campuses, football games, or special events? Of course, local people also traveled, so we also expect to see family vacations to Florida, California, the Grand Canyon, Yosemite, and Europe.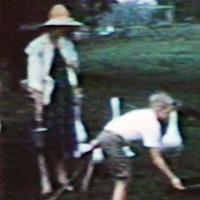 There is interest in people bringing films they haven't been able to see because their projector is long gone. This is a great opportunity to see those movies again or even for the first time.  Younger generations haven't grown up with the experience of having home movies shown with family members and don't know how much
fun they can be. 

People are encouraged to bring in films that perhaps their grandparents had or that have been found in vintage shops. The detective work to figure out what you've got can be a lot of fun.  Among UGA's holdings are the earliest known extant home movies made in Georgia, circa 1916, which came from Pebble Hill Plantation in Thomasville, Georgia.  Those home movies were shot on 28mm film, a format that holds up quite well 100 years later. We've also seen 35mm home movies made in the 1920s from Cartersville. Those films are on nitrate film stock which needs special care and handling, so if anyone has nitrate film, the team can assist them in taking care of that.

Did someone in your family make a "local film," a depiction of as many faces and places around town as could fit on a reel of film? These are really special treasures from several Georgia towns. Professional traveling filmmakers made such films, but local people also took the initiative to film profiles of their home towns over the years. Those can yield a lot of great memories.

So if anyone has films in old-looking cans or boxes or in sizes they don't recognize, or films which smell like mothballs, vinegar, or dirty gym socks, all those smells mean something different and don't necessarily mean the film can't be preserved for the future.  It is a great opportunity to see, inspect, and evaluate them.
 
Andalusia Farm is located on U.S. 441, four miles north of the City of Milledgeville. There is plenty of seating and parking is free. Members of the media are welcome to attend.
WHEN:                      
Saturday October. 1, 2016, 2:00-5:00 p.m.
WHERE:
Andalusia Farm: Home of Flannery O'Connor
2628 North Columbia Street (U.S. Hwy 441)
Milledgeville, GA 31061
MORE INFORMATION:
Home Movie Day is a celebration of amateur films and filmmaking held annually at many local venues worldwide. Home Movie Day events provide the opportunity for individuals and families to see and share their own home movies with an audience of their community, and to see their neighbors' in turn. It's a chance to discover why to care about these films and to learn how best to care for them.
http://www.centerforhomemovies.org/hmd/
ABOUT THE FLANNERY O'CONNOR - ANDALUSIA FOUNDATION (FOCA):
FOCA is a non-profit organization dedicated to the restoration, preservation and appreciation of Andalusia Farm, the final home of Flannery O'Connor, and to perpetuate her place in the roster of great writers of the 20th Century. The 500+-acre farm in Milledgeville, Georgia, is open to the public from 10 a.m. to 5 p.m., Thursday through Sunday. There is free admission to Andalusia Farm, although visitors are encouraged to make a $10 voluntary contribution and donations large and small are always welcome. For more information: www.andalusiafarm.org
FUTURE EVENTS ADVISORY
November 5, 2016 3:00 – 8:00 p.m. The 12th Annual Andalusia Farm Bluegrass Festival
This popular regional event is back for the 12th year. The line-up is Good Country People (Macon), the Skillet Lickers (Atlanta) and headliner Packway Handle Band (Athens). There will be food and drink vendors on site and plenty of free parking. This is a family friendly event. Picnics and leashed pets welcome. The day starts at 3:00 with porch pickin' (bring your instruments!) and guided trail walks before the bands take the stage at 5:00. Adults $10, students and seniors, $5, kids under 12 free. This event is supported in part by the Knight Fund for Milledgeville through the Community Foundation of Central Georgia and by Wild Heaven Craft Beer.
PHOTO CAPTIONS & CREDITS
All photos courtesy Andalusia Farm
1.       Still Shot from early 1960's film of Flannery O'Connor at Andalusia Farm
2.       Andalusia Farm Main Farm House
###
For more information, contact:
Elizabeth Wylie, Executive Director