The Milledgeville Convention & Visitors Bureau is very excited to announce that the 2016 Christmas ornament is now in!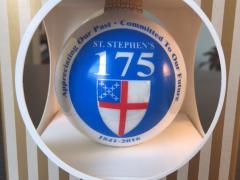 The design which adorns the 2016 ornament is the "St. Stephen's Episcopal Church", Built in 1841. The CVB is honoring St. Stephens's by showcasing their 175th anniversary logo on our 2016 Christmas ornament.
Two priests from Christ Church, Savannah, were the first to serve the Episcopal residents of Milledgeville: the Reverend John W. Bartow, rector, and the Reverend Edward Neufville. They held services in Milledgeville as early as 1832. Nine years later, on April 4, 1841, St. Stephen's was incorporated by the state of Georgia and is the eighth oldest Episcopal Church in the state and the third oldest in what is now the diocese of Atlanta. The structure is the oldest church building in Milledgeville.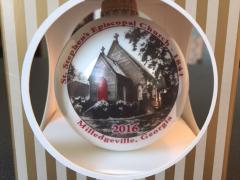 During the brief occupation of Milledgeville by General Sherman's forces in bitterly cold weather in late November 1864, soldiers from the 107th New York Infantry Regiment took shelter in St. Stephen's, as well as other churches on the square. 
The ornaments are available for purchase at the CVB office and Grant Jewelers.  Stop by and pick up this unique and limited item!  
###
For more information:                                                                                
                                                                                                Jane Sowell
                                                                                                Linda Bailey
                                                                                                478-452-4687 p
                                                                                                478-453-4440 f